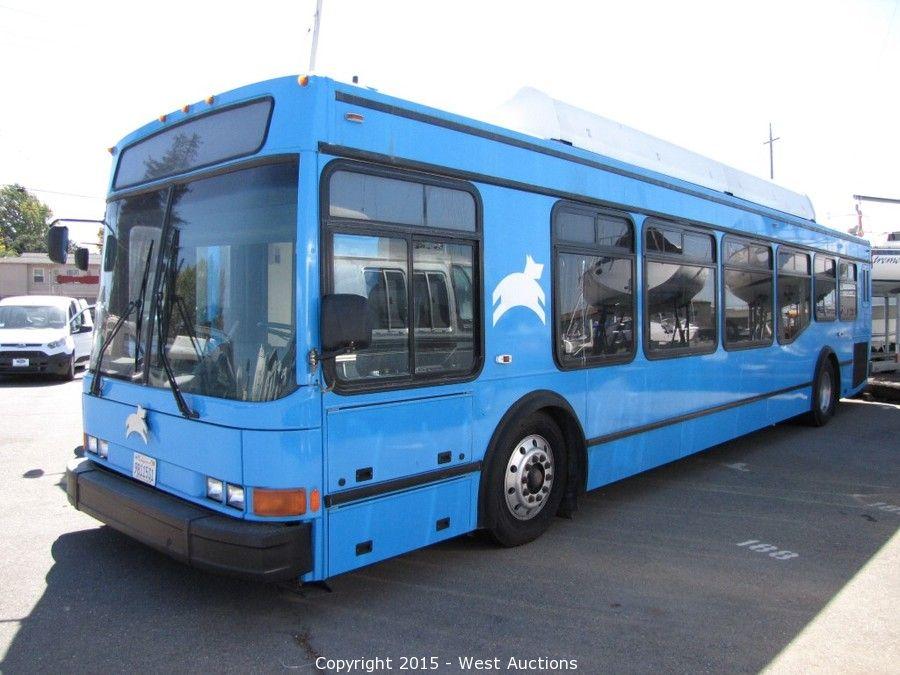 Lot #0101:
2001 NABI 27 Passenger CNG Luxury Bus
Bidding is

closed

.
High Bid:
$12,100.00
NA
Bidding Ended:
Thu, Oct 8 10:01:00 am PT
High Bidder:
az1313
Bid Increment:
$100.00
Starting Bid:
$5.00
Item has been viewed 56,617 times.

2001 NABI 27 Passenger CNG Luxury Bus
VIN: 1N9040151A140262
License: 98115S1


Registration Expiration: 5/31/2015

Odometer reads: NA
GVWR: 40,600
Transmission serial: 009870
Detroit CNG Engine

Engine serial: 04R0037274

Vehicle type: 040.15
Automatic transmission
CNG Natural gas fuel/ 3,600 PSI tank
Leather passenger seats
Reclaimed wood walls
Marble concession counter
Display refrigerator
Flat screen TV
Tile floor
AMGaDS III Fire system
Right side/rear back up camera system
Air brakes
(2) Pneumatic passenger doors
Power mirrors
Tilt wheel
Lower/kneel/raise system
Forward/rear engine start
Engine specs are NA
Ingersol Rand Thermo King AC/Temp control system
Dual rear wheels
Tire size: 305/70R22.5
Rear axle Veeder-Root hobometer odometer reads: 90,218
All windows double as emergency exits
(2) Roof exits
Driver Air ride adjustable seats
Recardo driver seat
Note: Unit turns over but does not start, running condition unknown
Note: California Certificate of Title, DMV Transfer Form and certified court documentation will be mailed out within a 8-10 weeks following the close of auction. Buyer is responsible for registration, smog and all fees due DMV.
| | | |
| --- | --- | --- |
| Bid Date | Bid Amount | Bidder |
| Oct 8, 2015 - 10:00:59 AM | $12,100.00 | iaz1313 |
| Oct 8, 2015 - 10:00:55 AM | $12,000.00 | iisaacd |
| Oct 8, 2015 - 10:00:56 AM | $12,000.00 | iaz1313 |
| Oct 8, 2015 - 10:00:49 AM | $11,750.00 | iisaacd |
| Oct 8, 2015 - 10:00:49 AM | $11,650.00 | iaz1313 |
| Oct 8, 2015 - 10:00:47 AM | $10,600.00 | iaz1313 |
| Oct 8, 2015 - 10:00:47 AM | $10,500.00 | ithe1of1 |
| Oct 8, 2015 - 10:00:41 AM | $10,100.00 | iaz1313 |
| Oct 8, 2015 - 10:00:41 AM | $10,000.00 | iEvanDiamond1 |
| Oct 8, 2015 - 10:00:41 AM | $9,600.00 | iaz1313 |
| Oct 8, 2015 - 10:00:41 AM | $9,500.00 | ithe1of1 |
| Oct 8, 2015 - 10:00:32 AM | $9,400.00 | iaz1313 |
| Oct 8, 2015 - 10:00:32 AM | $9,300.00 | iEvanDiamond1 |
| Oct 8, 2015 - 10:00:19 AM | $9,100.00 | iaz1313 |
| Oct 8, 2015 - 10:00:19 AM | $9,000.00 | iEvanDiamond1 |
| Oct 8, 2015 - 10:00:18 AM | $8,700.00 | iaz1313 |
| Oct 8, 2015 - 10:00:18 AM | $8,600.00 | ithe1of1 |
| Oct 8, 2015 - 10:00:11 AM | $8,252.00 | iaz1313 |
| Oct 8, 2015 - 9:59:58 AM | $8,152.00 | iEvanDiamond1 |
| Oct 8, 2015 - 9:59:58 AM | $8,100.00 | ithe1of1 |
| Oct 8, 2015 - 9:59:51 AM | $7,900.00 | iEvanDiamond1 |
| Oct 8, 2015 - 9:59:51 AM | $7,800.00 | ithe1of1 |
| Oct 8, 2015 - 9:59:46 AM | $7,600.00 | iEvanDiamond1 |
| Oct 8, 2015 - 9:59:46 AM | $7,500.00 | iletsbounce |
| Oct 8, 2015 - 9:59:27 AM | $7,200.00 | iEvanDiamond1 |
| Oct 8, 2015 - 9:59:22 AM | $7,100.00 | ithe1of1 |
| Oct 8, 2015 - 9:59:18 AM | $7,000.00 | iaz1313 |
| Oct 8, 2015 - 9:59:19 AM | $7,000.00 | iEvanDiamond1 |
| Oct 8, 2015 - 9:59:10 AM | $6,800.00 | iaz1313 |
| Oct 8, 2015 - 9:59:10 AM | $6,700.00 | iEvanDiamond1 |
| Oct 8, 2015 - 9:59:02 AM | $6,600.00 | iaz1313 |
| Oct 8, 2015 - 9:58:54 AM | $6,500.00 | ithe1of1 |
| Oct 8, 2015 - 9:58:55 AM | $6,500.00 | iaz1313 |
| Oct 8, 2015 - 9:58:52 AM | $6,100.00 | ithe1of1 |
| Oct 8, 2015 - 9:58:35 AM | $6,000.00 | iEvanDiamond1 |
| Oct 8, 2015 - 9:58:36 AM | $6,000.00 | ithe1of1 |
| Oct 8, 2015 - 9:55:59 AM | $5,900.00 | iEvanDiamond1 |
| Oct 8, 2015 - 9:55:48 AM | $5,800.00 | iletsbounce |
| Oct 8, 2015 - 9:55:49 AM | $5,800.00 | iEvanDiamond1 |
| Oct 8, 2015 - 9:40:31 AM | $5,700.00 | iletsbounce |
| Oct 8, 2015 - 9:31:48 AM | $5,600.00 | ipjn9 |
| Oct 8, 2015 - 9:30:37 AM | $5,500.00 | iJcacho |
| Oct 8, 2015 - 9:30:38 AM | $5,500.00 | ipjn9 |
| Oct 8, 2015 - 8:31:11 AM | $5,350.00 | iJcacho |
| Oct 7, 2015 - 9:45:14 PM | $5,250.00 | iisaacd |
| Oct 7, 2015 - 9:45:14 PM | $5,200.00 | ithe1of1 |
| Oct 7, 2015 - 9:44:43 PM | $5,150.00 | ithe1of1 |
| Oct 7, 2015 - 9:30:31 PM | $5,050.00 | iisaacd |
| Oct 7, 2015 - 9:30:28 PM | $5,000.00 | iJcacho |
| Oct 7, 2015 - 9:30:29 PM | $5,000.00 | iisaacd |
| Oct 7, 2015 - 9:30:24 PM | $4,950.00 | iJcacho |
| Oct 7, 2015 - 9:30:24 PM | $4,900.00 | iisaacd |
| Oct 7, 2015 - 9:30:20 PM | $4,850.00 | iJcacho |
| Oct 7, 2015 - 9:30:20 PM | $4,800.00 | iisaacd |
| Oct 7, 2015 - 9:30:11 PM | $4,750.00 | iJcacho |
| Oct 7, 2015 - 9:30:11 PM | $4,700.00 | iisaacd |
| Oct 7, 2015 - 11:28:41 AM | $4,650.00 | iJcacho |
| Oct 7, 2015 - 11:28:41 AM | $4,600.00 | iludusrex |
| Oct 7, 2015 - 9:57:04 AM | $4,550.00 | iludusrex |
| Oct 7, 2015 - 9:57:04 AM | $4,500.00 | ikmcmb |
| Oct 7, 2015 - 8:47:14 AM | $3,550.00 | ikmcmb |
| Oct 7, 2015 - 8:47:14 AM | $3,500.00 | ipjn9 |
| Oct 7, 2015 - 8:23:33 AM | $3,200.00 | ikmcmb |
| Oct 7, 2015 - 6:08:52 AM | $3,150.00 | iludusrex |
| Oct 6, 2015 - 3:12:12 PM | $3,100.00 | ithe1of1 |
| Oct 6, 2015 - 2:07:59 PM | $3,050.00 | iludusrex |
| Oct 6, 2015 - 1:58:45 PM | $3,000.00 | ipjn9 |
| Oct 6, 2015 - 1:58:45 PM | $2,950.00 | idadams |
| Oct 6, 2015 - 1:57:09 PM | $2,900.00 | ipjn9 |
| Oct 6, 2015 - 12:06:20 PM | $2,850.00 | idadams |
| Oct 6, 2015 - 11:59:47 AM | $2,800.00 | iGoodtogrow |
| Oct 6, 2015 - 11:59:42 AM | $2,750.00 | idadams |
| Oct 6, 2015 - 11:59:43 AM | $2,750.00 | iGoodtogrow |
| Oct 6, 2015 - 11:59:38 AM | $2,700.00 | idadams |
| Oct 6, 2015 - 11:59:38 AM | $2,650.00 | iGoodtogrow |
| Oct 6, 2015 - 11:57:11 AM | $2,600.00 | idadams |
| Oct 6, 2015 - 11:15:13 AM | $2,550.00 | iGoodtogrow |
| Oct 6, 2015 - 10:56:05 AM | $2,500.00 | iletsbounce |
| Oct 6, 2015 - 10:56:06 AM | $2,500.00 | ipjn9 |
| Oct 6, 2015 - 10:55:58 AM | $2,050.00 | iletsbounce |
| Oct 6, 2015 - 10:55:58 AM | $2,000.00 | ipjn9 |
| Oct 6, 2015 - 10:55:46 AM | $1,010.00 | iletsbounce |
| Oct 6, 2015 - 10:55:46 AM | $1,000.00 | ipjn9 |
| Oct 6, 2015 - 10:55:38 AM | $510.00 | iletsbounce |
| Oct 6, 2015 - 10:55:38 AM | $500.00 | ipjn9 |
| Oct 6, 2015 - 10:54:02 AM | $210.00 | iletsbounce |
| Oct 6, 2015 - 10:54:02 AM | $200.00 | inmckinley |
| Oct 6, 2015 - 10:29:32 AM | $130.00 | iletsbounce |
| Oct 6, 2015 - 10:25:58 AM | $120.00 | ikristakari |
| Oct 6, 2015 - 10:25:58 AM | $115.00 | iletsbounce |
| Oct 6, 2015 - 10:22:53 AM | $105.00 | ikristakari |
| Oct 6, 2015 - 10:13:47 AM | $100.00 | idadams |
| Oct 6, 2015 - 10:13:48 AM | $100.00 | iodinc |
| Oct 6, 2015 - 10:11:53 AM | $55.00 | idadams |
| Oct 6, 2015 - 10:11:40 AM | $50.00 | isashacf |
| Oct 6, 2015 - 10:11:41 AM | $50.00 | idadams |
| Oct 6, 2015 - 10:09:04 AM | $20.00 | isashacf |
| Oct 6, 2015 - 10:09:04 AM | $15.00 | icgbenard |
| Oct 6, 2015 - 10:06:16 AM | $10.00 | isashacf |
| Oct 6, 2015 - 10:03:41 AM | $5.00 | inmckinley |