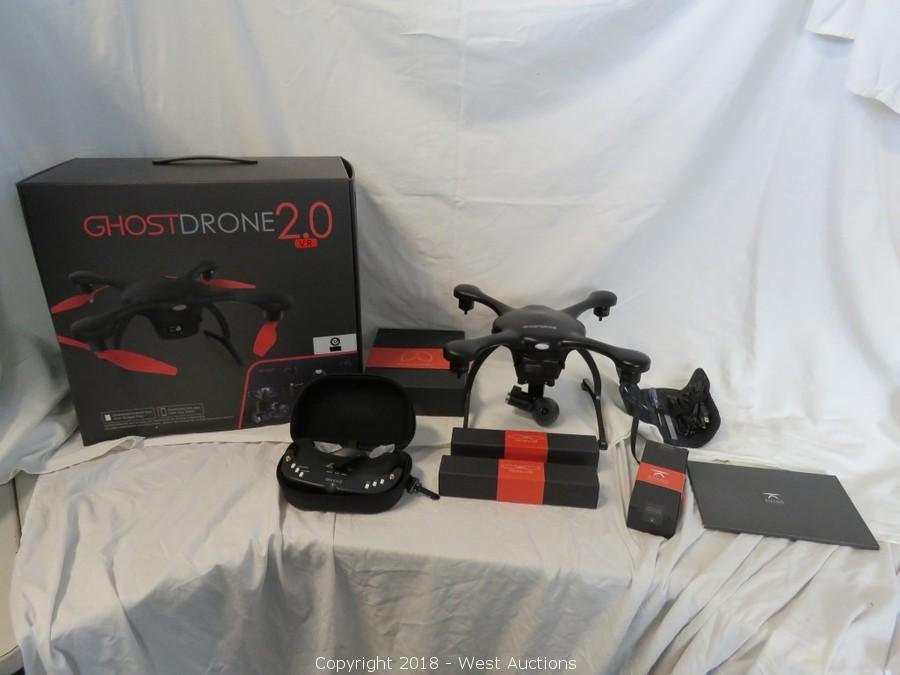 Lot #0457:
Black Ghostdrone 2.0 VR (IOS)
Bidding is

closed

.
High Bid:
$235.00
NA
Bidding Ended:
Thu, Mar 8 3:57:00 pm PT
High Bidder:
nsg
Bid Increment:
$10.00
Starting Bid:
$5.00
Item Location:

Woodland

,

CA

95776

Item has been viewed 203 times.

 Ghost Drone 2.0 VR (IOS)
Color: Black
IOS compatible 
Photos are representative of the item
Due to online reviews of batteries, auctioneer advises all to do their own independent research. 
Notice: All items for this Bankruptcy are sold "as-is" and "where-is" with no warranties expressed or implied. Individual items have not been tested for working condition. No claims of any kind shall be allowed after Item has been removed by the Buyer. There are no refunds or exchanges. Please bid accordingly.
| | | |
| --- | --- | --- |
| Bid Date | Bid Amount | Bidder |
| Mar 8, 2018 - 3:56:27 PM | $235.00 | insg |
| Mar 8, 2018 - 3:56:17 PM | $225.00 | ibuyabus |
| Mar 8, 2018 - 3:56:17 PM | $220.00 | insg |
| Mar 8, 2018 - 3:52:05 PM | $210.00 | ibuyabus |
| Mar 8, 2018 - 3:52:05 PM | $200.00 | isugersuger2 |
| Mar 8, 2018 - 3:49:31 PM | $190.00 | ibuyabus |
| Mar 8, 2018 - 3:49:31 PM | $180.00 | iscastillo |
| Mar 8, 2018 - 2:57:31 PM | $170.00 | ibuyabus |
| Mar 8, 2018 - 1:15:06 PM | $160.00 | iscastillo |
| Mar 8, 2018 - 1:15:06 PM | $155.03 | imandmsmith |
| Mar 8, 2018 - 10:38:38 AM | $150.00 | imandmsmith |
| Mar 8, 2018 - 10:38:38 AM | $140.00 | itcbay888 |
| Mar 8, 2018 - 8:37:01 AM | $130.00 | imandmsmith |
| Mar 8, 2018 - 12:00:58 AM | $120.00 | iturtran |
| Mar 8, 2018 - 12:00:58 AM | $115.00 | iDeventure |
| Mar 7, 2018 - 11:22:49 PM | $105.00 | iturtran |
| Mar 7, 2018 - 11:22:49 PM | $100.00 | iWilliamf777 |
| Mar 7, 2018 - 10:45:54 PM | $80.00 | iturtran |
| Mar 7, 2018 - 10:45:54 PM | $75.00 | imandmsmith |
| Mar 7, 2018 - 3:42:28 PM | $65.01 | imandmsmith |
| Mar 7, 2018 - 3:42:28 PM | $60.01 | iDeventure |
| Mar 7, 2018 - 10:09:00 AM | $55.01 | imandmsmith |
| Mar 7, 2018 - 10:09:00 AM | $55.00 | ibillybob143 |
| Mar 7, 2018 - 8:20:24 AM | $50.00 | imandmsmith |
| Mar 7, 2018 - 8:20:24 AM | $45.00 | itcbay888 |
| Mar 7, 2018 - 12:16:22 AM | $40.00 | itcbay888 |
| Mar 6, 2018 - 5:43:17 PM | $35.00 | ioman |
| Mar 6, 2018 - 4:18:16 PM | $30.00 | imandmsmith |
| Mar 6, 2018 - 4:18:17 PM | $30.00 | igreatwhite |
| Mar 6, 2018 - 12:43:10 PM | $20.00 | imandmsmith |
| Mar 6, 2018 - 12:26:17 PM | $15.00 | iKEETER59 |
| Mar 6, 2018 - 11:45:19 AM | $10.00 | imikecornell |
| Mar 6, 2018 - 11:45:19 AM | $7.51 | imandmsmith |
| Mar 6, 2018 - 10:18:08 AM | $5.00 | imandmsmith |