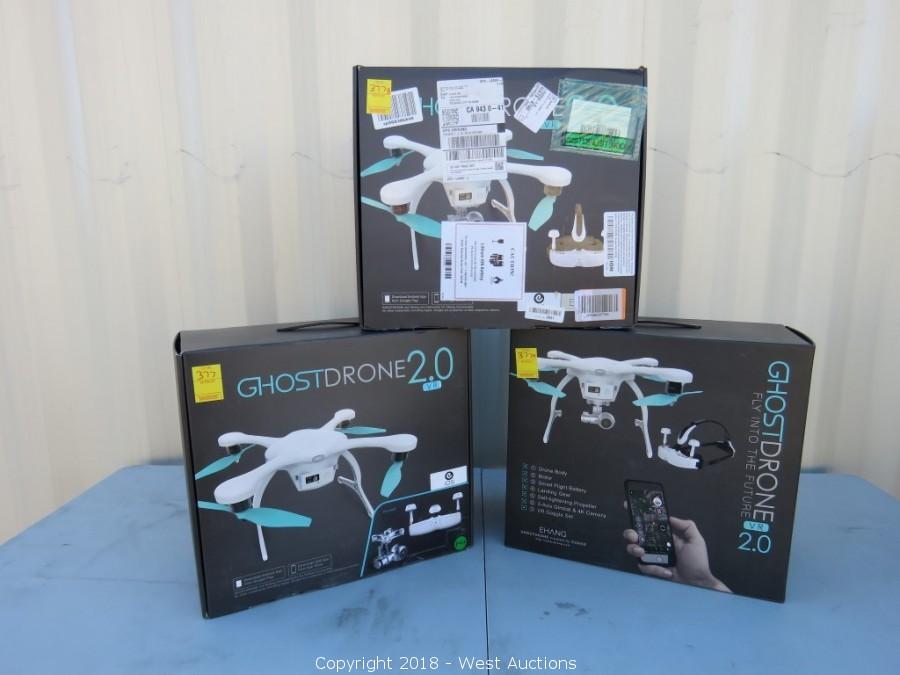 Lot #0377:
(3) White Ghostdrones 2.0 VR
Bidding is

closed

.
High Bid:
$225.00
NA
Bidding Ended:
Fri, Mar 9 12:05:00 pm PT
High Bidder:
mikeo1976
Bid Increment:
$10.00
Starting Bid:
$5.00
Item has been viewed 835 times.

(3) White Ghostdrones 2.0 VR
Photos shown are representative of lot. 
Notice: Items in this auction are returns, items may be new or used, complete or incomplete. Items have not been tested. There are no refunds or exchanges. All items for this Bankruptcy are sold "as-is" and "where-is" with no warranties expressed or implied.  Please bid accordingly.
| | | |
| --- | --- | --- |
| Bid Date | Bid Amount | Bidder |
| Mar 9, 2018 - 12:04:58 PM | $225.00 | imikeo1976 |
| Mar 9, 2018 - 12:04:58 PM | $215.00 | iFHEMDAN |
| Mar 9, 2018 - 12:04:27 PM | $205.00 | imikeo1976 |
| Mar 9, 2018 - 12:04:27 PM | $195.00 | ihmgonzales |
| Mar 9, 2018 - 12:02:32 PM | $185.00 | imikeo1976 |
| Mar 9, 2018 - 12:02:32 PM | $175.00 | ijoefrank |
| Mar 9, 2018 - 5:10:22 AM | $165.00 | imikeo1976 |
| Mar 9, 2018 - 5:10:22 AM | $155.00 | itedthestick |
| Mar 8, 2018 - 7:20:34 PM | $125.99 | itedthestick |
| Mar 8, 2018 - 7:20:34 PM | $115.99 | idanmitch |
| Mar 8, 2018 - 3:28:21 PM | $105.00 | idanmitch |
| Mar 8, 2018 - 3:28:21 PM | $100.00 | ifman99 |
| Mar 8, 2018 - 2:05:58 PM | $81.75 | ifman99 |
| Mar 8, 2018 - 2:05:58 PM | $76.75 | iallestra |
| Mar 7, 2018 - 11:59:10 PM | $75.99 | iallestra |
| Mar 7, 2018 - 11:59:10 PM | $70.99 | idanmitch |
| Mar 7, 2018 - 10:11:54 PM | $55.00 | iallestra |
| Mar 7, 2018 - 4:49:57 PM | $50.00 | ifman99 |
| Mar 7, 2018 - 4:49:58 PM | $50.00 | imandmsmith |
| Mar 7, 2018 - 1:12:19 PM | $26.00 | ifman99 |
| Mar 7, 2018 - 1:12:19 PM | $21.00 | izmocar |
| Mar 7, 2018 - 10:10:38 AM | $5.00 | izmocar |