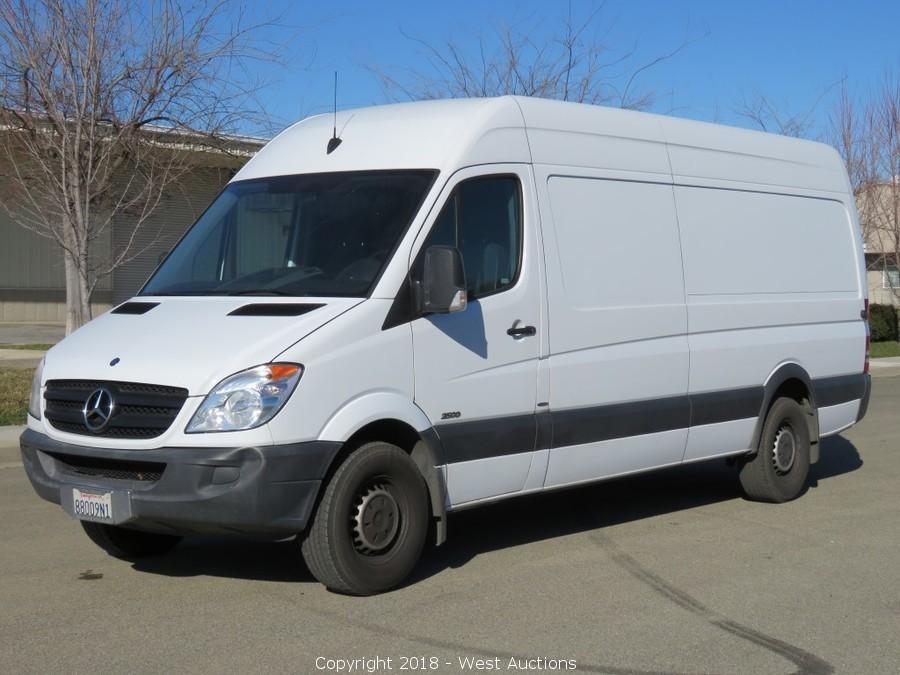 Lot #0106:
2013 Mercedes V6 Sprinter 2500 Diesel Cargo Van
Bidding is

closed

.
High Bid:
$17,400.00
NA
Bidding Ended:
Thu, Mar 15 10:10:27 am PT
High Bidder:
buyabus
Bid Increment:
$100.00
Starting Bid:
$5.00
Item Location:

4001 Eastside Road

,

Redding

,

CA

96001

Item has been viewed 2,365 times.

2013 Mercedes V6 Sprinter 2500 Diesel Cargo Van
VIN: WD3PE8CCXD5798983
License: 88009N1


Expiration Date:  12/31/2017

GVWR: 8,550 lb
Odometer Reads: 167,728
Automatic Transmission
Diesel Engine:

BlueTEC Clean Diesel Technology
V6 3.0L
DPF Certified

AC/Heater
Cloth Seats
AM/FM Radio
Power Locks
Power Windows
Power Mirrors
Cruise Control
Passenger Side Sliding Door
Rear Door Access
Towing Capacity: 5000 lbs
Van Length: 19 Feet
Tire Size: LT245/75R16 
Note: Application of Duplicate Title, DMV transfer form and Certified Court Order will be mailed 10-12 weeks following the close of auction. Buyer is fully responsible for registration, smog, and fees due to DMV. The sale is subject to Trustee confirmation and lien payoff.


| | | |
| --- | --- | --- |
| Bid Date | Bid Amount | Bidder |
| Mar 15, 2018 - 10:08:27 AM | $17,400.00 | ibuyabus |
| Mar 15, 2018 - 10:08:27 AM | $17,300.00 | ichasway61 |
| Mar 15, 2018 - 10:07:09 AM | $17,000.00 | ichasway61 |
| Mar 15, 2018 - 10:07:10 AM | $17,000.00 | ibuyabus |
| Mar 15, 2018 - 10:05:27 AM | $16,850.00 | ichasway61 |
| Mar 15, 2018 - 10:05:27 AM | $16,750.00 | ibuyabus |
| Mar 15, 2018 - 10:05:23 AM | $15,700.00 | ichasway61 |
| Mar 15, 2018 - 10:05:23 AM | $15,600.00 | iSkyrunnin |
| Mar 15, 2018 - 10:05:03 AM | $15,500.00 | ichasway61 |
| Mar 15, 2018 - 10:05:03 AM | $15,400.00 | iSkyrunnin |
| Mar 15, 2018 - 9:42:06 AM | $15,300.00 | ichasway61 |
| Mar 15, 2018 - 9:42:06 AM | $15,200.00 | ijaltala |
| Mar 15, 2018 - 9:28:51 AM | $15,100.00 | ichasway61 |
| Mar 15, 2018 - 9:28:51 AM | $15,000.00 | iSkyrunnin |
| Mar 15, 2018 - 9:28:35 AM | $14,800.00 | ichasway61 |
| Mar 15, 2018 - 9:28:35 AM | $14,700.00 | iSkyrunnin |
| Mar 15, 2018 - 9:28:14 AM | $14,500.00 | ichasway61 |
| Mar 15, 2018 - 9:28:14 AM | $14,400.00 | iSkyrunnin |
| Mar 15, 2018 - 9:28:06 AM | $14,300.00 | ichasway61 |
| Mar 15, 2018 - 9:28:06 AM | $14,200.00 | iSkyrunnin |
| Mar 15, 2018 - 9:27:54 AM | $14,100.00 | ichasway61 |
| Mar 15, 2018 - 9:27:54 AM | $14,000.00 | iSkyrunnin |
| Mar 15, 2018 - 9:27:43 AM | $13,800.00 | ichasway61 |
| Mar 15, 2018 - 9:27:43 AM | $13,700.00 | iSkyrunnin |
| Mar 15, 2018 - 9:27:33 AM | $13,500.00 | ichasway61 |
| Mar 15, 2018 - 9:27:33 AM | $13,400.00 | iSkyrunnin |
| Mar 15, 2018 - 9:20:23 AM | $13,000.00 | ichasway61 |
| Mar 15, 2018 - 9:20:23 AM | $12,900.00 | iSkyrunnin |
| Mar 15, 2018 - 9:20:10 AM | $12,800.00 | ichasway61 |
| Mar 15, 2018 - 9:20:10 AM | $12,700.00 | iSkyrunnin |
| Mar 15, 2018 - 9:19:55 AM | $12,600.00 | ichasway61 |
| Mar 15, 2018 - 9:19:55 AM | $12,500.00 | iSkyrunnin |
| Mar 13, 2018 - 7:45:15 PM | $12,000.00 | ichasway61 |
| Mar 13, 2018 - 7:45:16 PM | $12,000.00 | iDonaldTrump |
| Mar 13, 2018 - 7:45:04 PM | $11,600.00 | ichasway61 |
| Mar 13, 2018 - 7:45:04 PM | $11,500.00 | iDonaldTrump |
| Mar 13, 2018 - 7:44:53 PM | $11,100.00 | ichasway61 |
| Mar 13, 2018 - 7:44:53 PM | $11,000.00 | iDonaldTrump |
| Mar 13, 2018 - 5:52:03 PM | $10,100.00 | ichasway61 |
| Mar 13, 2018 - 5:51:40 PM | $10,000.00 | istinky |
| Mar 13, 2018 - 5:51:41 PM | $10,000.00 | ichasway61 |
| Mar 13, 2018 - 4:32:19 PM | $9,600.00 | istinky |
| Mar 13, 2018 - 4:32:19 PM | $9,500.00 | ielgringobrian |
| Mar 13, 2018 - 4:27:17 PM | $9,100.00 | ielgringobrian |
| Mar 13, 2018 - 4:27:17 PM | $9,000.00 | istinky |
| Mar 13, 2018 - 4:11:09 PM | $8,800.00 | istinky |
| Mar 13, 2018 - 4:11:09 PM | $8,700.00 | ijirayr1 |
| Mar 13, 2018 - 2:38:17 PM | $8,600.00 | istinky |
| Mar 13, 2018 - 2:38:17 PM | $8,500.00 | iBondar |
| Mar 13, 2018 - 2:36:05 PM | $8,100.00 | iBondar |
| Mar 13, 2018 - 2:35:39 PM | $8,000.00 | ichasway61 |
| Mar 13, 2018 - 2:35:40 PM | $8,000.00 | istinky |
| Mar 13, 2018 - 2:35:15 PM | $7,100.00 | ichasway61 |
| Mar 13, 2018 - 2:35:15 PM | $7,000.00 | istinky |
| Mar 13, 2018 - 2:04:39 PM | $6,100.00 | ichasway61 |
| Mar 13, 2018 - 2:04:39 PM | $6,000.00 | igrsign |
| Mar 13, 2018 - 2:04:17 PM | $5,950.00 | igrsign |
| Mar 13, 2018 - 2:04:17 PM | $5,850.00 | ichasway61 |
| Mar 13, 2018 - 1:47:27 PM | $5,750.00 | igrsign |
| Mar 13, 2018 - 1:47:27 PM | $5,650.00 | iqjflores |
| Mar 13, 2018 - 1:47:17 PM | $5,550.00 | igrsign |
| Mar 13, 2018 - 1:47:17 PM | $5,450.00 | iqjflores |
| Mar 13, 2018 - 1:47:11 PM | $5,350.00 | igrsign |
| Mar 13, 2018 - 1:47:11 PM | $5,250.00 | iqjflores |
| Mar 13, 2018 - 1:45:05 PM | $5,150.00 | igrsign |
| Mar 13, 2018 - 12:41:15 PM | $5,050.00 | iqjflores |
| Mar 13, 2018 - 12:32:49 PM | $5,000.00 | ichasway61 |
| Mar 13, 2018 - 12:32:50 PM | $5,000.00 | iqjflores |
| Mar 13, 2018 - 12:32:30 PM | $4,950.00 | ichasway61 |
| Mar 13, 2018 - 12:32:30 PM | $4,900.00 | iqjflores |
| Mar 13, 2018 - 12:29:22 PM | $4,850.00 | ichasway61 |
| Mar 13, 2018 - 12:29:22 PM | $4,800.00 | igrsign |
| Mar 13, 2018 - 12:28:51 PM | $4,650.00 | ichasway61 |
| Mar 13, 2018 - 12:28:51 PM | $4,600.00 | igrsign |
| Mar 13, 2018 - 11:45:55 AM | $4,550.00 | ichasway61 |
| Mar 13, 2018 - 11:45:55 AM | $4,500.00 | iHappyg23 |
| Mar 13, 2018 - 11:19:31 AM | $4,050.00 | ichasway61 |
| Mar 13, 2018 - 11:19:31 AM | $4,000.00 | istinky |
| Mar 13, 2018 - 10:48:40 AM | $3,850.00 | istinky |
| Mar 13, 2018 - 10:48:40 AM | $3,800.00 | iBondar |
| Mar 13, 2018 - 10:31:42 AM | $3,550.00 | iBondar |
| Mar 13, 2018 - 10:31:36 AM | $3,500.00 | iUpaid2MUCH |
| Mar 13, 2018 - 10:31:37 AM | $3,500.00 | iBondar |
| Mar 13, 2018 - 10:31:32 AM | $3,050.00 | iUpaid2MUCH |
| Mar 13, 2018 - 10:31:32 AM | $3,000.00 | iBondar |
| Mar 13, 2018 - 10:31:26 AM | $2,050.00 | iUpaid2MUCH |
| Mar 13, 2018 - 10:31:26 AM | $2,000.00 | iBondar |
| Mar 13, 2018 - 10:28:34 AM | $1,010.00 | iUpaid2MUCH |
| Mar 13, 2018 - 10:28:34 AM | $1,000.00 | ichasway61 |
| Mar 13, 2018 - 10:20:46 AM | $105.00 | ichasway61 |
| Mar 13, 2018 - 10:20:46 AM | $100.00 | iatlantis |
| Mar 13, 2018 - 10:16:47 AM | $5.00 | iatlantis |