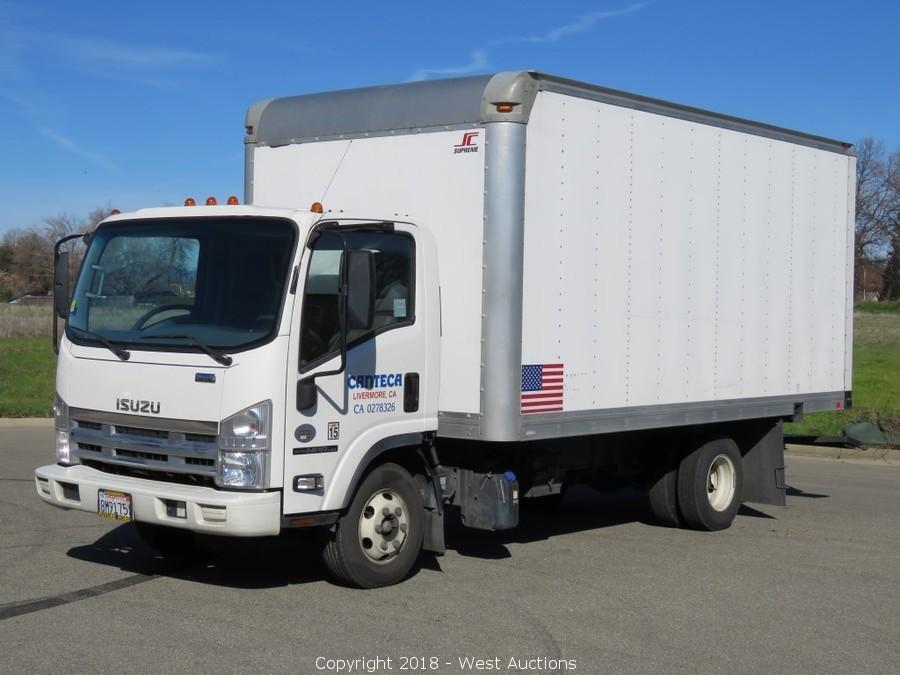 Lot #0102:
2014 Isuzu NPR HD Diesel 16' Box Truck
Bidding is

closed

.
High Bid:
$23,100.00
NA
Bidding Ended:
Thu, Mar 15 10:13:06 am PT
High Bidder:
Dirk Diggler
Bid Increment:
$100.00
Starting Bid:
$5.00
Item has been viewed 2,195 times.

2014 Isuzu NPR HD Diesel 16' Box Truck
VIN: JALC4W16XE7002505
License: 8M91756

Expiration Date: 2/28/2018

GVWR: 14,500 lbs
Odometer Reads: 95,224
Automatic Transmission
Engine: 

MFG: Isuzu
Model: 4HK1TC
HP: 210
Displacement: 5,193 cc
Inline 4

Cloth Bench Seat
AM/FM CD Player
Power Locks
Power Windows
Cruise Control
Overdrive
API Diesel Exhaust Fluid Tank
Rear Roll Up Door
Roll Up Door Dimensions: 88" x 78"
Box MFG: Supreme Corp.
Dual Rear Wheels
Tire Size: LT215/85R16
Note: Application of Duplicate Title, DMV transfer form and Certified Court Order will be mailed 10-12 weeks following the close of auction. Buyer is fully responsible for registration, smog, and fees due to DMV. The sale is subject to Trustee confirmation and lien payoff.
| | | |
| --- | --- | --- |
| Bid Date | Bid Amount | Bidder |
| Mar 15, 2018 - 10:11:06 AM | $23,100.00 | iDirk Diggler |
| Mar 15, 2018 - 10:11:06 AM | $23,000.00 | ichelseachand |
| Mar 15, 2018 - 10:10:42 AM | $22,200.00 | ichelseachand |
| Mar 15, 2018 - 10:08:54 AM | $22,100.00 | iDirk Diggler |
| Mar 15, 2018 - 10:08:45 AM | $22,000.00 | ichelseachand |
| Mar 15, 2018 - 10:08:45 AM | $21,900.00 | iDirk Diggler |
| Mar 15, 2018 - 10:08:34 AM | $21,600.00 | ichelseachand |
| Mar 15, 2018 - 10:08:34 AM | $21,500.00 | iDirk Diggler |
| Mar 15, 2018 - 10:08:20 AM | $21,100.00 | ichelseachand |
| Mar 15, 2018 - 10:06:30 AM | $21,000.00 | iDirk Diggler |
| Mar 15, 2018 - 10:06:31 AM | $21,000.00 | ichelseachand |
| Mar 15, 2018 - 10:04:43 AM | $20,100.00 | iDirk Diggler |
| Mar 15, 2018 - 10:04:32 AM | $20,000.00 | ichelseachand |
| Mar 15, 2018 - 10:04:33 AM | $20,000.00 | iDirk Diggler |
| Mar 15, 2018 - 10:04:22 AM | $19,100.00 | ichelseachand |
| Mar 15, 2018 - 10:02:47 AM | $19,000.00 | iDirk Diggler |
| Mar 15, 2018 - 10:02:48 AM | $19,000.00 | ichelseachand |
| Mar 15, 2018 - 10:01:22 AM | $18,100.00 | iDirk Diggler |
| Mar 15, 2018 - 10:01:13 AM | $18,000.00 | ichelseachand |
| Mar 15, 2018 - 10:01:14 AM | $18,000.00 | iDirk Diggler |
| Mar 15, 2018 - 10:01:04 AM | $17,100.00 | ichelseachand |
| Mar 15, 2018 - 9:59:23 AM | $17,000.00 | iDirk Diggler |
| Mar 15, 2018 - 9:59:24 AM | $17,000.00 | ichelseachand |
| Mar 15, 2018 - 9:59:02 AM | $16,100.00 | iDirk Diggler |
| Mar 15, 2018 - 9:59:02 AM | $16,000.00 | ichelseachand |
| Mar 15, 2018 - 9:58:46 AM | $15,100.00 | ichelseachand |
| Mar 15, 2018 - 9:57:24 AM | $15,000.00 | iDirk Diggler |
| Mar 15, 2018 - 9:57:25 AM | $15,000.00 | ichelseachand |
| Mar 15, 2018 - 9:57:10 AM | $14,100.00 | iDirk Diggler |
| Mar 15, 2018 - 9:57:10 AM | $14,000.00 | ichelseachand |
| Mar 15, 2018 - 9:56:35 AM | $13,100.00 | iDirk Diggler |
| Mar 15, 2018 - 9:56:35 AM | $13,000.00 | ichelseachand |
| Mar 15, 2018 - 9:56:31 AM | $12,200.00 | ichelseachand |
| Mar 15, 2018 - 9:56:11 AM | $12,100.00 | icardenasmx |
| Mar 15, 2018 - 9:55:57 AM | $12,000.00 | ichelseachand |
| Mar 15, 2018 - 9:55:58 AM | $12,000.00 | icardenasmx |
| Mar 15, 2018 - 9:55:45 AM | $11,400.00 | ichelseachand |
| Mar 15, 2018 - 9:54:40 AM | $11,300.00 | icardenasmx |
| Mar 15, 2018 - 9:51:24 AM | $11,200.00 | ichelseachand |
| Mar 15, 2018 - 9:47:46 AM | $11,100.00 | icardenasmx |
| Mar 15, 2018 - 9:47:46 AM | $11,000.00 | iCalinonstop |
| Mar 15, 2018 - 9:38:12 AM | $10,700.00 | iCalinonstop |
| Mar 15, 2018 - 9:38:12 AM | $10,600.00 | icardenasmx |
| Mar 15, 2018 - 8:57:54 AM | $10,400.00 | icardenasmx |
| Mar 15, 2018 - 8:35:41 AM | $10,300.00 | ichelseachand |
| Mar 15, 2018 - 8:35:37 AM | $10,200.00 | icardenasmx |
| Mar 15, 2018 - 8:35:37 AM | $10,150.00 | ichelseachand |
| Mar 15, 2018 - 8:35:32 AM | $10,050.00 | icardenasmx |
| Mar 15, 2018 - 8:35:32 AM | $9,950.00 | ichelseachand |
| Mar 15, 2018 - 8:35:27 AM | $9,850.00 | icardenasmx |
| Mar 15, 2018 - 8:35:27 AM | $9,750.00 | ichelseachand |
| Mar 15, 2018 - 8:35:21 AM | $9,650.00 | icardenasmx |
| Mar 15, 2018 - 8:35:21 AM | $9,550.00 | ichelseachand |
| Mar 15, 2018 - 8:35:14 AM | $9,450.00 | icardenasmx |
| Mar 15, 2018 - 8:35:14 AM | $9,350.00 | ichelseachand |
| Mar 15, 2018 - 8:07:11 AM | $9,250.00 | icardenasmx |
| Mar 15, 2018 - 2:38:00 AM | $9,150.00 | ichelseachand |
| Mar 15, 2018 - 2:38:00 AM | $9,100.00 | icardenasmx |
| Mar 15, 2018 - 2:11:32 AM | $9,050.00 | icardenasmx |
| Mar 15, 2018 - 2:11:32 AM | $8,950.00 | ielgringobrian |
| Mar 15, 2018 - 2:10:49 AM | $8,600.00 | ielgringobrian |
| Mar 15, 2018 - 2:10:49 AM | $8,500.00 | icardenasmx |
| Mar 13, 2018 - 4:32:07 PM | $8,100.00 | ielgringobrian |
| Mar 13, 2018 - 4:32:07 PM | $8,000.00 | iCalinonstop |
| Mar 13, 2018 - 11:53:19 AM | $6,600.00 | iCalinonstop |
| Mar 13, 2018 - 11:53:19 AM | $6,500.00 | isamaribuyer |
| Mar 13, 2018 - 11:52:37 AM | $5,050.00 | isamaribuyer |
| Mar 13, 2018 - 11:52:37 AM | $5,000.00 | iCalinonstop |
| Mar 13, 2018 - 11:51:27 AM | $4,550.00 | iCalinonstop |
| Mar 13, 2018 - 11:51:27 AM | $4,500.00 | isamaribuyer |
| Mar 13, 2018 - 10:39:11 AM | $3,750.00 | iCalinonstop |
| Mar 13, 2018 - 10:39:11 AM | $3,700.00 | iDirk Diggler |
| Mar 13, 2018 - 10:39:05 AM | $3,650.00 | iCalinonstop |
| Mar 13, 2018 - 10:39:05 AM | $3,600.00 | iDirk Diggler |
| Mar 13, 2018 - 10:38:58 AM | $3,550.00 | iCalinonstop |
| Mar 13, 2018 - 10:38:58 AM | $3,500.00 | iDirk Diggler |
| Mar 13, 2018 - 10:38:51 AM | $3,450.00 | iCalinonstop |
| Mar 13, 2018 - 10:38:51 AM | $3,400.00 | iDirk Diggler |
| Mar 13, 2018 - 10:38:46 AM | $3,350.00 | iCalinonstop |
| Mar 13, 2018 - 10:38:46 AM | $3,300.00 | iDirk Diggler |
| Mar 13, 2018 - 10:38:37 AM | $3,250.00 | iCalinonstop |
| Mar 13, 2018 - 10:38:37 AM | $3,200.00 | iDirk Diggler |
| Mar 13, 2018 - 10:36:50 AM | $3,150.00 | iCalinonstop |
| Mar 13, 2018 - 10:36:50 AM | $3,100.00 | iDirk Diggler |
| Mar 13, 2018 - 10:31:34 AM | $3,050.00 | iCalinonstop |
| Mar 13, 2018 - 10:31:34 AM | $3,000.00 | ithesevens |
| Mar 13, 2018 - 10:30:30 AM | $2,550.00 | iCalinonstop |
| Mar 13, 2018 - 10:30:30 AM | $2,500.00 | ithesevens |
| Mar 13, 2018 - 10:30:20 AM | $2,050.00 | iCalinonstop |
| Mar 13, 2018 - 10:30:20 AM | $2,000.00 | ithesevens |
| Mar 13, 2018 - 10:30:08 AM | $1,550.00 | iCalinonstop |
| Mar 13, 2018 - 10:30:08 AM | $1,500.00 | ithesevens |
| Mar 13, 2018 - 10:27:17 AM | $1,010.00 | iCalinonstop |
| Mar 13, 2018 - 10:27:17 AM | $1,000.00 | ithesevens |
| Mar 13, 2018 - 10:14:52 AM | $810.00 | iCalinonstop |
| Mar 13, 2018 - 10:14:52 AM | $800.00 | iatlantis |
| Mar 13, 2018 - 10:14:42 AM | $510.00 | iCalinonstop |
| Mar 13, 2018 - 10:14:42 AM | $500.00 | iatlantis |
| Mar 13, 2018 - 10:00:34 AM | $5.00 | iCalinonstop |