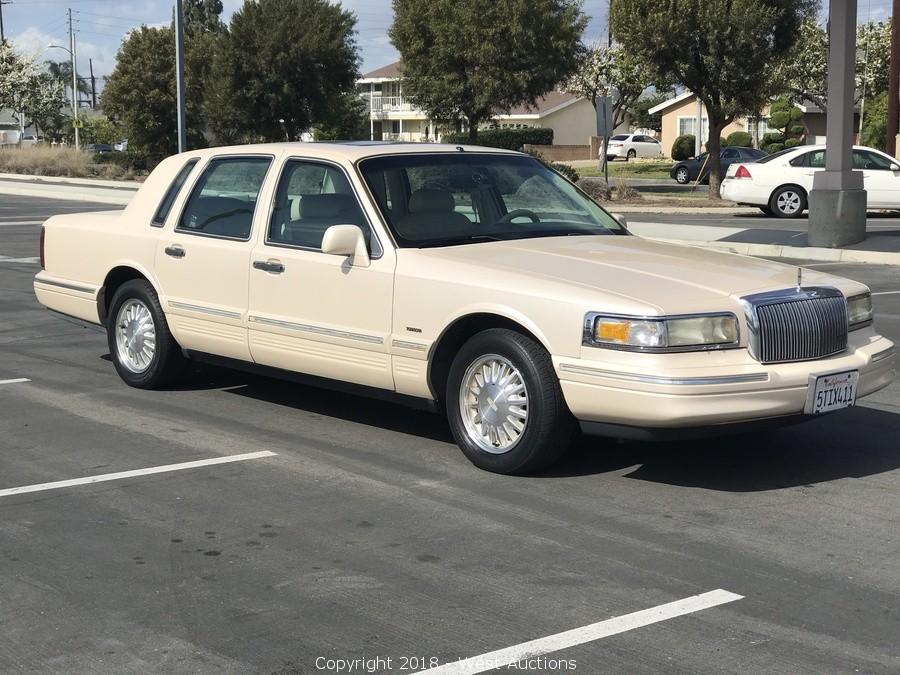 Lot #0103:
1996 Lincoln Town Car Cartier
Bidding is

closed

.
High Bid:
$1,700.00
NA
Bidding Ended:
Thu, Mar 22 10:09:05 am PT
High Bidder:
Bobair38
Bid Increment:
$50.00
Starting Bid:
$5.00
Item has been viewed 1,650 times.

1996 Lincoln Town Car Cartier
VIN: 1LNLM83W1TY721574 
License: 5TIX411 


Registration Expiration Date: 06/22/2017

Odometer:183,202 (Updated 3/20/2018 @ 2:13 pm)
Engine: 4.6L V8 SOHC 16V
4-Speed Automatic Transmission with an overdrive option
Leather Power Seats
Power Windows
AC
6 Disk CD player
Fully Operational Moonroof
XM After-Market Radio with a Remote
Keyless Entry
Only two owners
The right rear window motor works but the window does not go down.
Seller states that this vehicle runs and drives like a new car with many more miles left in it and that it has a slight transmission fluid leak at the radiator connection since recently having the transmission fluid changed.
Note: The sale of this vehicle is subject to Seller confirmation. 
Note: Certificate of Title and DMV transfer form and certificate of SMOG will be mailed 2-4 weeks following the close of auction. Buyer is fully responsible for registration and fees due to DMV.
| | | |
| --- | --- | --- |
| Bid Date | Bid Amount | Bidder |
| Mar 22, 2018 - 10:07:05 AM | $1,700.00 | iBobair38 |
| Mar 22, 2018 - 10:06:41 AM | $1,650.00 | iLefty562 |
| Mar 22, 2018 - 10:06:41 AM | $1,601.00 | iBobair38 |
| Mar 22, 2018 - 10:04:45 AM | $1,600.00 | iBobair38 |
| Mar 22, 2018 - 10:04:26 AM | $1,550.00 | iLefty562 |
| Mar 22, 2018 - 10:02:43 AM | $1,500.00 | iBobair38 |
| Mar 22, 2018 - 10:02:43 AM | $1,453.00 | iLefty562 |
| Mar 22, 2018 - 10:02:32 AM | $1,403.00 | iBobair38 |
| Mar 22, 2018 - 10:02:32 AM | $1,353.00 | iLefty562 |
| Mar 22, 2018 - 10:01:32 AM | $1,303.00 | iBobair38 |
| Mar 22, 2018 - 10:01:32 AM | $1,261.00 | iLefty562 |
| Mar 22, 2018 - 10:01:13 AM | $1,251.00 | iLefty562 |
| Mar 22, 2018 - 10:00:57 AM | $1,201.00 | iBobair38 |
| Mar 22, 2018 - 10:00:57 AM | $1,200.00 | iLefty562 |
| Mar 22, 2018 - 10:00:42 AM | $1,101.00 | iLefty562 |
| Mar 22, 2018 - 10:00:14 AM | $1,051.00 | iBobair38 |
| Mar 22, 2018 - 10:00:14 AM | $1,010.00 | iLefty562 |
| Mar 22, 2018 - 10:00:01 AM | $950.00 | iBobair38 |
| Mar 22, 2018 - 10:00:01 AM | $940.00 | iLefty562 |
| Mar 22, 2018 - 9:59:55 AM | $930.00 | iBobair38 |
| Mar 22, 2018 - 9:59:55 AM | $920.00 | iLefty562 |
| Mar 22, 2018 - 9:59:17 AM | $910.00 | iBobair38 |
| Mar 22, 2018 - 9:59:17 AM | $900.00 | iLefty562 |
| Mar 22, 2018 - 9:50:32 AM | $875.00 | iLefty562 |
| Mar 22, 2018 - 9:50:32 AM | $865.00 | iBBSTEEL |
| Mar 20, 2018 - 10:18:09 AM | $860.00 | iBBSTEEL |
| Mar 20, 2018 - 10:18:09 AM | $850.00 | imariom |
| Mar 20, 2018 - 10:17:55 AM | $515.00 | imariom |
| Mar 20, 2018 - 10:17:55 AM | $505.00 | iBBSTEEL |
| Mar 20, 2018 - 10:12:01 AM | $5.00 | imariom |