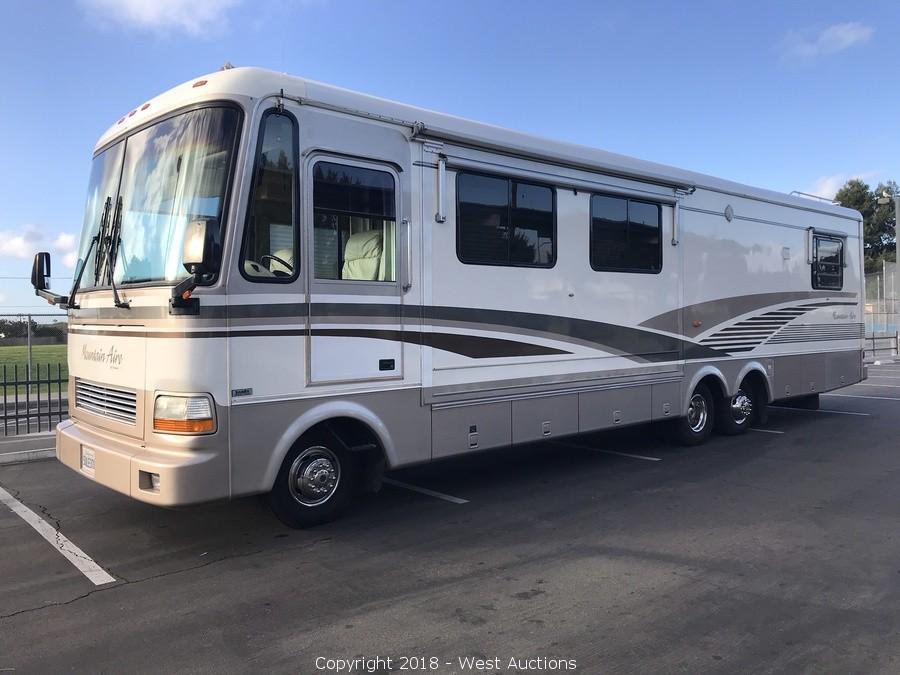 Lot #0100:
1996 Newmar Mountain Aire 38' RV
Bidding is

closed

.
High Bid:
$19,310.00
NA
Bidding Ended:
Thu, Mar 22 10:17:02 am PT
High Bidder:
altecsystems
Bid Increment:
$100.00
Starting Bid:
$5.00
Item has been viewed 3,622 times.

1996 Newmar Mountain Aire 38' RV

VIN: 3FCMF53G1TJA09041 
License: 5ULE374 

Registration Expiration Date:04/07/2017

Odometer Reads: 48,098
GVWR: 20,000
GCWR: 25,000
Model: MA3757
Hydraulic leveling jack system
Cruise control
AC
AM/FM radio
Cassette player
Leather seats
Fog lights
Power mirrors
Power Steering
Power Brakes
Power Windows
Dual rear wheels
Tire size: LT235/85R16
Backup Camera
Exterior:
2 Overhead air conditioners
Propane furnace with forced air heat
(11) Windows
All side windows have day/night Roman pull-down shades
Windshield has a full front windshield accordion-type curtain.
Long-term storage exterior shades are also included.
Automatic electric steps at the main door
Screen door
Doorbell
Exterior "porch" light
Exterior water tank with filter
Air assisted tag axel
 Interior:
Living/dining room pop out slider.
Seating for up to 10 people
Full kitchen
Wood cabinets
Stainless steel double sink
Interior water tank with filter
3-burner propane cooktop
Hood fan above the cooktop
Large convection/microwave oven
Dometic Americana RM3862 refrigerator and freezer (propane or electric: 12 VDC 110 vac)
China cabinet with acrylic "glass"
Large walk-in shower
Toilet
Vanity Sink
Large Closet
Storage space for a stacked washer and dryer.
Three-person sofa sleeper with full mattress
Dining table with leaf
(2) Ceiling ventilation fans, one in the bathroom and one in the kitchen.
Queen size bed
(2) Bedside 3-drawer night stands. 
Propane hot water heater
2 Flat screen TVs
(1) Built-in DVD player
 Additional Features:
Onan 6500GenSet Generator

Model: 6.5NHEFA26100M
277 hours

(4) Retractable awnings
(13) Outside storage areas
Banks Power System
This vehicle is equipped with a tow hitch and connections for tow vehicle lights
This coach easily tows Lot # 103 (2006 Saturn Vue SUV).
Power cord, Sewer, and water hoses are included.
Detachable vehicle tow bar is included.
Tank capacities:
Freshwater approx. 75 Gallons
Gray water approx. 75 Gallons
Blackwater (Sewage) approx. 75 Gallons
Fuel approx. 75 Gallons
Propane approx. 25 Gallons
Engine:
Manufacturer: Ford
Gasoline 460 CI fuel injected
Seller States:
This vehicle has been professionally maintained by a Fleet Maintenance service. All 8 tires were replaced in 2016 and have less than 1,500 miles on them.
Note: The sale of this vehicle is subject to Seller confirmation. 
Note: Certificate of Title and DMV transfer form will be mailed 2-4 weeks following the close of auction. Buyer is fully responsible for registration and fees due to DMV.
| | | |
| --- | --- | --- |
| Bid Date | Bid Amount | Bidder |
| Mar 22, 2018 - 10:15:02 AM | $19,310.00 | ialtecsystems |
| Mar 22, 2018 - 10:13:22 AM | $19,210.00 | iRainman |
| Mar 22, 2018 - 10:11:51 AM | $19,110.00 | ijacobp |
| Mar 22, 2018 - 10:11:47 AM | $19,010.00 | ialtecsystems |
| Mar 22, 2018 - 10:11:47 AM | $19,005.00 | ijacobp |
| Mar 22, 2018 - 10:11:02 AM | $18,905.00 | ialtecsystems |
| Mar 22, 2018 - 10:11:02 AM | $18,805.00 | ijacobp |
| Mar 22, 2018 - 10:10:55 AM | $18,705.00 | ialtecsystems |
| Mar 22, 2018 - 10:09:41 AM | $18,605.00 | iRainman |
| Mar 22, 2018 - 10:09:13 AM | $18,505.00 | ialtecsystems |
| Mar 22, 2018 - 10:09:13 AM | $18,502.00 | iRainman |
| Mar 22, 2018 - 10:07:58 AM | $18,402.00 | ialtecsystems |
| Mar 22, 2018 - 10:07:37 AM | $18,302.00 | iRainman |
| Mar 22, 2018 - 10:06:21 AM | $18,202.00 | ialtecsystems |
| Mar 22, 2018 - 10:06:21 AM | $18,201.00 | iRainman |
| Mar 22, 2018 - 10:05:30 AM | $18,101.00 | ialtecsystems |
| Mar 22, 2018 - 10:05:30 AM | $18,001.00 | iRainman |
| Mar 22, 2018 - 10:04:15 AM | $17,901.00 | ialtecsystems |
| Mar 22, 2018 - 10:03:47 AM | $17,801.00 | iRainman |
| Mar 22, 2018 - 10:02:26 AM | $17,701.00 | ipowerstation |
| Mar 22, 2018 - 10:02:15 AM | $17,601.00 | iRainman |
| Mar 22, 2018 - 10:01:35 AM | $17,501.00 | ipowerstation |
| Mar 22, 2018 - 10:01:35 AM | $17,500.00 | iRainman |
| Mar 22, 2018 - 10:01:11 AM | $17,400.00 | ipowerstation |
| Mar 22, 2018 - 10:01:11 AM | $17,300.00 | iRainman |
| Mar 22, 2018 - 10:00:23 AM | $17,200.00 | ipowerstation |
| Mar 22, 2018 - 10:00:23 AM | $17,100.00 | iRainman |
| Mar 22, 2018 - 9:59:36 AM | $17,000.00 | ipowerstation |
| Mar 22, 2018 - 9:59:36 AM | $16,900.00 | iRainman |
| Mar 22, 2018 - 9:59:24 AM | $16,800.00 | ipowerstation |
| Mar 22, 2018 - 9:59:24 AM | $16,700.00 | iRainman |
| Mar 22, 2018 - 9:58:51 AM | $16,600.00 | ipowerstation |
| Mar 22, 2018 - 9:58:51 AM | $16,500.00 | imckuinpipe |
| Mar 22, 2018 - 9:54:47 AM | $15,700.00 | imckuinpipe |
| Mar 22, 2018 - 9:54:47 AM | $15,600.00 | icheckinitout |
| Mar 22, 2018 - 9:52:16 AM | $15,500.00 | imckuinpipe |
| Mar 22, 2018 - 9:52:16 AM | $15,400.00 | icheckinitout |
| Mar 22, 2018 - 8:48:06 AM | $15,300.00 | imckuinpipe |
| Mar 21, 2018 - 10:10:49 PM | $15,200.00 | iRainman |
| Mar 21, 2018 - 10:10:49 PM | $15,150.00 | ipowerstation |
| Mar 21, 2018 - 9:21:19 PM | $15,100.00 | ipowerstation |
| Mar 21, 2018 - 9:21:19 PM | $15,000.00 | iRainman |
| Mar 21, 2018 - 2:01:24 PM | $13,100.00 | iRainman |
| Mar 21, 2018 - 2:01:24 PM | $13,000.00 | itoomey |
| Mar 21, 2018 - 2:00:38 PM | $12,100.00 | iRainman |
| Mar 21, 2018 - 2:00:38 PM | $12,000.00 | itoomey |
| Mar 21, 2018 - 9:38:13 AM | $10,211.11 | iRainman |
| Mar 21, 2018 - 9:38:13 AM | $10,111.11 | imenloglass |
| Mar 21, 2018 - 9:37:51 AM | $9,911.11 | imenloglass |
| Mar 21, 2018 - 9:37:51 AM | $9,811.11 | iRainman |
| Mar 21, 2018 - 8:58:04 AM | $9,711.11 | imenloglass |
| Mar 21, 2018 - 8:58:04 AM | $9,611.11 | irudymen |
| Mar 20, 2018 - 11:39:22 PM | $9,511.11 | imenloglass |
| Mar 20, 2018 - 11:39:22 PM | $9,500.00 | ijakeandcindy |
| Mar 20, 2018 - 11:39:19 PM | $9,411.11 | ijakeandcindy |
| Mar 20, 2018 - 11:39:19 PM | $9,311.11 | imenloglass |
| Mar 20, 2018 - 11:26:10 PM | $9,211.11 | ijakeandcindy |
| Mar 20, 2018 - 11:26:10 PM | $9,111.11 | imenloglass |
| Mar 20, 2018 - 11:23:52 PM | $9,100.00 | imenloglass |
| Mar 20, 2018 - 11:23:52 PM | $9,000.00 | ijakeandcindy |
| Mar 20, 2018 - 9:24:08 PM | $8,800.00 | imenloglass |
| Mar 20, 2018 - 9:24:08 PM | $8,700.00 | iglentp |
| Mar 20, 2018 - 9:23:23 PM | $8,400.00 | imenloglass |
| Mar 20, 2018 - 9:23:23 PM | $8,300.00 | iglentp |
| Mar 20, 2018 - 6:16:06 PM | $8,200.00 | imenloglass |
| Mar 20, 2018 - 4:54:06 PM | $8,100.00 | itrwright |
| Mar 20, 2018 - 4:54:06 PM | $8,000.00 | ijrgalczr5 |
| Mar 20, 2018 - 3:13:28 PM | $7,800.00 | ijrgalczr5 |
| Mar 20, 2018 - 3:13:28 PM | $7,700.00 | ibbqkc7 |
| Mar 20, 2018 - 10:59:31 AM | $7,600.00 | ijrgalczr5 |
| Mar 20, 2018 - 10:58:42 AM | $7,500.00 | itonedogx |
| Mar 20, 2018 - 10:58:43 AM | $7,500.00 | ijrgalczr5 |
| Mar 20, 2018 - 10:56:18 AM | $7,100.00 | itonedogx |
| Mar 20, 2018 - 10:56:18 AM | $7,000.00 | ijrgalczr5 |
| Mar 20, 2018 - 10:56:08 AM | $6,100.00 | itonedogx |
| Mar 20, 2018 - 10:56:08 AM | $6,000.00 | ijrgalczr5 |
| Mar 20, 2018 - 10:46:52 AM | $5,600.00 | itonedogx |
| Mar 20, 2018 - 10:46:52 AM | $5,500.00 | iBBSTEEL |
| Mar 20, 2018 - 10:18:32 AM | $5,050.00 | iBBSTEEL |
| Mar 20, 2018 - 10:18:32 AM | $5,000.00 | itonedogx |
| Mar 20, 2018 - 10:07:36 AM | $3,850.00 | itonedogx |
| Mar 20, 2018 - 10:07:36 AM | $3,800.00 | imariom |
| Mar 20, 2018 - 10:07:36 AM | $210.00 | imariom |
| Mar 20, 2018 - 10:07:36 AM | $200.00 | idebi1166 |
| Mar 20, 2018 - 10:07:26 AM | $160.00 | imariom |
| Mar 20, 2018 - 10:07:26 AM | $150.00 | idebi1166 |
| Mar 20, 2018 - 10:07:19 AM | $95.00 | imariom |
| Mar 20, 2018 - 10:07:19 AM | $90.00 | idebi1166 |
| Mar 20, 2018 - 10:07:16 AM | $85.00 | imariom |
| Mar 20, 2018 - 10:07:16 AM | $80.00 | idebi1166 |
| Mar 20, 2018 - 10:07:13 AM | $75.00 | imariom |
| Mar 20, 2018 - 10:07:13 AM | $70.00 | idebi1166 |
| Mar 20, 2018 - 10:07:09 AM | $65.00 | imariom |
| Mar 20, 2018 - 10:07:09 AM | $60.00 | idebi1166 |
| Mar 20, 2018 - 10:07:05 AM | $55.00 | imariom |
| Mar 20, 2018 - 10:07:05 AM | $50.00 | idebi1166 |
| Mar 20, 2018 - 10:07:00 AM | $35.00 | imariom |
| Mar 20, 2018 - 10:07:00 AM | $30.00 | idebi1166 |
| Mar 20, 2018 - 10:06:56 AM | $25.00 | imariom |
| Mar 20, 2018 - 10:06:56 AM | $20.00 | idebi1166 |
| Mar 20, 2018 - 10:06:46 AM | $15.00 | imariom |
| Mar 20, 2018 - 10:06:46 AM | $10.00 | idebi1166 |
| Mar 20, 2018 - 10:05:20 AM | $5.00 | imariom |