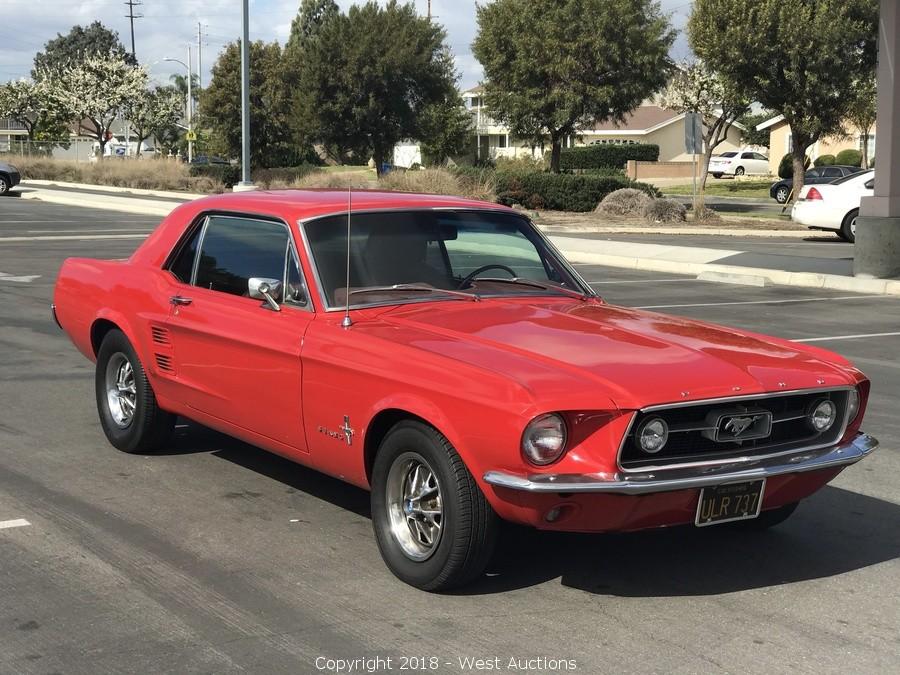 1967 Ford Mustang Coupe
Bidding is

closed

.
High Bid:
$11,300.00
NA
Bidding Ended:
Thu, Mar 22 10:04:51 am PT
High Bidder:
Davinder99
Bid Increment:
$100.00
Starting Bid:
$5.00
Item has been viewed 4,658 times.

ASK ABOUT THIS ITEM

1967 Ford Mustang Coupe
VIN: 7R01C199315
License: ULR737 


Registration Expiration Date: 5/20/2018 

Odometer Reads: 71,258
Automatic Transmission
Engine:

289 V8 4-barrel
Engine dress-up package

Duel Rear Exhaust:

Custom rear valence with 1966 dual trumpet exhaust.

Power Steering
Power Disk Brakes
AC
GT grill and light kit
GT wheels with trim rings
Aftermarket AM/FM stereo system
Deluxe body trim package.
Had factory air was converted to aftermarket and uses R134.
Seller states the following:

This vehicle has been kept inside last 20 years and has been driven less than 200 miles per year for the last 10 years.
The car has a slight power steering leak even though the entire system was replaced about 2 years ago.

Several pieces of new trim included:

New chrome rocker panel covers,
(1) Set of new door panels,
Spare GT light bulbs, and
Various other pieces of trim and mechanical parts.
Note: The sale of this vehicle is subject to Seller confirmation. 
Note: Certificate of Title and DMV transfer form will be mailed 2-4 weeks following the close of auction. Buyer is fully responsible for registration and fees due to DMV.
| | | |
| --- | --- | --- |
| Bid Date | Bid Amount | Bidder |
| Mar 22, 2018 - 10:02:51 AM | $11,300.00 | iDavinder99 |
| Mar 22, 2018 - 10:00:58 AM | $11,200.00 | ilyricali |
| Mar 22, 2018 - 10:00:41 AM | $11,100.00 | i69CARS |
| Mar 22, 2018 - 10:00:41 AM | $11,000.00 | ilyricali |
| Mar 22, 2018 - 10:00:10 AM | $10,600.00 | ilyricali |
| Mar 22, 2018 - 10:00:10 AM | $10,500.00 | i69CARS |
| Mar 22, 2018 - 9:59:03 AM | $10,400.00 | i69CARS |
| Mar 22, 2018 - 9:59:03 AM | $10,300.00 | iDavinder99 |
| Mar 22, 2018 - 9:25:34 AM | $10,200.00 | iDavinder99 |
| Mar 21, 2018 - 10:49:48 AM | $10,100.00 | idnelson211 |
| Mar 21, 2018 - 10:49:48 AM | $10,000.00 | iDavinder99 |
| Mar 21, 2018 - 10:05:54 AM | $9,900.00 | idnelson211 |
| Mar 21, 2018 - 12:02:15 AM | $9,800.00 | imenloglass |
| Mar 21, 2018 - 12:02:10 AM | $9,700.00 | idnelson211 |
| Mar 21, 2018 - 12:02:11 AM | $9,700.00 | imenloglass |
| Mar 20, 2018 - 2:37:21 PM | $9,600.00 | idnelson211 |
| Mar 20, 2018 - 2:37:21 PM | $9,500.00 | itrwright |
| Mar 20, 2018 - 2:37:06 PM | $9,350.00 | itrwright |
| Mar 20, 2018 - 2:37:06 PM | $9,250.00 | idnelson211 |
| Mar 20, 2018 - 2:36:48 PM | $9,000.00 | itrwright |
| Mar 20, 2018 - 2:36:48 PM | $8,900.00 | idnelson211 |
| Mar 20, 2018 - 2:36:34 PM | $8,600.00 | itrwright |
| Mar 20, 2018 - 2:36:34 PM | $8,500.00 | idnelson211 |
| Mar 20, 2018 - 2:04:37 PM | $8,100.00 | itrwright |
| Mar 20, 2018 - 2:04:16 PM | $8,000.00 | idnelson211 |
| Mar 20, 2018 - 2:04:17 PM | $8,000.00 | itrwright |
| Mar 20, 2018 - 12:34:00 PM | $7,350.00 | idnelson211 |
| Mar 20, 2018 - 12:34:00 PM | $7,250.00 | itonedogx |
| Mar 20, 2018 - 10:58:03 AM | $7,100.00 | itonedogx |
| Mar 20, 2018 - 10:58:03 AM | $7,000.00 | ijrgalczr5 |
| Mar 20, 2018 - 10:45:35 AM | $6,600.00 | itonedogx |
| Mar 20, 2018 - 10:45:35 AM | $6,500.00 | itammylariz |
| Mar 20, 2018 - 10:25:56 AM | $6,101.00 | itammylariz |
| Mar 20, 2018 - 10:25:56 AM | $6,001.00 | itonedogx |
| Mar 20, 2018 - 10:07:10 AM | $4,550.00 | itonedogx |
| Mar 20, 2018 - 10:07:10 AM | $4,500.00 | imariom |
| Mar 20, 2018 - 10:06:49 AM | $55.00 | itonedogx |
| Mar 20, 2018 - 10:06:49 AM | $50.00 | idebi1166 |
| Mar 20, 2018 - 10:05:16 AM | $5.00 | idebi1166 |