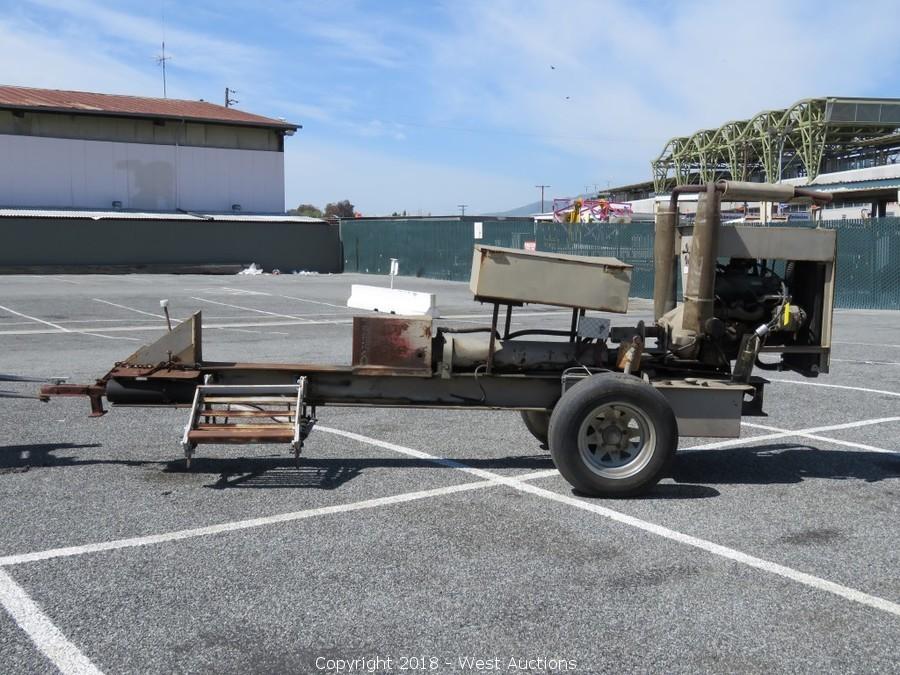 Lot #0109:
Trailer Mounted Log Splitter
Bidding is

closed

.
High Bid:
$810.00
NA
Bidding Ended:
Thu, Jun 14 10:13:00 am PT
High Bidder:
bimota
Bid Increment:
$10.00
Starting Bid:
$5.00
Item Location:

1411 Mabury Road

,

San Jose

,

CA

95133

Item has been viewed 1,528 times.

Trailer Mounted Log Splitter
34" Log Cutting Capacity
Rolling Ramp for Loading
Ball Hitch
Hour Meter Reads: 209
Tire Size: P215/70R15
Note: No ID/VIN found. Not currently registered with California DMV. Off-road used only, no title. Buyer will receive Statement of Facts and "as-is" Bill of Sale and will be mailed 1-2 weeks following the close of auction. Buyer is fully responsible for all aspects of registration process if desired, and all fees due to DMV to register this item in the Buyers name.
| | | |
| --- | --- | --- |
| Bid Date | Bid Amount | Bidder |
| Jun 14, 2018 - 10:07:50 AM | $810.00 | ibimota |
| Jun 14, 2018 - 10:07:50 AM | $800.00 | imckevitt |
| Jun 14, 2018 - 10:07:39 AM | $760.00 | imckevitt |
| Jun 14, 2018 - 10:07:39 AM | $750.00 | ibimota |
| Jun 14, 2018 - 10:07:31 AM | $710.00 | imckevitt |
| Jun 14, 2018 - 10:07:31 AM | $700.00 | ibimota |
| Jun 14, 2018 - 10:07:16 AM | $660.00 | imckevitt |
| Jun 14, 2018 - 10:07:16 AM | $650.00 | ibimota |
| Jun 14, 2018 - 9:55:38 AM | $620.00 | imckevitt |
| Jun 14, 2018 - 9:55:38 AM | $610.00 | iGSteel |
| Jun 14, 2018 - 9:55:05 AM | $600.00 | imckevitt |
| Jun 14, 2018 - 9:55:05 AM | $590.00 | iGSteel |
| Jun 14, 2018 - 8:44:00 AM | $560.00 | imckevitt |
| Jun 14, 2018 - 8:44:00 AM | $550.00 | iGSteel |
| Jun 14, 2018 - 8:42:33 AM | $520.00 | imckevitt |
| Jun 14, 2018 - 8:38:48 AM | $510.00 | iGSteel |
| Jun 14, 2018 - 8:38:48 AM | $500.00 | imckevitt |
| Jun 14, 2018 - 8:38:23 AM | $490.00 | imckevitt |
| Jun 14, 2018 - 8:38:23 AM | $480.00 | iGSteel |
| Jun 14, 2018 - 8:37:31 AM | $400.00 | imckevitt |
| Jun 14, 2018 - 8:37:31 AM | $390.00 | iGSteel |
| Jun 13, 2018 - 7:56:09 AM | $310.00 | imckevitt |
| Jun 13, 2018 - 7:56:09 AM | $300.00 | imlchoisser |
| Jun 13, 2018 - 7:55:46 AM | $260.00 | imckevitt |
| Jun 13, 2018 - 7:55:46 AM | $250.00 | imlchoisser |
| Jun 13, 2018 - 7:54:57 AM | $210.00 | imckevitt |
| Jun 13, 2018 - 7:54:57 AM | $200.00 | imlchoisser |
| Jun 13, 2018 - 1:35:53 AM | $165.00 | imckevitt |
| Jun 13, 2018 - 1:35:53 AM | $155.00 | iJulio2930 |
| Jun 13, 2018 - 1:35:49 AM | $145.00 | imckevitt |
| Jun 13, 2018 - 1:35:49 AM | $135.00 | iJulio2930 |
| Jun 13, 2018 - 1:35:45 AM | $125.00 | imckevitt |
| Jun 13, 2018 - 1:35:45 AM | $115.00 | iJulio2930 |
| Jun 12, 2018 - 8:43:41 PM | $105.00 | imckevitt |
| Jun 12, 2018 - 8:43:41 PM | $100.00 | ihardway23 |
| Jun 12, 2018 - 5:14:56 PM | $80.00 | ihardway23 |
| Jun 12, 2018 - 5:14:56 PM | $75.00 | imlchoisser |
| Jun 12, 2018 - 3:32:58 PM | $55.00 | imlchoisser |
| Jun 12, 2018 - 3:32:43 PM | $50.00 | iDirtmover.jp |
| Jun 12, 2018 - 3:32:44 PM | $50.00 | imlchoisser |
| Jun 12, 2018 - 3:32:26 PM | $45.00 | iDirtmover.jp |
| Jun 12, 2018 - 3:32:26 PM | $40.00 | imlchoisser |
| Jun 12, 2018 - 1:36:23 PM | $35.00 | iDirtmover.jp |
| Jun 12, 2018 - 1:36:23 PM | $30.00 | idriverschool |
| Jun 12, 2018 - 1:31:42 PM | $10.00 | iDirtmover.jp |
| Jun 12, 2018 - 10:59:39 AM | $5.00 | imlchoisser |