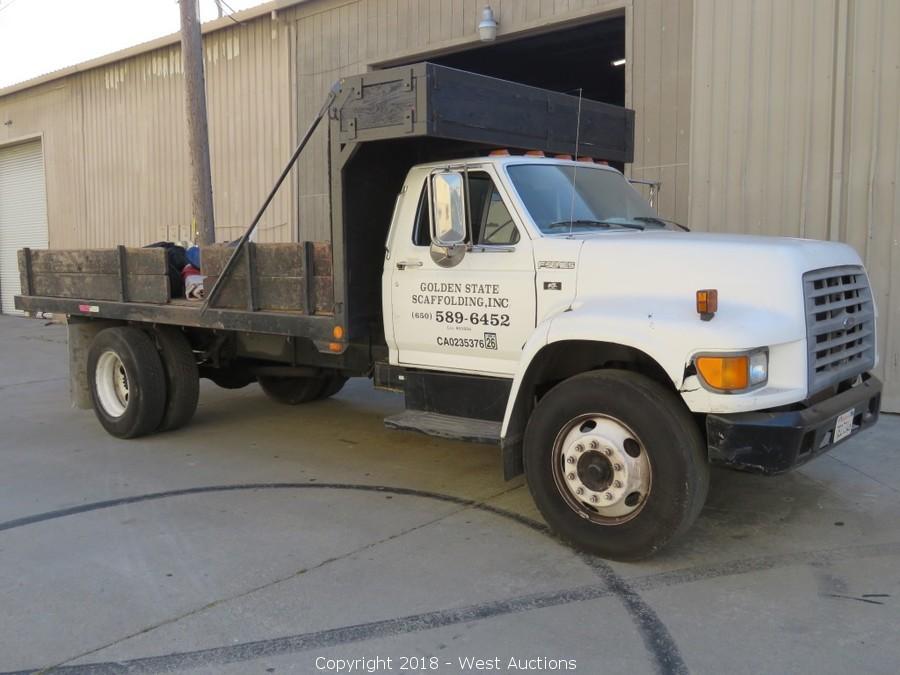 Lot #0102:
1998 Ford F-Series 16' Flatbed Truck

1998 Ford F-Series 16' Flatbed Truck
VIN: 1FDNF70J5WVA01318
License: 7E17346

Expiration Date: 10/31/2014 Planned Non-Operational

GVWR

: 25,900

LBS

Odometer reads: 163,418
Engine: 7.0 liter V8 Gas
Automatic Transmission
Vinyl bench seat
Electric/Hydraulic Parking Brake
AC
AM/FM Radio
Bed width: 8'
50 gallon side mounted fuel tank
Gas fuel
Dual rear wheels
Side mounted tool box
Tire size: 295/75R22.5
Note Buyer Agrees to These Terms: Certificate of Title, Transfer Form, and "as-is" Bill of Sale signed by Seller/Buyer will be mailed 4-6 weeks following close of auction. Seller sells this vehicle "as is" in planned non-operational condition and will not perform smog. Buyer is fully responsible for registration process, smog, and all fees due DMV to register this vehicle in Buyers name. A bid placed on this lot is an agreement to these terms.
| | | |
| --- | --- | --- |
| Bid Date | Bid Amount | Bidder |
| Jun 21, 2018 - 10:10:26 AM | $4,550.00 | iAimhigh |
| Jun 21, 2018 - 10:09:48 AM | $4,500.00 | iKentNewlin55 |
| Jun 21, 2018 - 10:09:49 AM | $4,500.00 | iAimhigh |
| Jun 21, 2018 - 10:09:37 AM | $4,305.00 | iKentNewlin55 |
| Jun 21, 2018 - 10:09:37 AM | $4,255.00 | iMilton |
| Jun 21, 2018 - 10:08:42 AM | $4,250.00 | iMilton |
| Jun 21, 2018 - 10:08:42 AM | $4,200.00 | iAimhigh |
| Jun 21, 2018 - 10:07:47 AM | $4,100.00 | iAimhigh |
| Jun 21, 2018 - 10:06:56 AM | $4,050.00 | iMilton |
| Jun 21, 2018 - 10:06:56 AM | $4,000.00 | iKentNewlin55 |
| Jun 21, 2018 - 10:06:17 AM | $3,930.00 | iKentNewlin55 |
| Jun 21, 2018 - 10:05:32 AM | $3,880.00 | iAimhigh |
| Jun 21, 2018 - 10:05:32 AM | $3,855.00 | iMilton |
| Jun 21, 2018 - 10:03:56 AM | $3,705.00 | iAimhigh |
| Jun 21, 2018 - 10:03:56 AM | $3,655.00 | iMilton |
| Jun 21, 2018 - 10:03:23 AM | $3,600.00 | iMilton |
| Jun 21, 2018 - 10:03:20 AM | $3,550.00 | iKentNewlin55 |
| Jun 21, 2018 - 10:02:27 AM | $3,500.00 | iAimhigh |
| Jun 21, 2018 - 10:02:27 AM | $3,455.00 | iMilton |
| Jun 21, 2018 - 10:01:45 AM | $3,305.00 | iAimhigh |
| Jun 21, 2018 - 10:01:45 AM | $3,255.00 | iMilton |
| Jun 21, 2018 - 10:00:59 AM | $3,250.00 | iMilton |
| Jun 21, 2018 - 10:00:59 AM | $3,200.00 | iAimhigh |
| Jun 21, 2018 - 10:00:17 AM | $2,905.00 | iAimhigh |
| Jun 21, 2018 - 10:00:17 AM | $2,855.00 | iMilton |
| Jun 21, 2018 - 9:59:31 AM | $2,625.00 | iAimhigh |
| Jun 21, 2018 - 9:59:31 AM | $2,575.00 | iMilton |
| Jun 21, 2018 - 9:59:12 AM | $2,550.00 | iMilton |
| Jun 21, 2018 - 9:59:12 AM | $2,500.00 | iAimhigh |
| Jun 21, 2018 - 9:58:13 AM | $2,050.00 | iMilton |
| Jun 21, 2018 - 9:58:13 AM | $2,000.00 | iAimhigh |
| Jun 21, 2018 - 9:45:31 AM | $1,850.00 | iAimhigh |
| Jun 21, 2018 - 9:45:21 AM | $1,800.00 | iMilton |
| Jun 21, 2018 - 9:45:22 AM | $1,800.00 | iAimhigh |
| Jun 21, 2018 - 9:34:24 AM | $1,550.00 | iMilton |
| Jun 21, 2018 - 9:34:24 AM | $1,500.00 | irexofspades |
| Jun 21, 2018 - 7:49:49 AM | $1,250.00 | iMilton |
| Jun 21, 2018 - 7:49:49 AM | $1,200.00 | ijunkmetalbob |
| Jun 21, 2018 - 7:49:19 AM | $1,110.00 | iMilton |
| Jun 21, 2018 - 7:49:19 AM | $1,060.00 | ijunkmetalbob |
| Jun 19, 2018 - 11:25:12 PM | $1,010.00 | iMilton |
| Jun 19, 2018 - 11:25:12 PM | $1,000.00 | icarson |
| Jun 19, 2018 - 2:07:17 PM | $360.00 | icarson |
| Jun 19, 2018 - 2:07:17 PM | $350.00 | iprpsrv |
| Jun 19, 2018 - 1:23:41 PM | $155.00 | iprpsrv |
| Jun 19, 2018 - 1:23:41 PM | $145.00 | iCRFOXUSA |
| Jun 19, 2018 - 12:31:11 PM | $105.00 | iprpsrv |
| Jun 19, 2018 - 12:12:11 PM | $100.00 | iAimhigh |
| Jun 19, 2018 - 12:12:12 PM | $100.00 | iplasterg |
| Jun 19, 2018 - 12:10:52 PM | $30.00 | iAimhigh |
| Jun 19, 2018 - 12:10:52 PM | $25.00 | iplasterg |
| Jun 19, 2018 - 10:43:14 AM | $20.00 | iAimhigh |
| Jun 19, 2018 - 10:43:14 AM | $15.00 | ibenha |
| Jun 19, 2018 - 10:18:04 AM | $10.00 | iAimhigh |
| Jun 19, 2018 - 10:04:18 AM | $5.00 | ibenha |