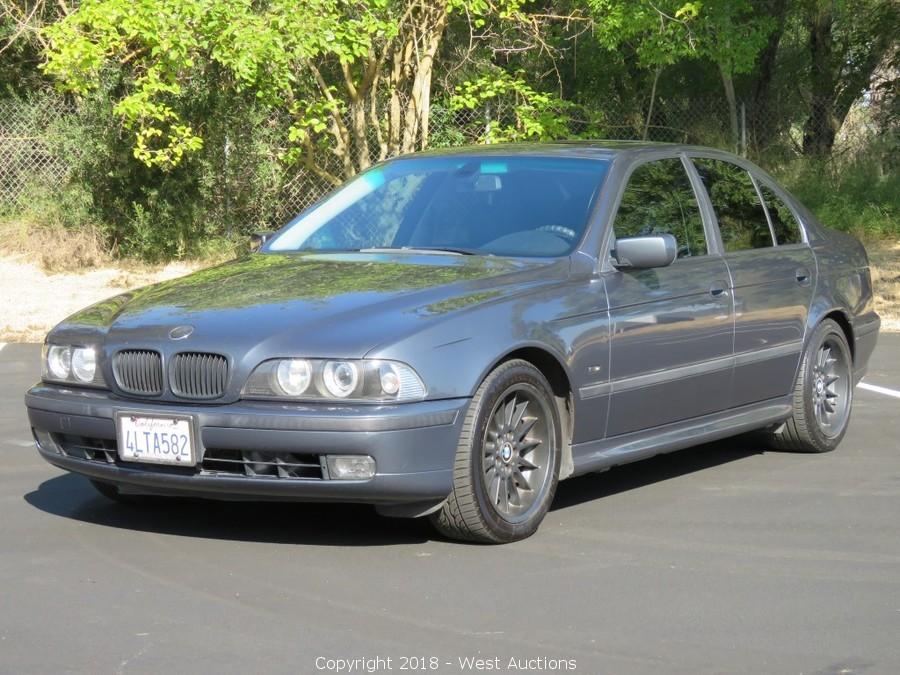 2000 BMW 540i
Bidding is

closed

.
High Bid:
$3,951.00
NA
Bidding Ended:
Thu, Jun 28 10:01:56 am PT
High Bidder:
andres.wbp
Bid Increment:
$50.00
Starting Bid:
$5.00
Item Location:

450 Santa Anita Drive

,

Woodland

,

CA

95776

Item has been viewed 3,624 times.

ASK ABOUT THIS ITEM

2000 BMW 540i
VIN: WBADN6349YGM67907
License: 4LTA582

Registration Expiration: 5/2/2019

Odometer Reads: 140,975
GVWR: 4,817 lbs
Automatic Transmission
Engine Size: 268 Cubic inch V8
Leather Interior
Cruise Control
AC
AM/FM Radio
Cassette Player
Programmable Seat Position
Power Seats
Power Mirrors
Power Windows
Power Locks
Moon Roof
Dual Airbag
Side Airbag
Spare Tire and additional headlights are included
Tire Size 255/40R17
Note: Certificate of Title, DMV transfer form and Certificate of Smog will be mailed within 1 week of auction close. Buyer is fully responsible for all aspects of registration and fees due to DMV.

| | | |
| --- | --- | --- |
| Bid Date | Bid Amount | Bidder |
| Jun 28, 2018 - 9:59:56 AM | $3,951.00 | iandres.wbp |
| Jun 28, 2018 - 9:59:56 AM | $3,901.00 | iHmyron |
| Jun 28, 2018 - 9:59:36 AM | $3,751.00 | iandres.wbp |
| Jun 28, 2018 - 9:59:36 AM | $3,701.00 | iHmyron |
| Jun 28, 2018 - 9:58:54 AM | $3,651.00 | iandres.wbp |
| Jun 28, 2018 - 9:58:54 AM | $3,601.00 | iHmyron |
| Jun 28, 2018 - 9:58:34 AM | $3,539.00 | iHmyron |
| Jun 28, 2018 - 9:58:34 AM | $3,489.00 | iandres.wbp |
| Jun 28, 2018 - 9:58:16 AM | $3,439.00 | iHmyron |
| Jun 28, 2018 - 9:58:16 AM | $3,389.00 | iandres.wbp |
| Jun 28, 2018 - 9:48:50 AM | $3,051.00 | iandres.wbp |
| Jun 28, 2018 - 9:37:56 AM | $3,001.00 | iBrandon9 |
| Jun 28, 2018 - 9:37:56 AM | $2,999.00 | iandres.wbp |
| Jun 28, 2018 - 9:35:33 AM | $2,951.00 | iandres.wbp |
| Jun 28, 2018 - 9:35:33 AM | $2,901.00 | iBrandon9 |
| Jun 28, 2018 - 9:35:19 AM | $2,851.00 | iandres.wbp |
| Jun 28, 2018 - 9:35:19 AM | $2,801.00 | iBrandon9 |
| Jun 28, 2018 - 9:30:45 AM | $2,751.00 | iandres.wbp |
| Jun 28, 2018 - 9:30:45 AM | $2,701.00 | iBrandon9 |
| Jun 28, 2018 - 9:28:06 AM | $2,610.00 | iBrandon9 |
| Jun 28, 2018 - 9:28:06 AM | $2,560.00 | iandres.wbp |
| Jun 28, 2018 - 9:27:29 AM | $2,551.00 | iandres.wbp |
| Jun 28, 2018 - 9:27:29 AM | $2,501.00 | iBrandon9 |
| Jun 27, 2018 - 4:33:37 PM | $2,300.00 | iandres.wbp |
| Jun 27, 2018 - 4:33:37 PM | $2,250.00 | iwood321 |
| Jun 27, 2018 - 4:33:11 PM | $2,050.00 | iandres.wbp |
| Jun 27, 2018 - 4:33:11 PM | $2,000.00 | iwood321 |
| Jun 27, 2018 - 4:32:09 PM | $1,950.00 | iandres.wbp |
| Jun 27, 2018 - 4:32:09 PM | $1,900.00 | iwood321 |
| Jun 26, 2018 - 8:11:02 PM | $1,850.00 | iandres.wbp |
| Jun 26, 2018 - 8:08:38 PM | $1,800.00 | iOUTBIDYOU |
| Jun 26, 2018 - 8:08:38 PM | $1,776.00 | iandres.wbp |
| Jun 26, 2018 - 8:07:19 PM | $1,750.00 | iandres.wbp |
| Jun 26, 2018 - 8:07:19 PM | $1,700.00 | iOUTBIDYOU |
| Jun 26, 2018 - 8:07:01 PM | $1,650.00 | iandres.wbp |
| Jun 26, 2018 - 8:07:01 PM | $1,600.00 | iOUTBIDYOU |
| Jun 26, 2018 - 8:02:00 PM | $1,550.00 | iandres.wbp |
| Jun 26, 2018 - 8:02:00 PM | $1,500.00 | iOUTBIDYOU |
| Jun 26, 2018 - 6:37:18 PM | $1,150.00 | iandres.wbp |
| Jun 26, 2018 - 6:37:18 PM | $1,100.00 | iolepe73 |
| Jun 26, 2018 - 6:32:40 PM | $1,010.00 | iolepe73 |
| Jun 26, 2018 - 6:32:21 PM | $1,000.00 | iandres.wbp |
| Jun 26, 2018 - 6:32:22 PM | $1,000.00 | iolepe73 |
| Jun 26, 2018 - 6:32:01 PM | $860.00 | iandres.wbp |
| Jun 26, 2018 - 6:32:01 PM | $850.00 | iolepe73 |
| Jun 26, 2018 - 6:26:18 PM | $835.00 | iandres.wbp |
| Jun 26, 2018 - 6:26:18 PM | $825.00 | iolepe73 |
| Jun 26, 2018 - 3:20:52 PM | $511.00 | iolepe73 |
| Jun 26, 2018 - 2:52:47 PM | $501.00 | icraigvince |
| Jun 26, 2018 - 2:52:47 PM | $500.00 | iscavengerhunt |
| Jun 26, 2018 - 2:52:37 PM | $435.00 | iscavengerhunt |
| Jun 26, 2018 - 2:52:37 PM | $425.00 | icraigvince |
| Jun 26, 2018 - 12:15:11 PM | $360.00 | iscavengerhunt |
| Jun 26, 2018 - 12:15:11 PM | $350.00 | icraigvince |
| Jun 26, 2018 - 11:42:11 AM | $260.00 | iscavengerhunt |
| Jun 26, 2018 - 11:42:11 AM | $250.00 | icraigvince |
| Jun 26, 2018 - 11:24:23 AM | $10.00 | icraigvince |
| Jun 26, 2018 - 11:14:59 AM | $5.00 | iscavengerhunt |