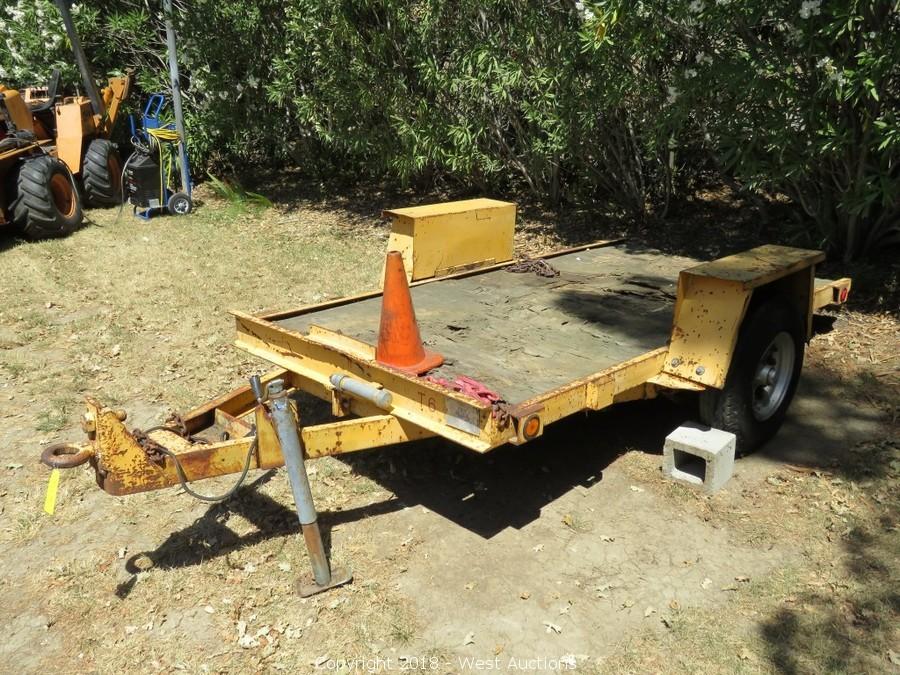 Lot #0123:
1979 Tilt Bed 10' Trailer
Bidding is

closed

.
High Bid:
$865.00
NA
Bidding Ended:
Thu, Jul 26 10:26:58 am PT
High Bidder:
neutrin@icloud.com
Bid Increment:
$10.00
Starting Bid:
$5.00
Item Location:

Vacaville

,

CA

95688

Item has been viewed 1,067 times.

1979 Tilt Bed 10' Trailer
VIN: 3TL79387
License: 1AX5614

Registration Expiration:  7/31/2012

Dimensions:10' X 5'
Single Axle
Capacity: 4000lbs
Ring Hitch
Wheel Size: 8-14.5
Note: Application for Duplicate Title, Transfer form will be mailed 4-6 weeks following close of auction. Buyer is fully responsible for all aspects of registration and fees due to DMV.

| | | |
| --- | --- | --- |
| Bid Date | Bid Amount | Bidder |
| Jul 26, 2018 - 10:24:58 AM | $865.00 | ineutrin@icloud.com |
| Jul 26, 2018 - 10:23:18 AM | $855.00 | iDer1 |
| Jul 26, 2018 - 10:23:18 AM | $850.00 | ineutrin@icloud.com |
| Jul 26, 2018 - 10:23:06 AM | $845.00 | ineutrin@icloud.com |
| Jul 26, 2018 - 10:23:06 AM | $835.00 | iDer1 |
| Jul 26, 2018 - 10:21:56 AM | $820.09 | ineutrin@icloud.com |
| Jul 26, 2018 - 10:21:46 AM | $810.09 | iDer1 |
| Jul 26, 2018 - 10:21:46 AM | $810.00 | ineutrin@icloud.com |
| Jul 26, 2018 - 10:20:52 AM | $795.90 | ineutrin@icloud.com |
| Jul 26, 2018 - 10:20:52 AM | $785.90 | iDer1 |
| Jul 26, 2018 - 10:20:33 AM | $775.00 | ineutrin@icloud.com |
| Jul 26, 2018 - 10:20:33 AM | $765.00 | iDer1 |
| Jul 26, 2018 - 10:20:17 AM | $755.00 | ineutrin@icloud.com |
| Jul 26, 2018 - 10:20:17 AM | $745.00 | iDer1 |
| Jul 26, 2018 - 10:20:02 AM | $735.00 | ineutrin@icloud.com |
| Jul 26, 2018 - 10:20:02 AM | $725.00 | iDer1 |
| Jul 26, 2018 - 10:19:42 AM | $715.00 | ineutrin@icloud.com |
| Jul 26, 2018 - 10:19:42 AM | $705.00 | idljensen |
| Jul 26, 2018 - 10:19:33 AM | $695.00 | ineutrin@icloud.com |
| Jul 26, 2018 - 10:19:33 AM | $685.00 | idljensen |
| Jul 26, 2018 - 10:19:28 AM | $675.00 | ineutrin@icloud.com |
| Jul 26, 2018 - 10:19:28 AM | $665.00 | idljensen |
| Jul 26, 2018 - 10:19:04 AM | $655.00 | ineutrin@icloud.com |
| Jul 26, 2018 - 10:19:04 AM | $645.00 | idljensen |
| Jul 26, 2018 - 10:17:13 AM | $635.00 | iDer1 |
| Jul 26, 2018 - 10:17:00 AM | $625.00 | idljensen |
| Jul 26, 2018 - 10:17:00 AM | $620.00 | iDer1 |
| Jul 26, 2018 - 10:16:46 AM | $610.00 | idljensen |
| Jul 26, 2018 - 10:16:46 AM | $600.00 | iDer1 |
| Jul 26, 2018 - 10:05:09 AM | $560.00 | idljensen |
| Jul 26, 2018 - 10:05:02 AM | $550.00 | iDer1 |
| Jul 26, 2018 - 10:04:38 AM | $540.00 | idljensen |
| Jul 26, 2018 - 9:59:12 AM | $530.00 | iDer1 |
| Jul 26, 2018 - 9:58:01 AM | $520.00 | idljensen |
| Jul 26, 2018 - 9:44:30 AM | $510.00 | iDer1 |
| Jul 26, 2018 - 9:44:19 AM | $500.00 | idljensen |
| Jul 26, 2018 - 9:44:19 AM | $495.00 | iDer1 |
| Jul 26, 2018 - 9:44:09 AM | $485.00 | idljensen |
| Jul 26, 2018 - 9:44:09 AM | $475.00 | iDer1 |
| Jul 26, 2018 - 9:43:59 AM | $465.00 | idljensen |
| Jul 26, 2018 - 9:43:59 AM | $455.00 | iDer1 |
| Jul 26, 2018 - 9:43:45 AM | $445.00 | idljensen |
| Jul 26, 2018 - 9:43:45 AM | $435.00 | iDer1 |
| Jul 26, 2018 - 8:35:40 AM | $425.00 | idljensen |
| Jul 26, 2018 - 8:35:40 AM | $415.00 | iDer1 |
| Jul 26, 2018 - 7:15:40 AM | $410.00 | iDer1 |
| Jul 26, 2018 - 7:15:29 AM | $400.00 | idljensen |
| Jul 26, 2018 - 7:15:30 AM | $400.00 | iDer1 |
| Jul 26, 2018 - 7:15:17 AM | $390.00 | idljensen |
| Jul 26, 2018 - 7:15:17 AM | $380.00 | iDer1 |
| Jul 26, 2018 - 7:15:05 AM | $370.00 | idljensen |
| Jul 26, 2018 - 7:15:05 AM | $360.00 | iDer1 |
| Jul 26, 2018 - 7:14:54 AM | $350.00 | idljensen |
| Jul 26, 2018 - 7:14:54 AM | $340.00 | iDer1 |
| Jul 26, 2018 - 7:14:42 AM | $330.00 | idljensen |
| Jul 26, 2018 - 7:14:42 AM | $320.00 | iDer1 |
| Jul 24, 2018 - 9:40:50 PM | $310.00 | idljensen |
| Jul 24, 2018 - 9:40:42 PM | $300.00 | iTitanfan |
| Jul 24, 2018 - 9:40:43 PM | $300.00 | idljensen |
| Jul 24, 2018 - 5:16:19 PM | $210.00 | iTitanfan |
| Jul 24, 2018 - 5:16:01 PM | $200.00 | idljensen |
| Jul 24, 2018 - 5:16:02 PM | $200.00 | iTitanfan |
| Jul 24, 2018 - 3:23:36 PM | $105.00 | idljensen |
| Jul 24, 2018 - 3:23:18 PM | $100.00 | iDer1 |
| Jul 24, 2018 - 3:23:19 PM | $100.00 | idljensen |
| Jul 24, 2018 - 11:00:10 AM | $5.00 | iDer1 |