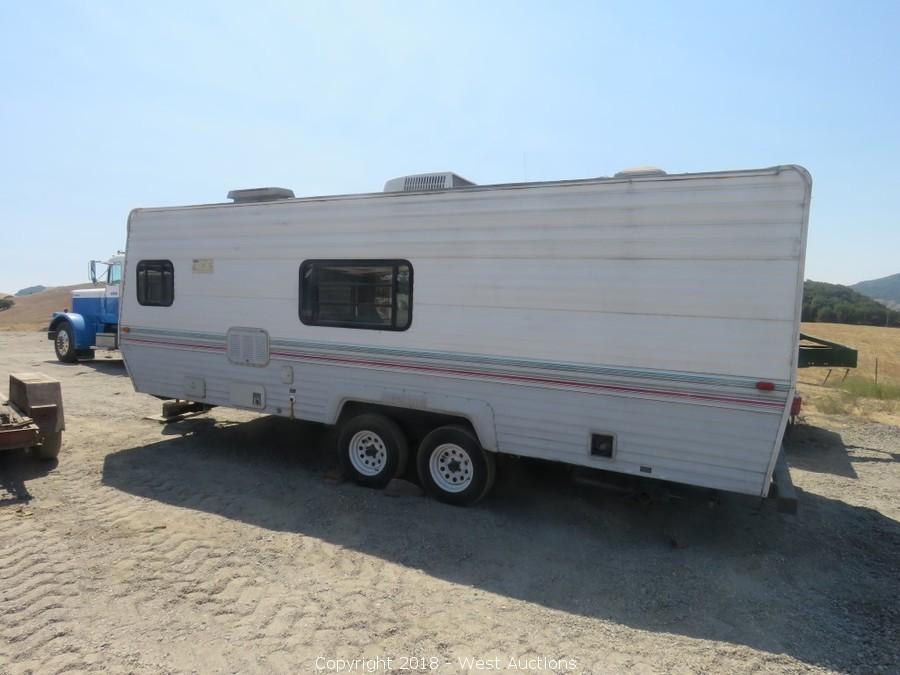 Lot #0108:
1995 Nomad Skyline 23' RV Camper
Bidding is

closed

.
High Bid:
$1,600.00
NA
Bidding Ended:
Thu, Sep 13 10:12:06 am PT
High Bidder:
Rosemary
Bid Increment:
$50.00
Starting Bid:
$5.00
Item Location:

715 Chileno Valley Drive

,

Petaluma

,

CA

94952

Item has been viewed 1,803 times.

1995 Nomad Skyline 23' RV Camper
VIN: 1SN200L25SB001358
License: 1KE6664


Registration Expiration: 8/31/2018

Model: 2440
Trailer Weight: 4,144 LBS
(2) Propane Hookups
(1) Battery
Electric Brakes
Water Hookups
Waste Hookup
Electric Hookup
(7) Windows
Fold Down Dining Area
Dometic Microwave
Wedgewood High Output Stove
Ventline Exhaust Fan
Dometic RM2611 Fridge/Freezer
2 Basin Sink
MTI Industries Propane
Systems Monitors
Water Heater
Dometic BriskAir Duo-Therm AC/Heater 
Falcon AM/FM Stereo Radio Cassette
Magnetek Power Plus
Single Sink Basin
Bathroom with Shower/Tub and Toilet Tub
(4) Roof Ventilation Panels
(26) Cupboards and Drawers
Fold Out Couch
Smoke Detector
Hydro Flame Thermostat
Full Size Bed Area with Storage
2 5/16th Ball Hitch
(2) Axles
Tire Size: ST205/75R15
Note: Application for Duplicate Title, DMV Transfer form, statement of facts and application for PTI will be mailed 4-6 weeks following close of auction. Buyer is fully responsible for all aspects of registration and fees due DMV. Sale pending DMV.
| | | |
| --- | --- | --- |
| Bid Date | Bid Amount | Bidder |
| Sep 13, 2018 - 10:10:06 AM | $1,600.00 | iRosemary |
| Sep 13, 2018 - 10:09:57 AM | $1,550.00 | ivalplaster |
| Sep 13, 2018 - 10:09:57 AM | $1,510.00 | iRosemary |
| Sep 13, 2018 - 10:08:37 AM | $1,460.00 | ivalplaster |
| Sep 13, 2018 - 10:07:05 AM | $1,410.00 | iRosemary |
| Sep 13, 2018 - 10:07:05 AM | $1,400.00 | ivalplaster |
| Sep 13, 2018 - 10:06:42 AM | $1,360.00 | ivalplaster |
| Sep 13, 2018 - 10:06:28 AM | $1,310.00 | iRosemary |
| Sep 13, 2018 - 10:06:28 AM | $1,300.00 | ivalplaster |
| Sep 13, 2018 - 10:05:24 AM | $1,260.00 | ivalplaster |
| Sep 13, 2018 - 10:05:06 AM | $1,210.00 | iracherach |
| Sep 13, 2018 - 10:04:49 AM | $1,160.00 | iRosemary |
| Sep 13, 2018 - 10:04:44 AM | $1,110.00 | iracherach |
| Sep 13, 2018 - 10:04:44 AM | $1,100.00 | ivalplaster |
| Sep 13, 2018 - 10:04:25 AM | $1,060.00 | ivalplaster |
| Sep 13, 2018 - 10:03:57 AM | $1,010.00 | iRosemary |
| Sep 13, 2018 - 10:03:52 AM | $1,000.00 | ivalplaster |
| Sep 13, 2018 - 10:03:53 AM | $1,000.00 | iRosemary |
| Sep 13, 2018 - 10:03:46 AM | $990.00 | ivalplaster |
| Sep 13, 2018 - 10:03:46 AM | $980.00 | iRosemary |
| Sep 13, 2018 - 10:03:30 AM | $970.00 | ivalplaster |
| Sep 13, 2018 - 10:03:26 AM | $960.00 | iRosemary |
| Sep 13, 2018 - 10:03:19 AM | $950.00 | ivalplaster |
| Sep 13, 2018 - 10:03:19 AM | $945.00 | iRosemary |
| Sep 13, 2018 - 10:03:13 AM | $935.00 | ivalplaster |
| Sep 13, 2018 - 10:03:13 AM | $925.00 | iRosemary |
| Sep 13, 2018 - 10:03:04 AM | $915.00 | ivalplaster |
| Sep 13, 2018 - 10:03:04 AM | $905.00 | i14majic |
| Sep 13, 2018 - 10:02:57 AM | $895.00 | ivalplaster |
| Sep 13, 2018 - 10:02:57 AM | $885.00 | i14majic |
| Sep 13, 2018 - 10:02:50 AM | $875.00 | ivalplaster |
| Sep 13, 2018 - 10:02:50 AM | $865.00 | i14majic |
| Sep 13, 2018 - 10:02:46 AM | $855.00 | ivalplaster |
| Sep 13, 2018 - 10:02:46 AM | $845.00 | iRosemary |
| Sep 13, 2018 - 10:02:37 AM | $835.00 | ivalplaster |
| Sep 13, 2018 - 10:02:37 AM | $825.00 | iRosemary |
| Sep 13, 2018 - 10:02:26 AM | $815.00 | ivalplaster |
| Sep 13, 2018 - 10:01:34 AM | $805.00 | iracherach |
| Sep 13, 2018 - 9:57:31 AM | $795.00 | iRosemary |
| Sep 13, 2018 - 9:56:30 AM | $785.00 | i14majic |
| Sep 13, 2018 - 9:56:25 AM | $775.00 | ibrian3083 |
| Sep 13, 2018 - 9:56:25 AM | $770.00 | i14majic |
| Sep 13, 2018 - 9:56:20 AM | $760.00 | ibrian3083 |
| Sep 13, 2018 - 9:56:20 AM | $750.00 | i14majic |
| Sep 13, 2018 - 9:56:11 AM | $740.00 | ibrian3083 |
| Sep 13, 2018 - 9:56:11 AM | $730.00 | i14majic |
| Sep 13, 2018 - 9:36:35 AM | $720.00 | ibrian3083 |
| Sep 13, 2018 - 6:29:12 AM | $710.00 | ivicrod |
| Sep 13, 2018 - 6:29:09 AM | $700.00 | ibrian3083 |
| Sep 13, 2018 - 6:29:10 AM | $700.00 | ivicrod |
| Sep 13, 2018 - 6:29:07 AM | $690.00 | ibrian3083 |
| Sep 13, 2018 - 6:29:07 AM | $680.00 | ivicrod |
| Sep 13, 2018 - 6:29:03 AM | $670.00 | ibrian3083 |
| Sep 13, 2018 - 6:29:03 AM | $660.00 | ivicrod |
| Sep 13, 2018 - 6:28:59 AM | $650.00 | ibrian3083 |
| Sep 13, 2018 - 6:28:59 AM | $640.00 | ivicrod |
| Sep 13, 2018 - 6:28:50 AM | $630.00 | ibrian3083 |
| Sep 13, 2018 - 6:28:50 AM | $620.00 | ivicrod |
| Sep 12, 2018 - 12:27:53 PM | $610.00 | ibrian3083 |
| Sep 12, 2018 - 3:59:32 AM | $600.00 | ibbwenterprises |
| Sep 12, 2018 - 3:59:33 AM | $600.00 | irockstar |
| Sep 12, 2018 - 3:56:46 AM | $580.00 | ibbwenterprises |
| Sep 12, 2018 - 3:56:46 AM | $570.00 | irockstar |
| Sep 12, 2018 - 3:56:04 AM | $560.00 | ibbwenterprises |
| Sep 12, 2018 - 3:56:04 AM | $550.00 | irockstar |
| Sep 12, 2018 - 12:43:17 AM | $521.00 | ibbwenterprises |
| Sep 12, 2018 - 12:43:17 AM | $511.00 | igeminishele |
| Sep 12, 2018 - 12:42:36 AM | $510.00 | igeminishele |
| Sep 12, 2018 - 12:42:36 AM | $500.00 | ibbwenterprises |
| Sep 12, 2018 - 12:42:24 AM | $485.00 | igeminishele |
| Sep 12, 2018 - 12:42:24 AM | $475.00 | ibbwenterprises |
| Sep 11, 2018 - 6:02:08 PM | $465.00 | igeminishele |
| Sep 11, 2018 - 6:02:08 PM | $455.00 | ibilaine |
| Sep 11, 2018 - 2:03:05 PM | $311.01 | igeminishele |
| Sep 11, 2018 - 12:35:05 PM | $301.01 | iearonp42 |
| Sep 11, 2018 - 12:35:05 PM | $300.00 | iBryon1 |
| Sep 11, 2018 - 12:35:00 PM | $210.00 | iearonp42 |
| Sep 11, 2018 - 12:35:00 PM | $200.00 | iBryon1 |
| Sep 11, 2018 - 12:34:55 PM | $105.00 | iearonp42 |
| Sep 11, 2018 - 12:34:55 PM | $100.00 | iBryon1 |
| Sep 11, 2018 - 12:34:49 PM | $55.00 | iearonp42 |
| Sep 11, 2018 - 12:34:49 PM | $50.00 | iBryon1 |
| Sep 11, 2018 - 12:34:44 PM | $35.00 | iearonp42 |
| Sep 11, 2018 - 12:34:44 PM | $30.00 | iBryon1 |
| Sep 11, 2018 - 12:33:53 PM | $25.00 | iearonp42 |
| Sep 11, 2018 - 12:33:53 PM | $20.00 | iBryon1 |
| Sep 11, 2018 - 12:31:43 PM | $15.00 | iBryon1 |
| Sep 11, 2018 - 12:31:43 PM | $10.00 | imxer418 |
| Sep 11, 2018 - 10:20:20 AM | $5.00 | imxer418 |