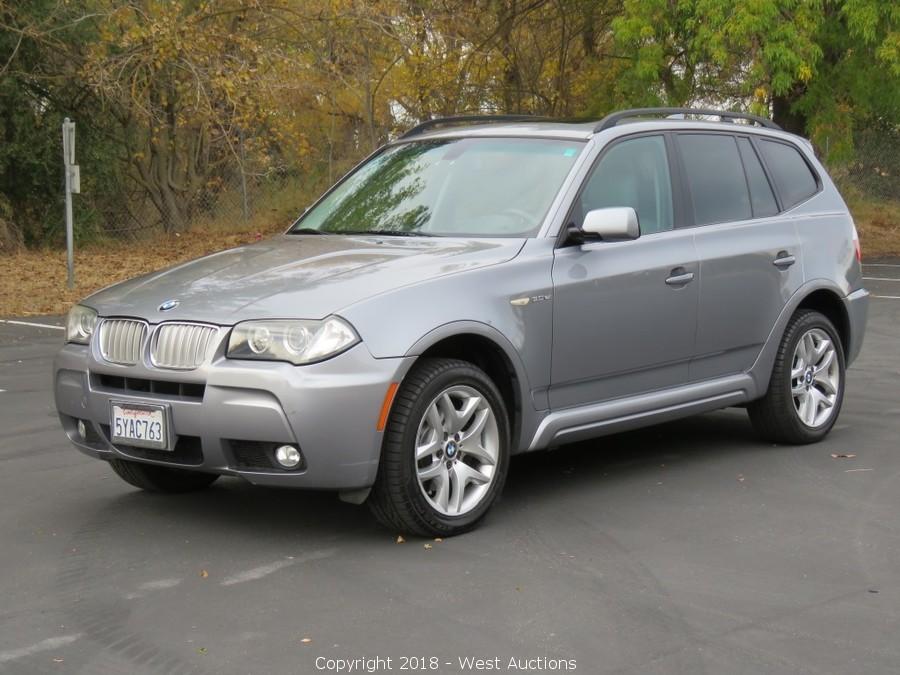 Bankruptcy Auction of 2007 BMW X3 3.0si
Bidding is

closed

.
High Bid:
$5,750.00
NA
Bidding Ended:
Thu, Dec 20 10:12:54 am PT
High Bidder:
Diegosmom
Bid Increment:
$100.00
Starting Bid:
$5.00
Item has been viewed 3,419 times.

ASK ABOUT THIS ITEM

Bankruptcy Auction of 2007 BMW X3 3.0si
VIN: WBXPC93467WF08043
License: 5YAC763

Registration Expiration: 1/2/2019

Odometer Reads: 156,665
6-Speed Automatic Transmission
3.0 Liter 6 Cylinder Engine
Leather Interior
Cruise Control
Powered Seats
Powered Steering
Powered Windows
Powered Mirrors
Powered Locks
AM/FM Radio
CD Player
Tilting Steering Wheel
Moon Roof
5-Seater
Dual Side Airbags
Tire size: 235/50R18
Note: Certificate of Title, Transfer form, Statement of Facts, Certified Court Order and Notice of Sale will be mailed 8-10 weeks following the close of auction. Buyer is fully responsible for all aspects of smog, registration, fees due to DMV.
| | | |
| --- | --- | --- |
| Bid Date | Bid Amount | Bidder |
| Dec 20, 2018 - 10:10:54 AM | $5,750.00 | iDiegosmom |
| Dec 20, 2018 - 10:09:47 AM | $5,650.00 | izreamer007 |
| Dec 20, 2018 - 10:09:47 AM | $5,555.00 | ins76 |
| Dec 20, 2018 - 10:07:48 AM | $5,550.00 | ins76 |
| Dec 20, 2018 - 10:07:48 AM | $5,450.00 | izreamer007 |
| Dec 20, 2018 - 10:06:04 AM | $5,409.00 | izreamer007 |
| Dec 20, 2018 - 10:04:38 AM | $5,309.00 | ins76 |
| Dec 20, 2018 - 10:04:38 AM | $5,251.00 | izreamer007 |
| Dec 20, 2018 - 10:04:29 AM | $5,209.00 | izreamer007 |
| Dec 20, 2018 - 10:04:29 AM | $5,109.00 | ins76 |
| Dec 20, 2018 - 10:03:01 AM | $5,101.00 | ins76 |
| Dec 20, 2018 - 10:02:29 AM | $5,001.00 | iHmyron |
| Dec 20, 2018 - 10:02:29 AM | $4,989.00 | ins76 |
| Dec 20, 2018 - 10:01:07 AM | $4,850.00 | ins76 |
| Dec 20, 2018 - 10:01:07 AM | $4,800.00 | izreamer007 |
| Dec 20, 2018 - 10:00:08 AM | $4,727.00 | izreamer007 |
| Dec 20, 2018 - 9:59:58 AM | $4,677.00 | iHmyron |
| Dec 20, 2018 - 9:59:58 AM | $4,653.00 | izreamer007 |
| Dec 20, 2018 - 9:34:15 AM | $4,550.00 | iHmyron |
| Dec 20, 2018 - 9:33:09 AM | $4,500.00 | izreamer007 |
| Dec 20, 2018 - 9:33:09 AM | $4,477.00 | iHmyron |
| Dec 20, 2018 - 9:32:43 AM | $4,450.00 | iHmyron |
| Dec 20, 2018 - 9:32:43 AM | $4,400.00 | izreamer007 |
| Dec 20, 2018 - 9:30:04 AM | $4,351.00 | izreamer007 |
| Dec 20, 2018 - 9:30:04 AM | $4,301.00 | iHmyron |
| Dec 20, 2018 - 9:28:40 AM | $4,250.00 | iHmyron |
| Dec 20, 2018 - 9:27:37 AM | $4,200.00 | izreamer007 |
| Dec 20, 2018 - 9:27:37 AM | $4,151.00 | iHmyron |
| Dec 20, 2018 - 8:45:07 AM | $3,910.00 | izreamer007 |
| Dec 20, 2018 - 7:14:28 AM | $3,860.00 | iJwarner |
| Dec 19, 2018 - 7:28:40 PM | $3,810.00 | iHmyron |
| Dec 19, 2018 - 7:28:40 PM | $3,800.00 | iroyler0530 |
| Dec 19, 2018 - 7:07:13 PM | $3,551.00 | iroyler0530 |
| Dec 19, 2018 - 7:06:33 PM | $3,501.00 | iHmyron |
| Dec 19, 2018 - 7:06:33 PM | $3,500.00 | iroyler0530 |
| Dec 19, 2018 - 7:06:01 PM | $3,301.00 | iroyler0530 |
| Dec 19, 2018 - 7:05:53 PM | $3,251.00 | iHmyron |
| Dec 19, 2018 - 7:05:53 PM | $3,250.00 | iroyler0530 |
| Dec 19, 2018 - 7:02:00 PM | $3,051.00 | iroyler0530 |
| Dec 19, 2018 - 7:01:56 PM | $3,001.00 | iHmyron |
| Dec 19, 2018 - 7:01:56 PM | $2,951.00 | iroyler0530 |
| Dec 19, 2018 - 7:01:48 PM | $2,901.00 | iHmyron |
| Dec 19, 2018 - 7:01:48 PM | $2,851.00 | iroyler0530 |
| Dec 19, 2018 - 4:22:56 PM | $2,801.00 | iHmyron |
| Dec 19, 2018 - 4:09:04 PM | $2,751.00 | iJwarner |
| Dec 19, 2018 - 4:09:00 PM | $2,701.00 | iHmyron |
| Dec 19, 2018 - 4:09:00 PM | $2,700.00 | iJwarner |
| Dec 19, 2018 - 4:08:55 PM | $2,650.00 | iHmyron |
| Dec 19, 2018 - 4:08:55 PM | $2,600.00 | iJwarner |
| Dec 19, 2018 - 5:38:13 AM | $2,550.00 | iHmyron |
| Dec 19, 2018 - 5:38:13 AM | $2,500.00 | iJwarner |
| Dec 19, 2018 - 5:38:10 AM | $2,450.00 | iHmyron |
| Dec 19, 2018 - 5:38:10 AM | $2,400.00 | iJwarner |
| Dec 19, 2018 - 5:38:07 AM | $2,350.00 | iHmyron |
| Dec 19, 2018 - 5:38:07 AM | $2,300.00 | iJwarner |
| Dec 19, 2018 - 5:38:02 AM | $2,250.00 | iHmyron |
| Dec 19, 2018 - 5:38:02 AM | $2,200.00 | iJwarner |
| Dec 19, 2018 - 5:37:52 AM | $2,150.00 | iHmyron |
| Dec 19, 2018 - 5:37:52 AM | $2,100.00 | iJwarner |
| Dec 19, 2018 - 12:31:02 AM | $2,050.00 | iHmyron |
| Dec 19, 2018 - 12:31:02 AM | $2,000.00 | icohowater |
| Dec 18, 2018 - 8:30:06 PM | $1,900.00 | icohowater |
| Dec 18, 2018 - 8:29:42 PM | $1,850.00 | ibigdog24 |
| Dec 18, 2018 - 8:29:42 PM | $1,800.00 | icohowater |
| Dec 18, 2018 - 7:31:47 PM | $1,750.00 | ibigdog24 |
| Dec 18, 2018 - 7:31:47 PM | $1,700.00 | iglentp |
| Dec 18, 2018 - 4:21:19 PM | $1,450.00 | iglentp |
| Dec 18, 2018 - 2:24:50 PM | $1,400.00 | isrlsales |
| Dec 18, 2018 - 2:24:50 PM | $1,350.00 | iJwole1733 |
| Dec 18, 2018 - 2:16:46 PM | $1,130.00 | isrlsales |
| Dec 18, 2018 - 2:16:46 PM | $1,080.00 | ibestlid |
| Dec 18, 2018 - 1:00:32 PM | $1,010.00 | isrlsales |
| Dec 18, 2018 - 1:00:32 PM | $1,000.00 | ijulbys |
| Dec 18, 2018 - 1:00:24 PM | $910.00 | isrlsales |
| Dec 18, 2018 - 1:00:24 PM | $900.00 | ijulbys |
| Dec 18, 2018 - 1:00:10 PM | $710.00 | isrlsales |
| Dec 18, 2018 - 1:00:10 PM | $700.00 | ijulbys |
| Dec 18, 2018 - 10:22:33 AM | $560.00 | isrlsales |
| Dec 18, 2018 - 10:22:33 AM | $550.00 | idebi1166 |
| Dec 18, 2018 - 10:22:22 AM | $510.00 | isrlsales |
| Dec 18, 2018 - 10:22:22 AM | $500.00 | idebi1166 |
| Dec 18, 2018 - 10:22:15 AM | $410.00 | isrlsales |
| Dec 18, 2018 - 10:22:15 AM | $400.00 | idebi1166 |
| Dec 18, 2018 - 10:22:07 AM | $310.00 | isrlsales |
| Dec 18, 2018 - 10:22:07 AM | $300.00 | idebi1166 |
| Dec 18, 2018 - 10:22:02 AM | $210.00 | isrlsales |
| Dec 18, 2018 - 10:22:02 AM | $200.00 | idebi1166 |
| Dec 18, 2018 - 10:21:57 AM | $160.00 | isrlsales |
| Dec 18, 2018 - 10:21:57 AM | $150.00 | idebi1166 |
| Dec 18, 2018 - 10:21:51 AM | $105.00 | isrlsales |
| Dec 18, 2018 - 10:21:51 AM | $100.00 | idebi1166 |
| Dec 18, 2018 - 10:21:46 AM | $55.00 | isrlsales |
| Dec 18, 2018 - 10:21:46 AM | $50.00 | idebi1166 |
| Dec 18, 2018 - 10:21:38 AM | $15.00 | isrlsales |
| Dec 18, 2018 - 10:21:38 AM | $10.00 | idebi1166 |
| Dec 18, 2018 - 10:14:02 AM | $5.00 | isrlsales |