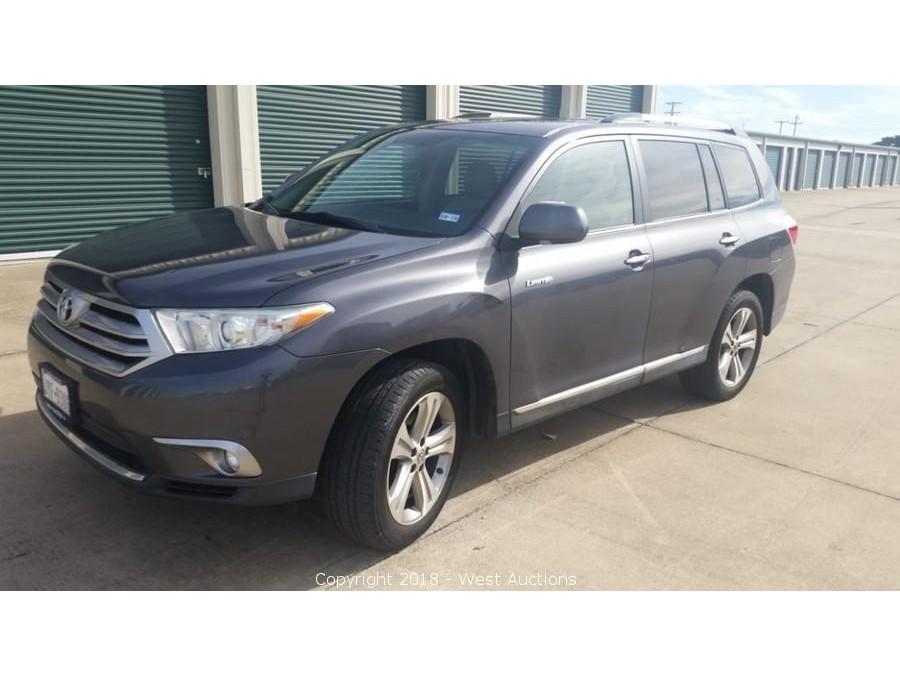 2011 Toyota Highlander Limited 4WD SUV
Bidding is

closed

.
High Bid:
$8,530.00
NA
Bidding Ended:
Thu, Dec 20 10:01:38 am PT
High Bidder:
dangl2019
Bid Increment:
$100.00
Starting Bid:
$5.00
Item Location:

807 TX-71

,

Bastrop

,

TX

78602

Item has been viewed 3,345 times.

ASK ABOUT THIS ITEM

Note: This vehicle is located in Bastrop, Texas
2011 Toyota Highlander Limited 4WD SUV
VIN: 5TDDK3EH4BS077451
California License: 6RPZ820 (not included)


Expiration Date: 4/22/2018

Texas License: JYF9306
Odometer Reads: 159,832
5-Speed Automatic Transmission
Engine: 3.5L V6
4-Wheel Drive 
Tilt Wheel
AM/FM Radio
CD Player
Navigation
Back-Up Camera
Key-less Ignition
Power Windows
Power Locks
Power Mirrors
Power Seats
Rear Radio
Rear Climate Control
3rd Row Seating
Moon Roof
Leather Interior 
JBL Sound
Dual Airbags
Side Airbags
Tire Size: P245/65R15
Full-Size Spare Tire
Note: The sale of this vehicle is subject to the Bankruptcy Trustee's confirmation.
DMV Note: Certificate of California Title, Transfer form, and Certified Sale Order will be mailed 4-6 weeks following the close of auction. Buyer is fully responsible for all aspects of smog, registration, fees due to DMV.
| | | |
| --- | --- | --- |
| Bid Date | Bid Amount | Bidder |
| Dec 20, 2018 - 9:59:38 AM | $8,530.00 | idangl2019 |
| Dec 20, 2018 - 9:58:45 AM | $8,430.00 | iJwole1733 |
| Dec 20, 2018 - 9:58:20 AM | $8,330.00 | iThakur33 |
| Dec 20, 2018 - 9:58:20 AM | $8,304.00 | iNinesixss |
| Dec 20, 2018 - 9:58:13 AM | $8,230.00 | iNinesixss |
| Dec 20, 2018 - 9:58:13 AM | $8,130.00 | iThakur33 |
| Dec 20, 2018 - 9:58:05 AM | $8,030.00 | iNinesixss |
| Dec 20, 2018 - 9:58:05 AM | $7,930.00 | iThakur33 |
| Dec 20, 2018 - 9:58:01 AM | $7,830.00 | iNinesixss |
| Dec 20, 2018 - 9:58:01 AM | $7,730.00 | iThakur33 |
| Dec 20, 2018 - 9:57:43 AM | $7,630.00 | iNinesixss |
| Dec 20, 2018 - 9:55:54 AM | $7,530.00 | iThakur33 |
| Dec 20, 2018 - 9:55:49 AM | $7,430.00 | idangl2019 |
| Dec 20, 2018 - 9:55:49 AM | $7,427.00 | iThakur33 |
| Dec 20, 2018 - 9:55:17 AM | $7,327.00 | idangl2019 |
| Dec 20, 2018 - 9:54:51 AM | $7,227.00 | iNinesixss |
| Dec 20, 2018 - 9:54:51 AM | $7,200.00 | idangl2019 |
| Dec 20, 2018 - 9:52:55 AM | $7,000.00 | iNinesixss |
| Dec 20, 2018 - 9:52:25 AM | $6,900.00 | iJwole1733 |
| Dec 20, 2018 - 9:52:25 AM | $6,869.00 | iNinesixss |
| Dec 20, 2018 - 9:46:13 AM | $6,701.00 | iJwole1733 |
| Dec 20, 2018 - 9:46:13 AM | $6,601.00 | iNinesixss |
| Dec 20, 2018 - 9:46:07 AM | $6,350.00 | iNinesixss |
| Dec 20, 2018 - 9:44:07 AM | $6,250.00 | idangl2019 |
| Dec 20, 2018 - 9:44:08 AM | $6,250.00 | icmcginnis |
| Dec 20, 2018 - 9:43:29 AM | $6,150.00 | idangl2019 |
| Dec 20, 2018 - 9:42:06 AM | $6,050.00 | ialrash888 |
| Dec 20, 2018 - 9:42:00 AM | $5,950.00 | iThakur33 |
| Dec 20, 2018 - 9:41:56 AM | $5,850.00 | ialrash888 |
| Dec 20, 2018 - 9:41:16 AM | $5,750.00 | iThakur33 |
| Dec 20, 2018 - 9:41:16 AM | $5,700.00 | idangl2019 |
| Dec 20, 2018 - 9:41:12 AM | $5,650.00 | idangl2019 |
| Dec 20, 2018 - 9:40:47 AM | $5,550.00 | iThakur33 |
| Dec 20, 2018 - 9:40:47 AM | $5,500.00 | idangl2019 |
| Dec 20, 2018 - 9:40:43 AM | $5,450.00 | idangl2019 |
| Dec 20, 2018 - 9:40:32 AM | $5,350.00 | iThakur33 |
| Dec 20, 2018 - 9:40:32 AM | $5,325.00 | ibartcab |
| Dec 20, 2018 - 9:40:24 AM | $5,250.00 | ibartcab |
| Dec 20, 2018 - 9:40:24 AM | $5,150.00 | iThakur33 |
| Dec 20, 2018 - 9:40:15 AM | $5,050.00 | ibartcab |
| Dec 20, 2018 - 9:40:15 AM | $5,000.00 | iThakur33 |
| Dec 20, 2018 - 9:40:10 AM | $4,950.00 | ibartcab |
| Dec 20, 2018 - 9:40:10 AM | $4,900.00 | iThakur33 |
| Dec 20, 2018 - 9:40:05 AM | $4,850.00 | ibartcab |
| Dec 20, 2018 - 9:40:05 AM | $4,800.00 | iThakur33 |
| Dec 20, 2018 - 9:40:02 AM | $4,750.00 | ibartcab |
| Dec 20, 2018 - 9:40:02 AM | $4,700.00 | idangl2019 |
| Dec 20, 2018 - 9:37:34 AM | $4,600.00 | ibartcab |
| Dec 20, 2018 - 9:34:35 AM | $4,550.00 | iJwarner |
| Dec 20, 2018 - 9:33:10 AM | $4,500.00 | ialrash888 |
| Dec 20, 2018 - 9:18:25 AM | $4,450.00 | iNinesixss |
| Dec 20, 2018 - 9:17:10 AM | $4,400.00 | idangl2019 |
| Dec 20, 2018 - 9:03:28 AM | $4,350.00 | iJwarner |
| Dec 20, 2018 - 8:47:59 AM | $4,300.00 | ialrash888 |
| Dec 20, 2018 - 8:38:16 AM | $4,250.00 | iJwarner |
| Dec 20, 2018 - 8:04:23 AM | $4,200.00 | izreamer007 |
| Dec 20, 2018 - 8:03:12 AM | $4,150.00 | iThakur33 |
| Dec 19, 2018 - 4:09:26 PM | $4,100.00 | iJwarner |
| Dec 19, 2018 - 1:15:35 PM | $4,050.00 | iElhefe |
| Dec 19, 2018 - 1:10:57 PM | $4,000.00 | iJwarner |
| Dec 19, 2018 - 1:10:58 PM | $4,000.00 | iElhefe |
| Dec 19, 2018 - 1:10:12 PM | $3,550.00 | iJwarner |
| Dec 19, 2018 - 1:10:12 PM | $3,500.00 | iElhefe |
| Dec 19, 2018 - 1:09:20 PM | $3,350.00 | iJwarner |
| Dec 19, 2018 - 1:09:20 PM | $3,300.00 | iElhefe |
| Dec 19, 2018 - 5:39:36 AM | $3,050.00 | iJwarner |
| Dec 19, 2018 - 5:39:36 AM | $3,000.00 | iElhefe |
| Dec 19, 2018 - 5:39:25 AM | $2,850.00 | iElhefe |
| Dec 19, 2018 - 5:39:25 AM | $2,800.00 | iJwarner |
| Dec 19, 2018 - 5:39:23 AM | $2,750.00 | iElhefe |
| Dec 19, 2018 - 5:39:23 AM | $2,700.00 | iJwarner |
| Dec 19, 2018 - 5:39:20 AM | $2,650.00 | iElhefe |
| Dec 19, 2018 - 5:39:20 AM | $2,600.00 | iJwarner |
| Dec 19, 2018 - 5:39:18 AM | $2,550.00 | iElhefe |
| Dec 19, 2018 - 5:39:18 AM | $2,500.00 | iJwarner |
| Dec 19, 2018 - 5:39:15 AM | $2,450.00 | iElhefe |
| Dec 19, 2018 - 5:39:15 AM | $2,400.00 | iJwarner |
| Dec 19, 2018 - 5:38:47 AM | $2,350.00 | iElhefe |
| Dec 19, 2018 - 5:38:47 AM | $2,300.00 | iJwarner |
| Dec 18, 2018 - 7:45:20 PM | $2,250.00 | iElhefe |
| Dec 18, 2018 - 5:00:18 PM | $2,200.00 | ijulbys |
| Dec 18, 2018 - 3:10:04 PM | $2,150.00 | iJwole1733 |
| Dec 18, 2018 - 3:10:04 PM | $2,100.00 | idangl2019 |
| Dec 18, 2018 - 3:09:06 PM | $2,050.00 | iJwole1733 |
| Dec 18, 2018 - 3:09:06 PM | $2,000.00 | idangl2019 |
| Dec 18, 2018 - 3:08:32 PM | $1,950.00 | iJwole1733 |
| Dec 18, 2018 - 3:08:32 PM | $1,900.00 | idangl2019 |
| Dec 18, 2018 - 2:29:48 PM | $1,850.00 | iJwole1733 |
| Dec 18, 2018 - 2:29:48 PM | $1,800.00 | iTmsmith |
| Dec 18, 2018 - 2:19:34 PM | $1,750.00 | iTmsmith |
| Dec 18, 2018 - 2:19:25 PM | $1,700.00 | ijulbys |
| Dec 18, 2018 - 2:19:26 PM | $1,700.00 | iTmsmith |
| Dec 18, 2018 - 2:19:11 PM | $1,650.00 | ijulbys |
| Dec 18, 2018 - 2:19:11 PM | $1,600.00 | iTmsmith |
| Dec 18, 2018 - 12:57:48 PM | $1,550.00 | ijulbys |
| Dec 18, 2018 - 12:57:48 PM | $1,500.00 | iElhefe |
| Dec 18, 2018 - 12:57:20 PM | $1,010.00 | iElhefe |
| Dec 18, 2018 - 12:57:20 PM | $1,000.00 | ijulbys |
| Dec 18, 2018 - 12:57:12 PM | $760.00 | iElhefe |
| Dec 18, 2018 - 12:57:12 PM | $750.00 | ijulbys |
| Dec 18, 2018 - 12:57:02 PM | $660.00 | iElhefe |
| Dec 18, 2018 - 12:57:02 PM | $650.00 | ijulbys |
| Dec 18, 2018 - 10:41:47 AM | $510.00 | iElhefe |
| Dec 18, 2018 - 10:41:47 AM | $500.00 | idebi1166 |
| Dec 18, 2018 - 10:41:43 AM | $410.00 | iElhefe |
| Dec 18, 2018 - 10:41:43 AM | $400.00 | idebi1166 |
| Dec 18, 2018 - 10:41:38 AM | $310.00 | iElhefe |
| Dec 18, 2018 - 10:41:38 AM | $300.00 | idebi1166 |
| Dec 18, 2018 - 10:41:34 AM | $210.00 | iElhefe |
| Dec 18, 2018 - 10:41:34 AM | $200.00 | idebi1166 |
| Dec 18, 2018 - 10:41:24 AM | $105.00 | iElhefe |
| Dec 18, 2018 - 10:41:24 AM | $100.00 | idebi1166 |
| Dec 18, 2018 - 10:32:39 AM | $55.00 | iElhefe |
| Dec 18, 2018 - 10:32:39 AM | $50.00 | idebi1166 |
| Dec 18, 2018 - 10:23:04 AM | $10.00 | idebi1166 |
| Dec 18, 2018 - 10:01:23 AM | $5.00 | iThakur33 |