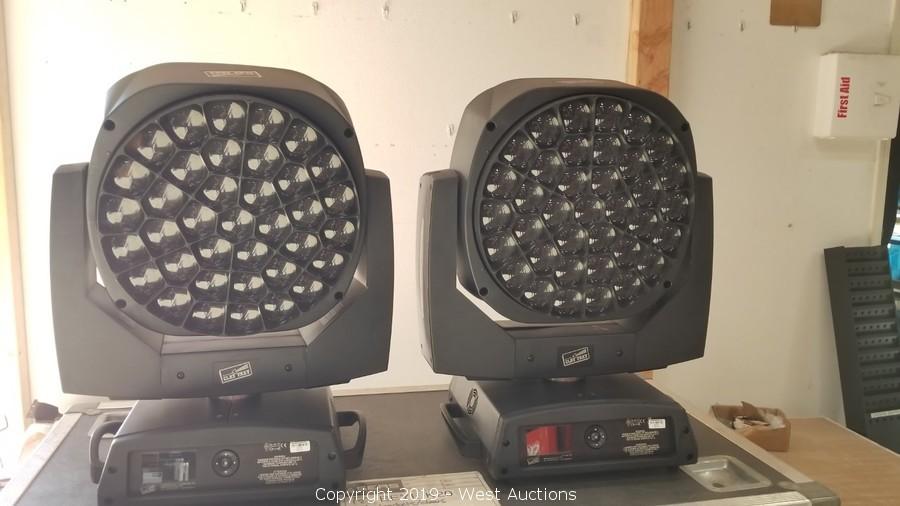 Lot #01-0319B:
(2) Clay Paky A.leda B-Eye K20s with Roadcase
Bidding is

closed

.
High Bid:
$2,650.00
NA
Bidding Ended:
Thu, Feb 14 10:03:54 am PT
High Bidder:
Sean@aepevents.net
Bid Increment:
$50.00
Starting Bid:
$5.00
Item Location:

San Marcos

,

CA

92078

Item has been viewed 1,072 times.

(2) Clay Paky A.leda B-Eye K20s with Roadcase
Source Type: RGBW LEDs
LED Nominal Wattage: 15W
Number of LEDs: 37
Versatile, three operating modes: wash, beam, FX effect
Unique optical system, featuring unmatched zoom range (4 deg -60 deg) and even light spread
Individual LED control for each parameter
Invisible front grid
Beam edge softening control (in wash mode)
Exclusive parallel beam consisting of an array of individually controllable micro-beams
Enhanced electronic engine for dynamic beam pattern design, with digital accuracy and repeatability
Rotating front lens for countless vortex effects, for aerial or "kaleidoscopic" projection use
White CT Emulation 2500-8000K
RGB auto-tuning to lamp CT Emulation
Tungsten Lamp Emulation
This item is subject to seller confirmation 
Note: Photos and Descriptions have been provided by the Seller. 
| | | |
| --- | --- | --- |
| Bid Date | Bid Amount | Bidder |
| Feb 14, 2019 - 10:01:54 AM | $2,650.00 | iSean@aepevents.net |
| Feb 14, 2019 - 10:01:54 AM | $2,600.00 | iskipsmith |
| Feb 14, 2019 - 10:01:39 AM | $2,400.00 | iSean@aepevents.net |
| Feb 14, 2019 - 10:00:43 AM | $2,350.00 | igbsrigo |
| Feb 14, 2019 - 10:00:41 AM | $2,300.00 | iskipsmith |
| Feb 14, 2019 - 10:00:41 AM | $2,250.00 | igbsrigo |
| Feb 14, 2019 - 9:45:27 AM | $2,200.00 | iskipsmith |
| Feb 14, 2019 - 9:45:27 AM | $2,150.00 | igbsrigo |
| Feb 14, 2019 - 7:34:38 AM | $2,050.00 | igbsrigo |
| Feb 14, 2019 - 7:34:36 AM | $2,000.00 | iSean@aepevents.net |
| Feb 14, 2019 - 7:34:36 AM | $1,950.00 | igbsrigo |
| Feb 14, 2019 - 7:34:33 AM | $1,900.00 | iSean@aepevents.net |
| Feb 14, 2019 - 7:34:33 AM | $1,850.00 | igbsrigo |
| Feb 14, 2019 - 7:27:45 AM | $1,800.00 | iSean@aepevents.net |
| Feb 14, 2019 - 7:27:45 AM | $1,750.00 | iskipsmith |
| Feb 14, 2019 - 6:52:31 AM | $1,650.00 | iskipsmith |
| Feb 14, 2019 - 6:52:31 AM | $1,600.00 | iKbrodie@urg.live |
| Feb 14, 2019 - 3:34:03 AM | $1,550.00 | iKbrodie@urg.live |
| Feb 14, 2019 - 3:34:03 AM | $1,500.00 | iJlortz2k8 |
| Feb 14, 2019 - 3:11:41 AM | $1,360.00 | iJlortz2k8 |
| Feb 14, 2019 - 2:30:02 AM | $1,310.00 | iKbrodie@urg.live |
| Feb 14, 2019 - 12:09:32 AM | $1,260.00 | igbsrigo |
| Feb 13, 2019 - 8:50:48 PM | $1,210.00 | iKbrodie@urg.live |
| Feb 13, 2019 - 2:16:55 PM | $1,160.00 | igbsrigo |
| Feb 13, 2019 - 2:16:55 PM | $1,150.00 | iskipsmith |
| Feb 13, 2019 - 1:24:24 PM | $1,110.00 | iskipsmith |
| Feb 13, 2019 - 10:00:37 AM | $1,060.00 | igbsrigo |
| Feb 13, 2019 - 10:00:37 AM | $1,050.00 | iJoscha |
| Feb 13, 2019 - 9:43:03 AM | $1,010.00 | iJoscha |
| Feb 13, 2019 - 9:43:03 AM | $1,000.00 | igbsrigo |
| Feb 12, 2019 - 4:03:40 PM | $910.00 | igbsrigo |
| Feb 12, 2019 - 4:03:40 PM | $900.00 | irlg22 |
| Feb 12, 2019 - 4:01:27 PM | $710.00 | igbsrigo |
| Feb 12, 2019 - 4:01:27 PM | $700.00 | imexican dj |
| Feb 12, 2019 - 1:02:22 PM | $610.00 | imexican dj |
| Feb 12, 2019 - 1:02:22 PM | $600.00 | igbsrigo |
| Feb 12, 2019 - 10:30:28 AM | $510.00 | igbsrigo |
| Feb 12, 2019 - 10:30:28 AM | $500.00 | iBoldproductions |
| Feb 12, 2019 - 10:27:21 AM | $105.00 | iBoldproductions |
| Feb 12, 2019 - 10:27:21 AM | $100.00 | igbsrigo |
| Feb 12, 2019 - 10:23:09 AM | $55.00 | igbsrigo |
| Feb 12, 2019 - 10:23:09 AM | $50.00 | iBoldproductions |
| Feb 12, 2019 - 10:20:04 AM | $5.00 | iBoldproductions |