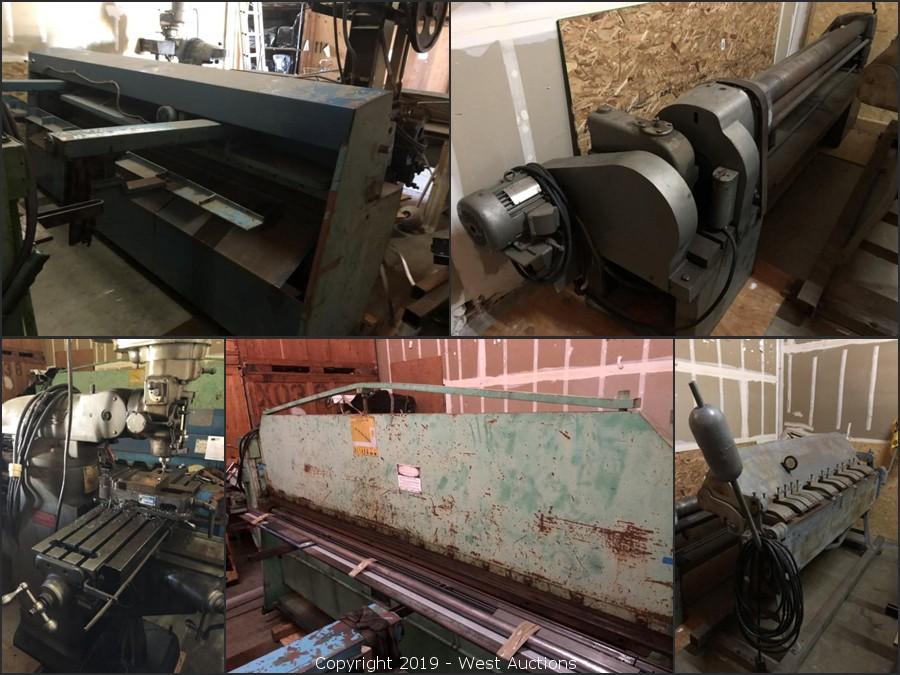 All Shop Equipment from Metal Fabricating Business
Bidding is

closed

.
High Bid:
$13,500.00
NA
Bidding Ended:
Thu, Feb 28 10:13:21 am PT
High Bidder:
Goose
Bid Increment:
$100.00
Starting Bid:
$5.00
Item Location:

Sacramento

,

CA

95842

Item has been viewed 10,224 times.

ASK ABOUT THIS ITEM

All Shop Equipment of Metal Fabricating Business Including: 
Note: Inventory list was provided by the seller and has not been verified for accuracy.  Please bid according. 
Security Deposit: There is a required $2,000 deposit for this lot. Deposit will be refunded once all items have been removed
*** PLEASE READ BEFORE BIDDING ***
Buyer must comply with the following insurance requirements for the removal of this lot:
Buyer will need to show proof of liability and worker's comp insurance before removing this lot. In addition, all contractors and subcontractors shall provide proof of insurance, including workers' compensation insurance, in good standing. Commercial general liability insurance requirements shall be at a minimum of $1,000,000 per occurrence and aggregate insurance limits.
Web Pinch Roller
Clark C300 Propane Forklift 
Roto-Die Hydraulic Bender 
Dreis & Krump Finger Brake
Maks Shear and Brake
Bridgeport Textron Mill
Lufkin Press Brake
Lodge & Shipley Metal Lathe 
Dayton Bench Grinder on Stand
Metal Cabinet
Curtis 80-Gallon Air Compressor
Welder
Work Bench with Small Attachments
Green Metal Rack 
Pexto Sheetmetal Roller
Small Blue Metal Box 
Miller Trailblazer 2506 Welder 
Miller Matic 200 Welder 
Allied Vise on Stand
Metal Rolling Workbench
Master Cool Swamp Cooler 
Foot Operated Press
Metal File Cabinet with Bolts, Nuts, Screws
Ridgid Box
Table Saw
Metal Workbench
Miller Syncrowave 250 CC AC/DC Welder
White 4-5 Press Brake
VBS 500 Vertical Band Saw
7.5 Ton Benchmaster Bench
Whitney Jensen Bench White
BBQ
Hobard Welder - Handler 120
Craftsman Table Saw, 3HP
Wilton Drill Press 16" 
Pallet Racking
Forklift Cage
Metal Shop Rolling Ladder
10' Metal Workbench on Casters
Ridgid Shop Vac
2-Wheel Dolly
Fiberglass Ladder 10'
Office Chair
Folding Chairs 
Folding Table 
Black Suitcase
Computers
Printers
Monitors
Presto Heater
(2) Large Metal Workbenches on Casters
Steel Stock 
Roller Machine
Sanyo Small Refrigerator 
Cabinet
Wood Table
Metal Scale
Metal Shelf
Cabinet
Armoire
Much More 
Trailer NOT Included
| | | |
| --- | --- | --- |
| Bid Date | Bid Amount | Bidder |
| Feb 28, 2019 - 10:11:21 AM | $13,500.00 | iGoose |
| Feb 28, 2019 - 10:11:17 AM | $13,400.00 | iJLC |
| Feb 28, 2019 - 10:09:21 AM | $13,300.00 | iGoose |
| Feb 28, 2019 - 10:09:21 AM | $13,251.00 | iJLC |
| Feb 28, 2019 - 10:09:10 AM | $13,200.00 | iJLC |
| Feb 28, 2019 - 10:07:30 AM | $13,100.00 | iGoose |
| Feb 28, 2019 - 10:07:16 AM | $13,000.00 | iJLC |
| Feb 28, 2019 - 10:07:16 AM | $12,900.00 | iGoose |
| Feb 28, 2019 - 10:07:10 AM | $12,800.00 | iJLC |
| Feb 28, 2019 - 10:05:31 AM | $12,700.00 | iGoose |
| Feb 28, 2019 - 10:03:52 AM | $12,600.00 | iJLC |
| Feb 28, 2019 - 10:02:24 AM | $12,500.00 | iGoose |
| Feb 28, 2019 - 10:02:25 AM | $12,500.00 | iJLC |
| Feb 28, 2019 - 10:00:47 AM | $12,300.00 | iGoose |
| Feb 28, 2019 - 10:00:47 AM | $12,200.00 | iJLC |
| Feb 28, 2019 - 10:00:39 AM | $12,100.00 | iJLC |
| Feb 28, 2019 - 10:00:39 AM | $12,000.00 | iGoose |
| Feb 28, 2019 - 9:59:17 AM | $11,950.00 | iGoose |
| Feb 28, 2019 - 9:59:17 AM | $11,850.00 | iJLC |
| Feb 28, 2019 - 9:58:22 AM | $11,500.00 | iGoose |
| Feb 28, 2019 - 9:58:22 AM | $11,400.00 | iJLC |
| Feb 28, 2019 - 9:57:52 AM | $11,100.00 | iJLC |
| Feb 28, 2019 - 9:57:52 AM | $11,000.00 | iGoose |
| Feb 28, 2019 - 9:57:29 AM | $10,900.00 | iGoose |
| Feb 28, 2019 - 9:57:29 AM | $10,800.00 | iJLC |
| Feb 28, 2019 - 9:57:19 AM | $10,600.00 | iGoose |
| Feb 28, 2019 - 9:57:19 AM | $10,500.00 | iLhewes |
| Feb 28, 2019 - 9:56:44 AM | $10,100.00 | iLhewes |
| Feb 28, 2019 - 9:56:34 AM | $10,000.00 | iskippy32 |
| Feb 28, 2019 - 9:56:35 AM | $10,000.00 | iLhewes |
| Feb 28, 2019 - 9:56:27 AM | $9,850.00 | iskippy32 |
| Feb 28, 2019 - 9:56:27 AM | $9,750.00 | iLhewes |
| Feb 28, 2019 - 9:56:18 AM | $9,600.00 | iskippy32 |
| Feb 28, 2019 - 9:56:18 AM | $9,500.00 | iLhewes |
| Feb 28, 2019 - 9:48:10 AM | $9,100.00 | iskippy32 |
| Feb 28, 2019 - 9:48:10 AM | $9,000.00 | iLhewes |
| Feb 28, 2019 - 9:31:24 AM | $8,850.00 | iLhewes |
| Feb 28, 2019 - 9:31:24 AM | $8,750.00 | iJLC |
| Feb 28, 2019 - 9:19:08 AM | $8,600.00 | iLhewes |
| Feb 28, 2019 - 9:19:00 AM | $8,500.00 | iskippy32 |
| Feb 28, 2019 - 9:19:01 AM | $8,500.00 | iLhewes |
| Feb 28, 2019 - 9:18:36 AM | $8,100.00 | iskippy32 |
| Feb 28, 2019 - 9:18:36 AM | $8,000.00 | iLhewes |
| Feb 28, 2019 - 9:18:25 AM | $7,600.00 | iskippy32 |
| Feb 28, 2019 - 9:18:25 AM | $7,500.00 | iLhewes |
| Feb 28, 2019 - 9:18:16 AM | $7,400.00 | iskippy32 |
| Feb 28, 2019 - 9:18:16 AM | $7,300.00 | iLhewes |
| Feb 28, 2019 - 8:45:13 AM | $7,100.00 | iskippy32 |
| Feb 28, 2019 - 8:45:13 AM | $7,000.00 | iLhewes |
| Feb 27, 2019 - 11:31:09 PM | $6,600.00 | iLhewes |
| Feb 27, 2019 - 11:30:52 PM | $6,500.00 | iskippy32 |
| Feb 27, 2019 - 11:30:53 PM | $6,500.00 | iLhewes |
| Feb 27, 2019 - 1:31:16 PM | $6,300.00 | iskippy32 |
| Feb 27, 2019 - 1:31:16 PM | $6,200.00 | iJLC |
| Feb 27, 2019 - 12:45:24 PM | $6,100.00 | iskippy32 |
| Feb 27, 2019 - 12:44:58 PM | $6,000.00 | iWeld pro |
| Feb 27, 2019 - 12:44:59 PM | $6,000.00 | iskippy32 |
| Feb 27, 2019 - 11:32:21 AM | $5,655.55 | iWeld pro |
| Feb 27, 2019 - 11:32:21 AM | $5,555.55 | ipmw |
| Feb 27, 2019 - 11:32:13 AM | $4,494.44 | iWeld pro |
| Feb 27, 2019 - 11:32:13 AM | $4,444.44 | ipmw |
| Feb 27, 2019 - 11:32:04 AM | $3,383.33 | iWeld pro |
| Feb 27, 2019 - 11:32:04 AM | $3,333.33 | ipmw |
| Feb 27, 2019 - 9:12:53 AM | $1,850.00 | iWeld pro |
| Feb 27, 2019 - 9:12:53 AM | $1,800.00 | iskippy32 |
| Feb 27, 2019 - 9:12:29 AM | $1,550.00 | iWeld pro |
| Feb 27, 2019 - 9:12:29 AM | $1,500.00 | iskippy32 |
| Feb 27, 2019 - 9:12:13 AM | $1,250.00 | iWeld pro |
| Feb 27, 2019 - 9:12:13 AM | $1,200.00 | iskippy32 |
| Feb 26, 2019 - 10:18:13 PM | $1,060.00 | iWeld pro |
| Feb 26, 2019 - 10:18:13 PM | $1,010.00 | iTechnology |
| Feb 26, 2019 - 10:18:11 PM | $1,000.00 | iWeld pro |
| Feb 26, 2019 - 10:18:11 PM | $990.00 | iTechnology |
| Feb 26, 2019 - 10:18:08 PM | $980.00 | iWeld pro |
| Feb 26, 2019 - 10:18:08 PM | $970.00 | iTechnology |
| Feb 26, 2019 - 10:18:04 PM | $960.00 | iWeld pro |
| Feb 26, 2019 - 10:18:04 PM | $950.00 | iTechnology |
| Feb 26, 2019 - 10:18:02 PM | $940.00 | iWeld pro |
| Feb 26, 2019 - 10:18:02 PM | $930.00 | iTechnology |
| Feb 26, 2019 - 10:17:59 PM | $920.00 | iWeld pro |
| Feb 26, 2019 - 10:17:59 PM | $910.00 | iTechnology |
| Feb 26, 2019 - 10:17:57 PM | $900.00 | iWeld pro |
| Feb 26, 2019 - 10:17:57 PM | $890.00 | iTechnology |
| Feb 26, 2019 - 10:17:54 PM | $880.00 | iWeld pro |
| Feb 26, 2019 - 10:17:54 PM | $870.00 | iTechnology |
| Feb 26, 2019 - 10:17:52 PM | $860.00 | iWeld pro |
| Feb 26, 2019 - 10:17:52 PM | $850.00 | iTechnology |
| Feb 26, 2019 - 10:17:50 PM | $840.00 | iWeld pro |
| Feb 26, 2019 - 10:17:50 PM | $830.00 | iTechnology |
| Feb 26, 2019 - 10:17:47 PM | $820.00 | iWeld pro |
| Feb 26, 2019 - 10:17:47 PM | $810.00 | iTechnology |
| Feb 26, 2019 - 10:17:45 PM | $800.00 | iWeld pro |
| Feb 26, 2019 - 10:17:45 PM | $790.00 | iTechnology |
| Feb 26, 2019 - 10:17:42 PM | $780.00 | iWeld pro |
| Feb 26, 2019 - 10:17:42 PM | $770.00 | iTechnology |
| Feb 26, 2019 - 10:17:39 PM | $760.00 | iWeld pro |
| Feb 26, 2019 - 10:17:39 PM | $750.00 | iTechnology |
| Feb 26, 2019 - 10:17:36 PM | $740.00 | iWeld pro |
| Feb 26, 2019 - 10:17:36 PM | $730.00 | iTechnology |
| Feb 26, 2019 - 10:17:33 PM | $720.00 | iWeld pro |
| Feb 26, 2019 - 10:17:33 PM | $710.00 | iTechnology |
| Feb 26, 2019 - 10:17:30 PM | $700.00 | iWeld pro |
| Feb 26, 2019 - 10:17:30 PM | $690.00 | iTechnology |
| Feb 26, 2019 - 10:17:27 PM | $680.00 | iWeld pro |
| Feb 26, 2019 - 10:17:27 PM | $670.00 | iTechnology |
| Feb 26, 2019 - 10:17:24 PM | $660.00 | iWeld pro |
| Feb 26, 2019 - 10:17:24 PM | $650.00 | iTechnology |
| Feb 26, 2019 - 10:17:20 PM | $640.00 | iWeld pro |
| Feb 26, 2019 - 10:17:20 PM | $630.00 | iTechnology |
| Feb 26, 2019 - 10:17:13 PM | $620.00 | iWeld pro |
| Feb 26, 2019 - 10:17:13 PM | $610.00 | iTechnology |
| Feb 26, 2019 - 8:25:09 PM | $600.00 | iWeld pro |
| Feb 26, 2019 - 8:25:09 PM | $590.00 | iGoose |
| Feb 26, 2019 - 8:18:29 PM | $510.00 | iGoose |
| Feb 26, 2019 - 8:18:29 PM | $500.00 | iWeld pro |
| Feb 26, 2019 - 8:16:51 PM | $310.00 | iGoose |
| Feb 26, 2019 - 8:16:51 PM | $300.00 | iWeld pro |
| Feb 26, 2019 - 7:30:58 PM | $210.00 | iGoose |
| Feb 26, 2019 - 7:30:58 PM | $200.00 | iskippy32 |
| Feb 26, 2019 - 7:30:44 PM | $125.00 | iskippy32 |
| Feb 26, 2019 - 7:30:44 PM | $115.00 | iGoose |
| Feb 26, 2019 - 7:22:00 PM | $105.00 | iskippy32 |
| Feb 26, 2019 - 7:22:00 PM | $100.00 | iGoose |
| Feb 26, 2019 - 7:21:03 PM | $50.00 | iskippy32 |
| Feb 26, 2019 - 7:21:03 PM | $45.00 | iGoose |
| Feb 26, 2019 - 7:20:57 PM | $40.00 | iskippy32 |
| Feb 26, 2019 - 7:20:57 PM | $35.00 | iGoose |
| Feb 26, 2019 - 7:20:51 PM | $30.00 | iskippy32 |
| Feb 26, 2019 - 7:20:51 PM | $25.00 | iGoose |
| Feb 26, 2019 - 3:26:40 PM | $20.00 | iskippy32 |
| Feb 26, 2019 - 3:02:21 PM | $15.00 | iJwarner |
| Feb 26, 2019 - 10:28:53 AM | $10.00 | iGoose |
| Feb 26, 2019 - 10:19:02 AM | $5.00 | iJwarner |