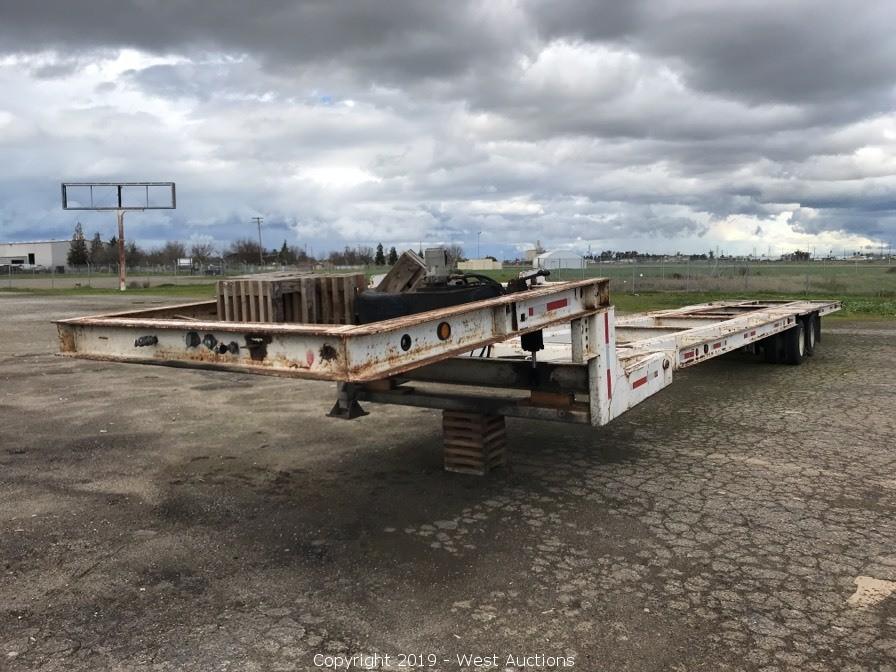 Lot #0106:
2004 52' 2-Axle Carrier Trailer
Bidding is

closed

.
High Bid:
$5,200.00
NA
Bidding Ended:
Thu, Mar 14 10:06:00 am PT
High Bidder:
cakid
Bid Increment:
$100.00
Starting Bid:
$5.00
Item Location:

Chowchilla

,

CA

93610

Item has been viewed 801 times.

2004 52' Carrier Trailer
VIN: DTEC9099434014009
License: 4KS9809

Registration Expiration: 12/31/2019

Size: 52'x8'
Tilting feature
2-Axle
Tire size: 235/75R17.5
Note: Certificate of Title and Transfer form will be mailed 4-6 weeks following close of auction. Buyer is fully responsible for all aspects of registration and fees due DMV.
| | | |
| --- | --- | --- |
| Bid Date | Bid Amount | Bidder |
| Mar 13, 2019 - 9:14:51 PM | $5,200.00 | icakid |
| Mar 13, 2019 - 9:14:51 PM | $5,100.00 | igalaxyfarfaraway |
| Mar 13, 2019 - 9:14:35 PM | $5,050.00 | igalaxyfarfaraway |
| Mar 13, 2019 - 9:14:35 PM | $5,000.00 | icakid |
| Mar 13, 2019 - 9:14:23 PM | $4,550.00 | igalaxyfarfaraway |
| Mar 13, 2019 - 9:14:23 PM | $4,500.00 | icakid |
| Mar 13, 2019 - 9:14:12 PM | $3,550.00 | igalaxyfarfaraway |
| Mar 13, 2019 - 9:14:12 PM | $3,500.00 | icakid |
| Mar 13, 2019 - 9:13:56 PM | $2,550.00 | igalaxyfarfaraway |
| Mar 13, 2019 - 9:13:56 PM | $2,500.00 | icakid |
| Mar 13, 2019 - 9:06:54 PM | $2,150.00 | igalaxyfarfaraway |
| Mar 13, 2019 - 9:06:54 PM | $2,100.00 | icakid |
| Mar 13, 2019 - 9:06:35 PM | $2,050.00 | igalaxyfarfaraway |
| Mar 13, 2019 - 9:06:35 PM | $2,000.00 | icakid |
| Mar 13, 2019 - 9:06:28 PM | $1,950.00 | igalaxyfarfaraway |
| Mar 13, 2019 - 9:06:28 PM | $1,900.00 | icakid |
| Mar 13, 2019 - 9:06:14 PM | $1,850.00 | igalaxyfarfaraway |
| Mar 13, 2019 - 9:06:14 PM | $1,800.00 | icakid |
| Mar 13, 2019 - 5:11:10 PM | $1,750.00 | igalaxyfarfaraway |
| Mar 13, 2019 - 5:11:10 PM | $1,700.00 | iseeder |
| Mar 13, 2019 - 3:39:04 PM | $1,550.00 | igalaxyfarfaraway |
| Mar 13, 2019 - 3:39:04 PM | $1,500.00 | iTonybuttar79 |
| Mar 13, 2019 - 3:26:17 PM | $760.00 | iTonybuttar79 |
| Mar 13, 2019 - 3:26:17 PM | $750.00 | iCALMAK1 |
| Mar 13, 2019 - 5:37:32 AM | $520.00 | iTonybuttar79 |
| Mar 13, 2019 - 5:37:32 AM | $510.00 | imoebandy |
| Mar 13, 2019 - 5:37:24 AM | $480.00 | imoebandy |
| Mar 13, 2019 - 5:37:24 AM | $470.00 | iTonybuttar79 |
| Mar 13, 2019 - 5:37:21 AM | $460.00 | imoebandy |
| Mar 13, 2019 - 5:37:21 AM | $450.00 | iTonybuttar79 |
| Mar 13, 2019 - 5:37:18 AM | $440.00 | imoebandy |
| Mar 13, 2019 - 5:37:18 AM | $430.00 | iTonybuttar79 |
| Mar 12, 2019 - 7:54:46 PM | $420.00 | imoebandy |
| Mar 12, 2019 - 6:57:16 PM | $410.00 | iChowchilla Garage |
| Mar 12, 2019 - 6:57:14 PM | $400.00 | iCALMAK1 |
| Mar 12, 2019 - 6:57:14 PM | $390.00 | iChowchilla Garage |
| Mar 12, 2019 - 6:57:11 PM | $380.00 | iCALMAK1 |
| Mar 12, 2019 - 6:57:11 PM | $370.00 | iChowchilla Garage |
| Mar 12, 2019 - 6:57:09 PM | $360.00 | iCALMAK1 |
| Mar 12, 2019 - 6:57:09 PM | $350.00 | iChowchilla Garage |
| Mar 12, 2019 - 6:57:07 PM | $340.00 | iCALMAK1 |
| Mar 12, 2019 - 6:57:07 PM | $330.00 | iChowchilla Garage |
| Mar 12, 2019 - 5:57:59 PM | $320.00 | iCALMAK1 |
| Mar 12, 2019 - 5:57:54 PM | $310.00 | imoebandy |
| Mar 12, 2019 - 5:57:54 PM | $300.00 | iCALMAK1 |
| Mar 12, 2019 - 5:55:09 PM | $260.00 | imoebandy |
| Mar 12, 2019 - 5:55:09 PM | $250.00 | iTuscanfarms |
| Mar 12, 2019 - 5:17:03 PM | $225.00 | iTuscanfarms |
| Mar 12, 2019 - 5:17:03 PM | $215.00 | iadeniz0565 |
| Mar 12, 2019 - 3:54:28 PM | $210.00 | iadeniz0565 |
| Mar 12, 2019 - 3:54:28 PM | $200.00 | iChowchilla Garage |
| Mar 12, 2019 - 12:45:17 PM | $105.00 | iChowchilla Garage |
| Mar 12, 2019 - 11:00:24 AM | $100.00 | ikeeptruckin |
| Mar 12, 2019 - 11:00:25 AM | $100.00 | iChowchilla Garage |
| Mar 12, 2019 - 11:00:15 AM | $26.00 | ikeeptruckin |
| Mar 12, 2019 - 11:00:15 AM | $21.00 | iChowchilla Garage |
| Mar 12, 2019 - 11:00:08 AM | $15.00 | ikeeptruckin |
| Mar 12, 2019 - 11:00:08 AM | $10.00 | iChowchilla Garage |
| Mar 12, 2019 - 10:41:20 AM | $5.00 | ikeeptruckin |