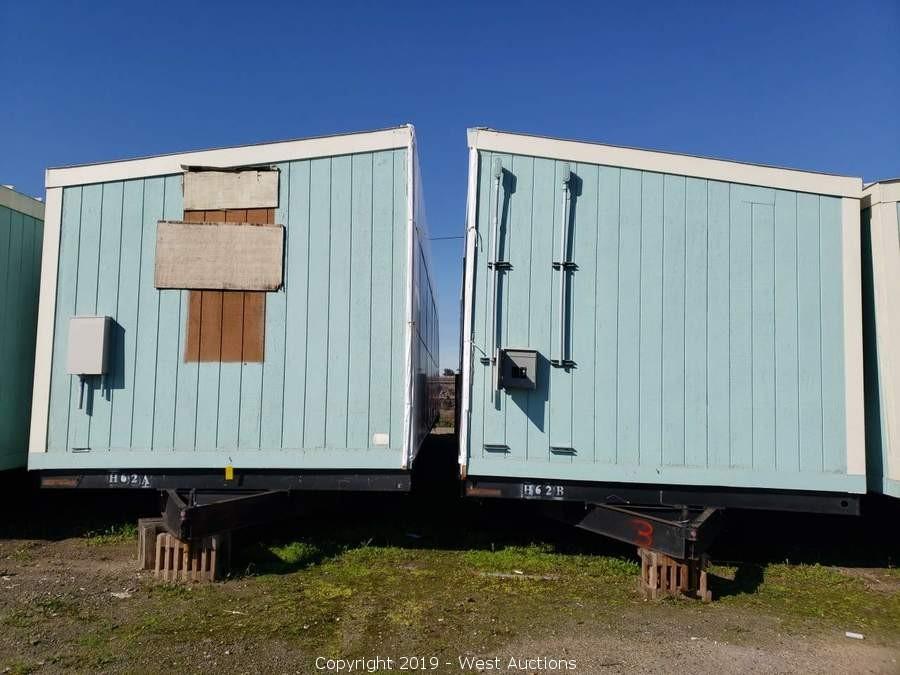 Lot #0101:
24' x 41' x 12' Portable Modular Building (2 Units: H-62A, H-62B)
Bidding is

closed

.
High Bid:
$3,750.00
NA
Bidding Ended:
Thu, Mar 21 10:13:40 am PT
High Bidder:
bluemnt
Bid Increment:
$50.00
Starting Bid:
$5.00
Item Location:

Merced

,

CA

95341

Item has been viewed 892 times.

Note: The buyer is responsible for any and all costs associated with the purchase, transport, and registration of the modular units, including but not limited to licenses, permits, equipment, transportation, labor, taxes (to local or state authorities). There are no guarantees on the structure or any item attached to the structure.
24' x 41' x 12' Portable Modular Building (2 Units: H-62A, H-62B)
Number of Units: 2
Use: Commercial
Estimated Width Per Unit: 12'
Estimated Length Per Unit: 41'
Estimated Height Per Unit: 12'
Estimated Total Square Footage: 984 ft²
Unit ID: H-62A
Decal: CCL5001

Registration Card Expiration: Aug 31, 2019

Manufacturer: Office Space Incorporated
Serial Number: P-244417
Manufacturer Date: 06/88
Axle: 2
Tires: (4) 8-14.5
Windows: 5
Doors: 2
Electrical Service: Yes
Electrical Volts: 125
Water Outlets: No
Sewage Hookups: No
Unit ID: H-62B
Decal: CCL4985

Registration Card Expiration: Aug 31, 2019

Manufacturer: Office Space Incorporated
Serial Number: P-244416
Manufacturer Date: 06/88
Axle: 2
Tires: (4) 8-14.5
Windows: 1
Electrical Service: Yes
Electrical Volts: 120/240
Water Outlets: No
Sewage Hookups: No
Map of Portable Modular Buildings:

←

  ←  ←  ←  ←  ←  ←  ←  ←  ←  Road Here  →  →  → 

→

  →  →  →  →  → 

→



 
 

↑


Entrance


↓

 
 
 
 
 
 
 
 
 
 
 
 
 
 
 
 
 
 
 
 
 
 
 
 
 
 
 
 
 
 
 
 
 
 
 
 
 
 
 
 
 
 
 
 
 
 
 
 
 
 
 
 
 
 
 
 
 

0115
3 Units
H-13A
H-13B
H-13C 
| | | |
| --- | --- | --- |
| Bid Date | Bid Amount | Bidder |
| Mar 21, 2019 - 10:11:40 AM | $3,750.00 | ibluemnt |
| Mar 21, 2019 - 10:11:40 AM | $3,700.00 | iStealth77 |
| Mar 21, 2019 - 10:10:46 AM | $3,550.00 | ibluemnt |
| Mar 21, 2019 - 10:10:46 AM | $3,500.00 | iWestM |
| Mar 21, 2019 - 10:09:25 AM | $3,150.00 | ibluemnt |
| Mar 21, 2019 - 10:09:25 AM | $3,100.00 | iWestM |
| Mar 21, 2019 - 10:08:59 AM | $3,051.00 | iWestM |
| Mar 21, 2019 - 10:08:59 AM | $3,001.00 | ibluemnt |
| Mar 21, 2019 - 10:07:29 AM | $2,550.00 | ibluemnt |
| Mar 21, 2019 - 10:07:29 AM | $2,500.00 | iWestM |
| Mar 21, 2019 - 10:06:22 AM | $2,250.00 | ibluemnt |
| Mar 21, 2019 - 10:06:22 AM | $2,200.00 | iWestM |
| Mar 21, 2019 - 10:04:50 AM | $1,950.00 | ibluemnt |
| Mar 21, 2019 - 10:04:50 AM | $1,900.00 | iWestM |
| Mar 21, 2019 - 10:04:00 AM | $1,650.00 | ibluemnt |
| Mar 21, 2019 - 10:04:00 AM | $1,600.00 | iWestM |
| Mar 21, 2019 - 10:02:16 AM | $1,450.00 | ibluemnt |
| Mar 21, 2019 - 10:02:16 AM | $1,400.00 | iWestM |
| Mar 21, 2019 - 10:01:05 AM | $1,250.00 | ibluemnt |
| Mar 21, 2019 - 10:01:05 AM | $1,200.00 | iWestM |
| Mar 21, 2019 - 10:00:29 AM | $1,010.00 | ibluemnt |
| Mar 21, 2019 - 10:00:29 AM | $1,000.00 | iIgnatius2830 |
| Mar 21, 2019 - 10:00:26 AM | $920.00 | ibluemnt |
| Mar 21, 2019 - 10:00:26 AM | $910.00 | iWestM |
| Mar 21, 2019 - 10:00:12 AM | $810.00 | ibluemnt |
| Mar 21, 2019 - 10:00:12 AM | $800.00 | iIgnatius2830 |
| Mar 21, 2019 - 9:59:07 AM | $710.00 | ibluemnt |
| Mar 21, 2019 - 9:59:07 AM | $700.00 | iShawnCon1989 |
| Mar 21, 2019 - 9:52:28 AM | $610.00 | ibluemnt |
| Mar 21, 2019 - 9:52:28 AM | $600.00 | iJustUs |
| Mar 21, 2019 - 9:51:21 AM | $520.00 | ibluemnt |
| Mar 21, 2019 - 9:51:21 AM | $510.00 | iJustUs |
| Mar 21, 2019 - 9:50:36 AM | $410.00 | ibluemnt |
| Mar 21, 2019 - 9:50:36 AM | $400.00 | iJustUs |
| Mar 21, 2019 - 9:49:32 AM | $360.00 | ibluemnt |
| Mar 21, 2019 - 9:49:32 AM | $350.00 | iShawnCon1989 |
| Mar 21, 2019 - 9:48:57 AM | $310.00 | ibluemnt |
| Mar 21, 2019 - 9:48:57 AM | $300.00 | iJustUs |
| Mar 21, 2019 - 9:48:33 AM | $260.00 | ibluemnt |
| Mar 21, 2019 - 9:48:33 AM | $250.00 | iJustUs |
| Mar 21, 2019 - 9:46:38 AM | $215.00 | ibluemnt |
| Mar 21, 2019 - 9:45:50 AM | $205.00 | iShawnCon1989 |
| Mar 21, 2019 - 9:45:50 AM | $200.00 | iIgnatius2830 |
| Mar 21, 2019 - 9:40:26 AM | $195.00 | iIgnatius2830 |
| Mar 21, 2019 - 9:40:26 AM | $185.00 | iJustUs |
| Mar 21, 2019 - 9:27:25 AM | $165.00 | iIgnatius2830 |
| Mar 21, 2019 - 9:27:25 AM | $155.00 | iJustUs |
| Mar 21, 2019 - 9:15:06 AM | $136.00 | iIgnatius2830 |
| Mar 21, 2019 - 9:15:06 AM | $126.00 | ibluemnt |
| Mar 21, 2019 - 9:14:50 AM | $30.00 | ibluemnt |
| Mar 21, 2019 - 9:14:50 AM | $25.00 | iIgnatius2830 |
| Mar 21, 2019 - 7:53:18 AM | $20.00 | ibluemnt |
| Mar 21, 2019 - 7:45:10 AM | $15.00 | iShawnCon1989 |
| Mar 20, 2019 - 8:01:19 PM | $10.00 | iIgnatius2830 |
| Mar 20, 2019 - 3:50:02 PM | $5.00 | ibluemnt |