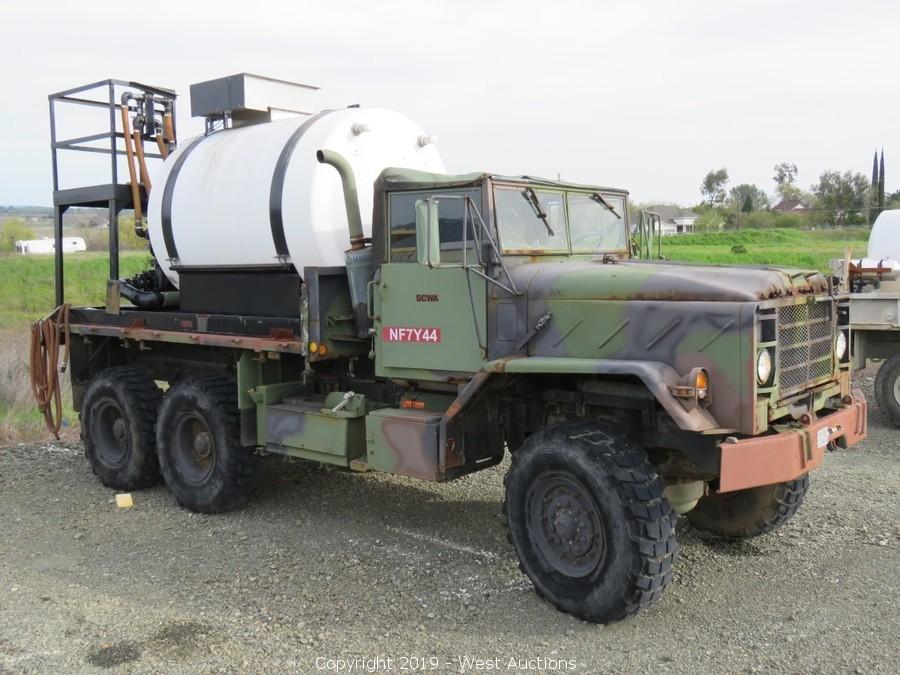 Lot #0101:
AM General M923 5 Ton 6x6 1,500 Gallon Hydroseeder (Overhauled In 1998)
Bidding is

closed

.
High Bid:
$2,950.00
NA
Bidding Ended:
Thu, Apr 18 10:14:40 am PT
High Bidder:
bferrasci
Bid Increment:
$50.00
Starting Bid:
$5.00
Item Location:

Winters

,

CA

95694

Item has been viewed 1,428 times.

Note: Unit was overhauled (New Cummins Engine, and more) in 1998 by MCLB Barstow and is registered as a 1998
AM General M923 5 Ton 6x6 1,500 Gallon Hydroseeder (Overhauled In 1998)
Truck Specifications:
VIN: NL096ZC52300210
License: SE 561373

Expiration Date: 12/31/2015
Note: Per DMV Report no model year listed

Original year: 1983

MFG

: AM General Corporation
Model: M923 5 Ton 6×6
Engine: Cummins

NHG

250 inline 6 diesel
Odometer Reads: 196
Hours Read: 142
Automatic transmission
Air brakes
ID: 516094
Drive: 6×6
Bed size: 14' x 8
Side mounted 80-gallon diesel tank
Leaf spring suspension
Side mounted storage boxes
Tire size: 14.00R20
Hydroseeder Specifications:
MFG

: Pumping systems inc.
Model: HD15001-150
1,500 Gallon Tank
Pump: Deming 4021
Engine: Ford 13148 gas inline 4
Engine registered with yolo county for agricultural use
7' x 4' platform
Includes water canon
Engine hours: 89
Condition: Unit has no batteries, Owner States: "Unit was last used over a year ago, and was in perfect running and operating condition". Has not been verified by West Auctions, bid accordingly. 
Note: The vehicle is California DMV special equipment and will receive a signed special equipment identification card. Buyer is fully responsible for all aspects of registration and fees due DMV.
| | | |
| --- | --- | --- |
| Bid Date | Bid Amount | Bidder |
| Apr 18, 2019 - 10:12:40 AM | $2,950.00 | ibferrasci |
| Apr 18, 2019 - 10:11:57 AM | $2,900.00 | iRobertoGatos |
| Apr 18, 2019 - 10:11:57 AM | $2,850.00 | ibferrasci |
| Apr 18, 2019 - 10:11:45 AM | $2,800.00 | iRobertoGatos |
| Apr 18, 2019 - 10:11:45 AM | $2,750.00 | ibferrasci |
| Apr 18, 2019 - 10:09:54 AM | $2,700.00 | iRobertoGatos |
| Apr 18, 2019 - 10:09:54 AM | $2,650.00 | ibferrasci |
| Apr 18, 2019 - 10:08:58 AM | $2,600.00 | iRobertoGatos |
| Apr 18, 2019 - 10:08:12 AM | $2,550.00 | ibferrasci |
| Apr 18, 2019 - 10:08:12 AM | $2,500.00 | iRobertoGatos |
| Apr 18, 2019 - 10:07:43 AM | $2,350.00 | iRobertoGatos |
| Apr 18, 2019 - 10:07:43 AM | $2,300.00 | ibferrasci |
| Apr 18, 2019 - 10:06:23 AM | $2,200.00 | iRobertoGatos |
| Apr 18, 2019 - 10:04:24 AM | $2,150.00 | ibferrasci |
| Apr 18, 2019 - 10:04:13 AM | $2,100.00 | iRobertoGatos |
| Apr 18, 2019 - 10:04:14 AM | $2,100.00 | ibferrasci |
| Apr 18, 2019 - 10:03:48 AM | $2,050.00 | iRobertoGatos |
| Apr 18, 2019 - 10:03:48 AM | $2,000.00 | ibferrasci |
| Apr 18, 2019 - 10:02:55 AM | $1,950.00 | ibferrasci |
| Apr 18, 2019 - 10:02:36 AM | $1,900.00 | ilwilder |
| Apr 18, 2019 - 10:01:10 AM | $1,850.00 | ibferrasci |
| Apr 18, 2019 - 10:00:41 AM | $1,800.00 | ilwilder |
| Apr 18, 2019 - 9:59:47 AM | $1,750.00 | ibferrasci |
| Apr 18, 2019 - 9:59:39 AM | $1,700.00 | iRobertoGatos |
| Apr 18, 2019 - 9:59:40 AM | $1,700.00 | ibferrasci |
| Apr 18, 2019 - 9:59:17 AM | $1,650.00 | iRobertoGatos |
| Apr 18, 2019 - 9:59:17 AM | $1,600.00 | ilwilder |
| Apr 18, 2019 - 9:59:18 AM | $1,460.00 | iRobertoGatos |
| Apr 18, 2019 - 9:59:18 AM | $1,410.00 | ibferrasci |
| Apr 18, 2019 - 9:58:49 AM | $1,360.00 | iRobertoGatos |
| Apr 18, 2019 - 9:58:49 AM | $1,310.00 | ibferrasci |
| Apr 18, 2019 - 9:58:38 AM | $1,260.00 | iRobertoGatos |
| Apr 18, 2019 - 9:58:38 AM | $1,210.00 | ibferrasci |
| Apr 18, 2019 - 9:58:25 AM | $1,160.00 | iRobertoGatos |
| Apr 18, 2019 - 9:58:25 AM | $1,110.00 | ibferrasci |
| Apr 18, 2019 - 9:58:00 AM | $1,060.00 | iRobertoGatos |
| Apr 18, 2019 - 9:58:00 AM | $1,010.00 | icohowater |
| Apr 18, 2019 - 8:54:44 AM | $910.00 | icohowater |
| Apr 18, 2019 - 8:54:26 AM | $900.00 | iVinnyR |
| Apr 18, 2019 - 8:54:27 AM | $900.00 | icohowater |
| Apr 18, 2019 - 8:17:39 AM | $810.00 | iVinnyR |
| Apr 18, 2019 - 8:17:39 AM | $800.00 | icohowater |
| Apr 18, 2019 - 8:17:27 AM | $760.00 | icohowater |
| Apr 18, 2019 - 8:17:27 AM | $750.00 | iVinnyR |
| Apr 17, 2019 - 11:06:32 PM | $682.72 | icohowater |
| Apr 17, 2019 - 11:06:32 PM | $672.72 | iJeep86 |
| Apr 17, 2019 - 11:06:09 PM | $620.00 | iJeep86 |
| Apr 17, 2019 - 11:06:09 PM | $610.00 | icohowater |
| Apr 17, 2019 - 10:34:48 PM | $510.00 | iJeep86 |
| Apr 17, 2019 - 10:34:48 PM | $500.00 | ikilew |
| Apr 17, 2019 - 10:34:32 PM | $280.00 | iJeep86 |
| Apr 17, 2019 - 10:34:32 PM | $270.00 | ikilew |
| Apr 17, 2019 - 10:34:19 PM | $260.00 | iJeep86 |
| Apr 17, 2019 - 10:34:19 PM | $250.00 | ikilew |
| Apr 17, 2019 - 10:05:57 PM | $240.00 | iJeep86 |
| Apr 17, 2019 - 4:39:26 PM | $230.00 | imark123 |
| Apr 17, 2019 - 4:39:26 PM | $222.22 | iJeep86 |
| Apr 17, 2019 - 4:10:02 PM | $160.00 | iJeep86 |
| Apr 17, 2019 - 4:10:02 PM | $150.00 | i10eemonarch |
| Apr 17, 2019 - 12:15:27 PM | $137.00 | iJeep86 |
| Apr 16, 2019 - 6:22:10 PM | $127.00 | iswiss |
| Apr 16, 2019 - 6:22:10 PM | $120.00 | imark123 |
| Apr 16, 2019 - 4:29:03 PM | $105.00 | imark123 |
| Apr 16, 2019 - 4:29:03 PM | $100.00 | iGRMEDOG |
| Apr 16, 2019 - 11:46:14 AM | $10.00 | iGRMEDOG |
| Apr 16, 2019 - 10:46:58 AM | $5.00 | iNapaDancer |