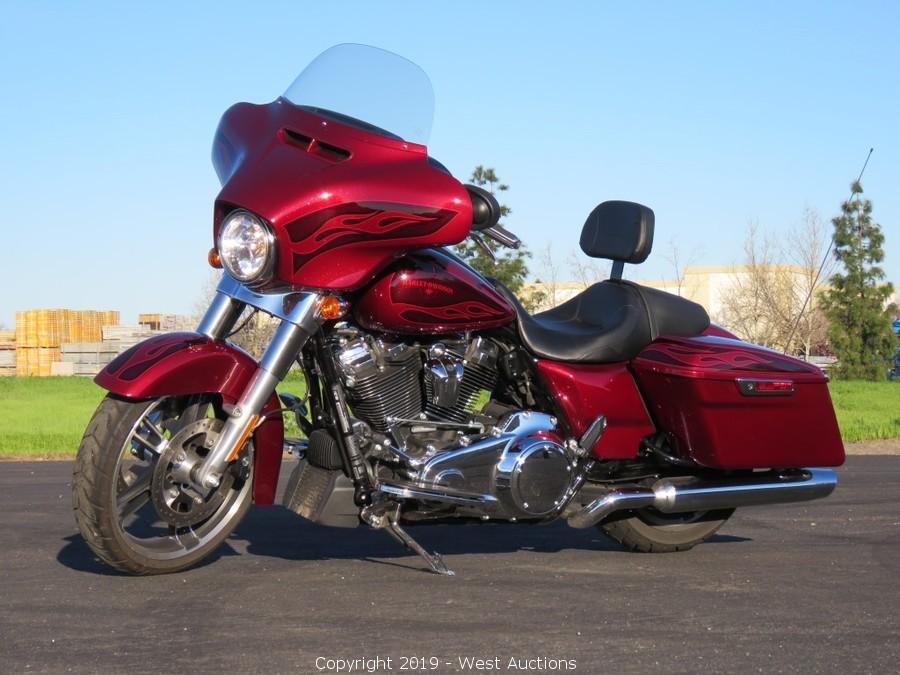 2017 Harley-Davidson Street Glide Motorcycle
Bidding is

closed

.
High Bid:
$14,600.00
NA
Bidding Ended:
Thu, May 30 10:01:47 am PT
High Bidder:
pawhky
Bid Increment:
$100.00
Starting Bid:
$5.00
Item Location:

Woodland

,

CA

95776

Item has been viewed 5,724 times.

ASK ABOUT THIS ITEM

2017 Harley-Davidson Street Glide Motorcycle
VIN: 1HD1KRC13HB636921 (Registered in Montana)

License Plate: NA

GVWR

: 1,360 lb.
Odometer Reads: 7,691
6-Speed Transmission

Engine Serial: KRCH636921

Engine: 107 Milwaukee-Eight 1746cc V-Twin
Keyless Start
Leather Adjustable Seat
Hard Case Saddlebags
Heated Handle Grips
Premium Sound System
Onboard Touchscreen Navigation
Onboard Bluetooth
Cruise Control
Dual Exhaust
Disc Brakes
Antilock Brakes
Front Tire Size: 130/60B19
Rear Tire Size: 180/66B16
Note: Montana Application for Duplicate of Title, and Certified Court Order will be mailed 8-10 weeks following the close of the auction. Buyer is fully responsible for all aspects of DMV transfer from Montana to California, registration, and fees due to DMV. 
| | | |
| --- | --- | --- |
| Bid Date | Bid Amount | Bidder |
| May 30, 2019 - 9:59:47 AM | $14,600.00 | ipawhky |
| May 30, 2019 - 9:59:19 AM | $14,500.00 | ibriansdeluxe |
| May 30, 2019 - 9:59:19 AM | $14,401.00 | ipawhky |
| May 30, 2019 - 9:56:50 AM | $14,300.00 | ipawhky |
| May 30, 2019 - 9:54:30 AM | $14,200.00 | iEgjim |
| May 30, 2019 - 9:39:14 AM | $14,100.00 | iFrom_Us_2_You |
| May 30, 2019 - 9:16:22 AM | $14,000.00 | iEgjim |
| May 30, 2019 - 9:16:22 AM | $13,900.00 | iToad66 |
| May 30, 2019 - 9:00:20 AM | $13,700.00 | iEgjim |
| May 30, 2019 - 9:00:20 AM | $13,600.00 | iPoussel |
| May 30, 2019 - 8:59:19 AM | $13,500.00 | iEgjim |
| May 30, 2019 - 8:59:19 AM | $13,400.00 | iPoussel |
| May 30, 2019 - 8:55:06 AM | $13,300.00 | iEgjim |
| May 30, 2019 - 8:29:06 AM | $13,200.00 | iPoussel |
| May 30, 2019 - 3:58:01 AM | $13,100.00 | ifasickoo |
| May 29, 2019 - 2:08:13 PM | $13,000.00 | ibriansdeluxe |
| May 29, 2019 - 2:08:13 PM | $12,905.00 | iEgjim |
| May 29, 2019 - 2:08:00 PM | $12,700.00 | iEgjim |
| May 29, 2019 - 2:08:00 PM | $12,600.00 | ibriansdeluxe |
| May 29, 2019 - 2:07:47 PM | $12,300.00 | iEgjim |
| May 29, 2019 - 2:07:47 PM | $12,200.00 | ibriansdeluxe |
| May 29, 2019 - 2:07:29 PM | $12,100.00 | iEgjim |
| May 29, 2019 - 2:07:29 PM | $12,000.00 | ibriansdeluxe |
| May 29, 2019 - 2:07:03 PM | $11,900.00 | iEgjim |
| May 29, 2019 - 2:07:03 PM | $11,800.00 | ibriansdeluxe |
| May 29, 2019 - 7:27:20 AM | $11,600.00 | iEgjim |
| May 29, 2019 - 7:27:20 AM | $11,500.00 | iFIREPROOFHDTECH |
| May 29, 2019 - 7:26:29 AM | $11,100.00 | iEgjim |
| May 29, 2019 - 7:26:29 AM | $11,000.00 | iFIREPROOFHDTECH |
| May 28, 2019 - 10:36:24 AM | $10,700.00 | iEgjim |
| May 28, 2019 - 10:34:50 AM | $10,600.00 | iFrom_Us_2_You |
| May 28, 2019 - 10:34:45 AM | $10,500.00 | iEgjim |
| May 28, 2019 - 10:34:45 AM | $10,400.00 | iFrom_Us_2_You |
| May 28, 2019 - 10:34:34 AM | $10,300.00 | iEgjim |
| May 28, 2019 - 10:34:34 AM | $10,200.00 | iFrom_Us_2_You |
| May 28, 2019 - 10:33:30 AM | $10,100.00 | iEgjim |
| May 28, 2019 - 10:33:30 AM | $10,000.00 | iFrom_Us_2_You |
| May 28, 2019 - 10:31:59 AM | $8,600.00 | iEgjim |
| May 28, 2019 - 10:30:59 AM | $8,500.00 | iFrom_Us_2_You |
| May 28, 2019 - 10:31:00 AM | $8,500.00 | iEgjim |
| May 28, 2019 - 10:24:39 AM | $5,050.00 | iFrom_Us_2_You |
| May 28, 2019 - 10:24:39 AM | $5,000.00 | i4darnell |
| May 28, 2019 - 10:23:03 AM | $3,050.00 | i4darnell |
| May 28, 2019 - 10:23:03 AM | $3,000.00 | iDrjamesconley |
| May 28, 2019 - 10:22:50 AM | $2,050.00 | iDrjamesconley |
| May 28, 2019 - 10:22:50 AM | $2,000.00 | i4darnell |
| May 28, 2019 - 10:22:37 AM | $1,125.00 | iDrjamesconley |
| May 28, 2019 - 10:22:37 AM | $1,075.00 | i4darnell |
| May 28, 2019 - 10:22:20 AM | $1,010.00 | iDrjamesconley |
| May 28, 2019 - 10:21:58 AM | $1,000.00 | iFrom_Us_2_You |
| May 28, 2019 - 10:21:59 AM | $1,000.00 | iDrjamesconley |
| May 28, 2019 - 10:21:47 AM | $35.00 | iFrom_Us_2_You |
| May 28, 2019 - 10:21:47 AM | $30.00 | i4darnell |
| May 28, 2019 - 10:18:55 AM | $25.00 | iFrom_Us_2_You |
| May 28, 2019 - 10:18:55 AM | $20.00 | ivtailflyer |
| May 28, 2019 - 10:16:20 AM | $15.00 | iFrom_Us_2_You |
| May 28, 2019 - 10:16:20 AM | $10.00 | iWarrenLW |
| May 28, 2019 - 10:00:58 AM | $5.00 | iFrom_Us_2_You |