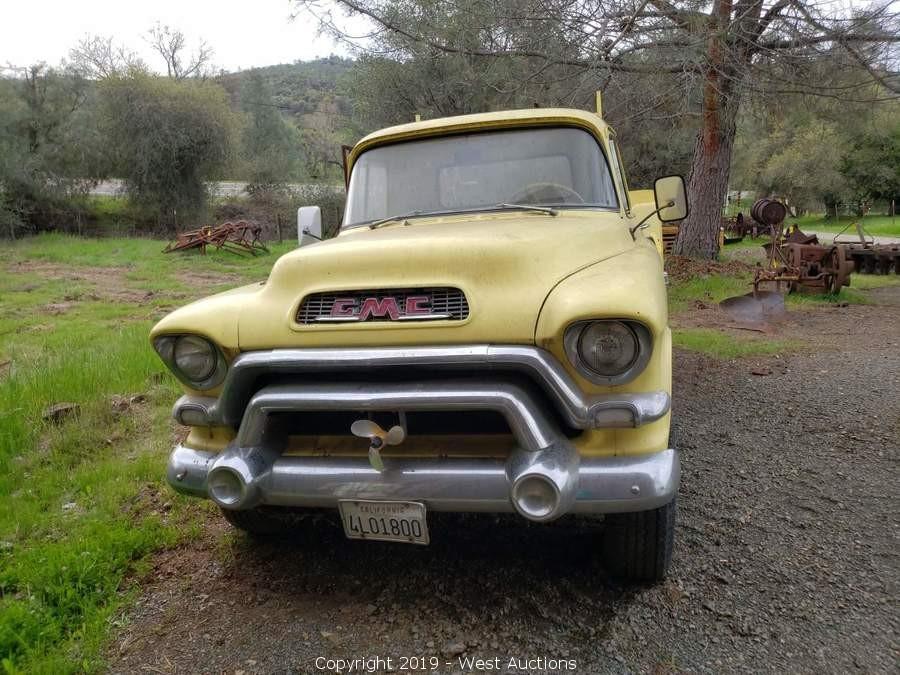 Lot #01-0141:
1956 GMC 3/4 Ton Truck
Bidding is

closed

.
High Bid:
$3,050.00
NA
Bidding Ended:
Thu, May 2 10:03:00 am PT
High Bidder:
Rick Sanders
Bid Increment:
$50.00
Starting Bid:
$5.00
Item Location:

Smartsville

,

CA

95977

Item has been viewed 2,464 times.

1956 GMC 3/4 Ton Truck
VIN: 102CX2789
License: 4L01800

Expiration Date: 11/30/2004 Planned Non-Operational

Max GVW: 5000 lbs
Note: Certificate of Duplicate Title, Transfer Form and Transfer without Probate will be mailed 3-4 weeks following the close of auction. Buyer is fully responsible for registration and fees due to DMV. 
| | | |
| --- | --- | --- |
| Bid Date | Bid Amount | Bidder |
| May 2, 2019 - 9:53:18 AM | $3,050.00 | iRick Sanders |
| May 2, 2019 - 9:53:00 AM | $3,000.00 | ibgillming |
| May 2, 2019 - 9:53:00 AM | $2,956.00 | iRick Sanders |
| May 2, 2019 - 8:06:37 AM | $2,806.00 | ibgillming |
| May 2, 2019 - 8:06:37 AM | $2,756.00 | iRick Sanders |
| May 2, 2019 - 6:11:33 AM | $2,650.00 | iRick Sanders |
| May 2, 2019 - 5:36:06 AM | $2,600.00 | iseniorcruz |
| May 2, 2019 - 5:35:54 AM | $2,550.00 | iRick Sanders |
| May 2, 2019 - 5:35:54 AM | $2,510.00 | iseniorcruz |
| May 2, 2019 - 5:35:44 AM | $2,460.00 | iRick Sanders |
| May 2, 2019 - 5:35:44 AM | $2,410.00 | iseniorcruz |
| May 2, 2019 - 5:35:26 AM | $2,360.00 | iRick Sanders |
| May 2, 2019 - 5:35:26 AM | $2,310.00 | iseniorcruz |
| May 2, 2019 - 5:35:17 AM | $2,260.00 | iRick Sanders |
| May 2, 2019 - 5:35:17 AM | $2,210.00 | iseniorcruz |
| May 2, 2019 - 5:34:53 AM | $2,160.00 | iRick Sanders |
| May 2, 2019 - 5:34:53 AM | $2,110.00 | iseniorcruz |
| May 1, 2019 - 8:47:16 PM | $2,060.00 | iRick Sanders |
| May 1, 2019 - 8:47:16 PM | $2,010.00 | ijohnbrimmer |
| May 1, 2019 - 8:46:56 PM | $1,900.00 | ijohnbrimmer |
| May 1, 2019 - 8:46:56 PM | $1,850.00 | iRick Sanders |
| May 1, 2019 - 7:26:41 PM | $1,800.00 | ijohnbrimmer |
| May 1, 2019 - 7:26:41 PM | $1,750.00 | iJwarner |
| May 1, 2019 - 7:26:38 PM | $1,700.00 | ijohnbrimmer |
| May 1, 2019 - 7:26:38 PM | $1,650.00 | iJwarner |
| May 1, 2019 - 7:26:28 PM | $1,600.00 | ijohnbrimmer |
| May 1, 2019 - 7:26:28 PM | $1,550.00 | iJwarner |
| May 1, 2019 - 7:26:25 PM | $1,500.00 | ijohnbrimmer |
| May 1, 2019 - 7:26:25 PM | $1,450.00 | iJwarner |
| May 1, 2019 - 7:26:23 PM | $1,400.00 | ijohnbrimmer |
| May 1, 2019 - 7:26:23 PM | $1,350.00 | iJwarner |
| May 1, 2019 - 5:57:57 PM | $1,300.00 | ijohnbrimmer |
| May 1, 2019 - 5:57:57 PM | $1,250.00 | iRick Sanders |
| May 1, 2019 - 5:18:38 PM | $1,200.00 | iRick Sanders |
| May 1, 2019 - 7:31:47 AM | $1,150.00 | iJwarner |
| May 1, 2019 - 7:31:44 AM | $1,100.00 | iPhilsservice |
| May 1, 2019 - 7:31:44 AM | $1,060.00 | iJwarner |
| May 1, 2019 - 7:31:41 AM | $1,010.00 | iPhilsservice |
| May 1, 2019 - 7:31:41 AM | $1,000.00 | iJwarner |
| May 1, 2019 - 7:31:37 AM | $990.00 | iPhilsservice |
| May 1, 2019 - 7:31:37 AM | $980.00 | iJwarner |
| May 1, 2019 - 7:31:35 AM | $970.00 | iPhilsservice |
| May 1, 2019 - 7:31:35 AM | $960.00 | iJwarner |
| May 1, 2019 - 7:31:33 AM | $950.00 | iPhilsservice |
| May 1, 2019 - 7:31:33 AM | $940.00 | iJwarner |
| May 1, 2019 - 7:31:30 AM | $930.00 | iPhilsservice |
| May 1, 2019 - 7:31:30 AM | $920.00 | iJwarner |
| Apr 30, 2019 - 9:04:22 PM | $910.00 | iPhilsservice |
| Apr 30, 2019 - 9:04:22 PM | $900.00 | iRick Sanders |
| Apr 30, 2019 - 8:57:26 PM | $870.00 | iRick Sanders |
| Apr 30, 2019 - 7:00:18 PM | $860.00 | iJwarner |
| Apr 30, 2019 - 7:00:16 PM | $850.00 | ijohnbrimmer |
| Apr 30, 2019 - 7:00:16 PM | $840.00 | iJwarner |
| Apr 30, 2019 - 7:00:14 PM | $830.00 | ijohnbrimmer |
| Apr 30, 2019 - 7:00:14 PM | $820.00 | iJwarner |
| Apr 30, 2019 - 3:44:08 PM | $810.00 | ijohnbrimmer |
| Apr 30, 2019 - 3:44:08 PM | $800.00 | iOrtiz |
| Apr 30, 2019 - 12:00:33 PM | $760.00 | iOrtiz |
| Apr 30, 2019 - 12:00:33 PM | $750.00 | iDCR |
| Apr 30, 2019 - 11:52:17 AM | $520.00 | iOrtiz |
| Apr 30, 2019 - 11:24:42 AM | $510.00 | iJwarner |
| Apr 30, 2019 - 11:24:40 AM | $500.00 | iOrtiz |
| Apr 30, 2019 - 11:24:40 AM | $490.00 | iJwarner |
| Apr 30, 2019 - 11:24:38 AM | $480.00 | iOrtiz |
| Apr 30, 2019 - 11:24:38 AM | $470.00 | iJwarner |
| Apr 30, 2019 - 11:24:37 AM | $460.00 | iOrtiz |
| Apr 30, 2019 - 11:24:37 AM | $450.00 | iJwarner |
| Apr 30, 2019 - 11:24:35 AM | $440.00 | iOrtiz |
| Apr 30, 2019 - 11:24:35 AM | $430.00 | iJwarner |
| Apr 30, 2019 - 11:24:33 AM | $420.00 | iOrtiz |
| Apr 30, 2019 - 11:24:33 AM | $410.00 | iJwarner |
| Apr 30, 2019 - 11:24:31 AM | $400.00 | iOrtiz |
| Apr 30, 2019 - 11:24:31 AM | $390.00 | iJwarner |
| Apr 30, 2019 - 11:24:29 AM | $380.00 | iOrtiz |
| Apr 30, 2019 - 11:24:29 AM | $370.00 | iJwarner |
| Apr 30, 2019 - 11:24:26 AM | $360.00 | iOrtiz |
| Apr 30, 2019 - 11:24:26 AM | $350.00 | iJwarner |
| Apr 30, 2019 - 11:24:23 AM | $340.00 | iOrtiz |
| Apr 30, 2019 - 11:24:23 AM | $330.00 | iJwarner |
| Apr 30, 2019 - 11:24:21 AM | $320.00 | iOrtiz |
| Apr 30, 2019 - 11:24:21 AM | $310.00 | iJwarner |
| Apr 30, 2019 - 11:24:18 AM | $300.00 | iOrtiz |
| Apr 30, 2019 - 11:24:18 AM | $290.00 | iJwarner |
| Apr 30, 2019 - 11:24:13 AM | $280.00 | iOrtiz |
| Apr 30, 2019 - 11:24:13 AM | $270.00 | iJwarner |
| Apr 30, 2019 - 10:59:31 AM | $260.00 | iOrtiz |
| Apr 30, 2019 - 10:59:31 AM | $250.00 | inorcal1968 |
| Apr 30, 2019 - 10:29:20 AM | $215.00 | iOrtiz |
| Apr 30, 2019 - 10:29:20 AM | $205.00 | ijohnbrimmer |
| Apr 30, 2019 - 10:29:04 AM | $145.00 | ijohnbrimmer |
| Apr 30, 2019 - 10:29:04 AM | $135.00 | iOrtiz |
| Apr 30, 2019 - 10:22:50 AM | $125.00 | ijohnbrimmer |
| Apr 30, 2019 - 10:22:50 AM | $115.00 | iOrtiz |
| Apr 30, 2019 - 10:16:26 AM | $105.00 | ijohnbrimmer |
| Apr 30, 2019 - 10:16:26 AM | $100.00 | inorcal1968 |
| Apr 30, 2019 - 10:16:21 AM | $55.00 | ijohnbrimmer |
| Apr 30, 2019 - 10:16:21 AM | $50.00 | inorcal1968 |
| Apr 30, 2019 - 10:12:06 AM | $5.00 | ijohnbrimmer |