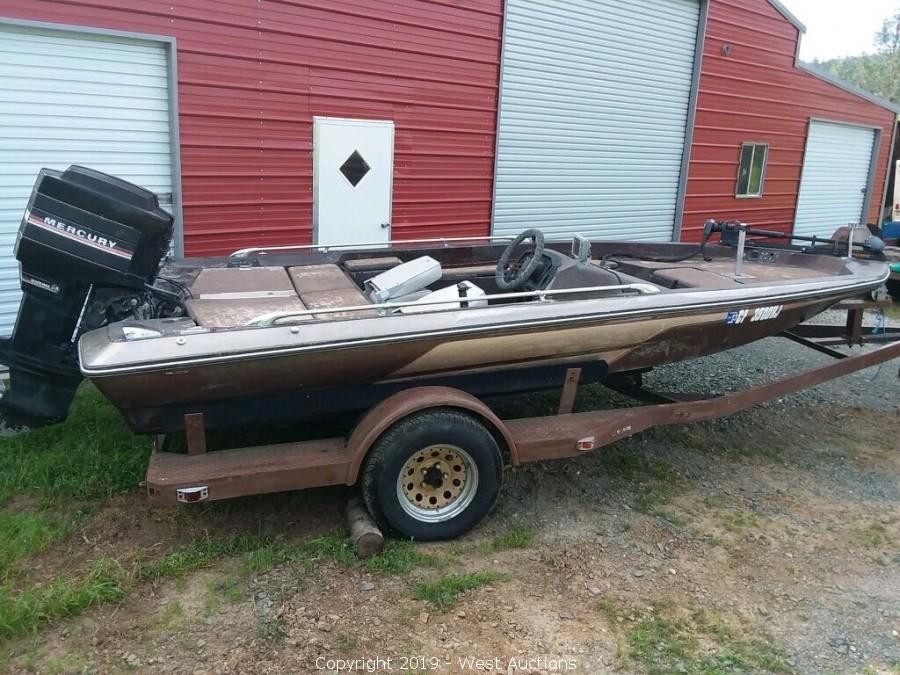 Lot #01-0347:
1983 Skeeter Boat and 1982 Trailer
Bidding is

closed

.
High Bid:
$575.00
NA
Bidding Ended:
Thu, May 2 10:08:47 am PT
High Bidder:
CrazyOne
Bid Increment:
$10.00
Starting Bid:
$5.00
Item Location:

Smartsville

,

CA

95977

Item has been viewed 611 times.

VIN: STEY2525M83F
CF Number: 3500HJ


Expiration Date: 12/31/2015
1982 Trail-Rite Boat Trailer
VIN: 1T052679
License: 4BA5245


Expiration Date: 12/31/2021
Note: Certificates of Title and Transfer Forms will be mailed 4-6 weeks following the close of auction. Buyer is fully responsible for all aspects of registration and fees due to DMV.
| | | |
| --- | --- | --- |
| Bid Date | Bid Amount | Bidder |
| May 2, 2019 - 10:06:47 AM | $575.00 | iCrazyOne |
| May 2, 2019 - 10:06:47 AM | $565.00 | iMine |
| May 2, 2019 - 10:06:18 AM | $560.00 | iMine |
| May 2, 2019 - 10:05:53 AM | $550.00 | iCrazyOne |
| May 2, 2019 - 10:05:53 AM | $540.00 | iMine |
| May 2, 2019 - 10:04:27 AM | $515.00 | iCrazyOne |
| Apr 30, 2019 - 2:34:35 PM | $505.00 | iGotcha |
| Apr 30, 2019 - 2:34:35 PM | $500.00 | ihaydude |
| Apr 30, 2019 - 2:33:04 PM | $495.00 | ihaydude |
| Apr 30, 2019 - 2:33:04 PM | $485.00 | iGotcha |
| Apr 30, 2019 - 2:33:02 PM | $475.00 | ihaydude |
| Apr 30, 2019 - 2:33:02 PM | $465.00 | iGotcha |
| Apr 30, 2019 - 2:33:01 PM | $455.00 | ihaydude |
| Apr 30, 2019 - 2:33:01 PM | $445.00 | iGotcha |
| Apr 30, 2019 - 2:32:58 PM | $435.00 | ihaydude |
| Apr 30, 2019 - 2:32:58 PM | $425.00 | iGotcha |
| Apr 30, 2019 - 2:32:54 PM | $415.00 | ihaydude |
| Apr 30, 2019 - 2:32:54 PM | $405.00 | iGotcha |
| Apr 30, 2019 - 2:32:52 PM | $395.00 | ihaydude |
| Apr 30, 2019 - 2:32:52 PM | $385.00 | iGotcha |
| Apr 30, 2019 - 2:32:50 PM | $375.00 | ihaydude |
| Apr 30, 2019 - 2:32:50 PM | $365.00 | iGotcha |
| Apr 30, 2019 - 2:32:48 PM | $355.00 | ihaydude |
| Apr 30, 2019 - 2:32:48 PM | $345.00 | iGotcha |
| Apr 30, 2019 - 2:32:45 PM | $335.00 | ihaydude |
| Apr 30, 2019 - 2:32:45 PM | $325.00 | iGotcha |
| Apr 30, 2019 - 2:32:43 PM | $315.00 | ihaydude |
| Apr 30, 2019 - 2:32:43 PM | $305.00 | iGotcha |
| Apr 30, 2019 - 2:32:41 PM | $295.00 | ihaydude |
| Apr 30, 2019 - 2:32:41 PM | $285.00 | iGotcha |
| Apr 30, 2019 - 2:32:39 PM | $275.00 | ihaydude |
| Apr 30, 2019 - 2:32:39 PM | $265.00 | iGotcha |
| Apr 30, 2019 - 2:32:37 PM | $255.00 | ihaydude |
| Apr 30, 2019 - 2:32:37 PM | $245.00 | iGotcha |
| Apr 30, 2019 - 2:32:35 PM | $235.00 | ihaydude |
| Apr 30, 2019 - 2:32:35 PM | $225.00 | iGotcha |
| Apr 30, 2019 - 2:32:33 PM | $215.00 | ihaydude |
| Apr 30, 2019 - 2:32:33 PM | $205.00 | iGotcha |
| Apr 30, 2019 - 2:32:30 PM | $195.00 | ihaydude |
| Apr 30, 2019 - 2:32:30 PM | $185.00 | iGotcha |
| Apr 30, 2019 - 2:32:27 PM | $175.00 | ihaydude |
| Apr 30, 2019 - 2:32:27 PM | $165.00 | iGotcha |
| Apr 30, 2019 - 2:32:24 PM | $155.00 | ihaydude |
| Apr 30, 2019 - 2:32:24 PM | $145.00 | iGotcha |
| Apr 30, 2019 - 2:32:19 PM | $135.00 | ihaydude |
| Apr 30, 2019 - 2:32:19 PM | $125.00 | iGotcha |
| Apr 30, 2019 - 2:32:14 PM | $115.00 | ihaydude |
| Apr 30, 2019 - 2:32:14 PM | $105.00 | iGotcha |
| Apr 30, 2019 - 2:32:08 PM | $100.00 | ihaydude |
| Apr 30, 2019 - 2:32:08 PM | $95.00 | iGotcha |
| Apr 30, 2019 - 2:31:58 PM | $90.00 | ihaydude |
| Apr 30, 2019 - 2:31:58 PM | $85.00 | iGotcha |
| Apr 30, 2019 - 1:28:28 PM | $80.00 | ihaydude |
| Apr 30, 2019 - 1:28:28 PM | $75.00 | iDCR |
| Apr 30, 2019 - 1:18:57 PM | $40.00 | iDCR |
| Apr 30, 2019 - 1:18:57 PM | $35.00 | iyuba10449292 |
| Apr 30, 2019 - 1:18:45 PM | $30.00 | iDCR |
| Apr 30, 2019 - 1:18:45 PM | $25.00 | iyuba10449292 |
| Apr 30, 2019 - 1:18:06 PM | $20.00 | iDCR |
| Apr 30, 2019 - 1:18:06 PM | $15.00 | iyuba10449292 |
| Apr 30, 2019 - 12:02:00 PM | $10.00 | iDCR |
| Apr 30, 2019 - 11:28:20 AM | $5.00 | iGotcha |