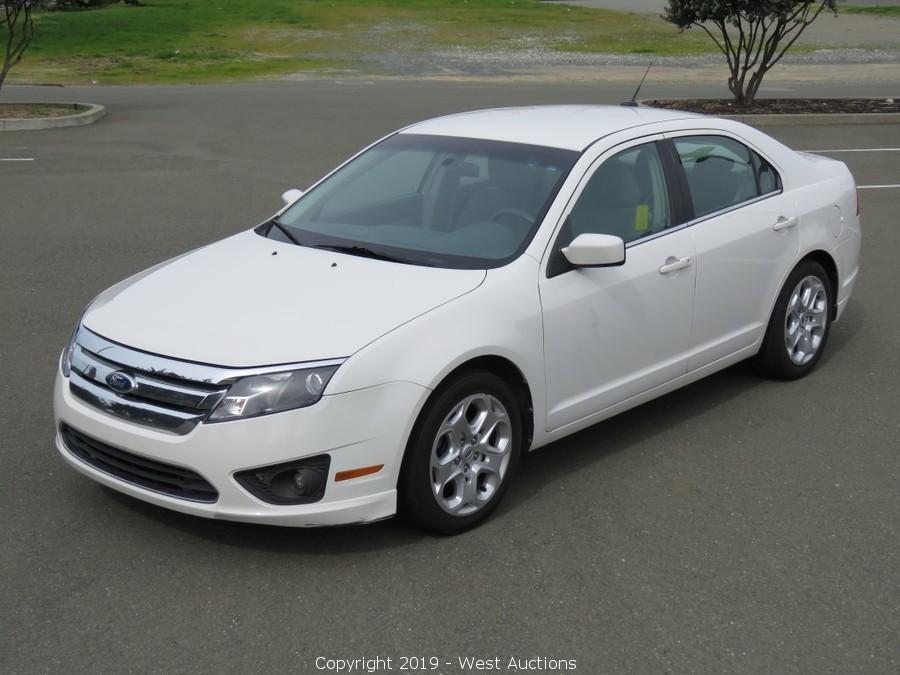 Lot #0102:
2010 Ford Fusion SE Sedan
Bidding is

closed

.
High Bid:
$3,400.00
NA
Bidding Ended:
Thu, May 9 10:02:00 am PT
High Bidder:
Durvalserafimjr
Bid Increment:
$50.00
Starting Bid:
$5.00
Item Location:

Richmond

,

CA

94808

Item has been viewed 1,915 times.

2010 Ford Fusion SE Sedan
VIN: 3FAHP0HA1AR301427
License: 5ZTS504

Expiration Date: 5/10/2019

Engine: Ford 2.5L Inline 4 gas

GVWR

: 4,389

LBS

Odometer reads: 109,249
Automatic Transmission
Power locks
Power mirrors
Power windows
Power seats
Cruise control
Am Fm Radio
Air conditioning
Cloth interior
Dual airbag
Side airbag
Tire size: 225/50R17
Note: California Certificate of Title, Transfer Form and Certificate of SMOG will be mailed 3-4 weeks following the close of auction. Buyer is fully responsible for all aspects of registration and fees due to DMV. 
| | | |
| --- | --- | --- |
| Bid Date | Bid Amount | Bidder |
| May 9, 2019 - 5:47:46 AM | $3,400.00 | iDurvalserafimjr |
| May 9, 2019 - 5:47:46 AM | $3,350.00 | iLuison |
| May 8, 2019 - 10:05:15 PM | $3,050.00 | iLuison |
| May 8, 2019 - 10:05:15 PM | $3,000.00 | ijesse63 |
| May 8, 2019 - 10:04:24 PM | $2,650.00 | ijesse63 |
| May 8, 2019 - 10:04:24 PM | $2,600.00 | iLuison |
| May 8, 2019 - 11:43:40 AM | $2,550.00 | ijesse63 |
| May 7, 2019 - 10:53:27 PM | $2,500.00 | iDurvalserafimjr |
| May 7, 2019 - 10:53:27 PM | $2,450.00 | ielgringobrian |
| May 7, 2019 - 3:28:06 PM | $2,300.00 | ielgringobrian |
| May 7, 2019 - 3:28:06 PM | $2,250.00 | iliamlrb |
| May 7, 2019 - 3:23:24 PM | $2,225.00 | iliamlrb |
| May 7, 2019 - 3:23:24 PM | $2,175.00 | ielgringobrian |
| May 7, 2019 - 2:06:08 PM | $2,050.00 | iliamlrb |
| May 7, 2019 - 2:06:08 PM | $2,000.00 | iBayScenery |
| May 7, 2019 - 1:16:12 PM | $1,850.00 | iBayScenery |
| May 7, 2019 - 1:16:12 PM | $1,800.00 | iNserbin1 |
| May 7, 2019 - 1:16:03 PM | $1,550.00 | iBayScenery |
| May 7, 2019 - 1:16:03 PM | $1,500.00 | iNserbin1 |
| May 7, 2019 - 1:15:49 PM | $1,250.00 | iBayScenery |
| May 7, 2019 - 1:15:49 PM | $1,200.00 | iNserbin1 |
| May 7, 2019 - 1:15:38 PM | $910.00 | iBayScenery |
| May 7, 2019 - 1:15:38 PM | $900.00 | iNserbin1 |
| May 7, 2019 - 1:03:41 PM | $610.00 | iBayScenery |
| May 7, 2019 - 1:03:41 PM | $600.00 | iThiara4331 |
| May 7, 2019 - 11:14:08 AM | $510.00 | iThiara4331 |
| May 7, 2019 - 11:14:08 AM | $500.00 | iBayScenery |
| May 7, 2019 - 11:13:49 AM | $485.00 | iBayScenery |
| May 7, 2019 - 11:13:49 AM | $475.00 | iThiara4331 |
| May 7, 2019 - 11:11:52 AM | $465.00 | iBayScenery |
| May 7, 2019 - 11:11:52 AM | $455.00 | iThiara4331 |
| May 7, 2019 - 11:11:49 AM | $445.00 | iBayScenery |
| May 7, 2019 - 11:11:49 AM | $435.00 | iThiara4331 |
| May 7, 2019 - 11:11:46 AM | $425.00 | iBayScenery |
| May 7, 2019 - 11:11:46 AM | $415.00 | iThiara4331 |
| May 7, 2019 - 11:11:43 AM | $405.00 | iBayScenery |
| May 7, 2019 - 11:11:43 AM | $395.00 | iThiara4331 |
| May 7, 2019 - 11:11:40 AM | $385.00 | iBayScenery |
| May 7, 2019 - 11:11:40 AM | $375.00 | iThiara4331 |
| May 7, 2019 - 11:11:38 AM | $365.00 | iBayScenery |
| May 7, 2019 - 11:11:38 AM | $355.00 | iThiara4331 |
| May 7, 2019 - 11:11:36 AM | $345.00 | iBayScenery |
| May 7, 2019 - 11:11:36 AM | $335.00 | iThiara4331 |
| May 7, 2019 - 11:11:31 AM | $325.00 | iBayScenery |
| May 7, 2019 - 11:11:31 AM | $315.00 | iThiara4331 |
| May 7, 2019 - 10:25:27 AM | $305.00 | iBayScenery |
| May 7, 2019 - 10:25:27 AM | $295.00 | ithats too much |
| May 7, 2019 - 10:25:23 AM | $285.00 | iBayScenery |
| May 7, 2019 - 10:25:23 AM | $275.00 | ithats too much |
| May 7, 2019 - 10:25:20 AM | $265.00 | iBayScenery |
| May 7, 2019 - 10:25:20 AM | $255.00 | ithats too much |
| May 7, 2019 - 10:25:16 AM | $245.00 | iBayScenery |
| May 7, 2019 - 10:25:16 AM | $235.00 | ithats too much |
| May 7, 2019 - 10:25:12 AM | $225.00 | iBayScenery |
| May 7, 2019 - 10:25:12 AM | $215.00 | ithats too much |
| May 7, 2019 - 10:25:08 AM | $205.00 | iBayScenery |
| May 7, 2019 - 10:25:08 AM | $195.00 | ithats too much |
| May 7, 2019 - 10:25:04 AM | $185.00 | iBayScenery |
| May 7, 2019 - 10:25:04 AM | $175.00 | ithats too much |
| May 7, 2019 - 10:25:01 AM | $165.00 | iBayScenery |
| May 7, 2019 - 10:25:01 AM | $155.00 | ithats too much |
| May 7, 2019 - 10:24:58 AM | $145.00 | iBayScenery |
| May 7, 2019 - 10:24:58 AM | $135.00 | ithats too much |
| May 7, 2019 - 10:24:52 AM | $125.00 | iBayScenery |
| May 7, 2019 - 10:24:52 AM | $115.00 | ithats too much |
| May 7, 2019 - 10:22:25 AM | $105.00 | iBayScenery |
| May 7, 2019 - 10:22:25 AM | $100.00 | isplasher99 |
| May 7, 2019 - 10:22:13 AM | $30.00 | iBayScenery |
| May 7, 2019 - 10:22:13 AM | $25.00 | isplasher99 |
| May 7, 2019 - 10:07:00 AM | $5.00 | iBayScenery |