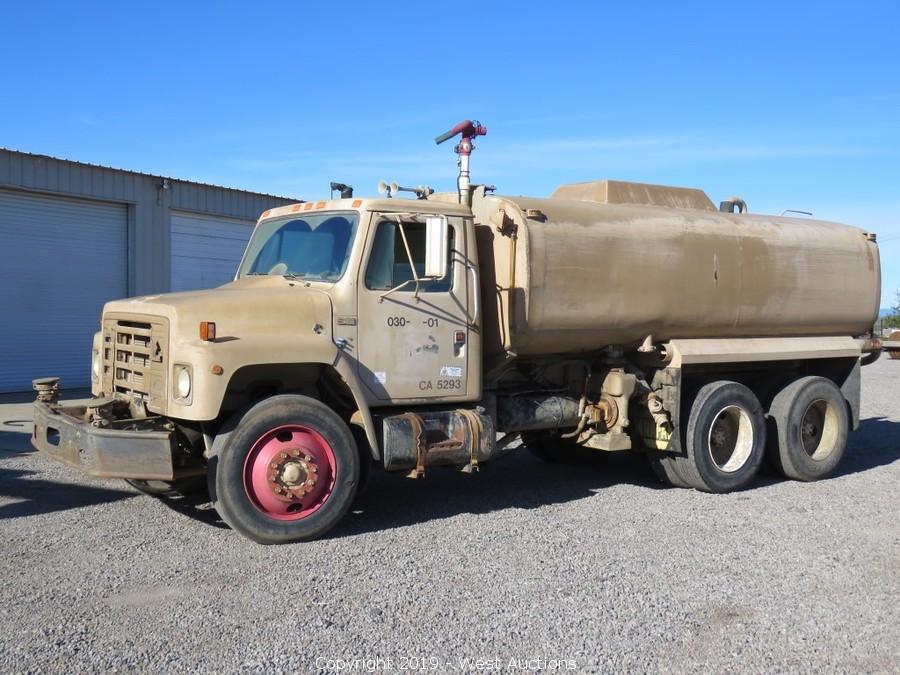 Lot #0104:
1987 International S1900 4,000 Gallon Water Truck
Bidding is

closed

.
High Bid:
$2,565.00
NA
Bidding Ended:
Thu, May 23 10:09:15 am PT
High Bidder:
bigtrux
Bid Increment:
$50.00
Starting Bid:
$5.00
Item Location:

Robbins

,

CA

95676

Item has been viewed 936 times.

1987 International S1900 4,000 Gallon Water Truck
VIN

: 1HTLKDCR1HH491140
License: 2QCX967

Expiration Date: 11/20/2010 (currently not registered, special equipment registartion deferred)

Engine: International inline 6 diesel
Model: F1954 6X4
Odometer Reads: 47,192
GVWR: NA
Hour Meter Reads: 1,232
Air brakes
13-speed Eaton Fuller transmission
Williams air controlled selective water spray
Water pump power: Front bumper mounted hydraulic pump (powered by driveline from the engine)
(3) rear spray nozzles
(2) front hydraulic nozzles
(2) 50 Gallon side mounted diesel tanks
(3) Axles
(10) Tires
Tire Size: 11R22.5
Note: Application For Duplicate Title, Transfer Form will be mailed 4-6 weeks following the close of the auction. Buyer is fully responsible for all aspects of registration and fees due to DMV. 
| | | |
| --- | --- | --- |
| Bid Date | Bid Amount | Bidder |
| May 23, 2019 - 10:07:15 AM | $2,565.00 | ibigtrux |
| May 23, 2019 - 10:07:15 AM | $2,515.00 | ijustbidin |
| May 23, 2019 - 10:06:35 AM | $2,450.00 | ibigtrux |
| May 23, 2019 - 10:06:35 AM | $2,400.00 | ijustbidin |
| May 23, 2019 - 10:05:59 AM | $2,322.00 | ibigtrux |
| May 23, 2019 - 10:05:50 AM | $2,272.00 | iThoud23 |
| May 23, 2019 - 10:05:31 AM | $2,222.00 | ibigtrux |
| May 23, 2019 - 10:05:31 AM | $2,200.00 | ijustbidin |
| May 23, 2019 - 10:05:24 AM | $2,161.00 | ijustbidin |
| May 23, 2019 - 10:05:16 AM | $2,111.00 | ibigtrux |
| May 23, 2019 - 10:05:16 AM | $2,100.00 | iThoud23 |
| May 23, 2019 - 10:04:46 AM | $2,050.00 | ibigtrux |
| May 23, 2019 - 10:04:46 AM | $2,000.00 | ijustbidin |
| May 23, 2019 - 10:04:42 AM | $1,950.00 | ibigtrux |
| May 23, 2019 - 10:04:42 AM | $1,900.00 | iThoud23 |
| May 23, 2019 - 10:04:15 AM | $1,850.00 | ibigtrux |
| May 23, 2019 - 10:04:15 AM | $1,800.00 | ijustbidin |
| May 23, 2019 - 10:03:51 AM | $1,750.00 | ibigtrux |
| May 23, 2019 - 10:03:51 AM | $1,700.00 | iThoud23 |
| May 23, 2019 - 10:03:38 AM | $1,675.00 | iThoud23 |
| May 23, 2019 - 8:13:29 AM | $1,625.00 | ibigtrux |
| May 23, 2019 - 4:56:05 AM | $1,575.00 | iGascat |
| May 23, 2019 - 4:56:05 AM | $1,550.00 | imark123 |
| May 23, 2019 - 4:55:44 AM | $1,500.00 | iGascat |
| May 23, 2019 - 4:55:44 AM | $1,450.00 | imark123 |
| May 22, 2019 - 8:05:11 PM | $1,400.00 | iGascat |
| May 22, 2019 - 8:05:11 PM | $1,350.00 | imark123 |
| May 22, 2019 - 8:03:04 PM | $1,220.00 | imark123 |
| May 22, 2019 - 8:03:04 PM | $1,170.00 | ipiper2600 |
| May 22, 2019 - 7:03:54 AM | $1,110.00 | imark123 |
| May 22, 2019 - 7:03:54 AM | $1,060.00 | isjcoors |
| May 22, 2019 - 6:00:33 AM | $1,010.00 | imark123 |
| May 22, 2019 - 6:00:33 AM | $1,000.00 | icramfarm |
| May 21, 2019 - 8:22:06 PM | $810.00 | icramfarm |
| May 21, 2019 - 8:22:06 PM | $800.00 | imark123 |
| May 21, 2019 - 6:08:10 PM | $670.00 | imark123 |
| May 21, 2019 - 6:08:10 PM | $660.00 | iGascat |
| May 21, 2019 - 6:07:45 PM | $550.00 | imark123 |
| May 21, 2019 - 6:07:45 PM | $540.00 | iGascat |
| May 21, 2019 - 6:07:24 PM | $450.00 | imark123 |
| May 21, 2019 - 6:07:24 PM | $440.00 | iGascat |
| May 21, 2019 - 6:07:10 PM | $350.00 | imark123 |
| May 21, 2019 - 6:07:10 PM | $340.00 | iGascat |
| May 21, 2019 - 6:06:54 PM | $250.00 | imark123 |
| May 21, 2019 - 6:06:54 PM | $240.00 | iGascat |
| May 21, 2019 - 6:06:29 PM | $150.00 | imark123 |
| May 21, 2019 - 6:06:29 PM | $140.00 | iGascat |
| May 21, 2019 - 1:27:33 PM | $15.00 | imark123 |
| May 21, 2019 - 12:35:33 PM | $10.00 | ipoordude10 |
| May 21, 2019 - 11:57:33 AM | $5.00 | iTuscanfarms |