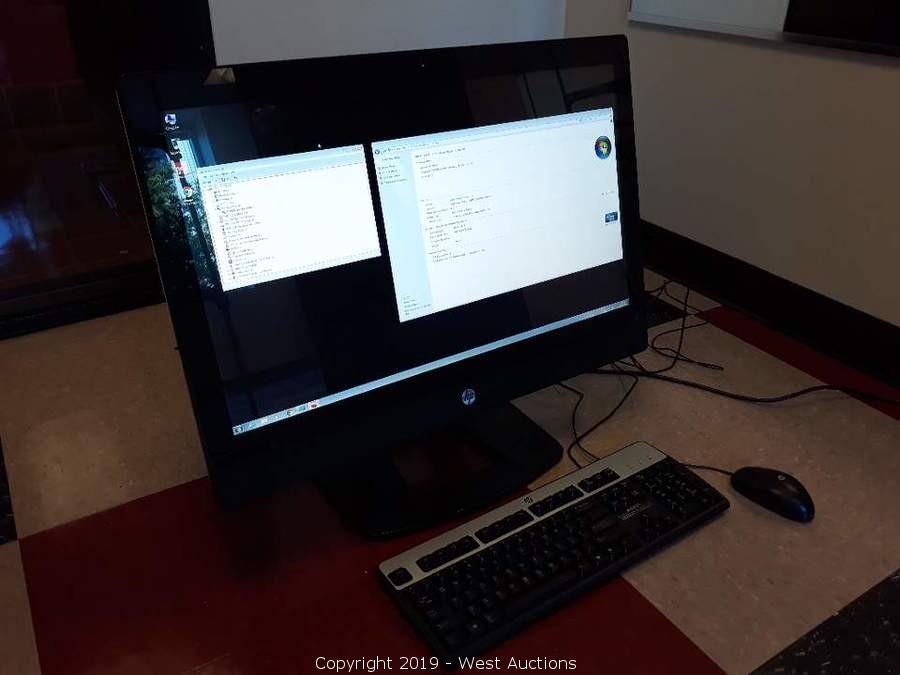 Lot #0112:
HP Z1 27" All-in-One Workstation
Bidding is

closed

.
High Bid:
$155.00
NA
Bidding Ended:
Thu, May 30 10:35:47 am PT
High Bidder:
menam123
Bid Increment:
$10.00
Starting Bid:
$5.00
Item Location:

Sacramento

,

CA

95833

Item has been viewed 468 times.

HP Z1 27" All In One Work Station
Windows 7 Enterprise
Intel Xeon E31245 @ 3.30GHz

CPU

8GB Ram
Nvidia Quatro 500M video card
Notice: Photos may be representative images of the item(s). All items for this sale are sold "as-is" and "where-is" with no warranties expressed or implied. Individual items have not been tested for working condition. No claims of any kind shall be allowed after Item has been removed by the Buyer. There are no refunds or exchanges. Please bid accordingly.
| | | |
| --- | --- | --- |
| Bid Date | Bid Amount | Bidder |
| May 30, 2019 - 10:33:47 AM | $155.00 | imenam123 |
| May 30, 2019 - 10:28:58 AM | $145.00 | ih314 |
| May 30, 2019 - 10:28:59 AM | $145.00 | iAtoby |
| May 30, 2019 - 10:28:06 AM | $135.00 | ih314 |
| May 30, 2019 - 10:28:06 AM | $125.00 | imissdupree |
| May 30, 2019 - 10:26:44 AM | $115.00 | imissdupree |
| May 30, 2019 - 9:48:28 AM | $105.00 | ibrandonsac999 |
| May 30, 2019 - 9:48:29 AM | $105.00 | iRosslynjean |
| May 30, 2019 - 9:48:21 AM | $100.00 | ibrandonsac999 |
| May 30, 2019 - 9:48:21 AM | $95.00 | iRosslynjean |
| May 30, 2019 - 9:26:11 AM | $90.00 | ibrandonsac999 |
| May 30, 2019 - 9:26:11 AM | $85.00 | iAtoby |
| May 30, 2019 - 9:26:10 AM | $80.00 | ibrandonsac999 |
| May 30, 2019 - 9:26:10 AM | $75.00 | iAtoby |
| May 30, 2019 - 9:23:53 AM | $70.00 | ibrandonsac999 |
| May 30, 2019 - 7:28:29 AM | $65.00 | iLaserguided |
| May 30, 2019 - 7:21:54 AM | $60.00 | iRosslynjean |
| May 30, 2019 - 7:21:46 AM | $55.00 | iLaserguided |
| May 30, 2019 - 7:21:47 AM | $55.00 | iRosslynjean |
| May 29, 2019 - 9:39:34 PM | $50.00 | iLaserguided |
| May 29, 2019 - 9:39:25 PM | $45.00 | iAtoby |
| May 29, 2019 - 9:39:26 PM | $45.00 | iLaserguided |
| May 29, 2019 - 9:04:01 PM | $40.00 | iAtoby |
| May 29, 2019 - 8:26:47 AM | $35.00 | iRosslynjean |
| May 29, 2019 - 8:26:29 AM | $30.00 | iparamesh |
| May 29, 2019 - 8:26:29 AM | $25.00 | iRosslynjean |
| May 29, 2019 - 4:58:13 AM | $20.00 | iparamesh |
| May 28, 2019 - 11:29:03 PM | $15.00 | iDoruin |
| May 28, 2019 - 1:43:45 PM | $10.00 | iRosslynjean |
| May 28, 2019 - 11:09:18 AM | $5.00 | ivjeong |