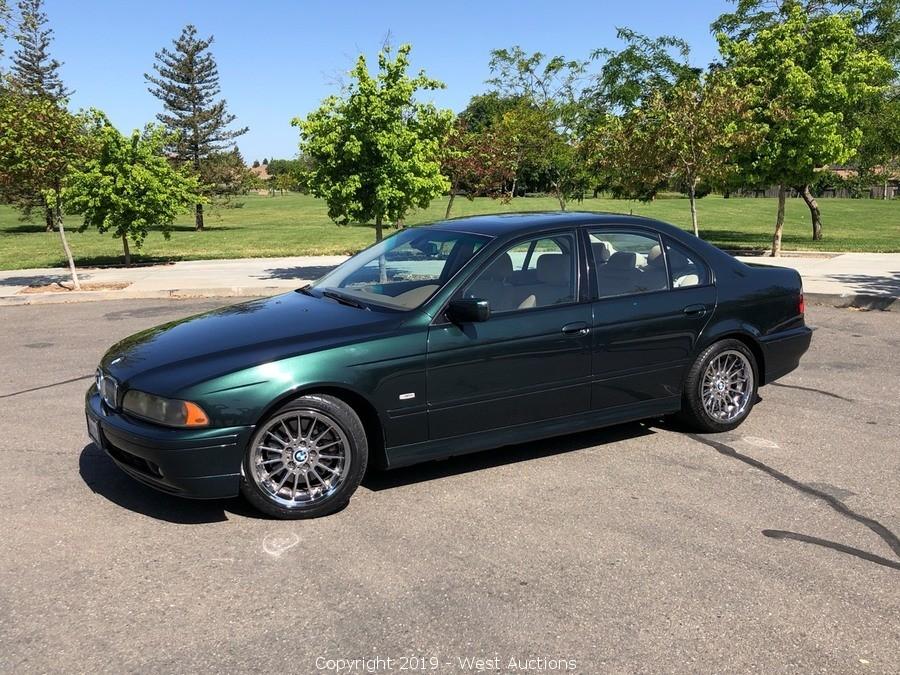 2002 BMW 540i 4D Sedan
Bidding is

closed

.
High Bid:
$2,900.00
NA
Bidding Ended:
Thu, May 23 10:00:29 am PT
High Bidder:
rensminger
Bid Increment:
$50.00
Starting Bid:
$5.00
Item has been viewed 2,548 times.

ASK ABOUT THIS ITEM

2002 BMW 540i 4D Sedan
Specifications
VIN

: WBADN53442GF70351
License: 5PKT743

Registration Expiration Date: 4/28/2020

Year: 2002
Make:

BMW

Model: 5 Series, 540i
Odometer Reads: 154,737 *Updated 05/20/19 10:20 am*
Drive Type: Rear Wheel Drive  
Engine: 4.4L Gas V8  
Body Style: Sedan
Fuel Type: Gas
Transmission: 6-speed manual transmission
Tire Size: P225/55R16
Exterior
Exterior Color: Dark Green
Doors: Four
Interior
Interior Material: Leather
Interior Color: Beige
Accessories
GROM

Bluetooth smartphone connection
Audio-CD Player
Audio-AM/FM Stereo
Premium chrome rims
M logo Steering wheel
M logo shift knob
Sports suspension
(2) keys available (One key on site, the second key will be shipped with paperwork)
Note: Certificate of Title, Transfer form and Smog will be mailed 1-2 weeks following the close of the auction. Buyer is fully responsible for registration and fees due to DMV. 
| | | |
| --- | --- | --- |
| Bid Date | Bid Amount | Bidder |
| May 23, 2019 - 9:58:29 AM | $2,900.00 | irensminger |
| May 23, 2019 - 9:58:29 AM | $2,856.88 | itonyrobinauto |
| May 23, 2019 - 9:48:43 AM | $2,752.00 | itonyrobinauto |
| May 23, 2019 - 9:48:43 AM | $2,702.00 | inestorjw |
| May 22, 2019 - 9:02:13 AM | $2,701.00 | inestorjw |
| May 21, 2019 - 9:09:06 PM | $2,651.00 | iemidwyer |
| May 21, 2019 - 9:09:06 PM | $2,601.00 | inestorjw |
| May 21, 2019 - 9:08:55 PM | $2,551.00 | iemidwyer |
| May 21, 2019 - 9:08:55 PM | $2,501.00 | inestorjw |
| May 21, 2019 - 9:08:52 PM | $2,451.00 | iemidwyer |
| May 21, 2019 - 9:08:52 PM | $2,401.00 | inestorjw |
| May 21, 2019 - 9:08:48 PM | $2,351.00 | iemidwyer |
| May 21, 2019 - 9:08:48 PM | $2,301.00 | inestorjw |
| May 21, 2019 - 9:08:42 PM | $2,251.00 | iemidwyer |
| May 21, 2019 - 9:08:42 PM | $2,201.00 | inestorjw |
| May 21, 2019 - 9:08:37 PM | $2,151.00 | iemidwyer |
| May 21, 2019 - 9:08:37 PM | $2,101.00 | inestorjw |
| May 21, 2019 - 9:08:33 PM | $2,051.00 | iemidwyer |
| May 21, 2019 - 9:08:33 PM | $2,001.00 | inestorjw |
| May 21, 2019 - 9:08:29 PM | $1,951.00 | iemidwyer |
| May 21, 2019 - 9:08:29 PM | $1,901.00 | inestorjw |
| May 21, 2019 - 9:08:24 PM | $1,851.00 | iemidwyer |
| May 21, 2019 - 9:08:24 PM | $1,801.00 | inestorjw |
| May 21, 2019 - 9:08:21 PM | $1,751.00 | iemidwyer |
| May 21, 2019 - 9:08:21 PM | $1,701.00 | inestorjw |
| May 21, 2019 - 9:08:17 PM | $1,651.00 | iemidwyer |
| May 21, 2019 - 9:08:17 PM | $1,601.00 | inestorjw |
| May 21, 2019 - 6:02:22 PM | $1,551.00 | iemidwyer |
| May 21, 2019 - 6:02:22 PM | $1,501.00 | itrwright |
| May 21, 2019 - 3:51:14 PM | $1,010.00 | itrwright |
| May 21, 2019 - 3:51:14 PM | $1,000.00 | inestorjw |
| May 21, 2019 - 1:04:59 PM | $850.00 | inestorjw |
| May 21, 2019 - 1:04:59 PM | $840.00 | itjaeng |
| May 21, 2019 - 11:14:30 AM | $811.00 | inestorjw |
| May 21, 2019 - 11:14:30 AM | $801.00 | itypeone66 |
| May 21, 2019 - 11:14:15 AM | $760.00 | itypeone66 |
| May 21, 2019 - 11:14:15 AM | $750.00 | inestorjw |
| May 21, 2019 - 11:04:24 AM | $530.00 | itypeone66 |
| May 21, 2019 - 11:04:24 AM | $520.00 | itjaeng |
| May 21, 2019 - 10:30:15 AM | $510.00 | itypeone66 |
| May 21, 2019 - 10:30:15 AM | $500.00 | inestorjw |
| May 21, 2019 - 10:27:51 AM | $211.01 | itypeone66 |
| May 21, 2019 - 10:27:51 AM | $201.01 | iearonp42 |
| May 21, 2019 - 10:25:23 AM | $5.00 | iearonp42 |