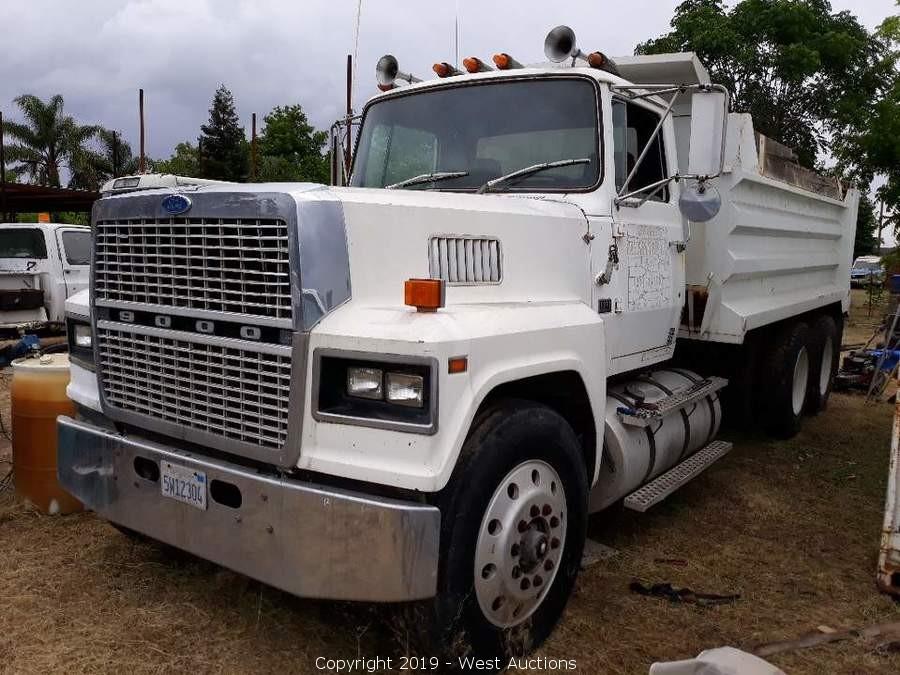 Lot #0101:
1986 Ford LTL 9000 10 Yard Dump Truck (Not Running)
Bidding is

closed

.
High Bid:
$4,150.00
NA
Bidding Ended:
Thu, Jun 27 10:05:41 am PT
High Bidder:
Milkguy
Bid Increment:
$50.00
Starting Bid:
$5.00
Item Location:

2237 E. Service Road

,

Ceres

,

CA

95307

Item has been viewed 1,382 times.

1986 Ford LTL 9000 10 Yard Dump Truck (Not Running)
Year: 1986
Make: Ford
Model: LTL
Specifications
VIN: 1FDYA92W5GVA21327
License: 5W12304

Registration Expiration: 12/31/2014

Odometer Reads: 343442.6
GVWR: 46000 Lb/20865 Kg
Engine: Cummins
Fuel Type: Diesel
Twin Rear Axles, with dual tires
Smaller dump door set in rear dump gate
Pintle Hook towing Attachment in rear
Twin fuel tanks
Tire Size: 11R24.5
Exterior
Exterior Color: White
Doors: Two Door
Interior
Note: A Required Battery Fee of $396.44 will automatically be added to the winning high bidder's invoice. Seller installed new batteries (see purchase receipt attached as a document) on 5/13/19 and was installed on 5/16/19. By bidding on this lot you are agreeing to the additional charge on top of your high bid amount. Please bid accordingly. 
Note: Certificate of Title, Transfer form will be mailed 4-6 weeks following the close of the auction. Buyer is fully responsible for all aspects of registration and fees due to DMV. NO FORKLIFT LOADING. 
| | | |
| --- | --- | --- |
| Bid Date | Bid Amount | Bidder |
| Jun 27, 2019 - 10:03:41 AM | $4,150.00 | iMilkguy |
| Jun 27, 2019 - 10:03:41 AM | $4,100.00 | iFairyland |
| Jun 27, 2019 - 10:02:25 AM | $4,000.00 | iMilkguy |
| Jun 27, 2019 - 10:02:26 AM | $4,000.00 | iFairyland |
| Jun 27, 2019 - 10:01:58 AM | $3,850.00 | iMilkguy |
| Jun 27, 2019 - 10:01:58 AM | $3,800.00 | iFairyland |
| Jun 27, 2019 - 10:01:38 AM | $3,650.00 | iMilkguy |
| Jun 27, 2019 - 10:01:38 AM | $3,600.00 | iFairyland |
| Jun 27, 2019 - 10:01:14 AM | $3,500.00 | iMilkguy |
| Jun 27, 2019 - 10:01:15 AM | $3,500.00 | iFairyland |
| Jun 27, 2019 - 10:00:50 AM | $3,350.00 | iMilkguy |
| Jun 27, 2019 - 10:00:50 AM | $3,300.00 | iFairyland |
| Jun 27, 2019 - 10:00:27 AM | $3,150.00 | iMilkguy |
| Jun 27, 2019 - 10:00:27 AM | $3,100.00 | iFairyland |
| Jun 27, 2019 - 9:59:59 AM | $3,050.00 | iMilkguy |
| Jun 27, 2019 - 9:59:42 AM | $3,000.00 | iFairyland |
| Jun 27, 2019 - 9:59:43 AM | $3,000.00 | iMilkguy |
| Jun 27, 2019 - 9:59:26 AM | $2,650.00 | iFairyland |
| Jun 27, 2019 - 9:59:26 AM | $2,600.00 | iMilkguy |
| Jun 27, 2019 - 9:59:03 AM | $2,550.00 | iFairyland |
| Jun 27, 2019 - 9:59:03 AM | $2,500.00 | iMilkguy |
| Jun 27, 2019 - 9:58:27 AM | $2,250.00 | iMilkguy |
| Jun 27, 2019 - 9:58:27 AM | $2,200.00 | iFairyland |
| Jun 27, 2019 - 9:58:13 AM | $2,150.00 | iFairyland |
| Jun 27, 2019 - 9:58:13 AM | $2,100.00 | iMilkguy |
| Jun 27, 2019 - 9:58:07 AM | $2,050.00 | iFairyland |
| Jun 27, 2019 - 9:58:07 AM | $2,000.00 | iMilkguy |
| Jun 27, 2019 - 9:56:58 AM | $1,950.00 | iMilkguy |
| Jun 27, 2019 - 9:56:58 AM | $1,900.00 | iSherryallen |
| Jun 27, 2019 - 9:55:12 AM | $1,650.00 | iMilkguy |
| Jun 27, 2019 - 9:55:12 AM | $1,600.00 | iFairyland |
| Jun 27, 2019 - 9:50:29 AM | $1,550.00 | iFairyland |
| Jun 27, 2019 - 9:50:29 AM | $1,500.00 | iMilkguy |
| Jun 27, 2019 - 9:49:45 AM | $1,450.00 | iMilkguy |
| Jun 27, 2019 - 9:49:45 AM | $1,400.00 | iTmart315 |
| Jun 27, 2019 - 9:49:35 AM | $1,350.00 | iMilkguy |
| Jun 27, 2019 - 9:49:35 AM | $1,300.00 | iTmart315 |
| Jun 27, 2019 - 7:47:56 AM | $1,250.00 | iMilkguy |
| Jun 27, 2019 - 7:47:56 AM | $1,200.00 | ihaul4285 |
| Jun 27, 2019 - 7:47:15 AM | $1,010.00 | ihaul4285 |
| Jun 27, 2019 - 7:47:15 AM | $1,000.00 | iMilkguy |
| Jun 27, 2019 - 7:46:27 AM | $910.00 | ihaul4285 |
| Jun 27, 2019 - 7:46:27 AM | $900.00 | iMilkguy |
| Jun 27, 2019 - 7:35:50 AM | $815.00 | ihaul4285 |
| Jun 27, 2019 - 7:35:50 AM | $805.00 | iTmart315 |
| Jun 27, 2019 - 7:26:40 AM | $755.00 | ihaul4285 |
| Jun 27, 2019 - 7:26:40 AM | $745.00 | iTmart315 |
| Jun 27, 2019 - 7:26:33 AM | $735.00 | ihaul4285 |
| Jun 27, 2019 - 7:26:33 AM | $725.00 | iTmart315 |
| Jun 27, 2019 - 7:26:20 AM | $715.00 | ihaul4285 |
| Jun 27, 2019 - 7:26:20 AM | $705.00 | iTmart315 |
| Jun 27, 2019 - 7:08:24 AM | $670.00 | ihaul4285 |
| Jun 27, 2019 - 6:33:51 AM | $660.00 | iTmart315 |
| Jun 27, 2019 - 6:33:47 AM | $650.00 | iMilkguy |
| Jun 27, 2019 - 6:33:47 AM | $645.00 | iTmart315 |
| Jun 27, 2019 - 6:33:39 AM | $635.00 | iMilkguy |
| Jun 27, 2019 - 6:33:39 AM | $625.00 | iTmart315 |
| Jun 27, 2019 - 5:20:35 AM | $615.00 | iMilkguy |
| Jun 26, 2019 - 8:21:20 PM | $605.00 | iTmart315 |
| Jun 26, 2019 - 8:21:20 PM | $600.00 | ihaul4285 |
| Jun 26, 2019 - 8:08:01 PM | $515.00 | ihaul4285 |
| Jun 26, 2019 - 8:08:01 PM | $505.00 | iTmart315 |
| Jun 26, 2019 - 5:42:07 PM | $435.00 | iTmart315 |
| Jun 26, 2019 - 5:26:50 PM | $425.00 | imark123 |
| Jun 26, 2019 - 5:26:50 PM | $420.00 | iMilkguy |
| Jun 26, 2019 - 5:00:05 PM | $410.00 | imark123 |
| Jun 26, 2019 - 5:00:05 PM | $400.00 | iFairyland |
| Jun 26, 2019 - 4:49:37 PM | $380.00 | imark123 |
| Jun 26, 2019 - 4:49:37 PM | $370.00 | iMilkguy |
| Jun 26, 2019 - 4:38:40 PM | $360.00 | imark123 |
| Jun 26, 2019 - 4:38:40 PM | $350.00 | iFairyland |
| Jun 26, 2019 - 12:59:15 PM | $319.00 | iFairyland |
| Jun 26, 2019 - 12:59:15 PM | $309.00 | iGLfirewood0610 |
| Jun 26, 2019 - 12:48:43 PM | $285.00 | iGLfirewood0610 |
| Jun 26, 2019 - 12:48:43 PM | $275.00 | iFairyland |
| Jun 26, 2019 - 12:32:01 PM | $265.00 | iGLfirewood0610 |
| Jun 26, 2019 - 12:32:01 PM | $255.00 | i#1farmer |
| Jun 26, 2019 - 12:31:58 PM | $245.00 | iGLfirewood0610 |
| Jun 26, 2019 - 12:31:58 PM | $235.00 | i#1farmer |
| Jun 26, 2019 - 12:31:56 PM | $225.00 | iGLfirewood0610 |
| Jun 26, 2019 - 12:31:56 PM | $215.00 | i#1farmer |
| Jun 26, 2019 - 12:31:54 PM | $205.00 | iGLfirewood0610 |
| Jun 26, 2019 - 12:31:54 PM | $195.00 | i#1farmer |
| Jun 26, 2019 - 12:31:51 PM | $185.00 | iGLfirewood0610 |
| Jun 26, 2019 - 12:31:51 PM | $175.00 | i#1farmer |
| Jun 26, 2019 - 12:31:48 PM | $165.00 | iGLfirewood0610 |
| Jun 26, 2019 - 12:31:48 PM | $155.00 | i#1farmer |
| Jun 26, 2019 - 12:31:42 PM | $145.00 | iGLfirewood0610 |
| Jun 26, 2019 - 12:31:42 PM | $135.00 | i#1farmer |
| Jun 26, 2019 - 10:06:01 AM | $125.00 | iGLfirewood0610 |
| Jun 26, 2019 - 1:21:11 AM | $115.00 | i#1farmer |
| Jun 26, 2019 - 1:21:11 AM | $111.00 | imark123 |
| Jun 26, 2019 - 1:21:06 AM | $105.00 | imark123 |
| Jun 26, 2019 - 1:21:06 AM | $100.00 | i#1farmer |
| Jun 26, 2019 - 1:08:17 AM | $95.00 | imark123 |
| Jun 26, 2019 - 1:08:17 AM | $90.00 | i#1farmer |
| Jun 26, 2019 - 1:08:13 AM | $85.00 | imark123 |
| Jun 26, 2019 - 1:08:13 AM | $80.00 | i#1farmer |
| Jun 26, 2019 - 1:08:09 AM | $75.00 | imark123 |
| Jun 26, 2019 - 1:08:09 AM | $70.00 | i#1farmer |
| Jun 26, 2019 - 1:08:05 AM | $65.00 | imark123 |
| Jun 26, 2019 - 1:08:05 AM | $60.00 | i#1farmer |
| Jun 26, 2019 - 1:08:02 AM | $55.00 | imark123 |
| Jun 26, 2019 - 1:08:02 AM | $50.00 | i#1farmer |
| Jun 26, 2019 - 1:07:57 AM | $45.00 | imark123 |
| Jun 26, 2019 - 1:07:57 AM | $40.00 | i#1farmer |
| Jun 26, 2019 - 1:07:53 AM | $35.00 | imark123 |
| Jun 26, 2019 - 1:07:53 AM | $30.00 | i#1farmer |
| Jun 26, 2019 - 1:07:36 AM | $25.00 | imark123 |
| Jun 26, 2019 - 1:07:36 AM | $20.00 | i#1farmer |
| Jun 25, 2019 - 4:42:24 PM | $15.00 | imark123 |
| Jun 25, 2019 - 4:42:24 PM | $10.00 | iThiara4331 |
| Jun 25, 2019 - 3:33:57 PM | $5.00 | iThiara4331 |