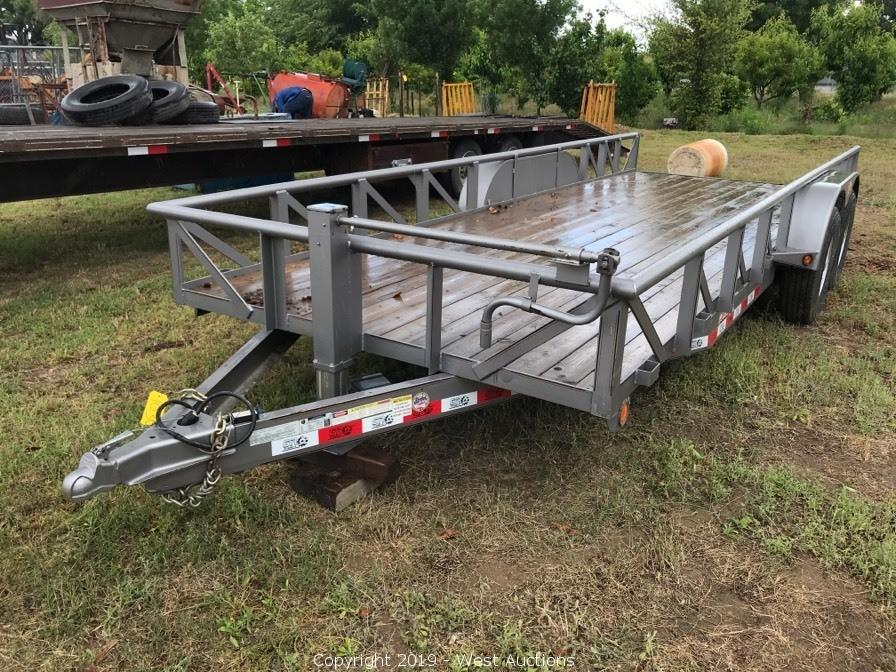 Lot #0103:
2016 GR Trailers 24' Utility Trailer
Bidding is

closed

.
High Bid:
$3,300.24
NA
Bidding Ended:
Thu, Jun 27 10:04:00 am PT
High Bidder:
sanoian
Bid Increment:
$50.00
Starting Bid:
$5.00
Item Location:

2237 E. Service Road

,

Ceres

,

CA

95307

Item has been viewed 1,870 times.

2016 GR Trailers 24' Utility Trailer
Year: 2016
Make: GR Trailers (Grupo Remolques Del Norte)
Body Type: Utility
Trailer Details
VIN per Certificate of Origin: 3BZBP2027GC002821
License: 34P4257 (Texas Temp) (no record found per Texas DMV)

Expiration Date: (EXPIRED 01/28/18)

GVWR: 14,000 Lb
2-5/16" Ball Hitch
Has Break-away Brake Kit
Dimensions
Overall Length: 24'
Overall Width: 7'2"
Deck Length: 20'
Deck Width: 6'10"
Side Height: 16.5"
Width Between Fenders: 6'10"
Axles, Brakes, and Tires
Suspension: Leaf Spring
Number of Axles: 2
Brake Type: Electric
Number of Wheels: 4
Tire Size: ST235/80R16
Electric Plug Type: 6-Way Round
Hitch: 2 5/16" Ball
Note: Texas Certificate of Origin will be mailed 4-6 weeks following the close of the auction. Buyer is fully responsible for the California DMV transfer process; inspections, registration, and fees. 
| | | |
| --- | --- | --- |
| Bid Date | Bid Amount | Bidder |
| Jun 25, 2019 - 7:50:32 PM | $3,300.24 | isanoian |
| Jun 25, 2019 - 7:50:32 PM | $3,250.24 | iDrill Guy |
| Jun 25, 2019 - 7:49:25 PM | $3,150.00 | isanoian |
| Jun 25, 2019 - 7:49:25 PM | $3,100.00 | iDrill Guy |
| Jun 25, 2019 - 6:54:51 PM | $2,950.00 | isanoian |
| Jun 25, 2019 - 5:49:18 PM | $2,900.00 | ithesevens |
| Jun 25, 2019 - 5:49:18 PM | $2,899.00 | isanoian |
| Jun 25, 2019 - 5:35:26 PM | $2,850.00 | isanoian |
| Jun 25, 2019 - 5:35:26 PM | $2,800.00 | ithesevens |
| Jun 25, 2019 - 5:34:36 PM | $2,750.00 | isanoian |
| Jun 25, 2019 - 5:34:36 PM | $2,700.00 | ithesevens |
| Jun 25, 2019 - 5:34:17 PM | $2,650.00 | isanoian |
| Jun 25, 2019 - 5:34:17 PM | $2,600.00 | ithesevens |
| Jun 25, 2019 - 5:33:57 PM | $2,550.00 | isanoian |
| Jun 25, 2019 - 5:33:57 PM | $2,500.00 | ithesevens |
| Jun 25, 2019 - 5:21:28 PM | $2,373.00 | isanoian |
| Jun 25, 2019 - 5:21:28 PM | $2,323.00 | ithesevens |
| Jun 25, 2019 - 3:17:49 PM | $2,249.00 | ithesevens |
| Jun 25, 2019 - 3:17:49 PM | $2,199.00 | isanoian |
| Jun 25, 2019 - 3:16:15 PM | $2,175.00 | isanoian |
| Jun 25, 2019 - 3:16:15 PM | $2,125.00 | ithesevens |
| Jun 25, 2019 - 3:13:48 PM | $2,005.00 | isanoian |
| Jun 25, 2019 - 3:13:48 PM | $1,955.00 | ithesevens |
| Jun 25, 2019 - 3:11:15 PM | $1,850.00 | isanoian |
| Jun 25, 2019 - 3:11:15 PM | $1,800.00 | ithesevens |
| Jun 25, 2019 - 1:40:24 PM | $1,750.00 | isanoian |
| Jun 25, 2019 - 1:40:24 PM | $1,700.00 | iTRAVIS |
| Jun 25, 2019 - 1:35:43 PM | $1,550.00 | iTRAVIS |
| Jun 25, 2019 - 1:35:29 PM | $1,500.00 | iboerman559 |
| Jun 25, 2019 - 1:35:30 PM | $1,500.00 | iTRAVIS |
| Jun 25, 2019 - 1:35:20 PM | $1,450.00 | iboerman559 |
| Jun 25, 2019 - 1:35:20 PM | $1,400.00 | iTRAVIS |
| Jun 25, 2019 - 10:25:43 AM | $1,250.77 | iboerman559 |
| Jun 25, 2019 - 10:25:43 AM | $1,200.77 | isteviewayne |
| Jun 25, 2019 - 10:10:59 AM | $310.00 | isteviewayne |
| Jun 25, 2019 - 10:10:59 AM | $300.00 | iisebear |
| Jun 25, 2019 - 10:10:53 AM | $210.00 | isteviewayne |
| Jun 25, 2019 - 10:10:53 AM | $200.00 | iisebear |
| Jun 25, 2019 - 10:10:43 AM | $105.00 | isteviewayne |
| Jun 25, 2019 - 10:10:41 AM | $100.00 | iltran0614 |
| Jun 25, 2019 - 10:10:42 AM | $100.00 | iisebear |
| Jun 25, 2019 - 10:10:05 AM | $45.00 | iltran0614 |
| Jun 25, 2019 - 10:10:05 AM | $40.00 | iJdmalloree |
| Jun 25, 2019 - 10:09:37 AM | $15.00 | iltran0614 |
| Jun 25, 2019 - 10:09:37 AM | $10.00 | iJdmalloree |
| Jun 25, 2019 - 10:06:49 AM | $5.00 | iltran0614 |