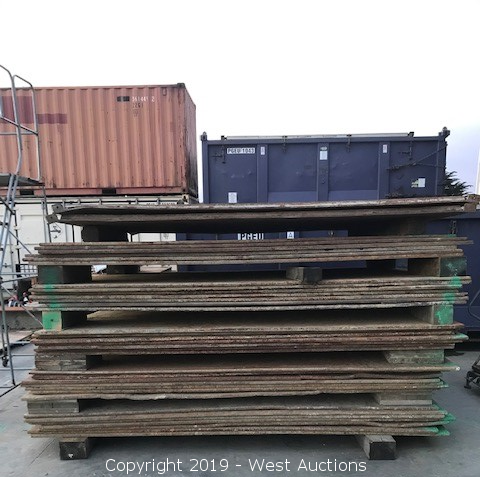 Lot #0100:
(14) Steel Trench Plates
Bidding is

closed

.
High Bid:
$8,200.00
NA
Bidding Ended:
Thu, Jun 6 10:00:00 am PT
High Bidder:
DHC
Bid Increment:
$100.00
Starting Bid:
$5.00
Item Location:

Eureka

,

CA

95503

Item has been viewed 1,047 times.

(14) Steel Trench Plates
Note: Authorized Transport ONLY, NO Individual Access. Buyer is responsible for all aspects of unloading, West Auctions or CH Robinson will not do any unloading of any kind. Buyer must be equipped with all necessary tools and equipment for unloading.  
(4)- 7'2" x 10'
(10)- 8'2" x 10'
All plates are approximately 1" thick
Approximately weight for plates: 40,000 lbs
Most of the plates have a center threaded hole for lifting eye.
Note: Photos and descriptions were provided by the Seller. 
| | | |
| --- | --- | --- |
| Bid Date | Bid Amount | Bidder |
| Jun 6, 2019 - 9:18:05 AM | $8,200.00 | iDHC |
| Jun 6, 2019 - 8:29:24 AM | $8,100.00 | idocbailey |
| Jun 6, 2019 - 8:29:24 AM | $8,000.00 | iDHC |
| Jun 5, 2019 - 7:36:09 PM | $6,100.00 | iDHC |
| Jun 5, 2019 - 7:36:09 PM | $6,000.00 | iqwerty |
| Jun 5, 2019 - 7:35:54 PM | $5,600.00 | iDHC |
| Jun 5, 2019 - 7:35:54 PM | $5,500.00 | iqwerty |
| Jun 5, 2019 - 7:35:41 PM | $5,200.00 | iDHC |
| Jun 5, 2019 - 7:35:41 PM | $5,100.00 | iqwerty |
| Jun 5, 2019 - 7:19:20 PM | $4,050.00 | iDHC |
| Jun 5, 2019 - 7:19:20 PM | $4,000.00 | i530daryl |
| Jun 5, 2019 - 7:19:16 PM | $3,950.00 | iDHC |
| Jun 5, 2019 - 7:19:16 PM | $3,900.00 | i530daryl |
| Jun 5, 2019 - 7:19:12 PM | $3,850.00 | iDHC |
| Jun 5, 2019 - 7:19:12 PM | $3,800.00 | i530daryl |
| Jun 5, 2019 - 7:19:08 PM | $3,750.00 | iDHC |
| Jun 5, 2019 - 7:19:08 PM | $3,700.00 | i530daryl |
| Jun 5, 2019 - 7:18:59 PM | $3,650.00 | iDHC |
| Jun 5, 2019 - 7:18:59 PM | $3,600.00 | i530daryl |
| Jun 5, 2019 - 7:18:26 PM | $3,150.00 | iDHC |
| Jun 5, 2019 - 7:18:26 PM | $3,100.00 | i530daryl |
| Jun 5, 2019 - 5:31:18 PM | $3,050.00 | iDHC |
| Jun 5, 2019 - 5:31:18 PM | $3,000.00 | ipuffincoal |
| Jun 5, 2019 - 5:30:58 PM | $2,750.00 | ipuffincoal |
| Jun 5, 2019 - 5:30:58 PM | $2,700.00 | iDHC |
| Jun 5, 2019 - 8:48:34 AM | $2,650.00 | ipuffincoal |
| Jun 5, 2019 - 8:48:34 AM | $2,600.00 | idocbailey |
| Jun 5, 2019 - 8:48:24 AM | $2,550.00 | idocbailey |
| Jun 5, 2019 - 8:48:24 AM | $2,500.00 | ipuffincoal |
| Jun 5, 2019 - 8:46:58 AM | $2,050.00 | idocbailey |
| Jun 5, 2019 - 8:46:58 AM | $2,000.00 | ipuffincoal |
| Jun 4, 2019 - 9:20:57 PM | $510.00 | idocbailey |
| Jun 4, 2019 - 9:20:57 PM | $500.00 | iZoobit1 |
| Jun 4, 2019 - 7:43:28 PM | $410.00 | iZoobit1 |
| Jun 4, 2019 - 7:43:28 PM | $400.00 | ipuffincoal |
| Jun 4, 2019 - 7:43:14 PM | $210.00 | ipuffincoal |
| Jun 4, 2019 - 7:43:14 PM | $200.00 | iZoobit1 |
| Jun 4, 2019 - 4:10:32 PM | $15.00 | ipuffincoal |
| Jun 4, 2019 - 4:10:32 PM | $10.00 | ilacey |
| Jun 4, 2019 - 3:55:14 PM | $5.00 | ilacey |