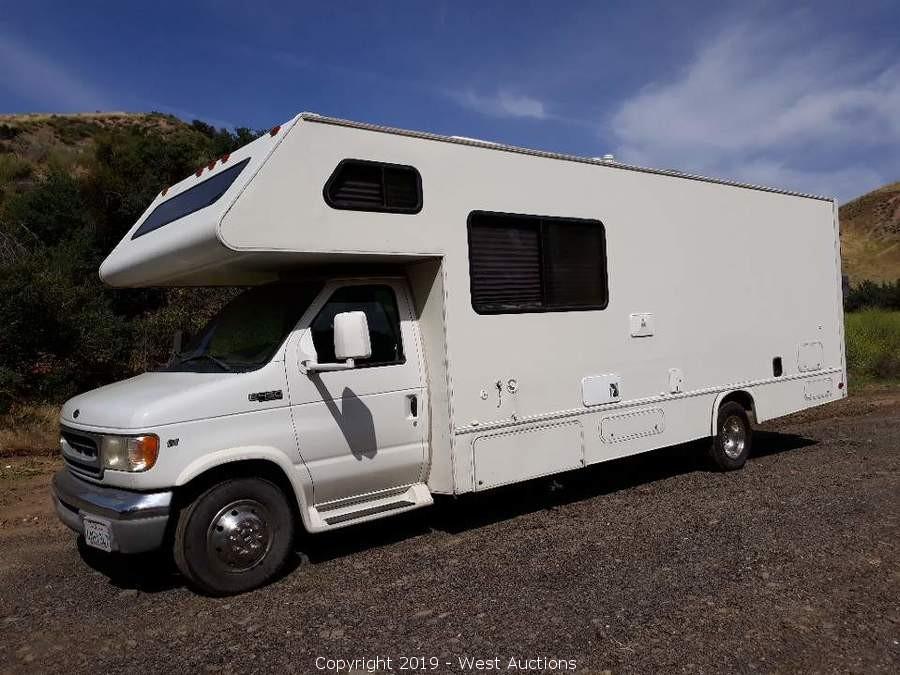 Lot #0207:
2000 Ford E-450 Ford 27' Toy Hauler RV With Lift Gate
Bidding is

closed

.
High Bid:
$10,000.00
NA
Bidding Ended:
Thu, Jul 18 10:06:23 am PT
High Bidder:
Jcplumbing
Bid Increment:
$100.00
Starting Bid:
$5.00
Item Location:

Canyon Country

,

CA

91390

Item has been viewed 3,242 times.

2000 Ford E-450 Ford 27' Toy Hauler RV With Lift Gate
Specifications
Year: 2000
Manufacturer: Ford
Vin: 1FDXE45S5YHB47487
License: 4MHY347

Registration Expiration: 7/8/2019

Odometer Reads: 116,985
GVWR: 14,050 LbS
Engine: Ford 6.8L v10
Fuel: Unleaded
 Exterior
Exterior Color: White
Doors: Two
Interior
Interior Material: 
Features:

Overdrive
Cruise control
AC
AmFm radio
Cd player
Dual airbags
Power windows
Power mirrors
Power locks
Onan Microlite 4000 generator
Generator hours: 2,075
Wedgewood propane stove
Microwave
Norcold 2 Way Refrigerator/Freezer
Kitchen sink
Full bathroom
Toyhauler room dimensions: 8' x 8'
Roof access ladder
Vynal floor
Dual rear wheels
Tire size: LT225/75R16
Electric 1,600 LB capacity liftgate
Outdoor awning
Tow package
Note: Certificate of Title, transfer form, and smog certificate will be mailed 2-4 weeks following the close of the auction. Buyer is fully responsible for all aspects of registration, transfer, and fees due to DMV. 
| | | |
| --- | --- | --- |
| Bid Date | Bid Amount | Bidder |
| Jul 18, 2019 - 10:04:23 AM | $10,000.00 | iJcplumbing |
| Jul 18, 2019 - 10:04:24 AM | $10,000.00 | iultimate |
| Jul 18, 2019 - 10:02:33 AM | $9,900.00 | iJcplumbing |
| Jul 18, 2019 - 10:02:33 AM | $9,800.00 | iultimate |
| Jul 18, 2019 - 10:02:04 AM | $9,700.00 | iJcplumbing |
| Jul 18, 2019 - 10:02:04 AM | $9,600.00 | iultimate |
| Jul 18, 2019 - 10:00:59 AM | $9,500.00 | iJcplumbing |
| Jul 18, 2019 - 10:00:59 AM | $9,400.00 | iultimate |
| Jul 18, 2019 - 9:51:10 AM | $9,300.00 | iJcplumbing |
| Jul 18, 2019 - 9:51:10 AM | $9,200.00 | iultimate |
| Jul 18, 2019 - 9:28:56 AM | $9,100.00 | iultimate |
| Jul 18, 2019 - 9:28:46 AM | $9,000.00 | iJcplumbing |
| Jul 18, 2019 - 9:28:46 AM | $8,900.00 | iultimate |
| Jul 18, 2019 - 9:28:30 AM | $8,800.00 | iJcplumbing |
| Jul 18, 2019 - 9:28:30 AM | $8,700.00 | iultimate |
| Jul 18, 2019 - 8:22:49 AM | $8,600.00 | iJcplumbing |
| Jul 18, 2019 - 8:22:49 AM | $8,500.00 | ikarsforless67 |
| Jul 18, 2019 - 8:22:29 AM | $8,100.00 | ikarsforless67 |
| Jul 18, 2019 - 8:22:29 AM | $8,000.00 | iJcplumbing |
| Jul 18, 2019 - 8:22:11 AM | $7,100.00 | ikarsforless67 |
| Jul 18, 2019 - 8:22:11 AM | $7,000.00 | iJcplumbing |
| Jul 18, 2019 - 7:50:02 AM | $6,600.00 | ikarsforless67 |
| Jul 18, 2019 - 7:50:02 AM | $6,500.00 | imrstructure47 |
| Jul 17, 2019 - 11:07:18 PM | $6,300.00 | imrstructure47 |
| Jul 17, 2019 - 11:07:18 PM | $6,200.00 | icardenasmx |
| Jul 17, 2019 - 7:41:51 PM | $6,100.00 | imrstructure47 |
| Jul 17, 2019 - 7:41:26 PM | $6,000.00 | ikarsforless67 |
| Jul 17, 2019 - 7:41:27 PM | $6,000.00 | imrstructure47 |
| Jul 17, 2019 - 7:41:12 PM | $5,050.00 | ikarsforless67 |
| Jul 17, 2019 - 7:41:12 PM | $5,000.00 | imrstructure47 |
| Jul 17, 2019 - 7:29:24 PM | $3,550.00 | ikarsforless67 |
| Jul 17, 2019 - 7:29:24 PM | $3,500.00 | imrstructure47 |
| Jul 17, 2019 - 6:58:22 PM | $3,200.00 | imrstructure47 |
| Jul 17, 2019 - 6:58:22 PM | $3,150.00 | irrhawg |
| Jul 17, 2019 - 6:10:51 PM | $2,601.00 | irrhawg |
| Jul 17, 2019 - 3:35:49 PM | $2,551.00 | ihermesgc1 |
| Jul 17, 2019 - 3:35:42 PM | $2,501.00 | igabrieleventsf |
| Jul 17, 2019 - 3:35:42 PM | $2,500.00 | ihermesgc1 |
| Jul 17, 2019 - 3:35:34 PM | $2,450.00 | igabrieleventsf |
| Jul 17, 2019 - 3:35:34 PM | $2,400.00 | ihermesgc1 |
| Jul 17, 2019 - 3:35:24 PM | $2,350.00 | igabrieleventsf |
| Jul 17, 2019 - 3:35:24 PM | $2,300.00 | ihermesgc1 |
| Jul 17, 2019 - 3:35:05 PM | $2,250.00 | igabrieleventsf |
| Jul 17, 2019 - 3:35:05 PM | $2,200.00 | ihermesgc1 |
| Jul 17, 2019 - 7:23:59 AM | $2,150.00 | igabrieleventsf |
| Jul 17, 2019 - 7:23:59 AM | $2,100.00 | iDrjamesconley |
| Jul 16, 2019 - 11:56:59 PM | $2,001.00 | igabrieleventsf |
| Jul 16, 2019 - 11:56:59 PM | $2,000.00 | imrstructure47 |
| Jul 16, 2019 - 11:56:47 PM | $1,700.00 | imrstructure47 |
| Jul 16, 2019 - 11:56:47 PM | $1,650.00 | igabrieleventsf |
| Jul 16, 2019 - 10:31:06 PM | $1,600.00 | imrstructure47 |
| Jul 16, 2019 - 4:51:31 PM | $1,550.00 | igabrieleventsf |
| Jul 16, 2019 - 3:11:01 PM | $1,500.00 | ihermesgc1 |
| Jul 16, 2019 - 3:11:02 PM | $1,500.00 | igabrieleventsf |
| Jul 16, 2019 - 3:10:57 PM | $1,450.00 | ihermesgc1 |
| Jul 16, 2019 - 3:10:57 PM | $1,400.00 | igabrieleventsf |
| Jul 16, 2019 - 3:10:54 PM | $1,350.00 | ihermesgc1 |
| Jul 16, 2019 - 3:10:54 PM | $1,300.00 | igabrieleventsf |
| Jul 16, 2019 - 2:09:28 PM | $1,250.00 | ihermesgc1 |
| Jul 16, 2019 - 1:02:34 PM | $1,200.00 | iJont241 |
| Jul 16, 2019 - 12:26:54 PM | $1,150.00 | iRondog1010 |
| Jul 16, 2019 - 11:00:03 AM | $1,100.00 | iJont241 |
| Jul 16, 2019 - 11:00:03 AM | $1,060.00 | igabrieleventsf |
| Jul 16, 2019 - 10:59:44 AM | $1,010.00 | iJont241 |
| Jul 16, 2019 - 10:59:44 AM | $1,000.00 | igabrieleventsf |
| Jul 16, 2019 - 10:56:09 AM | $510.00 | iJont241 |
| Jul 16, 2019 - 10:56:00 AM | $500.00 | imrstructure47 |
| Jul 16, 2019 - 10:56:01 AM | $500.00 | iJont241 |
| Jul 16, 2019 - 10:55:50 AM | $230.00 | imrstructure47 |
| Jul 16, 2019 - 10:55:50 AM | $220.00 | iJont241 |
| Jul 16, 2019 - 10:48:53 AM | $105.00 | imrstructure47 |
| Jul 16, 2019 - 10:46:34 AM | $100.00 | iJont241 |
| Jul 16, 2019 - 10:46:35 AM | $100.00 | imrstructure47 |
| Jul 16, 2019 - 10:09:24 AM | $5.00 | iJont241 |