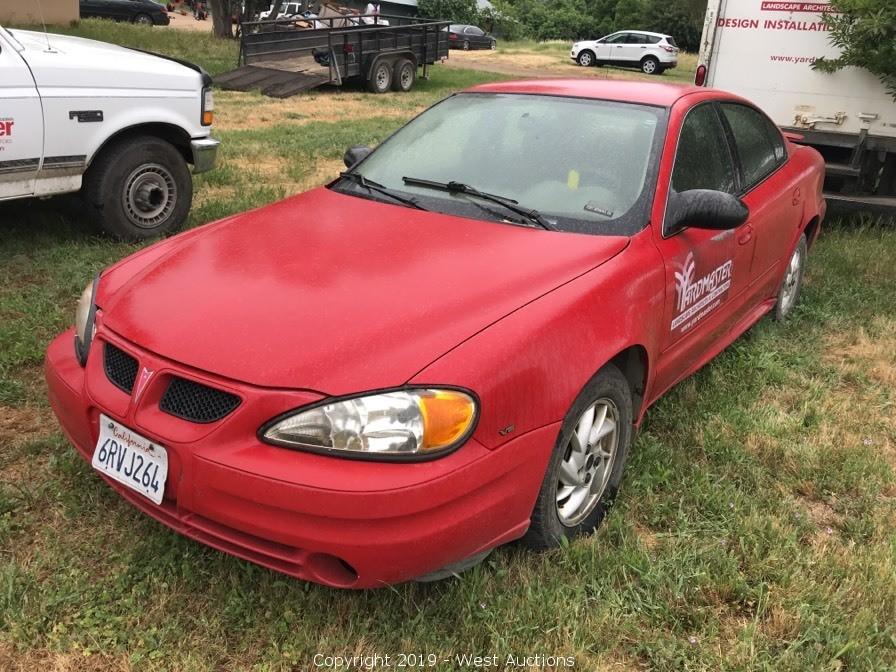 2004 Pontiac GRAND AM Sedan
Bidding is

closed

.
High Bid:
$325.00
NA
Bidding Ended:
Tue, Jun 11 10:04:02 am PT
High Bidder:
Yuuuuupp
Bid Increment:
$10.00
Starting Bid:
$5.00
Item Location:

3956 Scenic Ranch Ln

,

Vacaville

,

CA

95688

Item has been viewed 1,207 times.

ASK ABOUT THIS ITEM

2004 Pontiac GRAND AM Sedan
Specifications
VIN: 1G2NF52E34M702987
License: 6RVJ264
Registration Expiration: 4/14/2019
Odometer Reading at Time of SMOG: 208,307
GVWR: 3996 Lb.
Engine: V6
Fuel Type: Gasoline
Year: 2004
Make: Pontiac
Model: Grand AM
Tire Size: 205/65R15 94T
Exterior
Exterior Color: Red
Doors: Four Door
Interior
Interior Color: Beige
Features:

CD Player
Cruise Control
Keyless Entry
Power Locks
Power Windows
Air Conditioning
Cruise Control
Note: Application for Duplicate Title, Transfer form, and Certificate of SMOG will be mailed 1-2 weeks following the close of the auction. Buyer is fully responsible for all aspects of registration and fees due to DMV.
| | | |
| --- | --- | --- |
| Bid Date | Bid Amount | Bidder |
| Jun 11, 2019 - 10:02:02 AM | $325.00 | iYuuuuupp |
| Jun 11, 2019 - 10:02:02 AM | $316.03 | iearonp42 |
| Jun 11, 2019 - 10:00:04 AM | $315.00 | iearonp42 |
| Jun 11, 2019 - 9:58:12 AM | $305.00 | iYuuuuupp |
| Jun 11, 2019 - 9:58:12 AM | $301.02 | iearonp42 |
| Jun 11, 2019 - 9:57:44 AM | $295.00 | iearonp42 |
| Jun 11, 2019 - 9:56:33 AM | $285.00 | iYuuuuupp |
| Jun 11, 2019 - 9:56:33 AM | $276.01 | iearonp42 |
| Jun 11, 2019 - 9:29:46 AM | $275.00 | iearonp42 |
| Jun 11, 2019 - 9:13:40 AM | $265.00 | iYuuuuupp |
| Jun 11, 2019 - 9:13:40 AM | $260.00 | imax10110 |
| Jun 11, 2019 - 9:01:41 AM | $255.00 | imax10110 |
| Jun 11, 2019 - 6:56:50 AM | $245.00 | iJwarner |
| Jun 11, 2019 - 6:56:50 AM | $242.84 | iearonp42 |
| Jun 11, 2019 - 6:56:47 AM | $235.00 | iearonp42 |
| Jun 11, 2019 - 6:56:47 AM | $225.00 | iJwarner |
| Jun 11, 2019 - 5:09:56 AM | $215.00 | iearonp42 |
| Jun 11, 2019 - 5:09:56 AM | $205.00 | iJwarner |
| Jun 11, 2019 - 5:09:52 AM | $195.00 | iearonp42 |
| Jun 11, 2019 - 5:09:52 AM | $185.00 | iJwarner |
| Jun 11, 2019 - 5:09:48 AM | $175.00 | iearonp42 |
| Jun 11, 2019 - 5:09:48 AM | $165.00 | iJwarner |
| Jun 11, 2019 - 5:09:44 AM | $155.00 | iearonp42 |
| Jun 11, 2019 - 5:09:44 AM | $145.00 | iJwarner |
| Jun 11, 2019 - 5:09:40 AM | $135.00 | iearonp42 |
| Jun 11, 2019 - 5:09:40 AM | $125.00 | iJwarner |
| Jun 11, 2019 - 5:09:36 AM | $115.00 | iearonp42 |
| Jun 11, 2019 - 5:09:36 AM | $105.00 | iJwarner |
| Jun 11, 2019 - 5:09:32 AM | $100.00 | iearonp42 |
| Jun 11, 2019 - 5:09:32 AM | $95.00 | iJwarner |
| Jun 11, 2019 - 5:09:28 AM | $90.00 | iearonp42 |
| Jun 11, 2019 - 5:09:28 AM | $85.00 | iJwarner |
| Jun 11, 2019 - 5:09:25 AM | $80.00 | iearonp42 |
| Jun 11, 2019 - 5:09:25 AM | $75.00 | iJwarner |
| Jun 11, 2019 - 5:09:21 AM | $70.00 | iearonp42 |
| Jun 11, 2019 - 5:09:21 AM | $65.00 | iJwarner |
| Jun 10, 2019 - 10:54:30 PM | $60.00 | iearonp42 |
| Jun 10, 2019 - 10:04:07 PM | $55.00 | iJwarner |
| Jun 10, 2019 - 9:57:32 PM | $50.00 | iNapaDancer |
| Jun 10, 2019 - 9:57:33 PM | $50.00 | iwaynetheguy |
| Jun 10, 2019 - 8:41:22 PM | $35.00 | iNapaDancer |
| Jun 10, 2019 - 8:10:31 PM | $30.00 | iJwarner |
| Jun 10, 2019 - 8:10:25 PM | $25.00 | iNapaDancer |
| Jun 10, 2019 - 8:10:26 PM | $25.00 | iJwarner |
| Jun 10, 2019 - 5:53:28 PM | $20.00 | iNapaDancer |
| Jun 10, 2019 - 5:53:28 PM | $15.00 | iairborne |
| Jun 10, 2019 - 5:44:06 PM | $10.00 | iairborne |
| Jun 10, 2019 - 4:21:35 PM | $5.00 | iYuuuuupp |