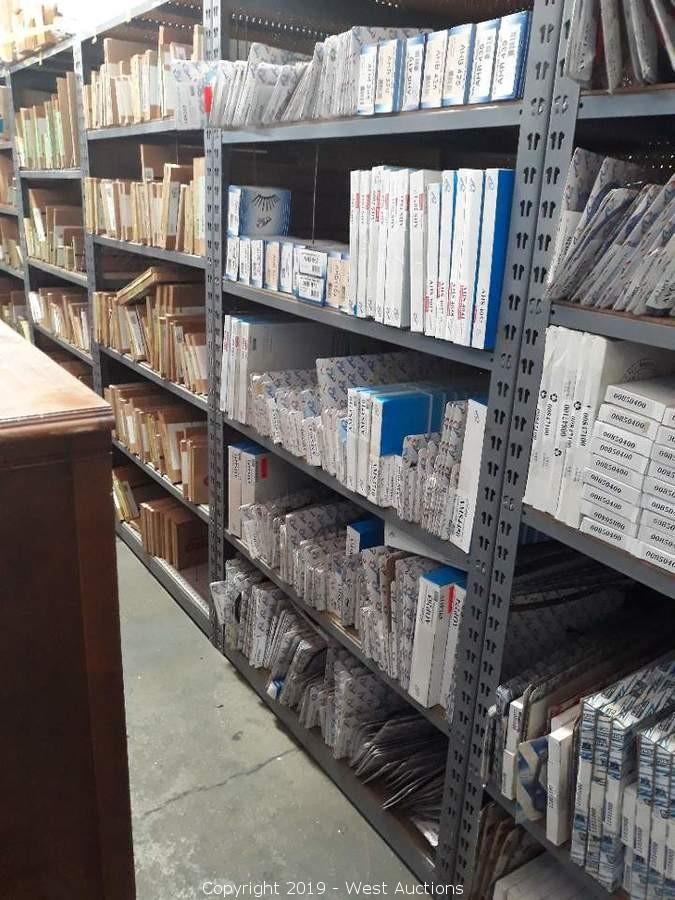 Lot #APX2249:
(1) Rack of Apex Gaskets (Over $4,500 Wholesale Value)
Bidding is

closed

.
High Bid:
$152.00
NA
Bidding Ended:
Fri, Jul 26 3:22:54 pm PT
High Bidder:
Spareparts
Bid Increment:
$10.00
Starting Bid:
$5.00
Item Location:

1205 Veterans Blvd

,

Redwood City

,

CA

94063

Item has been viewed 317 times.

Note: Quantities are based on seller's inventory list and are mostly accurate, but some counts are approximate. No refunds. Please bid accordingly.
Rack of Apex Gaskets (Over $4,500 Wholesale Value)
| | | | |
| --- | --- | --- | --- |
| ** | (2) $6.92 APEX AUTOMOTIVE PARTS REAR MAIN SEAL SET - ABS203 | ** | (1) $4.95 APEX AUTOMOTIVE PARTS EXHAUST MANIFOLD SET - AMS4801 |
| ** | (4) $7.33 APEX AUTOMOTIVE PARTS REAR MAIN SEAL SET - ABS209 | ** | (1) $4.67 APEX AUTOMOTIVE PARTS INTAKE MANIFOLD SET - AMS4832 |
| ** | (3) $7.5 APEX AUTOMOTIVE PARTS REAR MAIN SEAL SET - ABS265 | ** | (1) $30.33 APEX AUTOMOTIVE PARTS INTAKE MANIFOLD SET - AMS4936 |
| ** | (2) $12.08 APEX AUTOMOTIVE PARTS REAR MAIN SEAL SET - ABS313 | ** | (4) $1.67 APEX AUTOMOTIVE PARTS INTAKE MANIFOLD SET - AMS5000 |
| ** | (2) $12.67 APEX AUTOMOTIVE PARTS REAR MAIN SEAL SET - ABS315 | ** | (2) $5.08 APEX AUTOMOTIVE PARTS EXHAUST MANIFOLD SET - AMS5010 |
| ** | (6) $6.5 APEX AUTOMOTIVE PARTS REAR MAIN SEAL SET - ABS402 | ** | (2) $2.25 APEX AUTOMOTIVE PARTS INTAKE MANIFOLD SET - AMS5020 |
| ** | (1) $9.17 APEX AUTOMOTIVE PARTS REAR MAIN SEAL SET - ABS403 | ** | (1) $3.33 APEX AUTOMOTIVE PARTS EXHAUST MANIFOLD SET - AMS5021 |
| ** | (1) $10.17 APEX AUTOMOTIVE PARTS REAR MAIN SEAL SET - ABS419 | ** | (2) $4.83 APEX AUTOMOTIVE PARTS INTAKE MANIFOLD SET - AMS5030 |
| ** | (3) $6.83 APEX AUTOMOTIVE PARTS REAR MAIN SEAL SET - ABS425 | ** | (5) $4.08 APEX AUTOMOTIVE PARTS EXHAUST MANIFOLD SET - AMS5031 |
| ** | (3) $7.42 APEX AUTOMOTIVE PARTS REAR MAIN SEAL SET - ABS427 | ** | (1) $4.83 APEX AUTOMOTIVE PARTS EXHAUST MANIFOLD SET - AMS5082 |
| ** | (2) $8.17 APEX AUTOMOTIVE PARTS REAR MAIN SEAL SET - ABS433 | ** | (1) $3.75 APEX AUTOMOTIVE PARTS INTAKE MANIFOLD SET - AMS5110 |
| ** | (2) $8.5 APEX AUTOMOTIVE PARTS REAR MAIN SEAL SET - ABS500 | ** | (1) $3.67 APEX AUTOMOTIVE PARTS INTAKE MANIFOLD SET - AMS5111 |
| ** | (1) $6.75 APEX AUTOMOTIVE PARTS REAR MAIN SEAL SET - ABS504 | ** | (3) $4.33 APEX AUTOMOTIVE PARTS EXHAUST MANIFOLD SET - AMS5112 |
| ** | (1) $19.75 APEX AUTOMOTIVE PARTS REAR MAIN SEAL SET - ABS534 | ** | (3) $2.33 APEX AUTOMOTIVE PARTS INTAKE MANIFOLD SET - AMS5113 |
| ** | (2) $7.42 APEX AUTOMOTIVE PARTS REAR MAIN SEAL SET - ABS700 | ** | (1) $3.83 APEX AUTOMOTIVE PARTS INTAKE MANIFOLD SET - AMS5114 |
| ** | (2) $8.67 APEX AUTOMOTIVE PARTS REAR MAIN SEAL SET - ABS801 | ** | (1) $3.42 APEX AUTOMOTIVE PARTS INTAKE MANIFOLD SET - AMS5130 |
| ** | (4) $7.75 APEX AUTOMOTIVE PARTS REAR MAIN SEAL SET - ABS802 | ** | (3) $1.83 APEX AUTOMOTIVE PARTS INTAKE MANIFOLD SET - AMS5140 |
| ** | (1) $9.58 APEX AUTOMOTIVE PARTS REAR MAIN SEAL SET - ABS823 | ** | (3) $10.67 APEX AUTOMOTIVE PARTS EXHAUST MANIFOLD SET - AMS5171 |
| ** | (1) $14.83 APEX AUTOMOTIVE PARTS REAR MAIN SEAL SET - ABS845 | ** | (4) $33.75 APEX AUTOMOTIVE PARTS INTAKE MANIFOLD SET - AMS5172 |
| ** | (2) $8.83 APEX AUTOMOTIVE PARTS REAR MAIN SEAL SET - ABS855 | ** | (1) $3.08 APEX AUTOMOTIVE PARTS INTAKE MANIFOLD SET - AMS5190 |
| ** | () $6.5 APEX AUTOMOTIVE PARTS GROMMET SET - AES302 | ** | (2) $8 APEX AUTOMOTIVE PARTS INTAKE MANIFOLD SET - AMS5340 |
| ** | (1) $4.58 APEX AUTOMOTIVE PARTS GROMMET SET - AES408 | ** | (1) $6 APEX AUTOMOTIVE PARTS EXHAUST MANIFOLD SET - AMS5341 |
| ** | (2) $25.42 APEX AUTOMOTIVE PARTS HEAD BOLT SET - AHB1103 | ** | (4) $9.17 APEX AUTOMOTIVE PARTS INTAKE MANIFOLD SET - AMS5342 |
| ** | (1) $66.67 APEX AUTOMOTIVE PARTS HEAD BOLT SET - AHB265 | ** | (3) $8.5 APEX AUTOMOTIVE PARTS EXHAUST MANIFOLD SET - AMS5390 |
| ** | (1) $23.08 APEX AUTOMOTIVE PARTS HEAD BOLT SET - AHB320 | ** | (1) $9.58 APEX AUTOMOTIVE PARTS INTAKE MANIFOLD SET - AMS5410 |
| ** | (1) $22.75 APEX AUTOMOTIVE PARTS HEAD BOLT SET - AHB419 | ** | (1) $4.92 APEX AUTOMOTIVE PARTS INTAKE MANIFOLD SET - AMS5480 |
| ** | (2) $23.17 APEX AUTOMOTIVE PARTS HEAD BOLT SET - AHB425 | ** | (2) $1.75 APEX AUTOMOTIVE PARTS INTAKE MANIFOLD SET - AMS7000 |
| ** | (1) $27.58 APEX AUTOMOTIVE PARTS HEAD BOLT SET - AHB435 | ** | (1) $6.08 APEX AUTOMOTIVE PARTS INTAKE MANIFOLD SET - AMS7030 |
| ** | (1) $34.5 APEX AUTOMOTIVE PARTS HEAD BOLT SET - AHB439 | ** | (1) $7.08 APEX AUTOMOTIVE PARTS INTAKE MANIFOLD SET - AMS7060 |
| ** | (2) $22 APEX AUTOMOTIVE PARTS HEAD BOLT SET - AHB467 | ** | (1) $5.42 APEX AUTOMOTIVE PARTS INTAKE MANIFOLD SET - AMS7070 |
| ** | (1) $24.83 APEX AUTOMOTIVE PARTS HEAD BOLT SET - AHB503 | ** | (1) $12.92 APEX AUTOMOTIVE PARTS INTAKE MANIFOLD SET - AMS7100 |
| ** | (1) $50.42 APEX AUTOMOTIVE PARTS HEAD BOLT SET - AHB710 | ** | (1) $4.92 APEX AUTOMOTIVE PARTS INT. & EXH. MANIFOLD SET - AMS8000 |
| ** | (1) $45.17 APEX AUTOMOTIVE PARTS HEAD BOLT SET - AHB827 | ** | (6) $2.75 APEX AUTOMOTIVE PARTS INTAKE MANIFOLD SET - AMS8020 |
| ** | (1) $15.33 APEX AUTOMOTIVE PARTS HEAD BOLT SET - AHB829 | ** | (1) $7.92 APEX AUTOMOTIVE PARTS EXHAUST MANIFOLD SET - AMS8021 |
| ** | (1) $58.75 APEX AUTOMOTIVE PARTS HEAD BOLT SET - AHB848 | ** | (4) $2.83 APEX AUTOMOTIVE PARTS INTAKE MANIFOLD SET - AMS8080 |
| ** | (1) $56.67 APEX AUTOMOTIVE PARTS HEAD BOLT SET - AHB862 | ** | (3) $9.42 APEX AUTOMOTIVE PARTS EXHAUST MANIFOLD SET - AMS8081 |
| ** | (1) $21.72 APEX AUTOMOTIVE PARTS HEAD BOLT SET - AHB871 | ** | (1) $2.25 APEX AUTOMOTIVE PARTS EXHAUST MANIFOLD SET - AMS8121 |
| ** | (1) $84.17 APEX AUTOMOTIVE PARTS HEAD SET - AHS1029 | ** | (4) $1.92 APEX AUTOMOTIVE PARTS INTAKE MANIFOLD SET - AMS8130 |
| ** | (1) $73.92 APEX AUTOMOTIVE PARTS HEAD SET - AHS1048 | ** | (2) $11.5 APEX AUTOMOTIVE PARTS EXHAUST MANIFOLD SET - AMS8131 |
| ** | (1) $87.08 APEX AUTOMOTIVE PARTS HEAD SET - AHS11005 | ** | (1) $14.92 APEX AUTOMOTIVE PARTS INT. & EXH. MANIFOLD SET - AMS8160 |
| ** | (1) $86.42 APEX AUTOMOTIVE PARTS HEAD SET - AHS2009 | ** | (1) $1.83 APEX AUTOMOTIVE PARTS INTAKE MANIFOLD SET - AMS8170 |
| ** | (1) $54.92 APEX AUTOMOTIVE PARTS HEAD SET - AHS2025 | ** | (3) $2.92 APEX AUTOMOTIVE PARTS INTAKE MANIFOLD SET - AMS8190 |
| ** | (1) $88.25 APEX AUTOMOTIVE PARTS HEAD SET - AHS2031 | ** | (2) $16.92 APEX AUTOMOTIVE PARTS EXHAUST MANIFOLD SET - AMS8200 |
| ** | (1) $111.75 APEX AUTOMOTIVE PARTS HEAD SET - AHS2043 | ** | (2) $1.92 APEX AUTOMOTIVE PARTS INTAKE MANIFOLD SET - AMS8210 |
| ** | (1) $123.58 APEX AUTOMOTIVE PARTS HEAD SET - AHS2074 | ** | (1) $8.67 APEX AUTOMOTIVE PARTS EXHAUST MANIFOLD SET - AMS8211 |
| ** | (1) $192.17 APEX AUTOMOTIVE PARTS HEAD SET - AHS3017 | ** | (1) $5.67 APEX AUTOMOTIVE PARTS INTAKE MANIFOLD SET - AMS8251 |
| ** | (1) $89.08 APEX AUTOMOTIVE PARTS HEAD SET - AHS4027 | ** | (1) $41.17 APEX AUTOMOTIVE PARTS INTAKE MANIFOLD SET - AMS8260 |
| ** | (1) $91 APEX AUTOMOTIVE PARTS HEAD SET - AHS4038 | ** | (2) $6.46 APEX AUTOMOTIVE PARTS INTAKE MANIFOLD SET - AMS8262 |
| ** | (1) $41.25 APEX AUTOMOTIVE PARTS HEAD SET - AHS4041 | ** | (1) $1.92 APEX AUTOMOTIVE PARTS INTAKE MANIFOLD SET - AMS8270 |
| ** | (1) $83.58 APEX AUTOMOTIVE PARTS HEAD SET - AHS4057 | ** | (4) $34.33 APEX AUTOMOTIVE PARTS INTAKE MANIFOLD SET - AMS8271 |
| ** | (1) $62.92 APEX AUTOMOTIVE PARTS HEAD SET - AHS4135 | ** | (1) $35.22 APEX AUTOMOTIVE PARTS INTAKE MANIFOLD SET - AMS8320 |
| ** | (1) $94.42 APEX AUTOMOTIVE PARTS HEAD SET - AHS5019 | ** | (2) $8.5 APEX AUTOMOTIVE PARTS EXHAUST MANIFOLD SET - AMS8321 |
| ** | (1) $77.33 APEX AUTOMOTIVE PARTS HEAD SET - AHS5042 | ** | (4) $8.67 APEX AUTOMOTIVE PARTS INTAKE MANIFOLD SET - AMS8330 |
| ** | (1) $93.42 APEX AUTOMOTIVE PARTS HEAD SET - AHS8055 | ** | (2) $29.34 APEX AUTOMOTIVE PARTS INTAKE MANIFOLD SET - AMS8480 |
| ** | (1) $2.75 APEX AUTOMOTIVE PARTS INTAKE MANIFOLD SET - AMS1000 | ** | (1) $16.58 APEX AUTOMOTIVE PARTS EXHAUST MANIFOLD SET - AMS8481 |
| ** | (2) $6.58 APEX AUTOMOTIVE PARTS INTAKE MANIFOLD SET - AMS1030 | ** | (2) $20.17 APEX AUTOMOTIVE PARTS INTAKE MANIFOLD SET - AMS8530 |
| ** | (2) $5.33 APEX AUTOMOTIVE PARTS EXHAUST MANIFOLD SET - AMS1071 | ** | (2) $3.83 APEX AUTOMOTIVE PARTS INTAKE MANIFOLD SET - AMS8550 |
| ** | (2) $1.83 APEX AUTOMOTIVE PARTS INTAKE MANIFOLD SET - AMS1080 | ** | (1) $1.92 APEX AUTOMOTIVE PARTS INTAKE MANIFOLD SET - AMS9000 |
| ** | (2) $3.25 APEX AUTOMOTIVE PARTS INTAKE MANIFOLD SET - AMS1081 | ** | (1) $7.5 APEX AUTOMOTIVE PARTS EXHAUST MANIFOLD SET - AMS9001 |
| ** | (2) $3.67 APEX AUTOMOTIVE PARTS EXHAUST MANIFOLD SET - AMS11051 | ** | (2) $10.08 APEX AUTOMOTIVE PARTS INTAKE MANIFOLD SET - AMS9040 |
| ** | (2) $2.83 APEX AUTOMOTIVE PARTS INTAKE MANIFOLD SET - AMS11052 | ** | (3) $8.5 APEX AUTOMOTIVE PARTS OIL PAN GASKET SET - AOP107 |
| ** | (4) $5.75 APEX AUTOMOTIVE PARTS INTAKE MANIFOLD SET - AMS1140 | ** | (5) $13.92 APEX AUTOMOTIVE PARTS OIL PAN GASKET SET - AOP1103 |
| ** | (4) $5.5 APEX AUTOMOTIVE PARTS INTAKE MANIFOLD SET - AMS1141 | ** | (1) $16.33 APEX AUTOMOTIVE PARTS OIL PAN GASKET SET - AOP1108 |
| ** | (2) $9.58 APEX AUTOMOTIVE PARTS EXHAUST MANIFOLD SET - AMS1143 | ** | (1) $7.42 APEX AUTOMOTIVE PARTS OIL PAN GASKET SET - AOP130 |
| ** | (1) $23.42 APEX AUTOMOTIVE PARTS INTAKE MANIFOLD SET - AMS1180 | ** | (1) $14 APEX AUTOMOTIVE PARTS OIL PAN GASKET SET - AOP130A |
| ** | (6) $10.67 APEX AUTOMOTIVE PARTS INTAKE MANIFOLD SET - AMS1270 | ** | (1) $4.08 APEX AUTOMOTIVE PARTS OIL PAN GASKET SET - AOP200 |
| ** | (4) $6.18 APEX AUTOMOTIVE PARTS EXHAUST MANIFOLD SET - AMS1273 | ** | (1) $4.92 APEX AUTOMOTIVE PARTS OIL PAN GASKET SET - AOP203 |
| ** | (1) $2.5 APEX AUTOMOTIVE PARTS INTAKE MANIFOLD SET - AMS1302 | ** | (1) $5.67 APEX AUTOMOTIVE PARTS OIL PAN GASKET SET - AOP208 |
| ** | (1) $2.75 APEX AUTOMOTIVE PARTS INTAKE MANIFOLD SET - AMS1341 | ** | (2) $4.67 APEX AUTOMOTIVE PARTS OIL PAN GASKET SET - AOP209 |
| ** | (1) $10.67 APEX AUTOMOTIVE PARTS INTAKE MANIFOLD SET - AMS1350 | ** | (3) $13.42 APEX AUTOMOTIVE PARTS OIL PAN GASKET SET - AOP230 |
| ** | (3) $4.92 APEX AUTOMOTIVE PARTS INTAKE MANIFOLD SET - AMS1360 | ** | (2) $40 APEX AUTOMOTIVE PARTS OIL PAN GASKET SET - AOP265 |
| ** | (1) $5.83 APEX AUTOMOTIVE PARTS INTAKE MANIFOLD SET - AMS1380 | ** | (1) $33.33 APEX AUTOMOTIVE PARTS OIL PAN GASKET SET - AOP274 |
| ** | (1) $15.67 APEX AUTOMOTIVE PARTS INTAKE MANIFOLD SET - AMS1400 | ** | (1) $7.42 APEX AUTOMOTIVE PARTS OIL PAN GASKET SET - AOP305 |
| ** | (1) $22.25 APEX AUTOMOTIVE PARTS INTAKE MANIFOLD SET - AMS1420 | ** | (5) $8.67 APEX AUTOMOTIVE PARTS OIL PAN GASKET SET - AOP318 |
| ** | (1) $4.58 APEX AUTOMOTIVE PARTS INTAKE MANIFOLD SET - AMS2002 | ** | (1) $4.92 APEX AUTOMOTIVE PARTS OIL PAN GASKET SET - AOP406 |
| ** | (2) $1.92 APEX AUTOMOTIVE PARTS INTAKE MANIFOLD SET - AMS2020 | ** | (1) $4.17 APEX AUTOMOTIVE PARTS OIL PAN GASKET SET - AOP407 |
| ** | (1) $3.33 APEX AUTOMOTIVE PARTS INTAKE MANIFOLD SET - AMS2030 | ** | (2) $9.08 APEX AUTOMOTIVE PARTS OIL PAN GASKET SET - AOP423 |
| ** | (2) $5.92 APEX AUTOMOTIVE PARTS EXHAUST MANIFOLD SET - AMS2031 | ** | (3) $19.34 APEX AUTOMOTIVE PARTS OIL PAN GASKET SET - AOP425 |
| ** | (4) $3.33 APEX AUTOMOTIVE PARTS INTAKE MANIFOLD SET - AMS2041 | ** | (4) $17.17 APEX AUTOMOTIVE PARTS OIL PAN GASKET SET - AOP445 |
| ** | (1) $9.58 APEX AUTOMOTIVE PARTS EXHAUST MANIFOLD SET - AMS2042 | ** | (2) $11.42 APEX AUTOMOTIVE PARTS OIL PAN GASKET SET - AOP460 |
| ** | (1) $5.33 APEX AUTOMOTIVE PARTS INTAKE MANIFOLD SET - AMS2060 | ** | (1) $21.5 APEX AUTOMOTIVE PARTS OIL PAN GASKET SET - AOP461 |
| ** | (1) $3.83 APEX AUTOMOTIVE PARTS INTAKE MANIFOLD SET - AMS2063 | ** | (1) $5.17 APEX AUTOMOTIVE PARTS OIL PAN GASKET SET - AOP501 |
| ** | (1) $6.67 APEX AUTOMOTIVE PARTS EXHAUST MANIFOLD SET - AMS2121 | ** | (2) $6 APEX AUTOMOTIVE PARTS OIL PAN GASKET SET - AOP502 |
| ** | (2) $1.58 APEX AUTOMOTIVE PARTS INTAKE MANIFOLD SET - AMS2170 | ** | (1) $2.58 APEX AUTOMOTIVE PARTS OIL PAN GASKET SET - AOP504 |
| ** | (4) $7.42 APEX AUTOMOTIVE PARTS INTAKE MANIFOLD SET - AMS2220 | ** | (2) $5.25 APEX AUTOMOTIVE PARTS OIL PAN GASKET SET - AOP512 |
| ** | (1) $8 APEX AUTOMOTIVE PARTS EXHAUST MANIFOLD SET - AMS2221 | ** | (1) $6.33 APEX AUTOMOTIVE PARTS OIL PAN GASKET SET - AOP517 |
| ** | (2) $3.42 APEX AUTOMOTIVE PARTS INTAKE MANIFOLD SET - AMS2222 | ** | (2) $8.58 APEX AUTOMOTIVE PARTS OIL PAN GASKET SET - AOP518 |
| ** | (1) $3.5 APEX AUTOMOTIVE PARTS INTAKE MANIFOLD SET - AMS2240 | ** | (4) $2.92 APEX AUTOMOTIVE PARTS OIL PAN GASKET SET - AOP519 |
| ** | (1) $2.25 APEX AUTOMOTIVE PARTS INTAKE MANIFOLD SET - AMS2280 | ** | (1) $4.92 APEX AUTOMOTIVE PARTS OIL PAN GASKET SET - AOP707 |
| ** | (1) $2.58 APEX AUTOMOTIVE PARTS INTAKE MANIFOLD SET - AMS2290 | ** | (1) $5.58 APEX AUTOMOTIVE PARTS OIL PAN GASKET SET - AOP800 |
| ** | (2) $5.17 APEX AUTOMOTIVE PARTS EXHAUST MANIFOLD SET - AMS2302 | ** | (5) $6.25 APEX AUTOMOTIVE PARTS OIL PAN GASKET SET - AOP802 |
| ** | (1) $2.92 APEX AUTOMOTIVE PARTS INTAKE MANIFOLD SET - AMS2310 | ** | (2) $6.83 APEX AUTOMOTIVE PARTS OIL PAN GASKET SET - AOP808 |
| ** | (1) $12.17 APEX AUTOMOTIVE PARTS INTAKE MANIFOLD SET - AMS2420 | ** | (2) $4.42 APEX AUTOMOTIVE PARTS OIL PAN GASKET SET - AOP809 |
| ** | (1) $3.58 APEX AUTOMOTIVE PARTS INTAKE MANIFOLD SET - AMS2430 | ** | (2) $6 APEX AUTOMOTIVE PARTS OIL PAN GASKET SET - AOP813 |
| ** | (2) $9.5 APEX AUTOMOTIVE PARTS INTAKE MANIFOLD SET - AMS2450 | ** | (2) $6.25 APEX AUTOMOTIVE PARTS OIL PAN GASKET SET - AOP823 |
| ** | (1) $5.08 APEX AUTOMOTIVE PARTS INTAKE MANIFOLD SET - AMS2460 | ** | (1) $2.75 APEX AUTOMOTIVE PARTS OIL PAN GASKET SET - AOP826 |
| ** | (1) $10.08 APEX AUTOMOTIVE PARTS INTAKE MANIFOLD SET - AMS2470 | ** | (1) $3.67 APEX AUTOMOTIVE PARTS OIL PAN GASKET SET - AOP832 |
| ** | (1) $9.17 APEX AUTOMOTIVE PARTS INTAKE MANIFOLD SET - AMS2650 | ** | (1) $2.25 APEX AUTOMOTIVE PARTS OIL PAN GASKET SET - AOP834 |
| ** | (2) $6.75 APEX AUTOMOTIVE PARTS EXHAUST MANIFOLD SET - AMS2651 | ** | (1) $5.08 APEX AUTOMOTIVE PARTS OIL PAN GASKET SET - AOP848 |
| ** | (1) $5.08 APEX AUTOMOTIVE PARTS INTAKE MANIFOLD SET - AMS3020 | ** | (1) $5.33 APEX AUTOMOTIVE PARTS OIL PAN GASKET SET - AOP855 |
| ** | (2) $3.67 APEX AUTOMOTIVE PARTS INTAKE MANIFOLD SET - AMS3041 | ** | (1) $10.08 APEX AUTOMOTIVE PARTS OIL PAN GSKT REINZ - AOP905 |
| ** | (1) $12.92 APEX AUTOMOTIVE PARTS EXHAUST MANIFOLD SET - AMS3042 | ** | (1) $2.5 APEX AUTOMOTIVE PARTS CAMSHAFT FRONT SEAL SET - ATC1000 |
| ** | (3) $11.75 APEX AUTOMOTIVE PARTS INTAKE MANIFOLD SET - AMS3140 | ** | (2) $9.58 APEX AUTOMOTIVE PARTS CRANKSHAFT FRONT SEAL SET - ATC1002 |
| ** | (1) $14.5 APEX AUTOMOTIVE PARTS INTAKE MANIFOLD SET - AMS3150 | ** | (1) $12 APEX AUTOMOTIVE PARTS CAMSHAFT FRONT SEAL SET - ATC1030 |
| ** | (2) $4.08 APEX AUTOMOTIVE PARTS EXHAUST MANIFOLD SET - AMS3151 | ** | (1) $20.83 APEX AUTOMOTIVE PARTS CRANKSHAFT FRONT SEAL SET - ATC1031 |
| ** | (1) $4.33 APEX AUTOMOTIVE PARTS INTAKE MANIFOLD SET - AMS3160 | ** | (2) $7.92 APEX AUTOMOTIVE PARTS CAMSHAFT FRONT SEAL SET - ATC1090 |
| ** | (2) $27.58 APEX AUTOMOTIVE PARTS INTAKE MANIFOLD SET - AMS3170 | ** | (4) $2.25 APEX AUTOMOTIVE PARTS CAMSHAFT FRONT SEAL SET - ATC1140 |
| ** | (4) $5.83 APEX AUTOMOTIVE PARTS INTAKE MANIFOLD SET - AMS3180 | ** | (2) $21.76 APEX AUTOMOTIVE PARTS CRANKSHAFT FRONT SEAL SET - ATC1141 |
| ** | (1) $9.5 APEX AUTOMOTIVE PARTS EXHAUST MANIFOLD SET - AMS3181 | ** | (1) $5.75 APEX AUTOMOTIVE PARTS CAMSHAFT FRONT SEAL SET - ATC1280 |
| ** | (4) $5.67 APEX AUTOMOTIVE PARTS INTAKE MANIFOLD SET - AMS3190 | ** | (1) $2.75 APEX AUTOMOTIVE PARTS CAMSHAFT/CRANKSHAFT FRONT - ATC2000 |
| ** | (2) $5.08 APEX AUTOMOTIVE PARTS EXHAUST MANIFOLD SET - AMS3191 | ** | (2) $7.83 APEX AUTOMOTIVE PARTS CRANKSHAFT FRONT SEAL SET - ATC2040 |
| ** | (1) $3.42 APEX AUTOMOTIVE PARTS EXHAUST MANIFOLD SET - AMS3192 | ** | (1) $7.42 APEX AUTOMOTIVE PARTS CRANKSHAFT FRONT SEAL SET - ATC2220 |
| ** | (3) $8.17 APEX AUTOMOTIVE PARTS EXHAUST MANIFOLD SET - AMS3201 | ** | (2) $7.92 APEX AUTOMOTIVE PARTS TIMING COVER SET - ATC2740 |
| ** | (1) $4.33 APEX AUTOMOTIVE PARTS INTAKE MANIFOLD SET - AMS3410 | ** | (1) $3.5 APEX AUTOMOTIVE PARTS CAMSHAFT FRONT SEAL SET - ATC3040 |
| ** | (1) $3.83 APEX AUTOMOTIVE PARTS INTAKE MANIFOLD SET - AMS3504 | ** | (1) $13.25 APEX AUTOMOTIVE PARTS CRANKSHAFT FRONT SEAL SET - ATC3041 |
| ** | (3) $26.17 APEX AUTOMOTIVE PARTS INTAKE MANIFOLD SET - AMS3710 | ** | (1) $7.58 APEX AUTOMOTIVE PARTS CRANKSHAFT FRONT SEAL SET - ATC3132 |
| ** | (4) $2.42 APEX AUTOMOTIVE PARTS INTAKE MANIFOLD SET - AMS4070 | ** | (1) $4.33 APEX AUTOMOTIVE PARTS TIMING COVER SET - ATC3150 |
| ** | (1) $11.5 APEX AUTOMOTIVE PARTS EXHAUST MANIFOLD SET - AMS4080 | ** | (4) $6 APEX AUTOMOTIVE PARTS TIMING COVER SET - ATC3180 |
| ** | (2) $2.92 APEX AUTOMOTIVE PARTS INTAKE MANIFOLD SET - AMS4100 | ** | (1) $3.5 APEX AUTOMOTIVE PARTS TIMING COVER SET - ATC3250 |
| ** | (1) $4.83 APEX AUTOMOTIVE PARTS EXHAUST MANIFOLD SET - AMS4101 | ** | (1) $32.92 APEX AUTOMOTIVE PARTS TIMING COVER SET - ATC3710 |
| ** | (1) $7.25 APEX AUTOMOTIVE PARTS INTAKE MANIFOLD SET - AMS4120 | ** | (2) $3.42 APEX AUTOMOTIVE PARTS CAMSHAFT FRONT SEAL SET - ATC4030 |
| ** | (1) $20.67 APEX AUTOMOTIVE PARTS INTAKE MANIFOLD SET - AMS4130 | ** | (1) $9.58 APEX AUTOMOTIVE PARTS CRANKSHAFT FRONT SEAL SET - ATC4132 |
| ** | (2) $13.42 APEX AUTOMOTIVE PARTS INTAKE MANIFOLD SET - AMS4160 | ** | (2) $5.67 APEX AUTOMOTIVE PARTS CRANKSHAFT FRONT SEAL SET - ATC4160 |
| ** | (4) $3.08 APEX AUTOMOTIVE PARTS INTAKE MANIFOLD SET - AMS4190 | ** | (1) $4.92 APEX AUTOMOTIVE PARTS CAMSHAFT FRONT SEAL SET - ATC4230 |
| ** | (1) $8.17 APEX AUTOMOTIVE PARTS EXHAUST MANIFOLD SET - AMS4191 | ** | (1) $6.58 APEX AUTOMOTIVE PARTS CRANKSHAFT FRONT SEAL SET - ATC4232 |
| ** | (1) $5.08 APEX AUTOMOTIVE PARTS INTAKE MANIFOLD SET - AMS4231 | ** | (3) $5.83 APEX AUTOMOTIVE PARTS TIMING COVER SET - ATC4250 |
| ** | (3) $5.33 APEX AUTOMOTIVE PARTS INTAKE MANIFOLD SET - AMS4241 | ** | (1) $6.5 APEX AUTOMOTIVE PARTS TIMING COVER SET - ATC4270 |
| ** | (4) $11.08 APEX AUTOMOTIVE PARTS INTAKE MANIFOLD SET - AMS4250 | ** | (1) $5.25 APEX AUTOMOTIVE PARTS CAMSHAFT FRONT SEAL SET - ATC4330 |
| ** | (2) $4.58 APEX AUTOMOTIVE PARTS EXHAUST MANIFOLD SET - AMS4251 | ** | (3) $11.17 APEX AUTOMOTIVE PARTS CRANKSHAFT FRONT SEAL SET - ATC4511 |
| ** | (3) $3.25 APEX AUTOMOTIVE PARTS INTAKE MANIFOLD SET - AMS4252 | ** | (2) $15.75 APEX AUTOMOTIVE PARTS TIMING COVER SET - ATC4600 |
| ** | (3) $4.83 APEX AUTOMOTIVE PARTS EXHAUST MANIFOLD SET - AMS4253 | ** | (1) $6.58 APEX AUTOMOTIVE PARTS CRANKSHAFT FRONT SEAL SET - ATC5002 |
| ** | (3) $19.92 APEX AUTOMOTIVE PARTS INTAKE MANIFOLD SET - AMS4270 | ** | (2) $5.58 APEX AUTOMOTIVE PARTS TIMING COVER SET - ATC5020 |
| ** | (2) $3 APEX AUTOMOTIVE PARTS EXHAUST MANIFOLD SET - AMS4271 | ** | (2) $3.17 APEX AUTOMOTIVE PARTS CAMSHAFT FRONT SEAL SET - ATC5050 |
| ** | (2) $6.17 APEX AUTOMOTIVE PARTS INTAKE MANIFOLD SET - AMS4272 | ** | (1) $5.33 APEX AUTOMOTIVE PARTS CRANKSHAFT FRONT SEAL SET - ATC5052 |
| ** | (1) $4.92 APEX AUTOMOTIVE PARTS EXHAUST MANIFOLD SET - AMS4331 | ** | (2) $5.08 APEX AUTOMOTIVE PARTS TIMING COVER SET - ATC5070 |
| ** | (1) $3.17 APEX AUTOMOTIVE PARTS INTAKE MANIFOLD SET - AMS4390 | ** | (2) $6.67 APEX AUTOMOTIVE PARTS TIMING COVER SET - ATC5111 |
| ** | (1) $27.83 APEX AUTOMOTIVE PARTS INTAKE MANIFOLD SET - AMS4450 | ** | (1) $10.17 APEX AUTOMOTIVE PARTS TIMING COVER SET - ATC5340 |
| ** | (2) $25.58 APEX AUTOMOTIVE PARTS INTAKE MANIFOLD SET - AMS4451 | ** | (2) $7.42 APEX AUTOMOTIVE PARTS CRANKSHAFT FRONT SEAL SET - ATC5480 |
| ** | (2) $25 APEX AUTOMOTIVE PARTS INTAKE MANIFOLD SET - AMS4511 | ** | (3) $3.83 APEX AUTOMOTIVE PARTS CRANKSHAFT FRONT SEAL SET - ATC7001 |
| ** | (1) $6.42 APEX AUTOMOTIVE PARTS EXHAUST MANIFOLD SET - AMS4512 | ** | (1) $3.58 APEX AUTOMOTIVE PARTS CRANKSHAFT FRONT SEAL SET - ATC7030 |
| ** | (2) $5 APEX AUTOMOTIVE PARTS INTAKE MANIFOLD SET - AMS4590 | ** | (2) $3.08 APEX AUTOMOTIVE PARTS CRANKSHAFT FRONT SEAL SET - ATC8011 |
| ** | (1) $10.17 APEX AUTOMOTIVE PARTS INTAKE MANIFOLD SET - AMS4600 | ** | (4) $9.25 APEX AUTOMOTIVE PARTS CRANKSHAFT FRONT SEAL SET - ATC8020 |
| ** | (1) $4.33 APEX AUTOMOTIVE PARTS EXHAUST MANIFOLD SET - AMS4601 | ** | (1) $4 APEX AUTOMOTIVE PARTS TIMING COVER SET - ATC8030 |
| ** | (1) $12.44 APEX AUTOMOTIVE PARTS INTAKE MANIFOLD SET - AMS4800 | ** | (1) $4.83 APEX AUTOMOTIVE PARTS CAMSHAFT FRONT SEAL SET - ATC8100 |
| ** | (2) $5.25 APEX AUTOMOTIVE PARTS TIMING COVER SET - ATC8180 | ** | (3) $10.58 APEX AUTOMOTIVE PARTS CRANKSHAFT FRONT SEAL SET - ATC8132 |
| ** | (1) $8.5 APEX AUTOMOTIVE PARTS TIMING COVER SET - ATC8200 | ** | (1) $5 APEX AUTOMOTIVE PARTS CRANKSHAFT FRONT SEAL SET - ATC8150 |
Note: Racking NOT included. For the racking and warehouse equipment auction, click HERE
| | | |
| --- | --- | --- |
| Bid Date | Bid Amount | Bidder |
| Jul 26, 2019 - 3:20:54 PM | $152.00 | iSpareparts |
| Jul 26, 2019 - 3:20:54 PM | $142.00 | ijacob3500 |
| Jul 26, 2019 - 3:20:42 PM | $132.00 | iSpareparts |
| Jul 26, 2019 - 3:19:47 PM | $122.00 | ijacob3500 |
| Jul 26, 2019 - 3:19:44 PM | $112.00 | iATCdoc |
| Jul 26, 2019 - 3:19:44 PM | $105.00 | ijacob3500 |
| Jul 26, 2019 - 3:19:39 PM | $100.00 | iATCdoc |
| Jul 26, 2019 - 3:19:39 PM | $95.00 | ijacob3500 |
| Jul 26, 2019 - 3:19:37 PM | $90.00 | iATCdoc |
| Jul 26, 2019 - 3:19:37 PM | $85.00 | ijacob3500 |
| Jul 26, 2019 - 3:19:34 PM | $80.00 | iATCdoc |
| Jul 26, 2019 - 3:19:34 PM | $75.00 | ijacob3500 |
| Jul 26, 2019 - 3:19:23 PM | $70.00 | iATCdoc |
| Jul 26, 2019 - 3:19:23 PM | $65.00 | ijacob3500 |
| Jul 26, 2019 - 3:18:54 PM | $60.00 | iATCdoc |
| Jul 26, 2019 - 3:18:54 PM | $55.00 | ijacob3500 |
| Jul 26, 2019 - 1:49:59 PM | $50.00 | iATCdoc |
| Jul 26, 2019 - 1:49:59 PM | $45.00 | ijacob3500 |
| Jul 26, 2019 - 1:49:49 PM | $40.00 | iATCdoc |
| Jul 26, 2019 - 1:49:49 PM | $35.00 | ijacob3500 |
| Jul 25, 2019 - 8:17:37 PM | $30.00 | iATCdoc |
| Jul 25, 2019 - 8:17:37 PM | $25.00 | iSpareparts |
| Jul 23, 2019 - 11:13:29 PM | $10.00 | iSpareparts |
| Jul 22, 2019 - 8:15:43 PM | $5.00 | iSVAUTO |