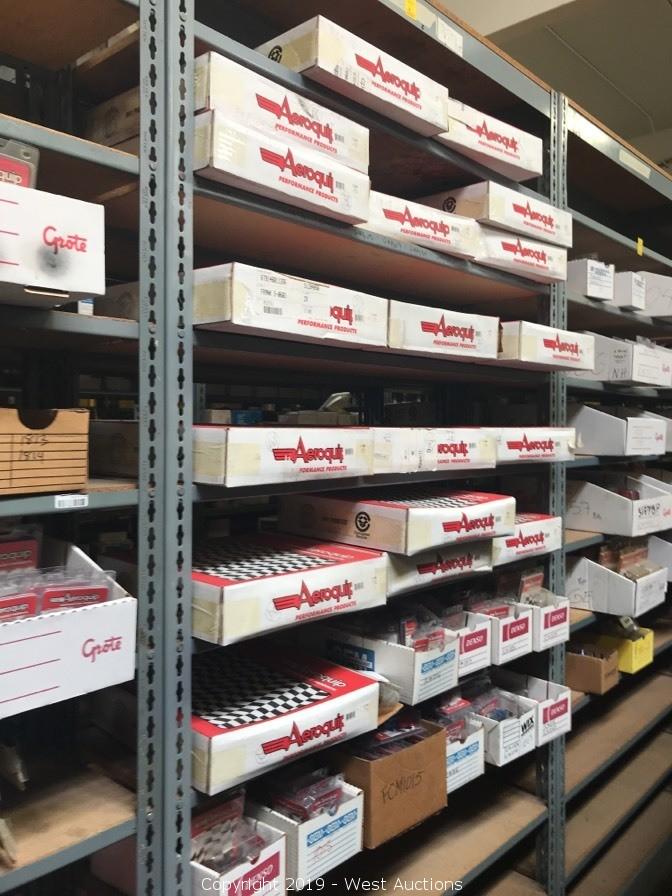 Lot #AER2650:
Rack of Aeroquip Parts & Product
Bidding is

closed

.
High Bid:
$361.00
NA
Bidding Ended:
Thu, Aug 1 12:08:46 pm PT
High Bidder:
drdangerous
Bid Increment:
$10.00
Starting Bid:
$5.00
Item has been viewed 555 times.

Note: Quantities are based on seller's inventory list and are mostly accurate, but some counts are approximate. No refunds. Please bid accordingly.
Rack of Aeroquip Parts & Product
(2) $17.672 AEROQUIP HOSE - FCF0803
(2) $35.339 AEROQUIP HOSE - FCF0806
(3) $53.011 AEROQUIP HOSE - FCF0809
(3) $20.313 AEROQUIP HOSE - FCF1003
(3) $40.622 AEROQUIP HOSE - FCF1006
(5) $60.94 AEROQUIP HOSE - FCF1009
(16) $3.511 AEROQUIP HOSE CONN - FCM1004
(4) $3.643 AEROQUIP HOSE CONN - FCM1005
(10) $5.588 AEROQUIP HOSE CONN - FCM1006
(4) $10.904 AEROQUIP HOSE CONN - FCM1008
(4) $11.308 AEROQUIP HOSE CONN - FCM1009
(32) $6.049 AEROQUIP FITTING - FCM1015
(15) $9.142 AEROQUIP FITTING - FCM1016
(2) $14.923 AEROQUIP FITTING - FCM1025
(1) $17.362 AEROQUIP FITTING - FCM1064
(1) $9.903 AEROQUIP FITTING - FCM1066
(3) $17.649 AEROQUIP FITTING - FCM1069
(1) $11.144 AEROQUIP FITTING - FCM1070
(10) $20.957 AEROQUIP FITTING - FCM1076
(4) $19.561 AEROQUIP FITTING - FCM1080
Note: Racking NOT included. For the racking and warehouse equipment auction, click HERE
| | | |
| --- | --- | --- |
| Bid Date | Bid Amount | Bidder |
| Aug 1, 2019 - 12:06:46 PM | $361.00 | idrdangerous |
| Aug 1, 2019 - 12:06:46 PM | $351.00 | idrjones666 |
| Aug 1, 2019 - 12:06:03 PM | $311.00 | idrdangerous |
| Aug 1, 2019 - 12:05:53 PM | $301.00 | idrjones666 |
| Aug 1, 2019 - 12:05:53 PM | $300.00 | idrdangerous |
| Aug 1, 2019 - 6:35:39 AM | $260.00 | idrdangerous |
| Aug 1, 2019 - 6:35:39 AM | $250.00 | iSVAUTO |
| Jul 31, 2019 - 6:22:02 PM | $245.00 | iSVAUTO |
| Jul 31, 2019 - 2:24:47 PM | $235.00 | iEmmanuel Cano |
| Jul 31, 2019 - 2:24:47 PM | $230.00 | iATCdoc |
| Jul 31, 2019 - 2:24:45 PM | $225.00 | iATCdoc |
| Jul 31, 2019 - 2:24:45 PM | $215.00 | iEmmanuel Cano |
| Jul 31, 2019 - 2:24:43 PM | $205.00 | iATCdoc |
| Jul 31, 2019 - 2:24:43 PM | $195.00 | iEmmanuel Cano |
| Jul 31, 2019 - 2:24:40 PM | $185.00 | iATCdoc |
| Jul 31, 2019 - 2:24:40 PM | $175.00 | iEmmanuel Cano |
| Jul 31, 2019 - 2:24:37 PM | $165.00 | iATCdoc |
| Jul 31, 2019 - 2:24:37 PM | $155.00 | iEmmanuel Cano |
| Jul 31, 2019 - 2:24:35 PM | $145.00 | iATCdoc |
| Jul 31, 2019 - 2:24:35 PM | $135.00 | iEmmanuel Cano |
| Jul 31, 2019 - 4:53:27 AM | $125.00 | iATCdoc |
| Jul 31, 2019 - 4:53:27 AM | $115.00 | ibigEdddie |
| Jul 30, 2019 - 3:52:18 PM | $105.00 | iATCdoc |
| Jul 30, 2019 - 3:52:18 PM | $100.00 | iSVAUTO |
| Jul 30, 2019 - 11:26:37 AM | $70.00 | iSVAUTO |
| Jul 30, 2019 - 11:26:37 AM | $65.00 | iPEKONENDAVE |
| Jul 30, 2019 - 7:41:49 AM | $5.00 | iSVAUTO |