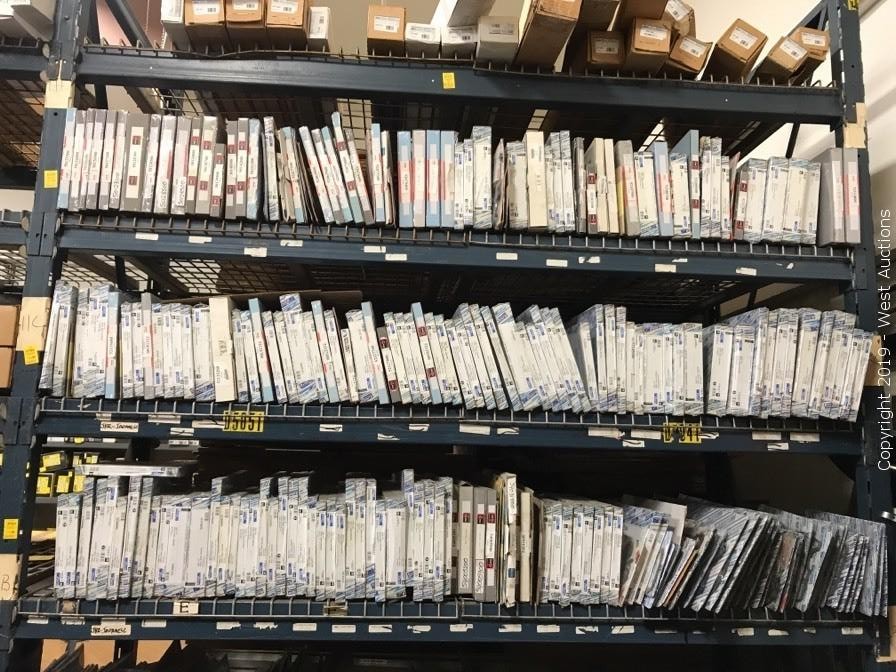 Lot #AJU2586:
Shelf of Assorted Gaskets and Gaskets Sets
Bidding is

closed

.
High Bid:
$375.00
NA
Bidding Ended:
Thu, Aug 1 12:23:58 pm PT
High Bidder:
Spareparts
Bid Increment:
$10.00
Starting Bid:
$5.00
Item has been viewed 319 times.

Note: Quantities are based on seller's inventory list and are mostly accurate, but some counts are approximate. No refunds. Please bid accordingly.
Shelf of Assorted Gaskets and Gaskets Sets
(2) $30.175 AJUSA HEAD SET - 52116500
(1) $30.5 AJUSA HEAD SET - 52116700
(1) $34.905 AJUSA HEAD SET - 52117000
(1) $62.375 AJUSA HEAD SET - 52117700
(1) $33.19 AJUSA HEAD SET - 52119100
(2) $42.275 AJUSA HEAD SET - 52119400
(1) $39.185 AJUSA HEAD SET - 52119600
(1) $54.005 AJUSA HEAD SET - 52121100
(1) $62.46 AJUSA HEAD SET - 52122800
(1) $74.255 AJUSA HEAD SET - 52122900
(2) $47.6 AJUSA HEAD SET - 52124300
(1) $112.01 AJUSA HEAD SET - 52124700
(1) $58.085 AJUSA HEAD SET - 52124800
(1) $132.955 AJUSA - 52124900
(1) $90.532 AJUSA GASKETS - 52125101
(1) $133.495 AJUSA - 52125200
(1) $52.36 AJUSA HEAD SET - 52125600
(2) $50.865 AJUSA HEAD SET - 52125700
(1) $55.08 AJUSA HEAD SET - 52125800
(1) $90.04 AJUSA GASKETS - 52126001
(1) $45.58 AJUSA HEAD SET - 52126900
(2) $87.61 AJUSA HEAD SET - 52127100
(1) $103.135 AJUSA HEAD SET - 52127200
(2) $39.835 AJUSA HEAD SET - 52127300
(2) $86.385 AJUSA HEAD SET - 52127700
(1) $83.46 AJUSA HEAD SET - 52127800
(2) $70.245 AJUSA HEAD SET - 52128000
(3) $82.02 AJUSA HEAD SET - 52128100
(3) $84.77 AJUSA HEAD SET - 52128300
(1) $84.2 AJUSA HEAD SET - 52128700
(1) $64.915 AJUSA HEAD SET - 52129100
(1) $120.27 AJUSA HEAD SET - 52133300
(1) $145.805 AJUSA HEAD SET - 52135000
(1) $76.8 AJUSA HEAD SET - 52137100
(1) $64.005 AJUSA - 52137800
(3) $62.25 AJUSA HEAD SET - 52138000
(1) $39.52 AJUSA GASKETS - 52139301
(1) $73.865 AJUSA HEAD SET - 52141100
(1) $71.14 AJUSA HEAD SET - 52141200
(1) $72.6 AJUSA HEAD SET - 52142600
(1) $80.805 AJUSA - 52145000
(1) $68.16 AJUSA HEAD SET - 52149600
(1) $38.745 AJUSA HEAD SET - 52150200
(1) $58.25 AJUSA HEAD SET - 52150300
(1) $62 AJUSA HEAD SET - 52150400
(1) $91.465 AJUSA HEAD SET - 52150800
(1) $96.33 AJUSA HEAD SET - 52151200
(1) $123.25 AJUSA HEAD SET - 52151500
(2) $50.5 AJUSA GASKETS - 52151601
(1) $89.69 AJUSA - 52151700
(1) $58.41 AJUSA HEAD SET - 52152500
(1) $102.78 AJUSA HEAD SET - 52153700
(2) $209.865 AJUSA HEAD SET - 52154100
(1) $58.405 AJUSA HEAD SET - 52155900
(2) $51.252 AJUSA GASKETS - 52162601
Note: Racking NOT included. For the racking and warehouse equipment auction, click HERE
| | | |
| --- | --- | --- |
| Bid Date | Bid Amount | Bidder |
| Aug 1, 2019 - 12:21:58 PM | $375.00 | iSpareparts |
| Aug 1, 2019 - 12:21:30 PM | $365.00 | isandiego |
| Aug 1, 2019 - 12:21:30 PM | $355.00 | iSpareparts |
| Aug 1, 2019 - 12:19:51 PM | $335.00 | iSpareparts |
| Aug 1, 2019 - 12:19:22 PM | $325.00 | isandiego |
| Aug 1, 2019 - 12:19:23 PM | $325.00 | iSpareparts |
| Aug 1, 2019 - 12:18:08 PM | $285.00 | isandiego |
| Aug 1, 2019 - 12:18:08 PM | $275.00 | iSpareparts |
| Aug 1, 2019 - 12:17:25 PM | $255.00 | iSpareparts |
| Aug 1, 2019 - 12:16:52 PM | $245.00 | isandiego |
| Aug 1, 2019 - 12:15:52 PM | $235.00 | iSpareparts |
| Aug 1, 2019 - 12:15:52 PM | $225.00 | isandiego |
| Aug 1, 2019 - 12:15:22 PM | $215.00 | isandiego |
| Aug 1, 2019 - 12:15:22 PM | $205.00 | iSpareparts |
| Aug 1, 2019 - 12:14:45 PM | $185.00 | iSpareparts |
| Aug 1, 2019 - 12:14:18 PM | $175.00 | isandiego |
| Aug 1, 2019 - 12:14:01 PM | $165.00 | iSpareparts |
| Aug 1, 2019 - 12:14:02 PM | $165.00 | isandiego |
| Aug 1, 2019 - 12:12:18 PM | $155.00 | iSpareparts |
| Aug 1, 2019 - 12:11:44 PM | $145.00 | isandiego |
| Aug 1, 2019 - 12:11:44 PM | $140.00 | iSpareparts |
| Aug 1, 2019 - 12:11:39 PM | $125.00 | iSpareparts |
| Aug 1, 2019 - 12:11:08 PM | $115.00 | imlgerking |
| Aug 1, 2019 - 12:10:47 PM | $105.00 | isandiego |
| Aug 1, 2019 - 12:10:24 PM | $100.00 | imlgerking |
| Aug 1, 2019 - 12:10:25 PM | $100.00 | iSpareparts |
| Aug 1, 2019 - 12:10:01 PM | $70.00 | imlgerking |
| Aug 1, 2019 - 12:10:01 PM | $65.00 | iSpareparts |
| Aug 1, 2019 - 12:09:10 PM | $49.00 | iSpareparts |
| Aug 1, 2019 - 12:00:20 PM | $44.00 | isandiego |
| Aug 1, 2019 - 12:00:20 PM | $42.02 | iearonp42 |
| Aug 1, 2019 - 11:59:51 AM | $35.00 | isandiego |
| Aug 1, 2019 - 11:59:51 AM | $30.00 | ijacob3500 |
| Aug 1, 2019 - 11:25:58 AM | $26.01 | ijacob3500 |
| Aug 1, 2019 - 12:27:01 AM | $21.01 | iearonp42 |
| Jul 31, 2019 - 8:36:34 PM | $16.01 | ijacob3500 |
| Jul 31, 2019 - 8:36:32 PM | $11.01 | iearonp42 |
| Jul 31, 2019 - 8:36:32 PM | $10.00 | ijacob3500 |
| Jul 30, 2019 - 9:51:19 PM | $5.00 | iearonp42 |