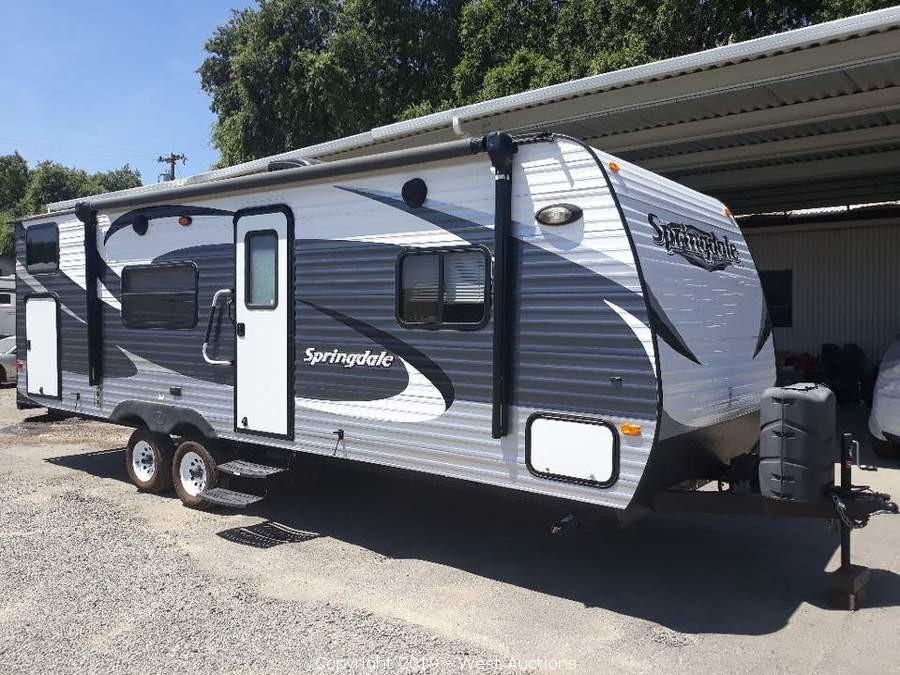 2015 Keystone Springdale 25' Travel Trailer
Bidding is

closed

.
High Bid:
$13,101.00
NA
Bidding Ended:
Thu, Aug 29 10:05:59 am PT
High Bidder:
briansdeluxe
Bid Increment:
$100.00
Starting Bid:
$5.00
Item Location:

1244 Fortna Ave.

,

Woodland

,

CA

95776

Item has been viewed 9,154 times.

ASK ABOUT THIS ITEM

2015 Keystone Springdale 25' Travel Trailer
VIN

: 4YDT26024FG10051
License: 1ML2534

Registration Expiration: 10/31/2018 

GVWR

: 7,525 lbs
Serial: 3576994
Dual axel
Tire size: ST205/75P
Leaf spring suspension
Electric brakes
2 5/16 Ball Hitch
6 Blade Electric plug
(2) Propane Tanks
Outside awning
(1) 12V Battery
Sleeping Capacity: (9)
Outside storage
City sewer hookups
City water hookups
Air Conditioning
Satellite dish
Atwood water heater
Spare tire
(4) leveling jacks
Bunk beds
Walk-in bathroom
Toilet
Shower
Bathtub
Bathroom sink vanity
Dometic D2652 2 Way Refrigerator/Freezer

WFCO

Power center
Central heating
Suburban 3 burner propane stove and oven
High point electric microwave
Kitchen exhaust hood
Jensen sound system
4 Person dinette/2Person bed
Love seat futon pullout
Full bed master bedroom
(6) Windows with drapes and blinds
Linoleum flooring
Kitchen 2 basin sink
Overhead storage
(7) Indoor lights
Total unit length with the tongue: 28.6'
Keys Included
Note: Application for Duplicate Title, Transfer Form and Certified Court Order will be mailed 1-3 weeks following the close of the auction. Buyer is fully responsible for all aspects of registration, transfer, and fees due to DMV. 
| | | |
| --- | --- | --- |
| Bid Date | Bid Amount | Bidder |
| Aug 29, 2019 - 10:03:59 AM | $13,101.00 | ibriansdeluxe |
| Aug 29, 2019 - 10:03:59 AM | $13,001.00 | iAFS2700 |
| Aug 29, 2019 - 10:03:32 AM | $12,900.00 | ibriansdeluxe |
| Aug 29, 2019 - 10:03:32 AM | $12,800.00 | iAFS2700 |
| Aug 29, 2019 - 10:03:15 AM | $12,700.00 | ibriansdeluxe |
| Aug 29, 2019 - 10:03:15 AM | $12,600.00 | iAFS2700 |
| Aug 29, 2019 - 10:02:54 AM | $12,500.00 | ibriansdeluxe |
| Aug 29, 2019 - 10:02:54 AM | $12,400.00 | iAFS2700 |
| Aug 29, 2019 - 10:02:39 AM | $12,300.00 | ibriansdeluxe |
| Aug 29, 2019 - 10:02:39 AM | $12,200.00 | iAFS2700 |
| Aug 29, 2019 - 10:02:12 AM | $12,100.00 | ibriansdeluxe |
| Aug 29, 2019 - 10:02:03 AM | $12,000.00 | iAFS2700 |
| Aug 29, 2019 - 10:02:04 AM | $12,000.00 | ibriansdeluxe |
| Aug 29, 2019 - 10:00:10 AM | $11,550.00 | iAFS2700 |
| Aug 29, 2019 - 10:00:10 AM | $11,500.00 | iremzito1543 |
| Aug 29, 2019 - 9:59:50 AM | $11,450.00 | iremzito1543 |
| Aug 29, 2019 - 9:59:50 AM | $11,350.00 | iAFS2700 |
| Aug 29, 2019 - 9:59:37 AM | $11,250.00 | iremzito1543 |
| Aug 29, 2019 - 9:59:37 AM | $11,150.00 | iAFS2700 |
| Aug 29, 2019 - 9:59:06 AM | $11,002.00 | iremzito1543 |
| Aug 29, 2019 - 9:58:59 AM | $10,902.00 | iAFS2700 |
| Aug 29, 2019 - 9:58:59 AM | $10,803.00 | isnjranch |
| Aug 29, 2019 - 9:58:43 AM | $10,802.00 | isnjranch |
| Aug 29, 2019 - 9:58:43 AM | $10,702.00 | iAFS2700 |
| Aug 29, 2019 - 9:58:07 AM | $10,602.00 | isnjranch |
| Aug 29, 2019 - 9:57:46 AM | $10,502.00 | iAFS2700 |
| Aug 29, 2019 - 9:57:46 AM | $10,500.00 | imckuinpipe |
| Aug 29, 2019 - 9:38:30 AM | $10,402.00 | imckuinpipe |
| Aug 29, 2019 - 9:38:30 AM | $10,302.00 | iHvacjeff25 |
| Aug 29, 2019 - 9:33:26 AM | $10,202.00 | imckuinpipe |
| Aug 29, 2019 - 9:33:03 AM | $10,102.00 | iHvacjeff25 |
| Aug 29, 2019 - 9:33:03 AM | $10,101.00 | imckuinpipe |
| Aug 29, 2019 - 9:26:12 AM | $10,001.00 | iHvacjeff25 |
| Aug 29, 2019 - 9:26:12 AM | $10,000.00 | imckuinpipe |
| Aug 29, 2019 - 9:15:49 AM | $9,901.00 | imckuinpipe |
| Aug 29, 2019 - 9:15:49 AM | $9,801.00 | iblumers |
| Aug 29, 2019 - 9:00:58 AM | $9,601.00 | imckuinpipe |
| Aug 29, 2019 - 9:00:58 AM | $9,501.00 | iFydaman |
| Aug 29, 2019 - 8:15:39 AM | $9,300.01 | imckuinpipe |
| Aug 29, 2019 - 8:15:39 AM | $9,200.01 | iagwoodall |
| Aug 29, 2019 - 7:37:50 AM | $9,100.01 | iagwoodall |
| Aug 29, 2019 - 12:16:30 AM | $9,000.01 | isnjranch |
| Aug 29, 2019 - 12:16:30 AM | $9,000.00 | imckuinpipe |
| Aug 28, 2019 - 11:37:54 AM | $8,800.00 | imckuinpipe |
| Aug 28, 2019 - 11:37:37 AM | $8,700.00 | iawwwsomejack |
| Aug 28, 2019 - 11:37:37 AM | $8,600.00 | imckuinpipe |
| Aug 28, 2019 - 11:37:16 AM | $8,400.00 | iawwwsomejack |
| Aug 28, 2019 - 11:37:16 AM | $8,300.00 | imckuinpipe |
| Aug 28, 2019 - 11:36:52 AM | $8,100.00 | iawwwsomejack |
| Aug 28, 2019 - 11:36:52 AM | $8,000.00 | imckuinpipe |
| Aug 28, 2019 - 10:02:45 AM | $7,600.00 | iawwwsomejack |
| Aug 28, 2019 - 10:02:17 AM | $7,500.00 | imrstructure47 |
| Aug 28, 2019 - 10:02:18 AM | $7,500.00 | iawwwsomejack |
| Aug 28, 2019 - 10:01:31 AM | $7,300.00 | imrstructure47 |
| Aug 28, 2019 - 10:01:31 AM | $7,200.00 | iawwwsomejack |
| Aug 28, 2019 - 1:59:45 AM | $7,100.00 | imrstructure47 |
| Aug 27, 2019 - 6:38:51 PM | $7,000.00 | ithedudeman10 |
| Aug 27, 2019 - 6:38:52 PM | $7,000.00 | iglentp |
| Aug 27, 2019 - 4:47:19 PM | $6,900.00 | ithedudeman10 |
| Aug 27, 2019 - 4:47:19 PM | $6,800.00 | imckuinpipe |
| Aug 27, 2019 - 2:01:29 PM | $6,700.00 | imckuinpipe |
| Aug 27, 2019 - 12:38:57 PM | $6,600.00 | ibriansdeluxe |
| Aug 27, 2019 - 12:38:50 PM | $6,500.00 | imckuinpipe |
| Aug 27, 2019 - 12:38:51 PM | $6,500.00 | ibriansdeluxe |
| Aug 27, 2019 - 12:38:03 PM | $6,400.00 | imckuinpipe |
| Aug 27, 2019 - 12:38:03 PM | $6,300.00 | ibriansdeluxe |
| Aug 27, 2019 - 10:59:43 AM | $6,100.00 | imckuinpipe |
| Aug 27, 2019 - 10:59:31 AM | $6,000.00 | iMoyvlad |
| Aug 27, 2019 - 10:59:32 AM | $6,000.00 | imckuinpipe |
| Aug 27, 2019 - 10:59:23 AM | $5,850.00 | iMoyvlad |
| Aug 27, 2019 - 10:59:23 AM | $5,750.00 | imckuinpipe |
| Aug 27, 2019 - 10:59:10 AM | $5,600.00 | iMoyvlad |
| Aug 27, 2019 - 10:59:10 AM | $5,500.00 | imckuinpipe |
| Aug 27, 2019 - 10:58:53 AM | $5,250.00 | iMoyvlad |
| Aug 27, 2019 - 10:58:53 AM | $5,150.00 | imckuinpipe |
| Aug 27, 2019 - 10:39:39 AM | $5,050.00 | iMoyvlad |
| Aug 27, 2019 - 10:38:53 AM | $5,000.00 | ibrianb5150 |
| Aug 27, 2019 - 10:38:54 AM | $5,000.00 | iMoyvlad |
| Aug 27, 2019 - 10:38:11 AM | $3,750.00 | ibrianb5150 |
| Aug 27, 2019 - 10:38:11 AM | $3,700.00 | iNichelle77 |
| Aug 27, 2019 - 10:37:51 AM | $3,650.00 | ibrianb5150 |
| Aug 27, 2019 - 10:37:51 AM | $3,600.00 | iNichelle77 |
| Aug 27, 2019 - 10:37:22 AM | $3,550.00 | ibrianb5150 |
| Aug 27, 2019 - 10:37:22 AM | $3,500.00 | iblumers |
| Aug 27, 2019 - 10:37:03 AM | $2,851.00 | ibrianb5150 |
| Aug 27, 2019 - 10:37:03 AM | $2,801.00 | iMoyvlad |
| Aug 27, 2019 - 10:36:57 AM | $2,751.00 | ibrianb5150 |
| Aug 27, 2019 - 10:36:57 AM | $2,701.00 | iblumers |
| Aug 27, 2019 - 10:13:23 AM | $2,651.00 | ibrianb5150 |
| Aug 27, 2019 - 10:13:23 AM | $2,601.00 | iDunerfool |
| Aug 27, 2019 - 10:12:19 AM | $2,551.00 | ibrianb5150 |
| Aug 27, 2019 - 10:12:19 AM | $2,501.00 | iBBSTEEL |
| Aug 27, 2019 - 10:09:02 AM | $1,051.00 | ibrianb5150 |
| Aug 27, 2019 - 10:09:02 AM | $1,001.00 | iBBSTEEL |
| Aug 27, 2019 - 10:04:08 AM | $10.00 | iBBSTEEL |
| Aug 27, 2019 - 10:03:07 AM | $5.00 | iOnwansijr |