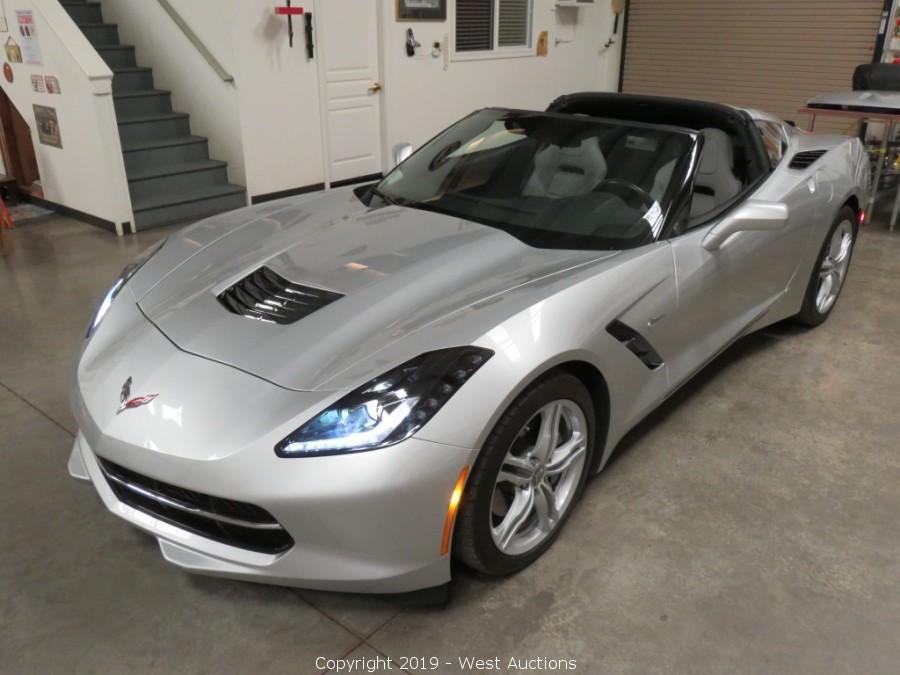 2017 Corvette Stingray 1LT Coupe T-Top
Bidding is

closed

.
High Bid:
$36,125.00
NA
Bidding Ended:
Thu, Aug 15 10:00:00 am PT
High Bidder:
Stevenmvest
Bid Increment:
$100.00
Starting Bid:
$5.00
Item Location:

Glen Ellen

,

CA

95442

Item has been viewed 5,607 times.

ASK ABOUT THIS ITEM

2017 Corvette Stingray 1LT Coupe T-Top
VIN: 1G1YB2D7XH5107323
License: ZXPG863

Registration Expiration: 3/22/2020

GVWR

: 3,896
Odometer Reads: 10,698
Automatic transmission
Engine: 6.2 Liter V8
Paddle shifters
Leather interior
Touchscreen navigation
Backup camera
Cruise control
Power seats
Power mirrors
Power windows
Power locks
Bose premium sound
Bluetooth hands-free phone system
Onstar equipped
Dual airbags
Dual climate control
Premium rims
Quadruple exhaust
Tire size: P245/4.0ZR18
Note: Item is subject to seller confirmation.  Seller will accept or reject high bid upon close of the auction. 
Note: Certificate of Title, transfer form and smog will be mailed 3-4 weeks following the close of the auction. Buyer is fully responsible for all aspects of registration and fees due to DMV.  
| | | |
| --- | --- | --- |
| Bid Date | Bid Amount | Bidder |
| Aug 15, 2019 - 9:57:35 AM | $36,125.00 | iStevenmvest |
| Aug 15, 2019 - 9:57:35 AM | $36,100.00 | iElhefe |
| Aug 15, 2019 - 9:53:07 AM | $35,950.00 | iStevenmvest |
| Aug 15, 2019 - 9:46:28 AM | $35,850.00 | iMichelle925 |
| Aug 15, 2019 - 9:46:28 AM | $35,800.00 | iJcacho |
| Aug 15, 2019 - 9:46:21 AM | $35,750.00 | iJcacho |
| Aug 15, 2019 - 9:46:21 AM | $35,650.00 | iMichelle925 |
| Aug 15, 2019 - 9:46:16 AM | $35,550.00 | iJcacho |
| Aug 15, 2019 - 9:46:16 AM | $35,450.00 | iMichelle925 |
| Aug 15, 2019 - 9:19:27 AM | $35,350.00 | iJcacho |
| Aug 15, 2019 - 9:19:27 AM | $35,250.00 | iStevenmvest |
| Aug 15, 2019 - 9:19:08 AM | $35,100.00 | iStevenmvest |
| Aug 15, 2019 - 9:19:08 AM | $35,000.00 | iJcacho |
| Aug 15, 2019 - 9:18:42 AM | $33,100.00 | iStevenmvest |
| Aug 15, 2019 - 9:18:42 AM | $33,000.00 | iJcacho |
| Aug 15, 2019 - 9:18:20 AM | $32,600.00 | iStevenmvest |
| Aug 15, 2019 - 9:18:20 AM | $32,500.00 | iJcacho |
| Aug 15, 2019 - 9:18:07 AM | $32,100.00 | iStevenmvest |
| Aug 15, 2019 - 9:18:07 AM | $32,000.00 | iJcacho |
| Aug 15, 2019 - 9:16:54 AM | $31,600.00 | iStevenmvest |
| Aug 15, 2019 - 9:16:54 AM | $31,500.00 | iJcacho |
| Aug 15, 2019 - 9:16:37 AM | $31,100.00 | iStevenmvest |
| Aug 15, 2019 - 9:16:37 AM | $31,000.00 | iJcacho |
| Aug 15, 2019 - 9:16:22 AM | $30,600.00 | iStevenmvest |
| Aug 15, 2019 - 9:16:22 AM | $30,500.00 | iJcacho |
| Aug 15, 2019 - 8:55:40 AM | $30,200.00 | iStevenmvest |
| Aug 15, 2019 - 8:55:40 AM | $30,100.00 | ibuycars |
| Aug 15, 2019 - 8:55:13 AM | $29,900.00 | iStevenmvest |
| Aug 15, 2019 - 8:55:13 AM | $29,800.00 | ibuycars |
| Aug 15, 2019 - 8:55:01 AM | $29,500.00 | iStevenmvest |
| Aug 15, 2019 - 8:55:01 AM | $29,400.00 | ibuycars |
| Aug 15, 2019 - 8:54:35 AM | $29,300.00 | iStevenmvest |
| Aug 15, 2019 - 8:54:35 AM | $29,200.00 | ibuycars |
| Aug 15, 2019 - 8:54:12 AM | $29,100.00 | iStevenmvest |
| Aug 15, 2019 - 8:54:12 AM | $29,000.00 | ibuycars |
| Aug 15, 2019 - 8:49:35 AM | $28,700.00 | iStevenmvest |
| Aug 15, 2019 - 8:49:35 AM | $28,600.00 | iNickjake |
| Aug 15, 2019 - 7:43:20 AM | $28,500.00 | iStevenmvest |
| Aug 15, 2019 - 7:43:20 AM | $28,400.00 | iNickjake |
| Aug 15, 2019 - 7:43:15 AM | $28,300.00 | iStevenmvest |
| Aug 15, 2019 - 7:43:15 AM | $28,200.00 | iNickjake |
| Aug 15, 2019 - 6:56:18 AM | $28,100.00 | iStevenmvest |
| Aug 15, 2019 - 6:56:18 AM | $28,000.00 | ibuycars |
| Aug 15, 2019 - 6:56:15 AM | $27,900.00 | iStevenmvest |
| Aug 15, 2019 - 6:56:15 AM | $27,800.00 | ibuycars |
| Aug 15, 2019 - 6:56:11 AM | $27,700.00 | iStevenmvest |
| Aug 15, 2019 - 6:56:11 AM | $27,600.00 | ibuycars |
| Aug 15, 2019 - 6:56:06 AM | $27,500.00 | iStevenmvest |
| Aug 15, 2019 - 6:56:06 AM | $27,400.00 | ibuycars |
| Aug 15, 2019 - 6:55:56 AM | $27,300.00 | iStevenmvest |
| Aug 15, 2019 - 6:55:56 AM | $27,200.00 | ibuycars |
| Aug 14, 2019 - 10:33:42 PM | $27,100.00 | iStevenmvest |
| Aug 14, 2019 - 10:33:42 PM | $27,000.00 | ibgillming |
| Aug 14, 2019 - 7:13:54 PM | $26,600.00 | ibgillming |
| Aug 14, 2019 - 7:13:54 PM | $26,500.00 | iNickjake |
| Aug 14, 2019 - 6:02:13 PM | $26,100.00 | ibgillming |
| Aug 14, 2019 - 6:01:24 PM | $26,000.00 | iNickjake |
| Aug 14, 2019 - 6:01:25 PM | $26,000.00 | ibgillming |
| Aug 14, 2019 - 5:20:35 PM | $25,350.00 | iNickjake |
| Aug 14, 2019 - 5:20:35 PM | $25,250.00 | iStevenmvest |
| Aug 14, 2019 - 5:19:44 PM | $25,100.00 | iStevenmvest |
| Aug 14, 2019 - 5:19:44 PM | $25,000.00 | iNickjake |
| Aug 14, 2019 - 5:19:31 PM | $24,500.00 | iStevenmvest |
| Aug 14, 2019 - 5:19:31 PM | $24,400.00 | iNickjake |
| Aug 14, 2019 - 5:19:14 PM | $24,300.00 | iStevenmvest |
| Aug 14, 2019 - 5:19:14 PM | $24,200.00 | iNickjake |
| Aug 14, 2019 - 2:28:37 PM | $24,100.00 | iStevenmvest |
| Aug 14, 2019 - 2:28:37 PM | $24,000.00 | iDano1954 |
| Aug 14, 2019 - 8:31:24 AM | $22,100.00 | iDano1954 |
| Aug 14, 2019 - 8:27:55 AM | $22,000.00 | itdogolf |
| Aug 14, 2019 - 8:27:56 AM | $22,000.00 | iDano1954 |
| Aug 14, 2019 - 4:55:55 AM | $21,312.12 | itdogolf |
| Aug 14, 2019 - 4:55:55 AM | $21,212.12 | iricci18 |
| Aug 13, 2019 - 3:31:49 PM | $20,066.66 | iricci18 |
| Aug 13, 2019 - 3:31:49 PM | $19,966.66 | inorkrap |
| Aug 13, 2019 - 3:06:57 PM | $18,100.00 | inorkrap |
| Aug 13, 2019 - 3:06:57 PM | $18,000.00 | iJcacho |
| Aug 13, 2019 - 3:06:14 PM | $17,766.66 | iJcacho |
| Aug 13, 2019 - 3:06:14 PM | $17,666.66 | inorkrap |
| Aug 13, 2019 - 3:03:07 PM | $15,200.11 | iJcacho |
| Aug 13, 2019 - 3:03:07 PM | $15,100.11 | iBLACKBARTINC |
| Aug 13, 2019 - 2:51:47 PM | $15,100.00 | iBLACKBARTINC |
| Aug 13, 2019 - 10:58:03 AM | $15,000.00 | iJcacho |
| Aug 13, 2019 - 10:58:04 AM | $15,000.00 | itdogolf |
| Aug 13, 2019 - 10:57:27 AM | $12,100.00 | iJcacho |
| Aug 13, 2019 - 10:57:27 AM | $12,000.00 | itdogolf |
| Aug 13, 2019 - 10:57:18 AM | $11,100.00 | iJcacho |
| Aug 13, 2019 - 10:57:18 AM | $11,000.00 | itdogolf |
| Aug 13, 2019 - 10:48:47 AM | $10,100.00 | iJcacho |
| Aug 13, 2019 - 10:48:25 AM | $10,000.00 | itdogolf |
| Aug 13, 2019 - 10:48:26 AM | $10,000.00 | iJcacho |
| Aug 13, 2019 - 10:48:04 AM | $9,600.00 | itdogolf |
| Aug 13, 2019 - 10:48:04 AM | $9,500.00 | iJcacho |
| Aug 13, 2019 - 10:47:34 AM | $9,100.00 | iJcacho |
| Aug 13, 2019 - 10:47:34 AM | $9,000.00 | itdogolf |
| Aug 13, 2019 - 10:47:24 AM | $8,100.00 | iJcacho |
| Aug 13, 2019 - 10:47:24 AM | $8,000.00 | itdogolf |
| Aug 13, 2019 - 10:44:57 AM | $7,100.00 | iJcacho |
| Aug 13, 2019 - 10:44:57 AM | $7,000.00 | itdogolf |
| Aug 13, 2019 - 10:43:59 AM | $6,600.00 | iJcacho |
| Aug 13, 2019 - 10:43:59 AM | $6,500.00 | itdogolf |
| Aug 13, 2019 - 10:42:02 AM | $6,100.00 | iJcacho |
| Aug 13, 2019 - 10:42:02 AM | $6,000.00 | iCali57 |
| Aug 13, 2019 - 10:32:08 AM | $5,769.69 | iCali57 |
| Aug 13, 2019 - 10:32:08 AM | $5,669.69 | irpmetalman69 |
| Aug 13, 2019 - 10:31:45 AM | $5,050.00 | irpmetalman69 |
| Aug 13, 2019 - 10:31:45 AM | $5,000.00 | iJcacho |
| Aug 13, 2019 - 10:31:39 AM | $4,050.00 | iJcacho |
| Aug 13, 2019 - 10:31:39 AM | $4,000.00 | iCali57 |
| Aug 13, 2019 - 10:31:01 AM | $3,619.56 | iJcacho |
| Aug 13, 2019 - 10:31:01 AM | $3,569.56 | irpmetalman69 |
| Aug 13, 2019 - 10:23:02 AM | $1,010.00 | iJcacho |
| Aug 13, 2019 - 10:23:02 AM | $1,000.00 | iVineman99 |
| Aug 13, 2019 - 10:09:06 AM | $5.00 | iJcacho |