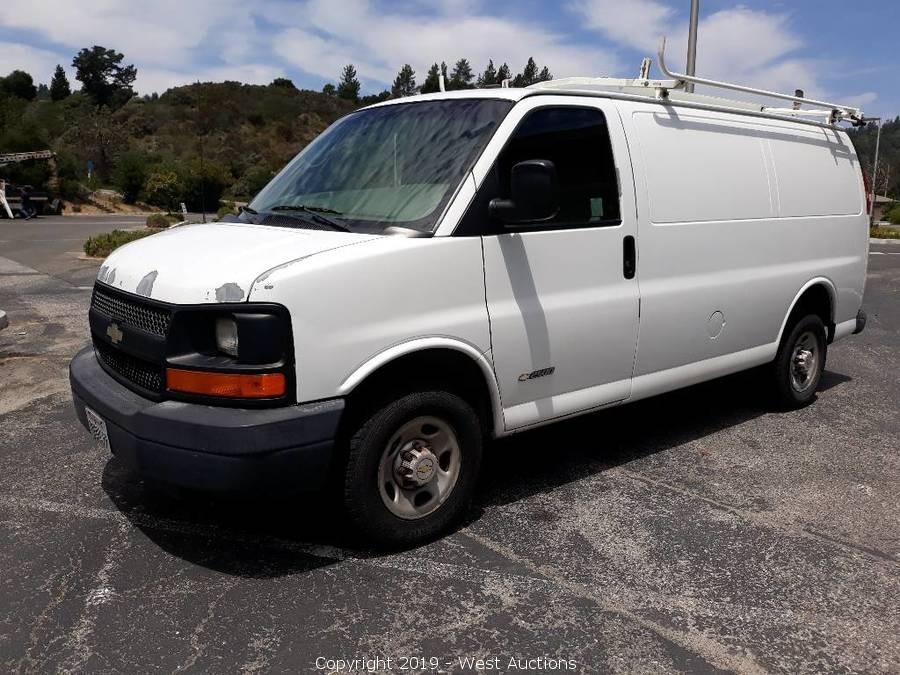 Lot #0002:
2005 Chevrolet Express 2500 Cargo Van
Bidding is

closed

.
High Bid:
$2,110.00
NA
Bidding Ended:
Thu, Aug 22 10:01:00 am PT
High Bidder:
adeziner
Bid Increment:
$50.00
Starting Bid:
$5.00
Item Location:

Scotts Valley

,

CA

95066

Item has been viewed 1,384 times.

2005 Chevrolet Express 2500 Cargo Van
VIN:1GCGG25U351139381
License: 7NBH499

Registration Expiration: 9/26/2019

Odometer Reads: 287,403

GVWR

: 8,600

LBS

Engine: 6.0 Liter V8

Automatic transmission

Cab/Cargo Barrier
Ladder rack
Overdrive
AM/FM radio
CD player
Dual airbag
Tilt wheel
Cloth interior
Tire Size: LT225/75R16
Note: Certificate of Title, Transfer Form and Smog Certificate will be mailed 3-4 weeks following the close of the auction. Buyer is fully responsible for all aspects of transfer, registration, and fees due to DMV. 
| | | |
| --- | --- | --- |
| Bid Date | Bid Amount | Bidder |
| Aug 22, 2019 - 9:49:10 AM | $2,110.00 | iadeziner |
| Aug 22, 2019 - 8:07:51 AM | $2,060.00 | iairborne |
| Aug 22, 2019 - 8:07:51 AM | $2,035.00 | iadeziner |
| Aug 22, 2019 - 8:06:41 AM | $2,001.00 | iadeziner |
| Aug 22, 2019 - 8:06:41 AM | $1,951.00 | iairborne |
| Aug 22, 2019 - 8:06:14 AM | $1,850.00 | iadeziner |
| Aug 22, 2019 - 8:06:14 AM | $1,800.00 | iairborne |
| Aug 22, 2019 - 8:05:49 AM | $1,750.00 | iadeziner |
| Aug 22, 2019 - 8:05:49 AM | $1,700.00 | iairborne |
| Aug 21, 2019 - 10:30:57 PM | $1,600.00 | iadeziner |
| Aug 21, 2019 - 10:30:57 PM | $1,550.00 | iairborne |
| Aug 21, 2019 - 7:39:21 PM | $1,475.00 | iairborne |
| Aug 21, 2019 - 7:39:21 PM | $1,425.00 | iadeziner |
| Aug 21, 2019 - 7:49:44 AM | $1,010.00 | iadeziner |
| Aug 21, 2019 - 7:49:44 AM | $1,000.00 | iairborne |
| Aug 20, 2019 - 8:08:41 PM | $910.00 | iairborne |
| Aug 20, 2019 - 8:08:41 PM | $900.00 | ideltarsupply |
| Aug 20, 2019 - 6:02:52 PM | $860.00 | ideltarsupply |
| Aug 20, 2019 - 6:02:52 PM | $850.00 | iJont241 |
| Aug 20, 2019 - 6:02:44 PM | $810.00 | iJont241 |
| Aug 20, 2019 - 6:02:44 PM | $800.00 | ideltarsupply |
| Aug 20, 2019 - 6:02:35 PM | $730.00 | iJont241 |
| Aug 20, 2019 - 6:02:35 PM | $720.00 | ideltarsupply |
| Aug 20, 2019 - 4:23:59 PM | $710.00 | iJont241 |
| Aug 20, 2019 - 4:23:59 PM | $700.00 | ideltarsupply |
| Aug 20, 2019 - 4:23:51 PM | $610.00 | iJont241 |
| Aug 20, 2019 - 4:23:51 PM | $600.00 | ideltarsupply |
| Aug 20, 2019 - 4:23:44 PM | $510.00 | iJont241 |
| Aug 20, 2019 - 4:23:44 PM | $500.00 | ideltarsupply |
| Aug 20, 2019 - 4:23:36 PM | $410.00 | iJont241 |
| Aug 20, 2019 - 4:23:36 PM | $400.00 | ideltarsupply |
| Aug 20, 2019 - 4:23:27 PM | $360.00 | iJont241 |
| Aug 20, 2019 - 4:23:27 PM | $350.00 | ideltarsupply |
| Aug 20, 2019 - 4:23:18 PM | $310.00 | iJont241 |
| Aug 20, 2019 - 4:23:18 PM | $300.00 | ideltarsupply |
| Aug 20, 2019 - 4:23:10 PM | $260.00 | iJont241 |
| Aug 20, 2019 - 4:23:10 PM | $250.00 | ideltarsupply |
| Aug 20, 2019 - 4:23:02 PM | $225.00 | iJont241 |
| Aug 20, 2019 - 4:23:02 PM | $215.00 | ideltarsupply |
| Aug 20, 2019 - 4:22:57 PM | $205.00 | iJont241 |
| Aug 20, 2019 - 4:22:57 PM | $195.00 | ideltarsupply |
| Aug 20, 2019 - 4:22:51 PM | $185.00 | iJont241 |
| Aug 20, 2019 - 4:22:51 PM | $175.00 | ideltarsupply |
| Aug 20, 2019 - 4:22:46 PM | $165.00 | iJont241 |
| Aug 20, 2019 - 4:22:46 PM | $155.00 | ideltarsupply |
| Aug 20, 2019 - 4:22:39 PM | $145.00 | iJont241 |
| Aug 20, 2019 - 4:22:39 PM | $135.00 | ideltarsupply |
| Aug 20, 2019 - 1:53:08 PM | $125.00 | iJont241 |
| Aug 20, 2019 - 1:53:08 PM | $115.00 | ideltarsupply |
| Aug 20, 2019 - 1:04:08 PM | $105.00 | iJont241 |
| Aug 20, 2019 - 1:04:08 PM | $100.00 | iairborne |
| Aug 20, 2019 - 12:27:57 PM | $15.00 | iairborne |
| Aug 20, 2019 - 11:59:16 AM | $10.00 | irandywest |
| Aug 20, 2019 - 11:59:17 AM | $10.00 | iTmsmith |
| Aug 20, 2019 - 10:17:52 AM | $5.00 | irandywest |