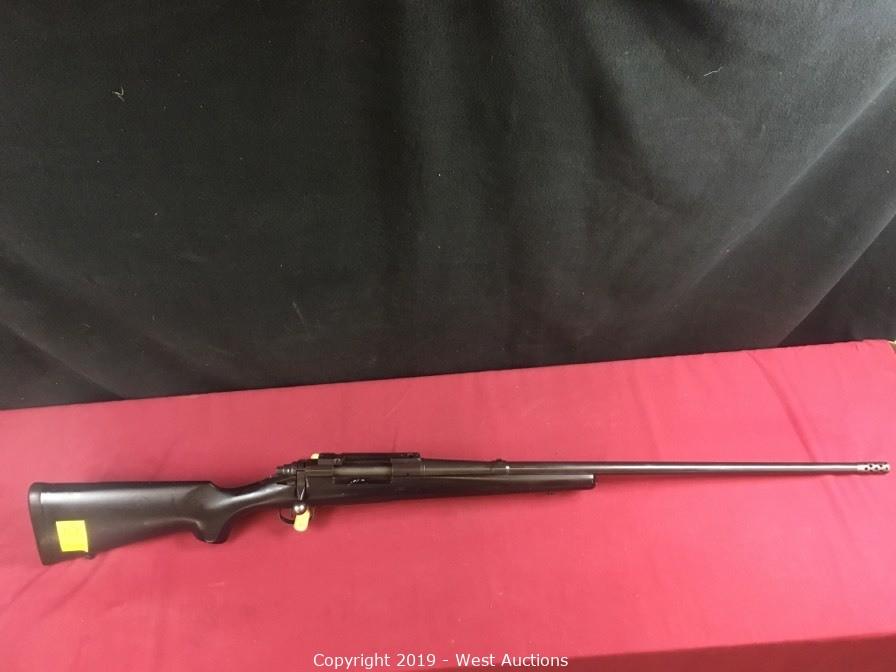 Lot #0117:
Remington 721 300H&H
Bidding is

closed

.
High Bid:
$365.00
NA
Bidding Ended:
Thu, Sep 19 10:17:00 am PT
High Bidder:
chrisganister
Bid Increment:
$10.00
Starting Bid:
$5.00
Item has been viewed 633 times.

Remington 721 300H&H
Make: Remington
Model: 721
Caliber/Gauge: 300H&H
Barrel Length: 26'' with

KDF

muzzle Break
Note: There are "no" California limits on the number of guns you can purchase in this auction. Buy as many as you like. Free ammunition background checks with the purchase of any gun excluding antique firearms.
| | | |
| --- | --- | --- |
| Bid Date | Bid Amount | Bidder |
| Sep 19, 2019 - 10:14:57 AM | $365.00 | ichrisganister |
| Sep 19, 2019 - 10:14:50 AM | $355.00 | ilowtech |
| Sep 19, 2019 - 10:14:50 AM | $351.00 | ichrisganister |
| Sep 19, 2019 - 9:52:47 AM | $314.00 | ilowtech |
| Sep 19, 2019 - 9:52:47 AM | $304.00 | iRHINO |
| Sep 19, 2019 - 9:50:10 AM | $294.00 | ilowtech |
| Sep 19, 2019 - 9:50:10 AM | $284.00 | iRHINO |
| Sep 19, 2019 - 9:49:58 AM | $274.00 | ilowtech |
| Sep 19, 2019 - 9:49:58 AM | $264.00 | iRHINO |
| Sep 18, 2019 - 8:22:11 AM | $254.00 | ilowtech |
| Sep 17, 2019 - 9:32:54 PM | $244.00 | iRHINO |
| Sep 17, 2019 - 8:21:14 PM | $234.00 | ilowtech |
| Sep 17, 2019 - 8:21:14 PM | $225.00 | iEdKell1 |
| Sep 17, 2019 - 8:20:32 PM | $210.00 | ilowtech |
| Sep 17, 2019 - 8:20:32 PM | $200.00 | iEdKell1 |
| Sep 17, 2019 - 8:20:07 PM | $180.00 | ilowtech |
| Sep 17, 2019 - 8:20:07 PM | $170.00 | iEdKell1 |
| Sep 17, 2019 - 5:19:06 PM | $160.00 | ilowtech |
| Sep 17, 2019 - 5:19:06 PM | $150.00 | iCApighunter |
| Sep 17, 2019 - 4:33:43 PM | $133.00 | iCApighunter |
| Sep 17, 2019 - 4:29:44 PM | $123.00 | ilowtech |
| Sep 17, 2019 - 4:29:44 PM | $120.00 | iFperez510 |
| Sep 17, 2019 - 2:21:34 PM | $105.00 | ilowtech |
| Sep 17, 2019 - 2:21:34 PM | $100.00 | ischwenger |
| Sep 17, 2019 - 2:21:24 PM | $65.00 | ilowtech |
| Sep 17, 2019 - 2:21:24 PM | $60.00 | ischwenger |
| Sep 17, 2019 - 2:21:18 PM | $55.00 | ilowtech |
| Sep 17, 2019 - 2:21:18 PM | $50.00 | ischwenger |
| Sep 17, 2019 - 10:47:17 AM | $30.00 | ilowtech |
| Sep 17, 2019 - 10:47:17 AM | $25.00 | iGam3r09 |
| Sep 17, 2019 - 10:10:01 AM | $5.00 | iGam3r09 |