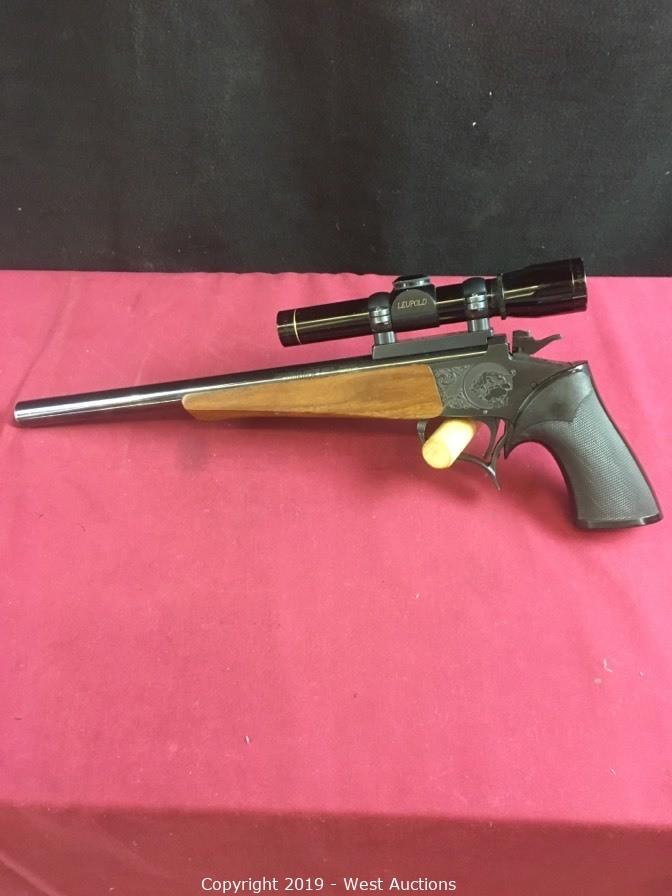 Lot #0215:
Thompson Center Super 14
Bidding is

closed

.
High Bid:
$367.00
NA
Bidding Ended:
Thu, Sep 19 11:55:00 am PT
High Bidder:
Barry Deep 12
Bid Increment:
$10.00
Starting Bid:
$5.00
Item has been viewed 531 times.

Thompson Center Super 14
Make: Thompson Center Arms
Model: Super 14
Caliber/Gauge: 30-30 win
Barrel Lentgth: 14"
Comes with Leupold Scope
CA sales ok
Note: There are "no" California limits on the number of guns you can purchase in this auction. Buy as many as you like. Free ammunition background checks with the purchase of any gun excluding antique firearms.
Note: Gun storage fees waved only for multiple handgun Buyers due to DROS delays on 2nd,3rd,4th ect. Handguns purchased.
| | | |
| --- | --- | --- |
| Bid Date | Bid Amount | Bidder |
| Sep 19, 2019 - 11:51:45 AM | $367.00 | iBarry Deep 12 |
| Sep 19, 2019 - 11:51:38 AM | $357.00 | iKBFARMS |
| Sep 19, 2019 - 11:51:38 AM | $350.00 | iBarry Deep 12 |
| Sep 19, 2019 - 11:40:31 AM | $340.00 | iKBFARMS |
| Sep 18, 2019 - 6:44:05 PM | $330.00 | iBarry Deep 12 |
| Sep 18, 2019 - 6:24:49 PM | $320.00 | iSgtfisher |
| Sep 18, 2019 - 12:43:46 PM | $310.00 | iBarry Deep 12 |
| Sep 18, 2019 - 12:43:31 PM | $300.00 | inewmanl |
| Sep 18, 2019 - 12:43:31 PM | $290.00 | iBarry Deep 12 |
| Sep 18, 2019 - 11:44:46 AM | $280.00 | inewmanl |
| Sep 18, 2019 - 11:06:10 AM | $270.00 | iwilliammcneill |
| Sep 18, 2019 - 10:14:17 AM | $260.00 | iBarry Deep 12 |
| Sep 17, 2019 - 2:47:12 PM | $250.00 | isanoian |
| Sep 17, 2019 - 2:47:12 PM | $240.00 | inewmanl |
| Sep 17, 2019 - 2:21:18 PM | $230.00 | isanoian |
| Sep 17, 2019 - 2:21:18 PM | $220.00 | irenegade45 |
| Sep 17, 2019 - 2:20:52 PM | $210.00 | irenegade45 |
| Sep 17, 2019 - 2:20:52 PM | $200.00 | isanoian |
| Sep 17, 2019 - 2:08:05 PM | $92.00 | irenegade45 |
| Sep 17, 2019 - 2:08:05 PM | $87.00 | iP Shooter |
| Sep 17, 2019 - 11:04:10 AM | $55.00 | iP Shooter |
| Sep 17, 2019 - 11:04:10 AM | $50.00 | iSgtfisher |
| Sep 17, 2019 - 11:03:38 AM | $45.00 | iP Shooter |
| Sep 17, 2019 - 11:03:38 AM | $40.00 | iSgtfisher |
| Sep 17, 2019 - 11:03:33 AM | $35.00 | iP Shooter |
| Sep 17, 2019 - 11:03:33 AM | $30.00 | iSgtfisher |
| Sep 17, 2019 - 11:03:21 AM | $25.00 | iP Shooter |
| Sep 17, 2019 - 11:03:21 AM | $20.00 | iSgtfisher |
| Sep 17, 2019 - 11:03:12 AM | $15.00 | iP Shooter |
| Sep 17, 2019 - 11:03:12 AM | $10.00 | iSgtfisher |
| Sep 17, 2019 - 10:59:34 AM | $5.00 | iP Shooter |