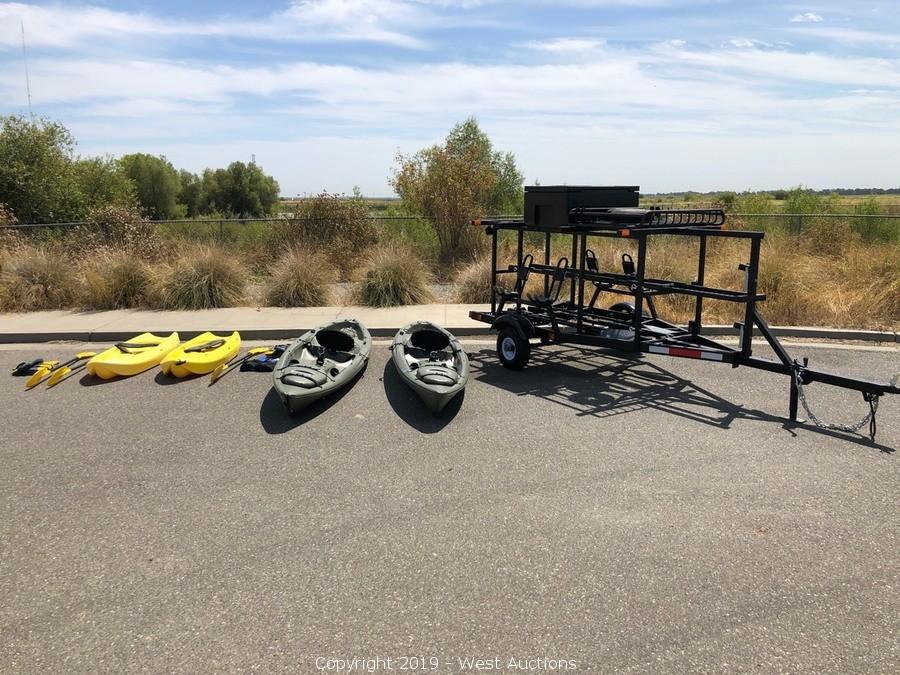 Kayak Trailer with (4) Kayaks
Bidding is

closed

.
High Bid:
$2,600.00
NA
Bidding Ended:
Thu, Sep 12 10:01:54 am PT
High Bidder:
Rcswift1
Bid Increment:
$50.00
Starting Bid:
$5.00
Item Location:

Woodland

,

CA

95695

Item has been viewed 5,073 times.

ASK ABOUT THIS ITEM

Kayak Trailer with (4) Kayaks
Trailer:
DeeZee storage box

LED

lights
Submersible taillights

IMMI

boat buckle ratchet straps
Oar clips
Yakima roof storage rack
1 7/8" hitch size
EZ Grease axle hubs
Kayaks:
(2) Pelican Castaway 116 fishing kayaks

Manufactured using innovative

TST

technology
Equipped with a high-quality adjustable backrest
Adjustable foot pads
Built-in drink holder
Two flush-mounted rod holders and one swivel rod holder
11'6"l. x 14"d. 30" beam weight 60 lbs. maximum capacity of 350 lbs.
Paddle and tie-down included
Handy storage tub with shock cords
Self-bailing design
(2) Carlisle paddle gear oars

(2) Lifetime Wave Kids Kayaks

Designed for youths up to 130 pounds
(3) Lifetime eco sport elite oars
(2) Sterns youth life vest
(1) Ho Sports youth life vest
Trailer Details
Year: 2016
Make: Custom
VIN: EK03983
License: 4MJ1830

Expiration Date: PTI Trailer

Gross Vehicle Weight Rating (GVWR): 750lbs
Dimensions
Overall Length: 14'6" (174")
Overall Width: 74"
Deck Length: 123"
Deck Width: 55"
Side Height: 75"
Width Between Fenders: 56"
Axles, Brakes, and Tires
Empty Weight: 400
Suspension: Leaf Spring
Number of Axles: 1
Number of Wheels: 2
Tire Size: 5.70-8
Electric Plug Type: 7-Way RV Blade
Note: Item is subject to seller confirmation.  Seller will accept or reject high bid upon close of the auction. Certificate of Title, Transfer form will be mailed 2-3 weeks following the close of the auction. Buyer is fully responsible for all aspects of registration, transfer, and fees due to DMV. 
| | | |
| --- | --- | --- |
| Bid Date | Bid Amount | Bidder |
| Sep 12, 2019 - 9:59:54 AM | $2,600.00 | iRcswift1 |
| Sep 12, 2019 - 9:14:28 AM | $2,550.00 | iwchaynes |
| Sep 12, 2019 - 9:14:28 AM | $2,500.00 | ifelixlighting |
| Sep 12, 2019 - 9:13:14 AM | $2,050.00 | iwchaynes |
| Sep 12, 2019 - 9:13:14 AM | $2,000.00 | ifelixlighting |
| Sep 12, 2019 - 6:10:22 AM | $1,900.00 | iwchaynes |
| Sep 11, 2019 - 8:58:09 PM | $1,850.00 | iSmoody57 |
| Sep 11, 2019 - 8:58:10 PM | $1,850.00 | iRcswift1 |
| Sep 11, 2019 - 3:37:55 PM | $1,800.00 | iSmoody57 |
| Sep 11, 2019 - 3:37:55 PM | $1,750.00 | ihardway23 |
| Sep 11, 2019 - 12:14:15 PM | $1,700.00 | ihardway23 |
| Sep 11, 2019 - 12:14:15 PM | $1,650.00 | iSmoody57 |
| Sep 11, 2019 - 6:39:36 AM | $1,600.00 | ihardway23 |
| Sep 10, 2019 - 4:18:57 PM | $1,550.00 | iderykh |
| Sep 10, 2019 - 4:18:43 PM | $1,500.00 | i57608789 |
| Sep 10, 2019 - 4:18:44 PM | $1,500.00 | iderykh |
| Sep 10, 2019 - 3:34:49 PM | $1,450.00 | i57608789 |
| Sep 10, 2019 - 3:33:27 PM | $1,400.00 | iderykh |
| Sep 10, 2019 - 3:33:27 PM | $1,350.00 | i57608789 |
| Sep 10, 2019 - 3:32:59 PM | $1,300.00 | iderykh |
| Sep 10, 2019 - 3:32:59 PM | $1,250.00 | i57608789 |
| Sep 10, 2019 - 10:30:34 AM | $1,150.00 | iderykh |
| Sep 10, 2019 - 10:20:31 AM | $1,100.00 | igarylum |
| Sep 10, 2019 - 10:20:31 AM | $1,060.00 | itorymashriqi |
| Sep 10, 2019 - 10:20:02 AM | $1,010.00 | igarylum |
| Sep 10, 2019 - 10:20:02 AM | $1,000.00 | itorymashriqi |
| Sep 10, 2019 - 10:19:51 AM | $910.00 | igarylum |
| Sep 10, 2019 - 10:19:51 AM | $900.00 | itorymashriqi |
| Sep 10, 2019 - 10:18:52 AM | $710.00 | igarylum |
| Sep 10, 2019 - 10:18:52 AM | $700.00 | itorymashriqi |
| Sep 10, 2019 - 10:17:37 AM | $610.00 | itorymashriqi |
| Sep 10, 2019 - 10:17:24 AM | $600.00 | igarylum |
| Sep 10, 2019 - 10:17:25 AM | $600.00 | itorymashriqi |
| Sep 10, 2019 - 10:17:08 AM | $510.00 | igarylum |
| Sep 10, 2019 - 10:17:08 AM | $500.00 | itorymashriqi |
| Sep 10, 2019 - 10:11:34 AM | $410.00 | igarylum |
| Sep 10, 2019 - 10:11:34 AM | $400.00 | itorymashriqi |
| Sep 10, 2019 - 10:10:46 AM | $310.00 | itorymashriqi |
| Sep 10, 2019 - 10:10:26 AM | $300.00 | igarylum |
| Sep 10, 2019 - 10:10:27 AM | $300.00 | itorymashriqi |
| Sep 10, 2019 - 10:09:46 AM | $210.00 | igarylum |
| Sep 10, 2019 - 10:09:46 AM | $200.00 | itorymashriqi |
| Sep 10, 2019 - 10:06:58 AM | $105.00 | itorymashriqi |
| Sep 10, 2019 - 10:06:47 AM | $100.00 | iBLEVH313131 |
| Sep 10, 2019 - 10:06:48 AM | $100.00 | itorymashriqi |
| Sep 10, 2019 - 10:06:22 AM | $35.00 | iBLEVH313131 |
| Sep 10, 2019 - 10:06:22 AM | $30.00 | itorymashriqi |
| Sep 10, 2019 - 10:04:31 AM | $15.00 | iBLEVH313131 |
| Sep 10, 2019 - 10:04:31 AM | $10.00 | igrapebunch |
| Sep 10, 2019 - 10:01:06 AM | $5.00 | igrapebunch |