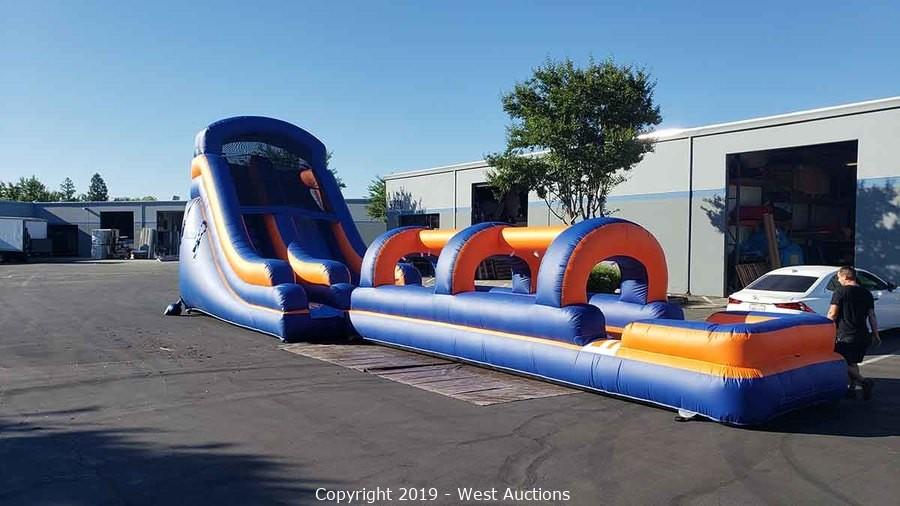 Lot #0100:
Inflatable Super Splash Combo
Bidding is

closed

.
High Bid:
$1,460.00
NA
Bidding Ended:
Thu, Oct 10 10:00:00 am PT
High Bidder:
IM5150
Bid Increment:
$50.00
Starting Bid:
$5.00
Item Location:

Sacramento

,

CA

95842

Item has been viewed 1,323 times.

Inflatable Super Splash Combo
Has 2 separate inflatables that hook together to make one unit.
Use the slide by itself as a dry slide or use the slip n dip by itself.
Seller States: New, never been used. Perfect item for any rental business. This slide is great for kids up through adults.
Note: Item is subject to seller confirmation.  Seller will accept or reject high bid upon close of the auction. 
| | | |
| --- | --- | --- |
| Bid Date | Bid Amount | Bidder |
| Oct 10, 2019 - 9:45:28 AM | $1,460.00 | iIM5150 |
| Oct 10, 2019 - 9:45:28 AM | $1,410.00 | ipooltable |
| Oct 10, 2019 - 9:45:22 AM | $1,360.00 | iIM5150 |
| Oct 10, 2019 - 9:45:22 AM | $1,310.00 | ipooltable |
| Oct 10, 2019 - 9:32:49 AM | $1,260.00 | iIM5150 |
| Oct 10, 2019 - 9:27:52 AM | $1,210.00 | iadvancedjmt |
| Oct 10, 2019 - 9:26:33 AM | $1,160.00 | iIM5150 |
| Oct 10, 2019 - 9:24:06 AM | $1,110.00 | iJoegarcia3 |
| Oct 10, 2019 - 9:17:43 AM | $1,060.00 | iadvancedjmt |
| Oct 10, 2019 - 9:07:27 AM | $1,010.00 | icowboyfan |
| Oct 10, 2019 - 9:06:15 AM | $1,000.00 | iacmebeer |
| Oct 10, 2019 - 8:48:55 AM | $990.00 | ipooltable |
| Oct 10, 2019 - 8:27:18 AM | $980.00 | iadvancedjmt |
| Oct 10, 2019 - 8:06:06 AM | $970.00 | icowboyfan |
| Oct 9, 2019 - 10:20:02 PM | $960.00 | iadvancedjmt |
| Oct 9, 2019 - 10:19:59 PM | $950.00 | iFtorres |
| Oct 9, 2019 - 10:20:00 PM | $950.00 | iadvancedjmt |
| Oct 9, 2019 - 10:19:56 PM | $940.00 | iFtorres |
| Oct 9, 2019 - 10:19:56 PM | $930.00 | iadvancedjmt |
| Oct 9, 2019 - 10:19:52 PM | $920.00 | iFtorres |
| Oct 9, 2019 - 10:19:52 PM | $910.00 | iadvancedjmt |
| Oct 9, 2019 - 10:19:48 PM | $900.00 | iFtorres |
| Oct 9, 2019 - 10:19:48 PM | $890.00 | iadvancedjmt |
| Oct 9, 2019 - 10:16:19 PM | $880.00 | iFtorres |
| Oct 9, 2019 - 10:16:19 PM | $870.00 | iadvancedjmt |
| Oct 9, 2019 - 9:55:04 PM | $860.00 | iFtorres |
| Oct 9, 2019 - 9:55:04 PM | $850.00 | iJimmyBilly |
| Oct 9, 2019 - 9:54:50 PM | $840.00 | iFtorres |
| Oct 9, 2019 - 9:54:50 PM | $830.00 | iJimmyBilly |
| Oct 9, 2019 - 6:42:37 PM | $820.00 | iFtorres |
| Oct 9, 2019 - 6:42:37 PM | $810.00 | iAirspeedguy |
| Oct 8, 2019 - 3:30:01 PM | $800.00 | iFtorres |
| Oct 8, 2019 - 3:30:01 PM | $790.00 | iAsgibson319 |
| Oct 8, 2019 - 3:29:57 PM | $780.00 | iFtorres |
| Oct 8, 2019 - 3:29:57 PM | $770.00 | iAsgibson319 |
| Oct 8, 2019 - 3:21:12 PM | $760.00 | iFtorres |
| Oct 8, 2019 - 3:20:25 PM | $750.00 | issibley |
| Oct 8, 2019 - 3:20:26 PM | $750.00 | iFtorres |
| Oct 8, 2019 - 11:53:17 AM | $610.00 | issibley |
| Oct 8, 2019 - 11:53:17 AM | $600.00 | iAsgibson319 |
| Oct 8, 2019 - 11:52:45 AM | $550.00 | issibley |
| Oct 8, 2019 - 11:52:45 AM | $540.00 | iAsgibson319 |
| Oct 8, 2019 - 11:52:18 AM | $530.00 | issibley |
| Oct 8, 2019 - 11:52:06 AM | $520.00 | iAsgibson319 |
| Oct 8, 2019 - 11:52:07 AM | $520.00 | issibley |
| Oct 8, 2019 - 10:36:00 AM | $510.00 | iAsgibson319 |
| Oct 8, 2019 - 10:36:00 AM | $500.00 | iFtorres |
| Oct 8, 2019 - 10:35:00 AM | $440.00 | iFtorres |
| Oct 8, 2019 - 10:35:00 AM | $430.00 | iAsgibson319 |
| Oct 8, 2019 - 10:34:44 AM | $410.00 | iFtorres |
| Oct 8, 2019 - 10:34:44 AM | $400.00 | iAsgibson319 |
| Oct 8, 2019 - 10:33:39 AM | $345.00 | iFtorres |
| Oct 8, 2019 - 10:33:39 AM | $335.00 | iAsgibson319 |
| Oct 8, 2019 - 10:31:15 AM | $310.00 | iAsgibson319 |
| Oct 8, 2019 - 10:29:01 AM | $300.00 | iFtorres |
| Oct 8, 2019 - 10:29:02 AM | $300.00 | iAsgibson319 |
| Oct 8, 2019 - 10:28:00 AM | $220.00 | iFtorres |
| Oct 8, 2019 - 10:24:14 AM | $210.00 | iacmebeer |
| Oct 8, 2019 - 10:24:14 AM | $200.00 | iFtorres |
| Oct 8, 2019 - 10:22:55 AM | $160.00 | iFtorres |
| Oct 8, 2019 - 10:22:55 AM | $150.00 | iAsgibson319 |
| Oct 8, 2019 - 10:22:29 AM | $130.00 | iFtorres |
| Oct 8, 2019 - 10:22:29 AM | $120.00 | iAsgibson319 |
| Oct 8, 2019 - 10:21:44 AM | $105.00 | iFtorres |
| Oct 8, 2019 - 10:21:44 AM | $100.00 | iAsgibson319 |
| Oct 8, 2019 - 10:15:47 AM | $55.00 | iAsgibson319 |
| Oct 8, 2019 - 10:15:47 AM | $50.00 | imattdpratt |
| Oct 8, 2019 - 10:01:10 AM | $25.00 | iAsgibson319 |
| Oct 8, 2019 - 10:01:10 AM | $20.00 | imattdpratt |
| Oct 8, 2019 - 10:00:56 AM | $5.00 | iAsgibson319 |