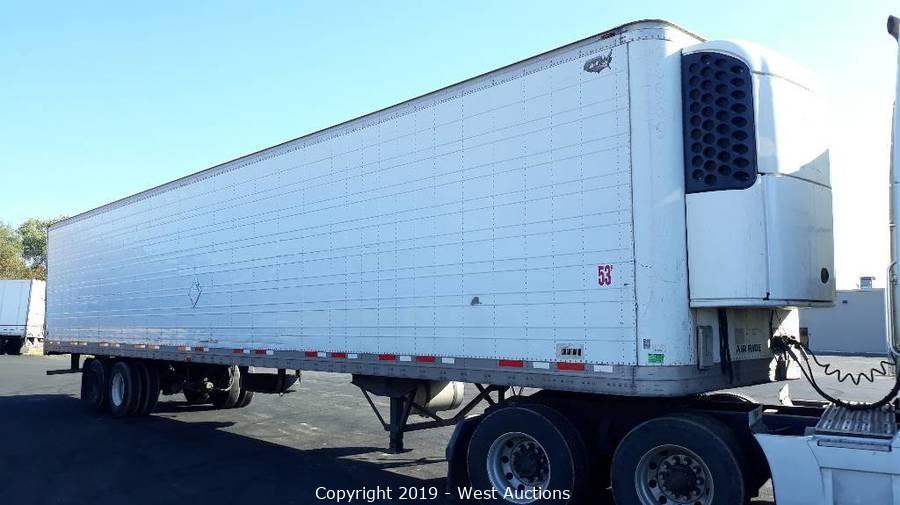 Lot #0102:
2007 Wabash 53' x 102" Reefer Trailer
Bidding is

closed

.
High Bid:
$6,100.00
NA
Bidding Ended:
Thu, Oct 31 10:05:58 am PT
High Bidder:
trailerx
Bid Increment:
$100.00
Starting Bid:
$5.00
Item Location:

Woodland

,

CA

95776

Item has been viewed 1,063 times.

2007 Wabash 53' x 102" Reefer Trailer 
VIN

: 1JJV532W07L046972
CA License: 4NE5902

Expiration Date: 5/31/2024

Trailer Engine Hours: 29,352
Length: 53'
Width: 8'
Height: 9'
Insulated
Aluminum deck
2-Axle
(8) Tires

GVWR

: 68,000

LBS

Tire size: 275/80R22.5 (G)
Ingersoll-Rand TK486V Engine 2.091 L, In-line 4
Air brakes
Airbag suspension
50 Gallon Diesel fuel tank
Spare tire
Thermo King SD-210 Refrigeration unit
Note: This trailer currently has an Electronic Title. Buyer information will be provided to the bank for electronic title transfer. Buyer is fully responsible for all aspects of transfer, registration and fees due to DMV if necessary. 
| | | |
| --- | --- | --- |
| Bid Date | Bid Amount | Bidder |
| Oct 31, 2019 - 10:03:58 AM | $6,100.00 | itrailerx |
| Oct 31, 2019 - 10:03:50 AM | $6,000.00 | ibearmtngirl67 |
| Oct 31, 2019 - 10:03:50 AM | $5,900.00 | iRUSSDE1 |
| Oct 31, 2019 - 10:03:26 AM | $5,800.00 | ibearmtngirl67 |
| Oct 31, 2019 - 10:03:26 AM | $5,700.00 | iRUSSDE1 |
| Oct 31, 2019 - 10:02:42 AM | $5,600.00 | ibearmtngirl67 |
| Oct 31, 2019 - 10:02:42 AM | $5,500.00 | itrailerx |
| Oct 31, 2019 - 10:02:17 AM | $5,200.00 | ibearmtngirl67 |
| Oct 31, 2019 - 10:02:17 AM | $5,100.00 | iRUSSDE1 |
| Oct 31, 2019 - 10:01:53 AM | $4,750.00 | ibearmtngirl67 |
| Oct 31, 2019 - 10:01:53 AM | $4,700.00 | iRUSSDE1 |
| Oct 31, 2019 - 10:01:21 AM | $4,650.00 | ibearmtngirl67 |
| Oct 31, 2019 - 10:01:21 AM | $4,600.00 | iRUSSDE1 |
| Oct 31, 2019 - 9:57:34 AM | $3,850.00 | iRUSSDE1 |
| Oct 31, 2019 - 9:57:34 AM | $3,800.00 | itrailerx |
| Oct 31, 2019 - 9:46:19 AM | $3,600.00 | iRUSSDE1 |
| Oct 31, 2019 - 9:46:19 AM | $3,555.00 | itrailerx |
| Oct 31, 2019 - 9:46:09 AM | $3,350.00 | itrailerx |
| Oct 31, 2019 - 9:46:09 AM | $3,300.00 | iRUSSDE1 |
| Oct 31, 2019 - 9:45:59 AM | $3,250.00 | itrailerx |
| Oct 31, 2019 - 9:45:59 AM | $3,200.00 | iRUSSDE1 |
| Oct 31, 2019 - 9:45:51 AM | $3,150.00 | itrailerx |
| Oct 31, 2019 - 9:45:51 AM | $3,100.00 | iRUSSDE1 |
| Oct 31, 2019 - 9:45:40 AM | $3,050.00 | itrailerx |
| Oct 31, 2019 - 9:45:40 AM | $3,000.00 | iRUSSDE1 |
| Oct 31, 2019 - 9:45:29 AM | $2,950.00 | itrailerx |
| Oct 31, 2019 - 9:45:29 AM | $2,900.00 | iRUSSDE1 |
| Oct 31, 2019 - 9:45:19 AM | $2,850.00 | itrailerx |
| Oct 31, 2019 - 9:45:19 AM | $2,800.00 | iRUSSDE1 |
| Oct 31, 2019 - 9:45:03 AM | $2,750.00 | itrailerx |
| Oct 31, 2019 - 9:45:03 AM | $2,700.00 | iRUSSDE1 |
| Oct 31, 2019 - 8:57:01 AM | $2,650.00 | itrailerx |
| Oct 31, 2019 - 8:57:01 AM | $2,600.00 | ibearmtngirl67 |
| Oct 30, 2019 - 10:55:46 PM | $2,550.00 | itrailerx |
| Oct 30, 2019 - 10:55:46 PM | $2,500.00 | iKochergen Pistachios |
| Oct 30, 2019 - 10:55:28 PM | $2,055.00 | iKochergen Pistachios |
| Oct 30, 2019 - 10:55:28 PM | $2,005.00 | itrailerx |
| Oct 30, 2019 - 4:37:18 PM | $1,938.00 | iKochergen Pistachios |
| Oct 30, 2019 - 4:37:18 PM | $1,888.00 | ibigtrux |
| Oct 30, 2019 - 1:10:08 PM | $1,550.00 | ibigtrux |
| Oct 30, 2019 - 1:10:08 PM | $1,500.00 | imacman |
| Oct 30, 2019 - 10:18:08 AM | $1,161.00 | imacman |
| Oct 30, 2019 - 10:18:08 AM | $1,111.00 | ibigtrux |
| Oct 29, 2019 - 6:06:21 PM | $1,010.00 | ibigtrux |
| Oct 29, 2019 - 6:06:21 PM | $1,000.00 | iHerdel |
| Oct 29, 2019 - 6:06:05 PM | $787.00 | iHerdel |
| Oct 29, 2019 - 6:06:05 PM | $777.00 | ibigtrux |
| Oct 29, 2019 - 6:05:52 PM | $530.00 | iHerdel |
| Oct 29, 2019 - 6:05:52 PM | $520.00 | ibigtrux |
| Oct 29, 2019 - 3:08:31 PM | $510.00 | iHerdel |
| Oct 29, 2019 - 3:08:31 PM | $500.00 | iRUSSDE1 |
| Oct 29, 2019 - 3:05:27 PM | $105.00 | iHerdel |
| Oct 29, 2019 - 3:05:27 PM | $100.00 | iRUSSDE1 |
| Oct 29, 2019 - 3:05:00 PM | $25.00 | iHerdel |
| Oct 29, 2019 - 3:05:00 PM | $20.00 | iRUSSDE1 |
| Oct 29, 2019 - 10:33:56 AM | $5.00 | iHerdel |