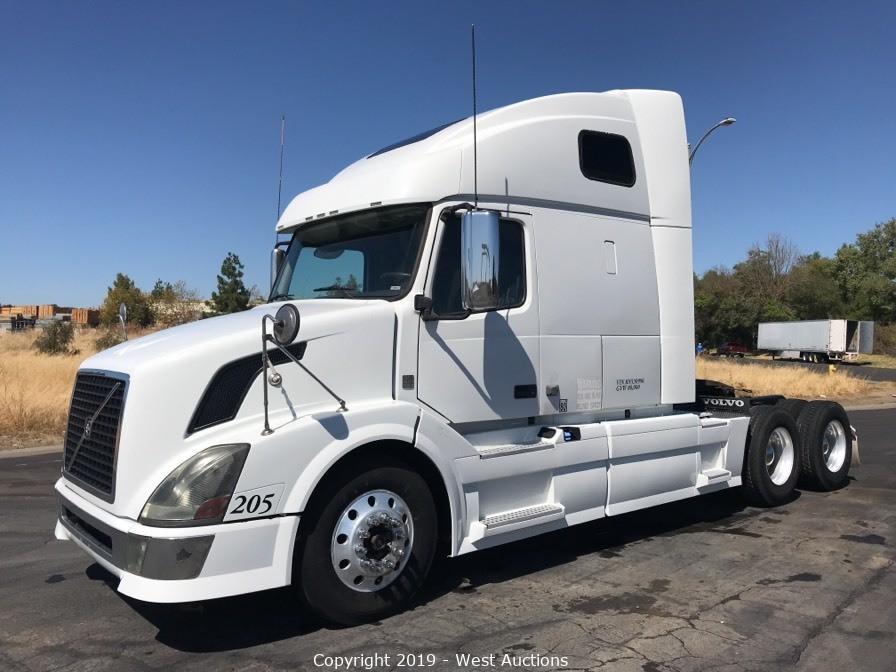 Lot #0100:
2011 Volvo D13 Sleeper Truck Tractor
Bidding is

closed

.
High Bid:
$9,500.00
NA
Bidding Ended:
Thu, Oct 31 10:04:39 am PT
High Bidder:
kasparknight
Bid Increment:
$100.00
Starting Bid:
$5.00
Item Location:

Woodland

,

CA

95776

Item has been viewed 1,475 times.

2011 Volvo D13 Sleeper Truck Tractor 
Manufacturer: Volvo
Model: D13
VIN: 4V4NC9EJ9BN530996
CA License: XP31681 (License plate not included)

Expiration Date: 10/31/2019

GVWR: 50,350
Odometer Reads: 760,199
Axles: 3
Transmission: Eaton Fuller 10-Speed Manual
Diesel Emission Control Type: Diesel Particulate Filter
Number of Tires: 10
Tire Size: 295/75R22.5G BR
Brake Type: Air Brakes
Suspension Type: Airbag
Engine: 12.8 L, D13H475
Fuel Type: Diesel
Features:
Air Ride Seats
Air Conditioning
5th Wheel Lock
Sleeper Cab with radio, refrigerator, and 120-volt outlet

AUX

/USB Ports, CD player, AM/FM Radio
Overhead storage bins
Powered windows
Powered steering
Dual 125 Gallon Fuel tanks
Aluminum rims
Cruise control
Note: Certificate of Title, Certificate of Repossession, Transfer Form will be mailed 4-6 weeks following the close of the auction. Buyer is fully responsible for all aspects of transfer, registration and fees due to DMV. 
| | | |
| --- | --- | --- |
| Bid Date | Bid Amount | Bidder |
| Oct 31, 2019 - 10:02:39 AM | $9,500.00 | ikasparknight |
| Oct 31, 2019 - 10:02:40 AM | $9,500.00 | ijohn3712 |
| Oct 31, 2019 - 10:00:42 AM | $9,400.00 | ikasparknight |
| Oct 31, 2019 - 9:59:59 AM | $9,300.00 | ijohn3712 |
| Oct 31, 2019 - 9:59:36 AM | $9,200.00 | ikasparknight |
| Oct 31, 2019 - 9:59:37 AM | $9,200.00 | ijohn3712 |
| Oct 31, 2019 - 9:53:31 AM | $9,100.00 | ikasparknight |
| Oct 31, 2019 - 9:53:01 AM | $9,000.00 | iIMHOFF |
| Oct 31, 2019 - 9:53:02 AM | $9,000.00 | ikasparknight |
| Oct 31, 2019 - 9:52:29 AM | $8,877.00 | iIMHOFF |
| Oct 31, 2019 - 9:52:29 AM | $8,777.00 | ikasparknight |
| Oct 31, 2019 - 9:52:04 AM | $8,677.00 | iIMHOFF |
| Oct 31, 2019 - 9:52:04 AM | $8,577.00 | ikasparknight |
| Oct 31, 2019 - 9:51:46 AM | $8,477.00 | iIMHOFF |
| Oct 31, 2019 - 9:51:46 AM | $8,377.00 | ikasparknight |
| Oct 31, 2019 - 9:51:22 AM | $8,277.00 | iIMHOFF |
| Oct 31, 2019 - 9:51:22 AM | $8,177.00 | ikasparknight |
| Oct 31, 2019 - 9:51:04 AM | $8,077.00 | iIMHOFF |
| Oct 31, 2019 - 9:51:04 AM | $7,977.00 | ikasparknight |
| Oct 30, 2019 - 1:33:27 PM | $7,877.00 | iIMHOFF |
| Oct 30, 2019 - 1:33:27 PM | $7,777.00 | ibigtrux |
| Oct 30, 2019 - 1:32:52 PM | $7,100.00 | ibigtrux |
| Oct 30, 2019 - 1:32:52 PM | $7,000.00 | iIMHOFF |
| Oct 30, 2019 - 1:32:33 PM | $6,600.00 | ibigtrux |
| Oct 30, 2019 - 1:32:33 PM | $6,500.00 | imacman |
| Oct 30, 2019 - 1:32:00 PM | $6,100.00 | ibigtrux |
| Oct 30, 2019 - 1:32:00 PM | $6,000.00 | imacman |
| Oct 30, 2019 - 1:09:32 PM | $5,050.00 | ibigtrux |
| Oct 30, 2019 - 1:09:32 PM | $5,000.00 | imacman |
| Oct 30, 2019 - 1:09:24 PM | $4,938.00 | imacman |
| Oct 30, 2019 - 1:09:24 PM | $4,888.00 | ibigtrux |
| Oct 30, 2019 - 1:09:15 PM | $4,383.00 | imacman |
| Oct 30, 2019 - 1:09:15 PM | $4,333.00 | ibigtrux |
| Oct 30, 2019 - 12:03:37 PM | $4,050.00 | imacman |
| Oct 30, 2019 - 12:03:37 PM | $4,000.00 | iIMHOFF |
| Oct 30, 2019 - 11:46:38 AM | $2,550.00 | iIMHOFF |
| Oct 30, 2019 - 11:46:08 AM | $2,500.00 | imacman |
| Oct 30, 2019 - 11:46:09 AM | $2,500.00 | iIMHOFF |
| Oct 30, 2019 - 11:45:07 AM | $1,916.00 | imacman |
| Oct 30, 2019 - 11:45:07 AM | $1,866.00 | iIMHOFF |
| Oct 30, 2019 - 11:44:19 AM | $1,816.00 | imacman |
| Oct 30, 2019 - 11:44:19 AM | $1,766.00 | iIMHOFF |
| Oct 30, 2019 - 10:17:15 AM | $1,716.00 | imacman |
| Oct 30, 2019 - 10:17:15 AM | $1,666.00 | ibigtrux |
| Oct 30, 2019 - 9:05:34 AM | $1,550.00 | ibigtrux |
| Oct 30, 2019 - 9:05:34 AM | $1,500.00 | inelson |
| Oct 29, 2019 - 8:56:02 PM | $1,161.00 | inelson |
| Oct 29, 2019 - 8:56:02 PM | $1,111.00 | ibigtrux |
| Oct 29, 2019 - 6:31:51 PM | $1,010.00 | ibigtrux |
| Oct 29, 2019 - 6:31:51 PM | $1,000.00 | isfabrication |
| Oct 29, 2019 - 6:31:35 PM | $105.00 | ibigtrux |
| Oct 29, 2019 - 6:31:35 PM | $100.00 | isfabrication |
| Oct 29, 2019 - 6:31:30 PM | $95.00 | ibigtrux |
| Oct 29, 2019 - 6:31:30 PM | $90.00 | isfabrication |
| Oct 29, 2019 - 6:31:26 PM | $85.00 | ibigtrux |
| Oct 29, 2019 - 6:31:26 PM | $80.00 | isfabrication |
| Oct 29, 2019 - 6:31:21 PM | $75.00 | ibigtrux |
| Oct 29, 2019 - 6:31:21 PM | $70.00 | isfabrication |
| Oct 29, 2019 - 6:31:07 PM | $65.00 | ibigtrux |
| Oct 29, 2019 - 6:31:07 PM | $60.00 | isfabrication |
| Oct 29, 2019 - 6:31:03 PM | $55.00 | ibigtrux |
| Oct 29, 2019 - 6:31:03 PM | $50.00 | isfabrication |
| Oct 29, 2019 - 6:30:58 PM | $45.00 | ibigtrux |
| Oct 29, 2019 - 6:30:58 PM | $40.00 | isfabrication |
| Oct 29, 2019 - 6:30:46 PM | $35.00 | ibigtrux |
| Oct 29, 2019 - 6:30:46 PM | $30.00 | isfabrication |
| Oct 29, 2019 - 6:30:41 PM | $25.00 | ibigtrux |
| Oct 29, 2019 - 6:30:41 PM | $20.00 | isfabrication |
| Oct 29, 2019 - 6:06:53 PM | $15.00 | ibigtrux |
| Oct 29, 2019 - 10:27:32 AM | $10.00 | iJtamminen |
| Oct 29, 2019 - 10:03:49 AM | $5.00 | isfabrication |