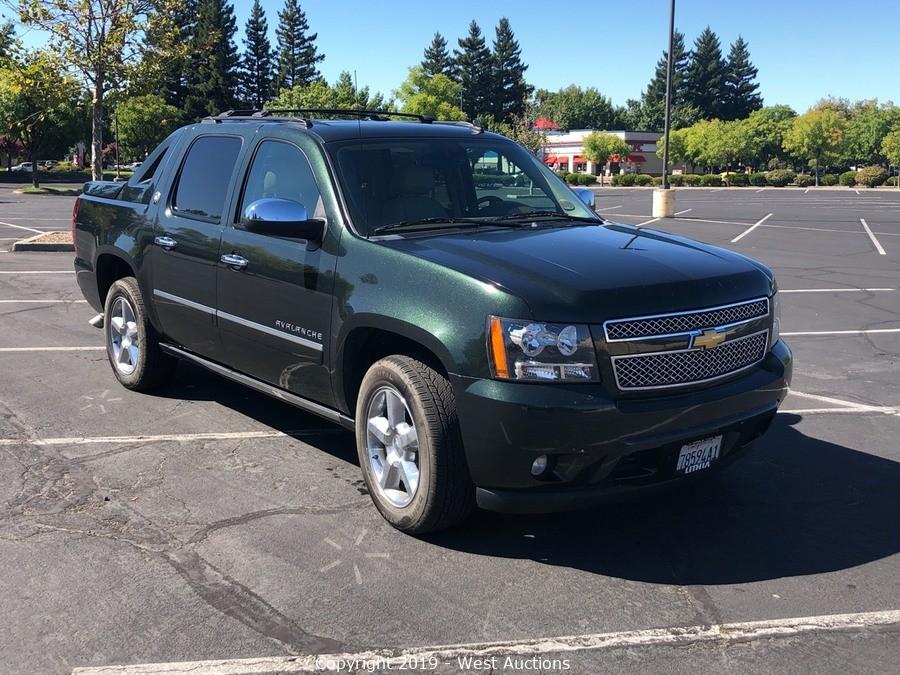 2013 Chevrolet Avalanche LTZ 4WD Black Diamond Edition
Bidding is

closed

.
High Bid:
$22,600.00
NA
Bidding Ended:
Thu, Nov 21 10:01:43 am PT
High Bidder:
bidnbuy
Bid Increment:
$100.00
Starting Bid:
$5.00
Item has been viewed 5,600 times.

ASK ABOUT THIS ITEM

2013 Chevrolet Avalanche LTZ 4WD Black Diamond Edition
Specifications
Year: 2013
Make: Chevrolet
Model: LTZ Black Diamond Edition
VIN: 3GNTKGE72DG268580
License: 78594A1

Registration Expiration: 8/31/2019

Odometer Reads: 58,469
Key: Included 
GVWR: 7,200 lbs.
Drive Type: 4WD
Engine: 5.3L
Body Style: Truck
Fuel Type: Gasoline
Transmission: Select One
Tire Size: P275/35R20
Exterior
Exterior Color: Green
Doors: Four-Door
Interior
Interior Material: Leather
Interior Color: Beige
Backup Camera
CD Player
Cruise Control
Heated Seats
Keyless Entry
Leather Seats
Multi-Zone Climate Control
Navigation
Aux. Sound Port
Power Windows, Power Mirrors
Premium Audio
Premium Wheels
Security System
Steering Wheel Controls
Trailer Hitch
Touch Screen
Bed Liner
Automatic retracted running boards
Sirius XM radio
Bose speakers
Built-in trailer brake controller
6 Cup holders
Locking bed cover
Preset garage door opener's
Note: Certificate of Title, Transfer Form and Certified Court Order will be mailed 4-6 weeks following the close of the auction. Buyer is fully responsible for all aspects of smog, registration, transfer, and fees due to DMV. 
| | | |
| --- | --- | --- |
| Bid Date | Bid Amount | Bidder |
| Nov 21, 2019 - 9:59:43 AM | $22,600.00 | ibidnbuy |
| Nov 21, 2019 - 9:59:43 AM | $22,500.00 | ibuycars |
| Nov 21, 2019 - 9:59:32 AM | $22,400.00 | ibidnbuy |
| Nov 21, 2019 - 9:59:32 AM | $22,300.00 | ibuycars |
| Nov 21, 2019 - 9:59:24 AM | $22,200.00 | ibidnbuy |
| Nov 21, 2019 - 9:59:13 AM | $22,100.00 | ibuycars |
| Nov 21, 2019 - 9:59:01 AM | $22,000.00 | ibidnbuy |
| Nov 21, 2019 - 9:59:01 AM | $21,900.00 | ibuycars |
| Nov 21, 2019 - 9:58:52 AM | $21,800.00 | ibidnbuy |
| Nov 21, 2019 - 9:58:52 AM | $21,700.00 | ibuycars |
| Nov 21, 2019 - 9:58:45 AM | $21,600.00 | ibidnbuy |
| Nov 21, 2019 - 9:58:45 AM | $21,500.00 | ibuycars |
| Nov 21, 2019 - 9:58:41 AM | $21,400.00 | ibidnbuy |
| Nov 21, 2019 - 9:58:41 AM | $21,300.00 | ibuycars |
| Nov 21, 2019 - 9:58:31 AM | $21,200.00 | ibidnbuy |
| Nov 21, 2019 - 9:58:20 AM | $21,100.00 | ibuycars |
| Nov 21, 2019 - 9:58:16 AM | $21,000.00 | ibidnbuy |
| Nov 21, 2019 - 9:58:16 AM | $20,900.00 | ibuycars |
| Nov 21, 2019 - 9:58:11 AM | $20,800.00 | ibidnbuy |
| Nov 21, 2019 - 9:58:11 AM | $20,700.00 | ibuycars |
| Nov 21, 2019 - 9:58:06 AM | $20,600.00 | ibidnbuy |
| Nov 21, 2019 - 9:58:06 AM | $20,500.00 | iMrjesse |
| Nov 21, 2019 - 9:58:05 AM | $20,225.00 | ibidnbuy |
| Nov 21, 2019 - 9:58:05 AM | $20,125.00 | ibuycars |
| Nov 21, 2019 - 9:57:21 AM | $20,100.00 | ibuycars |
| Nov 21, 2019 - 9:57:21 AM | $20,000.00 | ibidnbuy |
| Nov 21, 2019 - 9:56:57 AM | $19,125.00 | ibidnbuy |
| Nov 21, 2019 - 9:55:19 AM | $19,025.00 | iChucho |
| Nov 21, 2019 - 9:55:19 AM | $19,000.00 | ibidnbuy |
| Nov 21, 2019 - 9:34:31 AM | $18,925.00 | ibidnbuy |
| Nov 21, 2019 - 9:34:31 AM | $18,825.00 | ibuycars |
| Nov 21, 2019 - 9:28:08 AM | $18,600.00 | ibuycars |
| Nov 21, 2019 - 9:28:08 AM | $18,500.00 | iMrjesse |
| Nov 21, 2019 - 9:27:29 AM | $18,375.00 | iMrjesse |
| Nov 21, 2019 - 9:27:29 AM | $18,275.00 | ibuycars |
| Nov 21, 2019 - 9:25:13 AM | $17,750.00 | iMrjesse |
| Nov 21, 2019 - 9:25:10 AM | $17,650.00 | irobinpbb |
| Nov 21, 2019 - 9:24:30 AM | $17,550.00 | ibuycars |
| Nov 21, 2019 - 9:24:30 AM | $17,500.00 | irobinpbb |
| Nov 21, 2019 - 8:37:27 AM | $17,400.00 | ibuycars |
| Nov 21, 2019 - 8:37:27 AM | $17,300.00 | iMrjesse |
| Nov 21, 2019 - 8:34:33 AM | $16,730.00 | iMrjesse |
| Nov 21, 2019 - 8:34:33 AM | $16,630.00 | ibuycars |
| Nov 21, 2019 - 8:25:13 AM | $16,600.00 | ibuycars |
| Nov 21, 2019 - 8:24:54 AM | $16,500.00 | iMrjesse |
| Nov 21, 2019 - 8:24:55 AM | $16,500.00 | ibuycars |
| Nov 21, 2019 - 8:24:41 AM | $16,100.00 | iMrjesse |
| Nov 21, 2019 - 8:24:41 AM | $16,000.00 | ibuycars |
| Nov 21, 2019 - 7:41:26 AM | $15,900.00 | iMrjesse |
| Nov 21, 2019 - 7:41:26 AM | $15,800.00 | iChucho |
| Nov 20, 2019 - 10:49:50 PM | $15,600.00 | iChucho |
| Nov 20, 2019 - 2:45:04 PM | $15,500.00 | irobinpbb |
| Nov 20, 2019 - 2:35:05 PM | $15,400.00 | iextd56 |
| Nov 20, 2019 - 2:35:05 PM | $15,353.00 | irobinpbb |
| Nov 20, 2019 - 12:11:15 AM | $15,252.36 | iextd56 |
| Nov 20, 2019 - 12:11:15 AM | $15,200.00 | isaki0303 |
| Nov 19, 2019 - 6:17:00 PM | $15,100.00 | iextd56 |
| Nov 19, 2019 - 6:17:00 PM | $15,000.00 | iBobnier |
| Nov 19, 2019 - 6:16:24 PM | $14,623.01 | iBobnier |
| Nov 19, 2019 - 6:16:24 PM | $14,523.01 | iextd56 |
| Nov 19, 2019 - 6:14:53 PM | $13,350.25 | iBobnier |
| Nov 19, 2019 - 6:14:53 PM | $13,250.25 | iextd56 |
| Nov 19, 2019 - 6:14:38 PM | $12,650.23 | iBobnier |
| Nov 19, 2019 - 6:14:38 PM | $12,550.23 | iextd56 |
| Nov 19, 2019 - 6:13:19 PM | $12,250.00 | iBobnier |
| Nov 19, 2019 - 6:08:37 PM | $12,150.00 | icowboyfan |
| Nov 19, 2019 - 6:08:37 PM | $12,100.00 | iextd56 |
| Nov 19, 2019 - 6:08:31 PM | $12,050.00 | iextd56 |
| Nov 19, 2019 - 6:08:31 PM | $11,950.00 | icowboyfan |
| Nov 19, 2019 - 6:08:25 PM | $11,850.00 | iextd56 |
| Nov 19, 2019 - 6:08:25 PM | $11,750.00 | icowboyfan |
| Nov 19, 2019 - 6:08:09 PM | $11,650.00 | iextd56 |
| Nov 19, 2019 - 6:08:09 PM | $11,550.00 | icowboyfan |
| Nov 19, 2019 - 6:03:57 PM | $11,450.00 | iextd56 |
| Nov 19, 2019 - 5:55:46 PM | $11,350.00 | iRacePace |
| Nov 19, 2019 - 5:55:27 PM | $11,250.00 | iextd56 |
| Nov 19, 2019 - 5:55:27 PM | $11,200.00 | iRacePace |
| Nov 19, 2019 - 3:55:32 PM | $11,100.00 | iextd56 |
| Nov 19, 2019 - 3:55:32 PM | $11,000.00 | iRacePace |
| Nov 19, 2019 - 3:50:01 PM | $10,900.00 | iextd56 |
| Nov 19, 2019 - 3:50:01 PM | $10,800.00 | iRacePace |
| Nov 19, 2019 - 3:42:52 PM | $10,600.00 | iRacePace |
| Nov 19, 2019 - 3:42:45 PM | $10,500.00 | iextd56 |
| Nov 19, 2019 - 3:42:45 PM | $10,400.00 | iRacePace |
| Nov 19, 2019 - 3:42:35 PM | $10,300.00 | iextd56 |
| Nov 19, 2019 - 3:42:35 PM | $10,200.00 | iRacePace |
| Nov 19, 2019 - 3:41:59 PM | $10,085.23 | iextd56 |
| Nov 19, 2019 - 3:41:59 PM | $9,985.23 | iRacePace |
| Nov 19, 2019 - 3:39:00 PM | $9,885.23 | iextd56 |
| Nov 19, 2019 - 3:32:57 PM | $9,785.23 | iRacePace |
| Nov 19, 2019 - 3:32:32 PM | $9,685.23 | iextd56 |
| Nov 19, 2019 - 3:32:32 PM | $9,600.00 | iRacePace |
| Nov 19, 2019 - 3:32:20 PM | $9,500.00 | iextd56 |
| Nov 19, 2019 - 3:32:20 PM | $9,400.00 | iRacePace |
| Nov 19, 2019 - 1:51:55 PM | $9,300.00 | iextd56 |
| Nov 19, 2019 - 12:40:04 PM | $9,200.00 | iChuparroso |
| Nov 19, 2019 - 12:34:03 PM | $9,100.00 | iMareks |
| Nov 19, 2019 - 12:33:59 PM | $9,000.00 | iChuparroso |
| Nov 19, 2019 - 12:33:59 PM | $8,950.00 | iMareks |
| Nov 19, 2019 - 12:33:47 PM | $8,850.00 | iChuparroso |
| Nov 19, 2019 - 12:33:47 PM | $8,750.00 | iMareks |
| Nov 19, 2019 - 11:43:59 AM | $8,650.00 | iChuparroso |
| Nov 19, 2019 - 11:43:59 AM | $8,550.00 | itammylariz |
| Nov 19, 2019 - 11:43:49 AM | $8,400.00 | itammylariz |
| Nov 19, 2019 - 11:43:49 AM | $8,300.00 | iChuparroso |
| Nov 19, 2019 - 11:39:24 AM | $8,200.00 | itammylariz |
| Nov 19, 2019 - 11:39:09 AM | $8,100.00 | iChuparroso |
| Nov 19, 2019 - 11:38:55 AM | $8,000.00 | iChucho |
| Nov 19, 2019 - 11:38:56 AM | $8,000.00 | iChuparroso |
| Nov 19, 2019 - 11:38:37 AM | $7,100.00 | iChucho |
| Nov 19, 2019 - 11:38:37 AM | $7,000.00 | iChuparroso |
| Nov 19, 2019 - 11:38:02 AM | $5,050.00 | iChucho |
| Nov 19, 2019 - 11:38:02 AM | $5,000.00 | iChuparroso |
| Nov 19, 2019 - 11:36:13 AM | $4,200.00 | iChucho |
| Nov 19, 2019 - 11:36:13 AM | $4,150.00 | iChuparroso |
| Nov 19, 2019 - 11:36:05 AM | $4,100.00 | iChucho |
| Nov 19, 2019 - 11:36:05 AM | $4,050.00 | iChuparroso |
| Nov 19, 2019 - 11:36:00 AM | $4,000.00 | iChucho |
| Nov 19, 2019 - 11:36:00 AM | $3,950.00 | iChuparroso |
| Nov 19, 2019 - 11:35:53 AM | $3,900.00 | iChucho |
| Nov 19, 2019 - 11:35:53 AM | $3,850.00 | iChuparroso |
| Nov 19, 2019 - 11:35:42 AM | $3,800.00 | iChucho |
| Nov 19, 2019 - 11:35:42 AM | $3,750.00 | iChuparroso |
| Nov 19, 2019 - 10:48:39 AM | $3,700.00 | iChucho |
| Nov 19, 2019 - 10:48:39 AM | $3,650.00 | ipredisposed |
| Nov 19, 2019 - 10:45:32 AM | $3,450.00 | ipredisposed |
| Nov 19, 2019 - 10:45:32 AM | $3,400.00 | iChucho |
| Nov 19, 2019 - 10:44:39 AM | $3,250.00 | ipredisposed |
| Nov 19, 2019 - 10:44:39 AM | $3,200.00 | iChucho |
| Nov 19, 2019 - 10:44:02 AM | $3,150.00 | ipredisposed |
| Nov 19, 2019 - 10:44:02 AM | $3,100.00 | ion approval |
| Nov 19, 2019 - 10:15:17 AM | $3,050.00 | ipredisposed |
| Nov 19, 2019 - 10:15:17 AM | $3,000.00 | igreatwhite |
| Nov 19, 2019 - 10:13:42 AM | $2,100.00 | igreatwhite |
| Nov 19, 2019 - 10:13:42 AM | $2,050.00 | ipredisposed |
| Nov 19, 2019 - 10:11:18 AM | $1,010.00 | igreatwhite |
| Nov 19, 2019 - 10:11:18 AM | $1,000.00 | ibidnbuy |
| Nov 19, 2019 - 10:11:11 AM | $520.00 | ibidnbuy |
| Nov 19, 2019 - 10:11:11 AM | $510.00 | ipredisposed |
| Nov 19, 2019 - 10:07:11 AM | $165.00 | ibidnbuy |
| Nov 19, 2019 - 10:07:11 AM | $155.00 | ipredisposed |
| Nov 19, 2019 - 10:05:22 AM | $5.00 | ipredisposed |