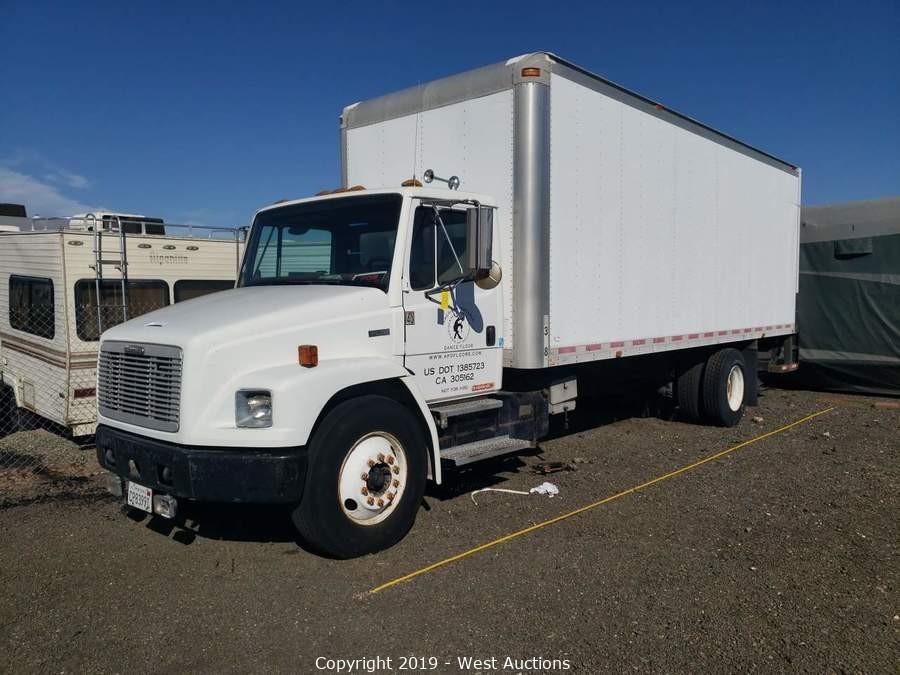 Lot #0101:
2000 Freightliner FL70 24' Diesel Box Truck
Bidding is

closed

.
High Bid:
$5,250.00
NA
Bidding Ended:
Thu, Nov 7 10:01:00 am PT
High Bidder:
Atlas
Bid Increment:
$100.00
Starting Bid:
$5.00
Item Location:

North Highlands

,

CA

95660

Item has been viewed 1,169 times.

2000 Freightliner FL70 24' Diesel Box Truck
Year: 2000
Manufacturer: Freightliner
Model: FL70
Vin: 1FV6HLBC4YDH12437
License: CP83991

Expiration Date: 6/30/2016

Odometer Reads: 21,617
GVWR: 26,000 lbs
Engine: Cummins 24 Valve Diesel
Fuel Type: Diesel
Transmission: 6 Speed Manual
Axels: 2
Number of Tires: 6
Tire Size: 11R22.5
Brake Type: Air/Exhaust
Suspension Type: Air
(2) 75 Gallon Diesel Tanks
Cruise Control
AC/Heat
Exhaust Brakes
Rear Electric Drop Gate
Outer Length: 26'
Outer Width: 8'
Outer Height: 8'
Cargo Interior Length:25'
Cargo Interior Width:8'
Cargo Interior Height:8'
Features: Air Conditioning
Note: Truck batteries NOT included, new batteries needed
Note: Truck needs to be removed on Friday, November 15th, 2019 by appointment.
Note: Certificate of Duplicate Title, Transfer Form will be mailed 3-4 weeks following the close of the auction. The buyer is fully responsible for all aspects of registration, transfer, and fees due to DMV. 
| | | |
| --- | --- | --- |
| Bid Date | Bid Amount | Bidder |
| Nov 7, 2019 - 9:42:35 AM | $5,250.00 | iAtlas |
| Nov 7, 2019 - 9:42:35 AM | $5,150.00 | ijjohal530 |
| Nov 7, 2019 - 9:40:46 AM | $5,050.00 | iAtlas |
| Nov 7, 2019 - 9:40:46 AM | $5,000.00 | ijjohal530 |
| Nov 7, 2019 - 7:50:08 AM | $4,950.00 | iAtlas |
| Nov 7, 2019 - 7:50:08 AM | $4,900.00 | izionthepuppy |
| Nov 7, 2019 - 7:50:04 AM | $4,850.00 | iAtlas |
| Nov 7, 2019 - 7:50:04 AM | $4,800.00 | izionthepuppy |
| Nov 7, 2019 - 7:50:00 AM | $4,750.00 | iAtlas |
| Nov 7, 2019 - 7:50:00 AM | $4,700.00 | izionthepuppy |
| Nov 7, 2019 - 7:49:55 AM | $4,650.00 | iAtlas |
| Nov 7, 2019 - 7:49:55 AM | $4,600.00 | izionthepuppy |
| Nov 7, 2019 - 7:49:51 AM | $4,550.00 | iAtlas |
| Nov 7, 2019 - 7:49:51 AM | $4,500.00 | izionthepuppy |
| Nov 7, 2019 - 7:49:46 AM | $4,450.00 | iAtlas |
| Nov 7, 2019 - 7:49:46 AM | $4,400.00 | izionthepuppy |
| Nov 7, 2019 - 7:49:42 AM | $4,350.00 | iAtlas |
| Nov 7, 2019 - 7:49:42 AM | $4,300.00 | izionthepuppy |
| Nov 7, 2019 - 7:49:38 AM | $4,250.00 | iAtlas |
| Nov 7, 2019 - 7:49:38 AM | $4,200.00 | izionthepuppy |
| Nov 7, 2019 - 7:49:31 AM | $4,150.00 | iAtlas |
| Nov 7, 2019 - 7:49:31 AM | $4,100.00 | izionthepuppy |
| Nov 7, 2019 - 7:47:57 AM | $4,050.00 | iAtlas |
| Nov 7, 2019 - 7:47:57 AM | $4,000.00 | izionthepuppy |
| Nov 7, 2019 - 7:47:53 AM | $3,950.00 | iAtlas |
| Nov 7, 2019 - 7:47:53 AM | $3,900.00 | izionthepuppy |
| Nov 7, 2019 - 7:47:49 AM | $3,850.00 | iAtlas |
| Nov 7, 2019 - 7:47:49 AM | $3,800.00 | izionthepuppy |
| Nov 7, 2019 - 7:47:43 AM | $3,750.00 | iAtlas |
| Nov 7, 2019 - 7:47:43 AM | $3,700.00 | izionthepuppy |
| Nov 7, 2019 - 7:47:33 AM | $3,650.00 | iAtlas |
| Nov 7, 2019 - 7:47:33 AM | $3,600.00 | izionthepuppy |
| Nov 6, 2019 - 3:40:12 PM | $3,550.00 | iAtlas |
| Nov 6, 2019 - 3:40:12 PM | $3,500.00 | ihardway23 |
| Nov 6, 2019 - 6:01:52 AM | $3,050.00 | iAtlas |
| Nov 6, 2019 - 6:01:52 AM | $3,000.00 | ihardway23 |
| Nov 5, 2019 - 9:32:36 PM | $2,550.00 | iAtlas |
| Nov 5, 2019 - 9:32:36 PM | $2,500.00 | ihardway23 |
| Nov 5, 2019 - 4:30:06 PM | $2,350.00 | iAtlas |
| Nov 5, 2019 - 4:30:06 PM | $2,300.00 | ihardway23 |
| Nov 5, 2019 - 12:52:46 PM | $1,010.00 | iAtlas |
| Nov 5, 2019 - 12:52:46 PM | $1,000.00 | ihardway23 |
| Nov 5, 2019 - 12:52:35 PM | $510.00 | iAtlas |
| Nov 5, 2019 - 12:52:35 PM | $500.00 | ihardway23 |
| Nov 5, 2019 - 10:35:51 AM | $5.00 | iAtlas |