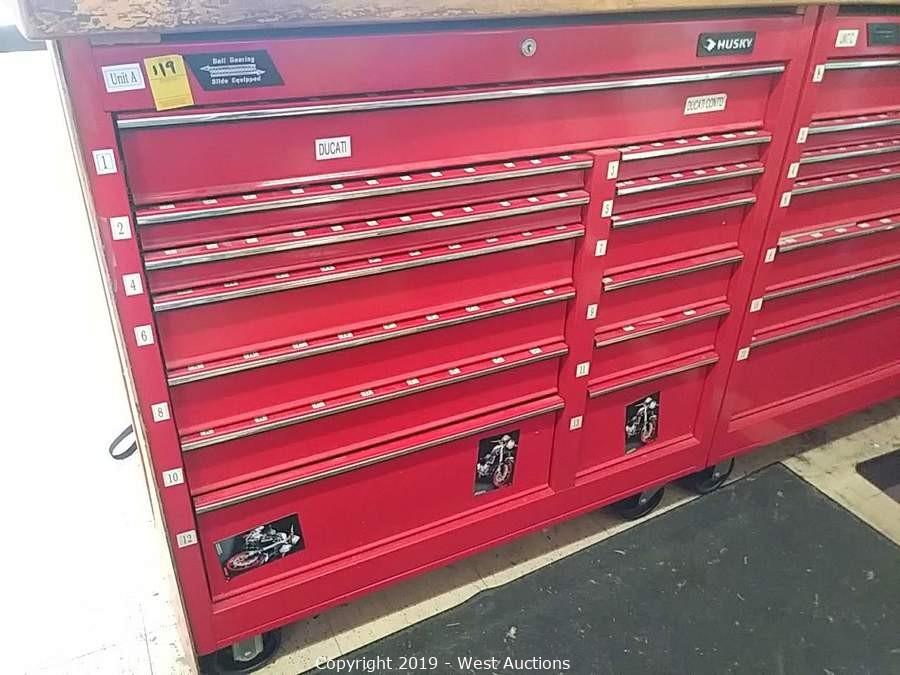 Lot #0119:
Husky 41" 13-Drawer Red Rolling Toolbox
Bidding is

closed

.
High Bid:
$280.00
NA
Bidding Ended:
Thu, Nov 21 10:21:00 am PT
High Bidder:
CLIF
Bid Increment:
$10.00
Starting Bid:
$5.00
Item has been viewed 1,274 times.

Husky 41" 13-drawer Red Rolling Toolbox
Manufacturer: Husky
Width: 41in
Length: 18in
Height: 41in
Toolbox only

Contents not included

Contents under Lot 0119A
Note: Item must be picked up Tuesday last day of removal after all contents have been removed.
| | | |
| --- | --- | --- |
| Bid Date | Bid Amount | Bidder |
| Nov 21, 2019 - 10:18:07 AM | $280.00 | iCLIF |
| Nov 21, 2019 - 10:18:07 AM | $270.00 | iStockton |
| Nov 21, 2019 - 10:15:21 AM | $260.00 | iCLIF |
| Nov 21, 2019 - 10:13:25 AM | $250.00 | icrst |
| Nov 21, 2019 - 10:13:26 AM | $250.00 | iblooze |
| Nov 21, 2019 - 10:07:59 AM | $235.01 | icrst |
| Nov 21, 2019 - 9:07:24 AM | $225.01 | iblooze |
| Nov 21, 2019 - 9:07:24 AM | $225.00 | iliamlrb |
| Nov 21, 2019 - 6:24:07 AM | $175.00 | iliamlrb |
| Nov 21, 2019 - 6:24:07 AM | $165.00 | ihdrider98ci |
| Nov 20, 2019 - 6:37:59 PM | $145.00 | iliamlrb |
| Nov 20, 2019 - 6:37:59 PM | $135.00 | iHolios551 |
| Nov 20, 2019 - 3:26:41 PM | $125.00 | iHolios551 |
| Nov 20, 2019 - 12:37:51 PM | $115.00 | iStockton |
| Nov 19, 2019 - 6:26:54 PM | $105.00 | ihardway23 |
| Nov 19, 2019 - 6:26:51 PM | $100.00 | iparttimeprojectionist |
| Nov 19, 2019 - 6:26:51 PM | $96.00 | ihardway23 |
| Nov 19, 2019 - 6:26:49 PM | $91.00 | iparttimeprojectionist |
| Nov 19, 2019 - 6:26:49 PM | $86.00 | ihardway23 |
| Nov 19, 2019 - 6:26:47 PM | $81.00 | iparttimeprojectionist |
| Nov 19, 2019 - 6:26:47 PM | $76.00 | ihardway23 |
| Nov 19, 2019 - 6:26:45 PM | $71.00 | iparttimeprojectionist |
| Nov 19, 2019 - 6:26:45 PM | $66.00 | ihardway23 |
| Nov 19, 2019 - 6:03:14 PM | $61.00 | iparttimeprojectionist |
| Nov 19, 2019 - 6:03:14 PM | $56.00 | iCliffnmartha |
| Nov 19, 2019 - 4:06:57 PM | $55.00 | iCliffnmartha |
| Nov 19, 2019 - 4:06:57 PM | $50.00 | iStreetrod88 |
| Nov 19, 2019 - 12:57:33 PM | $40.00 | iCliffnmartha |
| Nov 19, 2019 - 11:18:24 AM | $35.00 | ihardway23 |
| Nov 19, 2019 - 11:18:25 AM | $35.00 | iBtTuned111 |
| Nov 19, 2019 - 11:02:35 AM | $30.00 | ihardway23 |
| Nov 19, 2019 - 11:02:33 AM | $25.00 | ibks9020 |
| Nov 19, 2019 - 11:02:33 AM | $20.00 | ihardway23 |
| Nov 19, 2019 - 11:02:30 AM | $15.00 | ibks9020 |
| Nov 19, 2019 - 11:02:30 AM | $10.00 | ihardway23 |
| Nov 19, 2019 - 10:11:19 AM | $5.00 | ibks9020 |