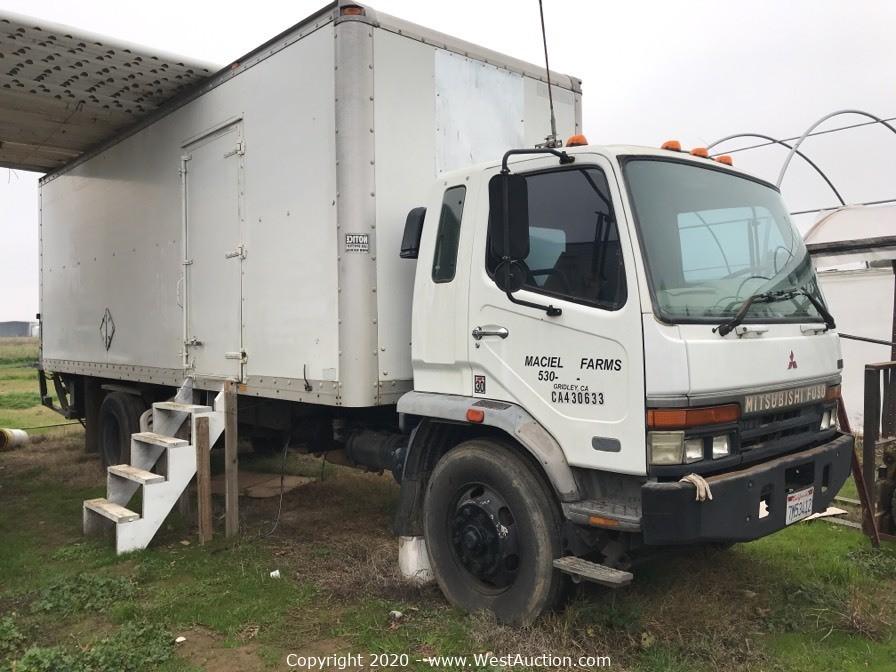 Lot #0102:
2000 Mitsubishi Fuso FM-MR Diesel Boxtruck with 24' Box
Bidding is

closed

.
High Bid:
$4,300.00
NA
Bidding Ended:
Thu, Mar 5 10:05:15 am PT
High Bidder:
osakaautoparts
Bid Increment:
$50.00
Starting Bid:
$5.00
Item Location:

Gridley

,

CA

95948

Item has been viewed 1,181 times.

2000 Mitsubishi Fuso FM-MR Diesel Boxtruck with 24' Box
Specifications:
Year: 2000

Make: Mitsubishi Fuso

VIN

: JW6DEM1E1YM000663
Odometer Reads: 321857
License: 7M53412

Registration Expiration Date: 12/31/2016 Planned Non-Operational

Odometer Reads: N/A

GVWR

: 25,995 lbs
Engine: 7.455L L6 Turbo-Air Cooled Diesel
Body Style: Box Truck
Fuel Type: Diesel
Transmission: Automatic
Box dimensions: 24'x7'x8'
Dual rear wheels
Note: The vehicle does not have any batteries. 
Exterior:
Exterior Color: White
Doors: Two Door
Interior:
Interior Material: Cloth
Interior Color: Gray
Features:

Maxon Lift Gate
Dual Diesel Fuel Tanks

Note: Irrigation pipes will be removed prior to removal
Note: Certificate of Title, and Transfer form will be mailed 2-3 weeks following the close of the auction. Buyer is fully responsible for all aspects of registration, CARB Compliance, transfer and fees due to DMV.
This vehicle has been reported as a Non-Compliant Vehicle, you will not be able to register in California without meeting the CARB Truck and Bus Regulations. It is the buyer's responsibility to read and understand the ARB Multi-Regulation Summary Requirements for Diesel Truck Owners. Beginning January 1, 2020, the Department of Motor Vehicles (DMV) CANNOT register any vehicle that does not meet the requirements of the Truck and Bus Regulation. CARB Truck and Bus Regulation Statement: "An on-road heavy-duty diesel or alternative-diesel vehicle operated in California may be subject to the California Air Resources Board Regulation to Reduce Particulate Matter and Criteria Pollutant Emissions from In-Use Heavy-Duty Diesel Vehicles. It, therefore, could be subject to exhaust retrofit or accelerated turnover requirements to reduce emissions of air pollutants." For more information, please visit the California Air Resources Board website at http://www.arb.ca.gov/dieseltruck." 
| | | |
| --- | --- | --- |
| Bid Date | Bid Amount | Bidder |
| Mar 5, 2020 - 10:03:15 AM | $4,300.00 | iosakaautoparts |
| Mar 5, 2020 - 10:03:15 AM | $4,250.00 | iblackaudi7 |
| Mar 5, 2020 - 10:01:30 AM | $3,850.00 | iosakaautoparts |
| Mar 5, 2020 - 10:01:30 AM | $3,800.00 | iblackaudi7 |
| Mar 5, 2020 - 10:01:08 AM | $3,250.00 | iosakaautoparts |
| Mar 5, 2020 - 10:01:08 AM | $3,200.00 | iblackaudi7 |
| Mar 5, 2020 - 10:00:48 AM | $3,050.00 | iosakaautoparts |
| Mar 5, 2020 - 10:00:48 AM | $3,000.00 | iblackaudi7 |
| Mar 5, 2020 - 9:59:46 AM | $2,000.00 | iosakaautoparts |
| Mar 5, 2020 - 9:59:47 AM | $2,000.00 | iblackaudi7 |
| Mar 5, 2020 - 9:59:27 AM | $1,550.00 | iosakaautoparts |
| Mar 5, 2020 - 9:59:27 AM | $1,500.00 | iblackaudi7 |
| Mar 5, 2020 - 9:58:59 AM | $1,010.00 | iosakaautoparts |
| Mar 5, 2020 - 9:58:59 AM | $1,000.00 | iblackaudi7 |
| Mar 5, 2020 - 9:58:43 AM | $710.00 | iosakaautoparts |
| Mar 5, 2020 - 9:58:43 AM | $700.00 | iblackaudi7 |
| Mar 5, 2020 - 8:59:37 AM | $630.00 | iosakaautoparts |
| Mar 5, 2020 - 8:59:37 AM | $620.00 | iValadez410 |
| Mar 4, 2020 - 11:41:40 AM | $610.00 | iosakaautoparts |
| Mar 4, 2020 - 11:41:40 AM | $600.00 | ibgillming |
| Mar 4, 2020 - 11:41:24 AM | $410.00 | iosakaautoparts |
| Mar 4, 2020 - 11:41:24 AM | $400.00 | ibgillming |
| Mar 3, 2020 - 2:53:18 PM | $125.00 | iosakaautoparts |
| Mar 3, 2020 - 2:53:18 PM | $115.00 | iMary013$$ |
| Mar 3, 2020 - 2:53:13 PM | $105.00 | iosakaautoparts |
| Mar 3, 2020 - 2:53:13 PM | $100.00 | iMary013$$ |
| Mar 3, 2020 - 2:53:09 PM | $95.00 | iosakaautoparts |
| Mar 3, 2020 - 2:53:09 PM | $90.00 | iMary013$$ |
| Mar 3, 2020 - 2:53:04 PM | $85.00 | iosakaautoparts |
| Mar 3, 2020 - 2:53:04 PM | $80.00 | iMary013$$ |
| Mar 3, 2020 - 2:52:59 PM | $75.00 | iosakaautoparts |
| Mar 3, 2020 - 2:52:59 PM | $70.00 | iMary013$$ |
| Mar 3, 2020 - 2:52:55 PM | $65.00 | iosakaautoparts |
| Mar 3, 2020 - 2:52:55 PM | $60.00 | iMary013$$ |
| Mar 3, 2020 - 2:52:49 PM | $55.00 | iosakaautoparts |
| Mar 3, 2020 - 2:52:49 PM | $50.00 | iMary013$$ |
| Mar 3, 2020 - 1:54:56 PM | $45.00 | iosakaautoparts |
| Mar 3, 2020 - 1:54:56 PM | $40.00 | imr.green123 |
| Mar 3, 2020 - 1:54:53 PM | $35.00 | iosakaautoparts |
| Mar 3, 2020 - 1:54:53 PM | $30.00 | imr.green123 |
| Mar 3, 2020 - 1:54:43 PM | $25.00 | iosakaautoparts |
| Mar 3, 2020 - 1:54:43 PM | $20.00 | imr.green123 |
| Mar 3, 2020 - 1:54:40 PM | $15.00 | iosakaautoparts |
| Mar 3, 2020 - 1:54:40 PM | $10.00 | imr.green123 |
| Mar 3, 2020 - 10:03:55 AM | $5.00 | iosakaautoparts |