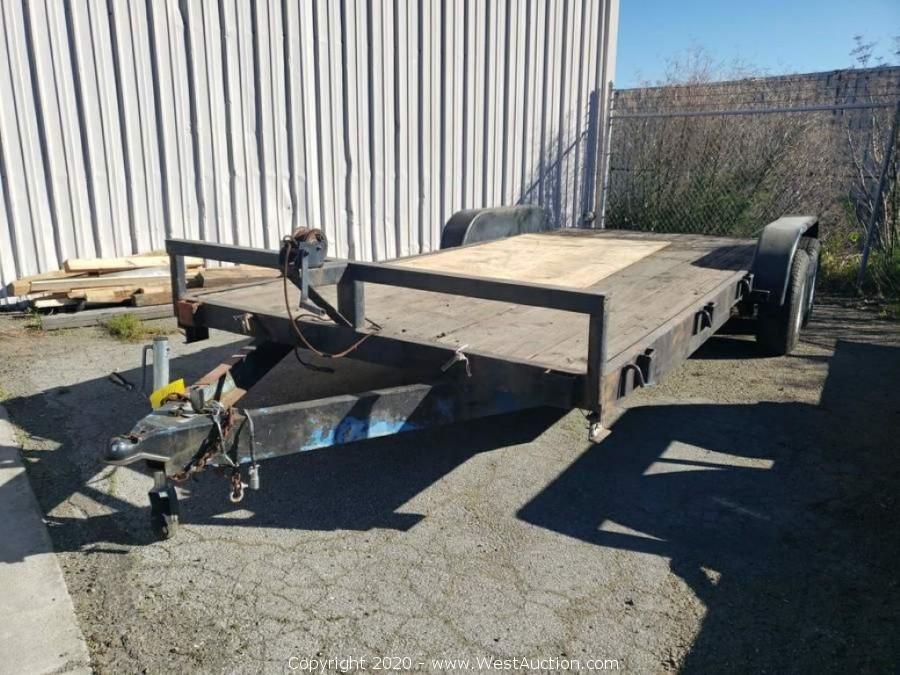 Lot #0004:
Champ Atwood 7,000 lb Flatbed Trailer
Bidding is

closed

.
High Bid:
$1,700.00
NA
Bidding Ended:
Thu, Mar 12 10:04:14 am PT
High Bidder:
jpadilla1176
Bid Increment:
$50.00
Starting Bid:
$5.00
Item Location:

Union City

,

CA

94587

Item has been viewed 2,277 times.

Champ Atwood 7,000 lb Flatbed Trailer
Trailer Details
Make: Atwood
VIN: 4KKF02021SC000232
License: 1KD5064

Registration Expiration: 5/31/2002

Trailer Type: Flatbed
Dimensions
Overall Length: 24ft
Overall Width: 101in
Deck Length: 20ft
Deck Width: 81in
Side Height: 10.5in
Width Between Fenders: 81in
Axles, Brakes, and Tires
Suspension: Leaf Spring
Number of Axles: 2
Brake Type: Electric
Number of Wheels: 4
Tire Size: ST225/75R15
Electric Plug Type: 5-Way Flat
Hitch: 2 5/16" Ball
Trailer only. Contents not included
Manual wench attached
Note: Application of Duplicate Title, Transfer Form will be mailed 3-4 weeks following the close of the auction. The buyer is fully responsible for all aspects of transfer, registration, and fees due to California DMV. 
| | | |
| --- | --- | --- |
| Bid Date | Bid Amount | Bidder |
| Mar 12, 2020 - 10:02:14 AM | $1,700.00 | ijpadilla1176 |
| Mar 12, 2020 - 8:08:00 AM | $1,650.00 | irgullotto |
| Mar 12, 2020 - 8:07:27 AM | $1,600.00 | ijesseadutra |
| Mar 12, 2020 - 8:07:28 AM | $1,600.00 | irgullotto |
| Mar 10, 2020 - 12:48:59 PM | $1,550.00 | ijesseadutra |
| Mar 10, 2020 - 12:48:39 PM | $1,500.00 | ijpadilla1176 |
| Mar 10, 2020 - 12:48:40 PM | $1,500.00 | ijesseadutra |
| Mar 10, 2020 - 12:48:30 PM | $1,300.00 | ijpadilla1176 |
| Mar 10, 2020 - 12:48:30 PM | $1,250.00 | ijesseadutra |
| Mar 10, 2020 - 12:47:32 PM | $1,150.00 | ijpadilla1176 |
| Mar 10, 2020 - 12:47:32 PM | $1,100.00 | ijesseadutra |
| Mar 10, 2020 - 12:47:12 PM | $1,010.00 | ijesseadutra |
| Mar 10, 2020 - 12:47:02 PM | $1,000.00 | ijpadilla1176 |
| Mar 10, 2020 - 12:47:03 PM | $1,000.00 | ijesseadutra |
| Mar 10, 2020 - 12:46:23 PM | $960.00 | ijpadilla1176 |
| Mar 10, 2020 - 12:46:23 PM | $950.00 | ijesseadutra |
| Mar 10, 2020 - 12:46:13 PM | $900.00 | ijpadilla1176 |
| Mar 10, 2020 - 12:46:13 PM | $890.00 | ijesseadutra |
| Mar 10, 2020 - 12:46:02 PM | $870.00 | ijpadilla1176 |
| Mar 10, 2020 - 12:46:02 PM | $860.00 | ijesseadutra |
| Mar 10, 2020 - 12:45:27 PM | $820.00 | ijpadilla1176 |
| Mar 10, 2020 - 12:45:27 PM | $810.00 | ijesseadutra |
| Mar 10, 2020 - 12:45:03 PM | $790.00 | ijpadilla1176 |
| Mar 10, 2020 - 12:45:03 PM | $780.00 | ijesseadutra |
| Mar 10, 2020 - 12:44:52 PM | $760.00 | ijpadilla1176 |
| Mar 10, 2020 - 12:44:52 PM | $750.00 | ijesseadutra |
| Mar 10, 2020 - 12:44:40 PM | $710.00 | ijpadilla1176 |
| Mar 10, 2020 - 12:44:40 PM | $700.00 | ijesseadutra |
| Mar 10, 2020 - 12:44:14 PM | $650.00 | ijpadilla1176 |
| Mar 10, 2020 - 12:44:14 PM | $640.00 | ijesseadutra |
| Mar 10, 2020 - 12:44:05 PM | $630.00 | ijpadilla1176 |
| Mar 10, 2020 - 12:44:05 PM | $620.00 | ijesseadutra |
| Mar 10, 2020 - 12:43:50 PM | $610.00 | ijpadilla1176 |
| Mar 10, 2020 - 12:43:50 PM | $600.00 | ijesseadutra |
| Mar 10, 2020 - 12:43:30 PM | $590.00 | ijesseadutra |
| Mar 10, 2020 - 12:43:30 PM | $580.00 | ijpadilla1176 |
| Mar 10, 2020 - 12:43:26 PM | $570.00 | ijesseadutra |
| Mar 10, 2020 - 12:43:26 PM | $560.00 | ijpadilla1176 |
| Mar 10, 2020 - 12:43:22 PM | $550.00 | ijesseadutra |
| Mar 10, 2020 - 12:43:22 PM | $540.00 | ijpadilla1176 |
| Mar 10, 2020 - 12:43:18 PM | $530.00 | ijesseadutra |
| Mar 10, 2020 - 12:43:18 PM | $520.00 | ijpadilla1176 |
| Mar 10, 2020 - 12:41:49 PM | $510.00 | ijesseadutra |
| Mar 10, 2020 - 12:41:26 PM | $500.00 | in71598 |
| Mar 10, 2020 - 12:41:27 PM | $500.00 | ijesseadutra |
| Mar 10, 2020 - 12:41:08 PM | $470.00 | in71598 |
| Mar 10, 2020 - 12:41:08 PM | $460.00 | ijesseadutra |
| Mar 10, 2020 - 12:40:58 PM | $450.00 | in71598 |
| Mar 10, 2020 - 12:40:58 PM | $440.00 | ijesseadutra |
| Mar 10, 2020 - 12:40:40 PM | $430.00 | in71598 |
| Mar 10, 2020 - 12:40:40 PM | $420.00 | ijesseadutra |
| Mar 10, 2020 - 12:40:10 PM | $407.00 | in71598 |
| Mar 10, 2020 - 12:40:10 PM | $397.00 | ijesseadutra |
| Mar 10, 2020 - 12:39:36 PM | $387.00 | in71598 |
| Mar 10, 2020 - 12:39:36 PM | $377.00 | isearchin4411 |
| Mar 10, 2020 - 12:39:17 PM | $330.00 | isearchin4411 |
| Mar 10, 2020 - 12:39:17 PM | $320.00 | ijesseadutra |
| Mar 10, 2020 - 12:38:59 PM | $310.00 | isearchin4411 |
| Mar 10, 2020 - 12:38:59 PM | $300.00 | iDMH |
| Mar 10, 2020 - 12:19:49 PM | $280.00 | isearchin4411 |
| Mar 10, 2020 - 12:19:49 PM | $270.00 | iDonCSchwartz |
| Mar 10, 2020 - 11:41:17 AM | $260.00 | isearchin4411 |
| Mar 10, 2020 - 11:41:17 AM | $250.00 | iDMH |
| Mar 10, 2020 - 11:25:56 AM | $5.00 | isearchin4411 |