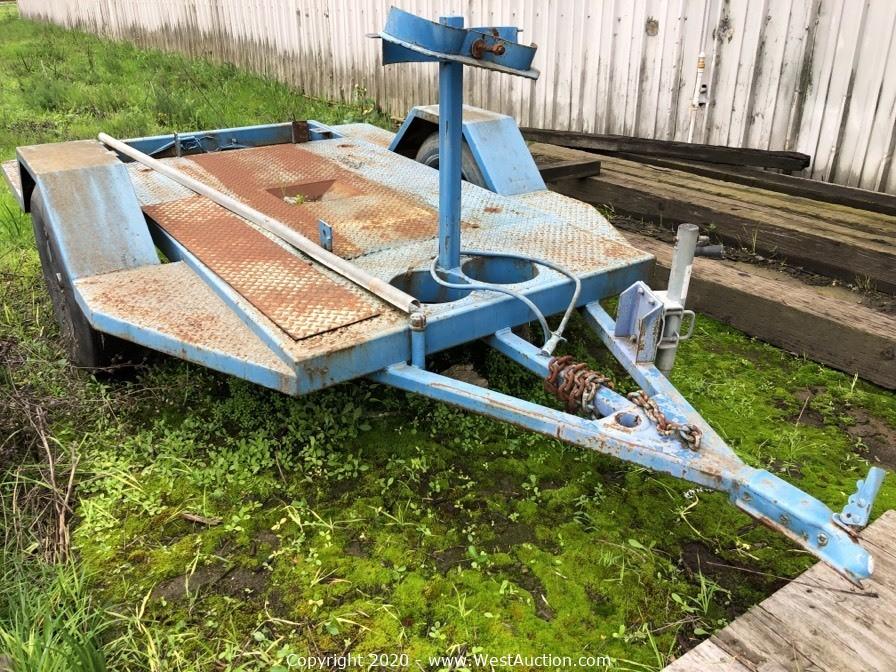 Lot #0005:
Spencer Utility Trailer
Bidding is

closed

.
High Bid:
$465.00
NA
Bidding Ended:
Thu, Mar 12 10:05:39 am PT
High Bidder:
metalfab
Bid Increment:
$10.00
Starting Bid:
$5.00
Item Location:

Union City

,

CA

94587

Item has been viewed 1,597 times.

Spencer Utility Trailer
VIN: CA573986
License: 1UU8078

Expiration Date: 1/31/2022
Trailer Details
Gross Vehicle Weight Rating (GVWR): 3500lb
Trailer Type: Utility
Dimensions
Overall Length: 11.5ft
Overall Width: 73in
Deck Length: 8ft
Deck Width: 4ft
Width Between Fenders: 53in
Axles, Brakes, and Tires
Empty Weight: 500 lb
Suspension: Leaf Spring
Number of Axles: 1
Brake Type: Electric
Number of Wheels: 2
Tire Size: P225/75B15
Electric Plug Type: 5-Way Flat
Hitch: 1 1/4" Ball
Note: Application of Duplicate Title, Transfer Form will be mailed 3-4 weeks following close of auction. Buyer is fully responsible for all aspects of transfer, registration and fees due to California DMV. 
| | | |
| --- | --- | --- |
| Bid Date | Bid Amount | Bidder |
| Mar 12, 2020 - 10:03:39 AM | $465.00 | imetalfab |
| Mar 12, 2020 - 10:03:39 AM | $455.00 | ijackcook |
| Mar 12, 2020 - 10:01:14 AM | $445.00 | imetalfab |
| Mar 12, 2020 - 10:01:14 AM | $435.00 | ijackcook |
| Mar 12, 2020 - 10:01:05 AM | $425.00 | imetalfab |
| Mar 12, 2020 - 10:01:05 AM | $415.00 | idaiminhduc |
| Mar 12, 2020 - 10:00:54 AM | $405.00 | imetalfab |
| Mar 12, 2020 - 10:00:54 AM | $395.00 | ijackcook |
| Mar 12, 2020 - 10:00:32 AM | $336.00 | imetalfab |
| Mar 12, 2020 - 10:00:32 AM | $326.00 | ijackcook |
| Mar 12, 2020 - 9:20:15 AM | $258.00 | imetalfab |
| Mar 12, 2020 - 9:20:15 AM | $248.00 | ijackcook |
| Mar 12, 2020 - 9:18:31 AM | $228.00 | imetalfab |
| Mar 12, 2020 - 9:18:31 AM | $218.00 | ijackcook |
| Mar 12, 2020 - 7:34:54 AM | $217.00 | ijackcook |
| Mar 11, 2020 - 8:30:01 PM | $207.00 | iMitchfish |
| Mar 11, 2020 - 8:30:01 PM | $200.00 | imauro |
| Mar 11, 2020 - 6:16:55 PM | $197.00 | imauro |
| Mar 11, 2020 - 6:16:55 PM | $187.00 | iboerman559 |
| Mar 11, 2020 - 6:16:51 PM | $177.00 | imauro |
| Mar 11, 2020 - 6:16:51 PM | $167.00 | iboerman559 |
| Mar 11, 2020 - 6:16:49 PM | $157.00 | imauro |
| Mar 11, 2020 - 6:16:49 PM | $147.00 | iboerman559 |
| Mar 11, 2020 - 6:10:22 PM | $137.00 | imauro |
| Mar 11, 2020 - 4:32:21 PM | $127.00 | iboerman559 |
| Mar 11, 2020 - 4:32:21 PM | $120.00 | ikilot35 |
| Mar 11, 2020 - 12:17:00 AM | $117.00 | ikilot35 |
| Mar 11, 2020 - 12:16:41 AM | $107.00 | ilathes |
| Mar 11, 2020 - 12:16:41 AM | $105.00 | ikilot35 |
| Mar 11, 2020 - 12:15:55 AM | $100.00 | ilathes |
| Mar 11, 2020 - 12:15:55 AM | $95.00 | ikilot35 |
| Mar 11, 2020 - 12:15:33 AM | $90.00 | ilathes |
| Mar 11, 2020 - 12:15:33 AM | $85.00 | ikilot35 |
| Mar 10, 2020 - 8:39:35 PM | $75.00 | ilathes |
| Mar 10, 2020 - 6:20:21 PM | $70.00 | iboerman559 |
| Mar 10, 2020 - 6:20:19 PM | $65.00 | ilathes |
| Mar 10, 2020 - 6:20:19 PM | $60.00 | iboerman559 |
| Mar 10, 2020 - 6:20:17 PM | $55.00 | ilathes |
| Mar 10, 2020 - 6:20:17 PM | $50.00 | iboerman559 |
| Mar 10, 2020 - 6:20:14 PM | $45.00 | ilathes |
| Mar 10, 2020 - 6:20:14 PM | $40.00 | iboerman559 |
| Mar 10, 2020 - 6:20:09 PM | $35.00 | ilathes |
| Mar 10, 2020 - 6:20:09 PM | $30.00 | iboerman559 |
| Mar 10, 2020 - 2:54:39 PM | $25.00 | ilathes |
| Mar 10, 2020 - 2:54:39 PM | $20.00 | idaiminhduc |
| Mar 10, 2020 - 1:27:27 PM | $5.00 | idaiminhduc |